---
The station's other finalists included Fake Friends, Noel Boland and Brid Lyons
We're heading over to the Carlow and Kilkenny area next in our A New Local Hero coverage – with news that JAEK have been announced as KCLR's overall winners!
A pop two-piece hailing from Carlow, Jake and Shaun are gearing up to release their self-titled EP this summer – and have already offered us an idea of what to expect with singles 'If You're Ready' and 'C'est La Vie'.
The other talented finalists selected by KCLR included Fake Friends, Noel Boland and Brid Lyons.
Each finalist got the chance to play live on KCLR, with all of the artists – thanks to the support of the Broadcasting Authority of Ireland, under its Sound & Vision scheme – being paid for their performance.
As one of the central features of Irish Music Month, A New Local Hero is a major call to arms for Irish musicians and bands – with all 25 participating radio stations having reached out for submissions as part of the talent search.
 

View this post on Instagram

 
Advertisement
25 acts, including JAEK, have been selected as their radio station's A New Local Hero. Now, an industry judging panel will choose just five of those acts to go forward to play at a special showcase event in Dublin.
The A New Local Hero campaign will ultimately see over  €100,000 paid directly to Irish artists – and one worthy winning act selected, who will get to record a single at the prestigious Camden Recording Studios in Dublin, and release the single on the famed Irish independent record label Rubyworks.
As announced by Hot Press and the Independent Broadcasters of Ireland (IBI), Irish Music Month is running from Monday, March 12, to Friday, April 13 – and will see significantly increased radio play for Irish music across 25 independent radio stations.
Irish Music Month is supported by the Broadcasting Authority of Ireland, under its Sound & Vision scheme.
The event is also supported by IMRO, RAAP, MCD Productions, Live Nation, Ticketmaster, Camden Recording Studios and the Rubyworks label.
Read more about Irish Music Month here.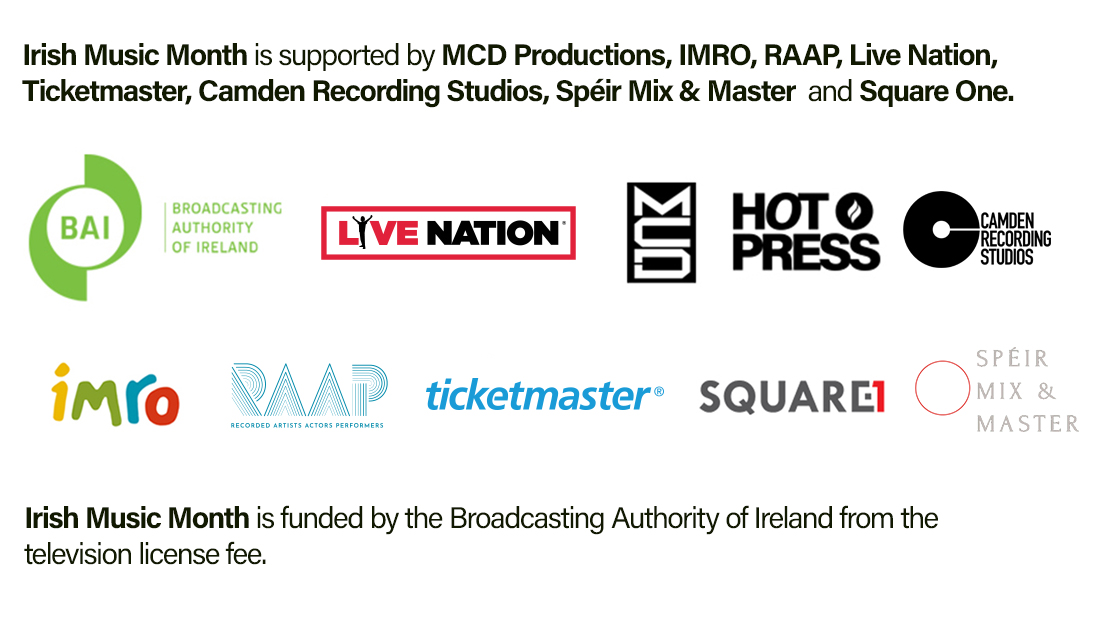 Irish Music Month is supported by MCD Productions, IMRO, RAAP, Live Nation, Ticketmaster, Camdem Recording Studios, Spéir Mix & Master, X-Music and Square1

Irish Music Month is funded by the Broadcasting Authority of Ireland from the television license fee