Picture This: "As much as I've always poured my heart into my songs and told genuine stories, this is the most honest I've ever been"
Determined to let their fans know that better times lie ahead, Picture This are releasing an album of edgy pop bangers that all sound like potential number ones. Famous friends, greedy TDs, drugs, Harry Styles, Hollywood and getting up people's noses are all on the agenda as Stuart Clark gets to actually (not virtually) meet the band!
There's a point in every mega-selling band's evolution when it dawns on them that no matter how outlandish it might be, if they want something to happen it will.
Picture This beaming in to The Late Late Show with James Corden from the middle of an otherwise deserted Croke Park in the run up to St. Patrick's Day was possibly theirs.
With the Croker floodlights blazing, I assume they didn't just climb in over the wall.
"No, we have the luxury of knowing some people who were able to make it happen," beams Ryan Hennessy who, ever the sharp dressed man, is sporting a black faux fur coat, voluminous cream cotton trousers and slicked back James Dean-style locks. "When we heard that we were going to be on The Late Late Show, there were a couple of different ideas thrown around, but I just thought the imagery of an empty stadium reflects the state and mood of where we're at right now. We wanted there to be an element of surprise so it started off with me singing alone in a small room and then the walls dropping to reveal the pitch lit up and the rest of the band behind me.
"I tell you what," he adds, "walking into an empty Croke Park felt eerie and overwhelming. It's fucking huge!"
Advertisement
Eerie, overwhelming and fucking huge or not, the band comprehensively nailed it.
"It was a big deal, but thankfully James Corden was nice to us off camera before the interview part, which put us at our ease," Ryan notes. "He's a friendly guy, so it seemed like a normal chat. The performance was a pre-record so you weren't thinking about the millions of people who were going to see it. We were just having fun, which was great. They gave us three or four hours to do it, but we got it first take and were finished within fifty minutes."
Ever the consumate pros! Picture This getting to appear alongside Venus Williams on The Late Late Show may not be entirely unconnected to their recent signing to Joe Jonas' fledgling Let's Get It Records!
"It's one of those insane Hollywood stories how it came about," Ryan says gleefully. "Joe happened to be stuck in traffic outside the Troubadour where we were gigging and asked the queue of fans, 'Who's playing?' There's a YouTube clip of them telling him: 'Picture This', which lead to us going on tour with the Jonas Brothers, Joe cosigning us to his label and working on music with us. It's a cliché but Los Angeles really is a land of opportunity – the opportunity to destroy yourself if you want to, or to make the most of it."
We're delighted to report that Picture This have decided to go with option 'B'. We'll discuss option 'A' after we get Ryan to confirm that Joe Jonas is a serious rival to Dave Grohl in the nicest man in pop and/or rock stakes.
"All the brothers are super-nice," he nods. "Being that level of famous they almost have a right to be dickheads, but they're so down to earth and went out of their way to look after us. We have a very personal relationship with Joe who's so accommodating and supportive. You can tell he loves the fact that he's working with a real band – the Jonas' obviously came from that Disney background – and real producers. He's amazing, he really is."
Advertisement
Turn on any Irish radio station at the moment (bar Newstalk) and you're guaranteed to hear 'LA House Party', Picture This' zero fucks given new single, which includes such choice couplets as "All of the guys were so cliché/ Wearing Calvin Klein and knock off Rays/ Posting photos online with people they hate, yeah" and "The lines in the bathroom are insane/ Cause they're all powdering their brains/ And all of their problems are the same/ They're just way too cool."
Does Ryan realise that having described most the radio DJs in Los Angeles they're going to get fuck all airplay there now?
"I never thought of that but, yeah, very true," he laughs. "An Irish friend of ours who owns a bar in LA brought us to this amazing house in the Hollywood Hills owned by some record label guy – not ours I hasten to add! I've been at parties in LA that were great, but this was just people with their hoods up and sunglasses on queuing to get into the bathroom to literally powder their noses. I woke up the next morning and wrote the 'I don't wanna live like all these people here/ Cause these people are weird' verse, so at least I got a song out of it! There was a bit of 'We love it, but it might offend people' from the label and our management but I was like, 'I hope it fucking does offend people!'"
Also guaranteed to raise eyebrows is 'Addict Of Magic', an off-kilter love/lust song, which starts with Hennessy declaring that, "I'd hold up a drugstore/ Just for the high in your eyes": offers "I'm not violent/ But I'd break into a car/ Just for a hit of your heroin heart" by way of reassurance; and summerises by saying:"I know love as drugs is a worn out metaphor/ But we're all longing for the pure."
Asked to what extent the song is autobiographical, Ryan choosing his words carefully says: "I've never dealt with it personally as in I've never been an addict. I have an addictive personality for sure, but I've never done drugs myself. None of us have. Well, we drink alcohol, which I know is a drug really, and a bad one. But, um, I've had experiences in the past of friends who would have had drug problems. So, yeah, I do know about the subject. I've never spoken about it before, but for the first time, really, I found the writing of this album to be cathartic. As much as I've always poured my heart into my songs and told genuine stories, this is the most honest I've ever been."
Asked the "What I'd do if I were Minister for Drugs?" question we'll be putting to lots of people over the coming month – see hotpress.com for details – Ryan says, "I'm not very well versed on the subject so I won't go too deeply into it, but it's kind of a no-brainer to decriminalise drugs as they've done in Portugal."
Advertisement
The Jonas Brothers may have emerged from megastardom relatively unscathed, but others haven't been so fortunate. The recent Framing Britney Spears documentary is a stark reminder of what happens when pop stars are reduced to mere commodities.
"Yeah, that was insane," Ryan sighs. "That those things happened… I felt so fucking sorry for her. You don't want to believe that stuff but those sharks in the water do for sure exist. Luckily, we've a great team around us and a manager, Brian Whitehead, who knows all the tricks and can see them coming from a mile away."
The closest I've got to Britney was front of stage at the RDS in 2004 when, God love her, she looked dead behind the eyes, but I did get to meet Amy Winehouse at around the time those sharks were moving in for the financial kill, and it was horrible to see the toll it was having on her mental health.
"Yeah, that was another really intense film," Ryan says referring to the 2015 Amy documentary. "I'm a massive Amy Winehouse fan. Before getting my current place in London, I actually went and viewed Amy's old house in Hackney, which is incredible inside. You could feel Amy's energy in there."
Having read the Life In Colour lyric sheet I'm not as surprised as I might otherwise have been to discover the identity of two of Ryan's wordsmith heroes.
"I absolutely adore pop music and what we are and want to be is a pop band, but lyrically on this album I was influenced by people like Daniel Johnston and John Cooper Clarke who's my favourite poet," he reveals. "I accidentally discovered a video of him on the Old Grey Whistle Test when I was a kid, and have been obsessed ever since. I write a lot of poetry myself and have tried to fucking copy his style many times and failed. I love the conversational aspect of his work and the way you can almost smell the shitty bars and grungey alleyways he's describing. The reason we called the band 'Picture This' is that very early on somebody said, 'You can really picture and feel the places that you're talking about in your songs.' Growing up I was also majorly into The Streets and Biggie Smalls who also had that conversational element to their music."
Advertisement
Ryan's John Cooper Clarke observations could almost have been cut and pasted from previous interviews of mine with Alex Turner, Plan B and For Those I Love.
"Yeah, we're all buying into the idea of taking a poem and turning it into a song," Ryan elaborates. "I also grew up on Stone Roses, Happy Mondays and Oasis who are my favourite band. I have great love in general for Manchester. I've a lot of family over there who I spent summers with as a kid. I got totally immersed in the style, the football culture – I'm a United fan – and the music. My brother lives in Salford, which is probably part of the reason I'm so into John Cooper Clarke!"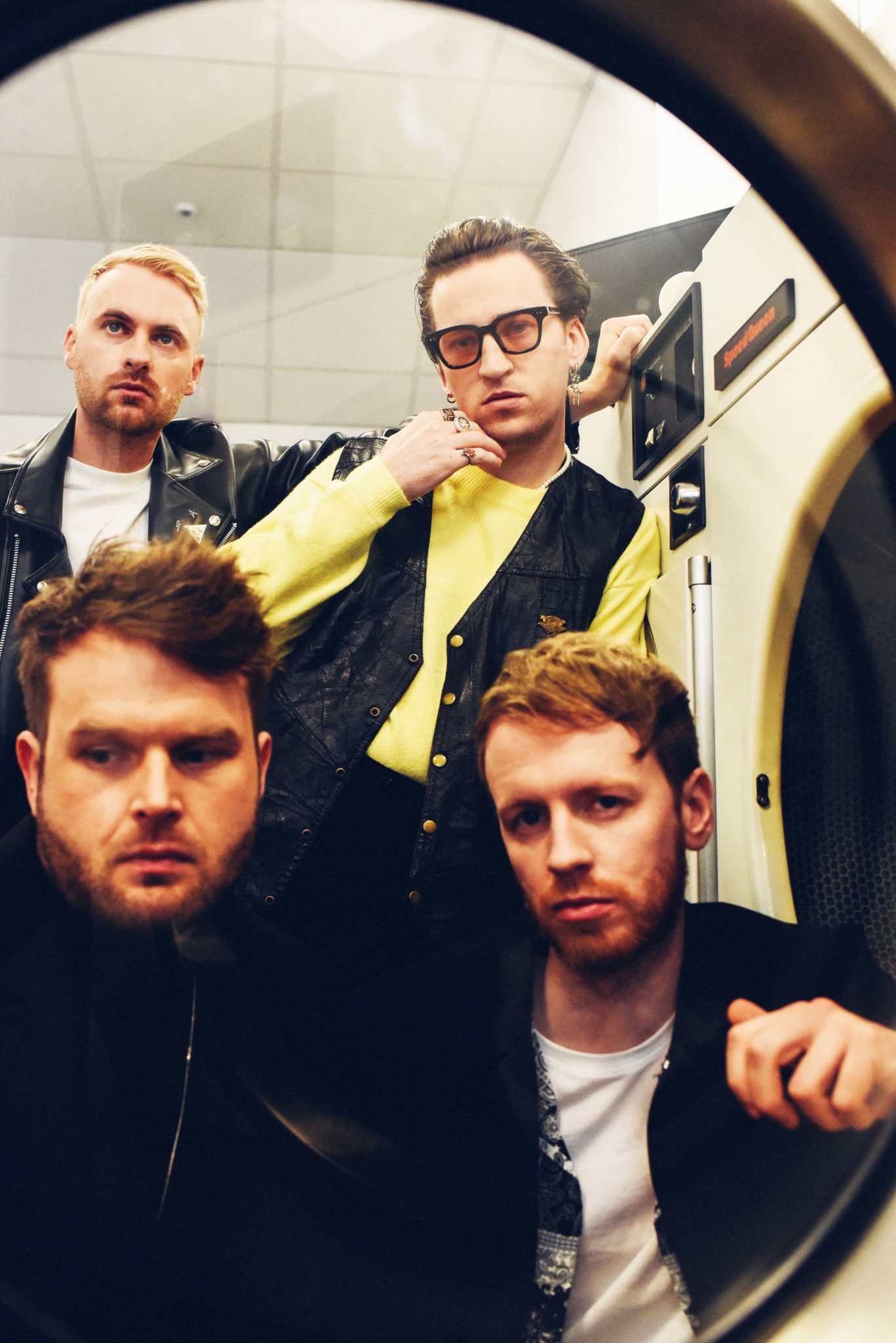 Several of Ryan's dreams came true when got to collaborate with Phil Coulter, the legendary Derry composer who's supplied everybody from the Bay City Rollers, Cliff Richard and the England World Cup Squad to The Dubliners, Sandie Shaw and Geno Washington with hits.
"Meeting Phil for the first time was one of the best days of my life because I grew up on The Dubliners," he enthuses. "The first CD I bought in Xtravision with my own money was a Luke Kelly compilation. The cover was this photo of him, eyes closed with the big ginger 'fro and beard, belting out a song. I had no idea who The Dubliners were; I just picked it off the shelf, took it home and instantly transcended to a new fucking universe of feeling, emotion, culture and love. Watching documentaries about The Dubliners was my introduction to Phil Coulter. I'm fascinated by the way he's kept reinventing himself, and still has his finger on the pulse. He really is a fan of our band and there's this mutual respect. Phil's so sharp, clever and funny; he'd have you in fucking stitches.
"Our first time writing a song together, he just sat down at the piano and played this chorus, which was like every classic Irish song ever. I'm getting goosebumps all over my body just thinking about it. I feel Phil's the first mentor I've had in music, and I've become very close to him."
Phil afforded Ryan the honour of asking him to feature on a re-working of 'Scorn Not His Simplicity', a song he wrote for his son who was born with Down's syndrome and which therefore occupies a special place in his heart. Once again, Ryan nailed it as the obligatory YouTube clip confirms.
Advertisement
"Thank you, I still can't believe that happened," he says, a look of genuine wonderment in his eyes. "One of Phil's people said, 'I'd love to hear you sing a song with Phil' and suggested 'Scorn Not…' Phil humbly thought for some reason that I wouldn't want to do that – and I thought he wouldn't want me to do it because the only people he's given his blessing to before to sing it are Luke and Sinéad O'Connor.
"I know the song inside out so there was no having to go away and learn it," Ryan continues. "After the recording, we were listening back to it on the studio monitors and Phil just gave me a massive hug. I feel fucking emotional talking about it; it was super-surreal. I'll hold those moments with Phil in my heart forever."
If that hasn't made your bottom lip quiver just a bit, you've a rock for a heart! The Life In Colour album cover finds a besuited Picture This up to their waists in the Irish Sea, which despite it being June was positively hypothermia-inducing. Asked whose bright idea this was, Ryan confesses: "Mine, and I can't swim. I'm terrified of water; it's my biggest fear. I was like, 'I'm just gonna have to fucking do it!' I've been to some cold countries, but being in that water was intense. It wasn't so bad for us because the waves were at our backs, but they were crashing into the photographer, Christian Tierney, who was hanging on to his camera for dear life. We were doing some final shots lying in the water and this guy who was walking past with his dog stopped, said, 'This lockdown is getting weirder and weirder every day' and then just carried on. It was very funny!"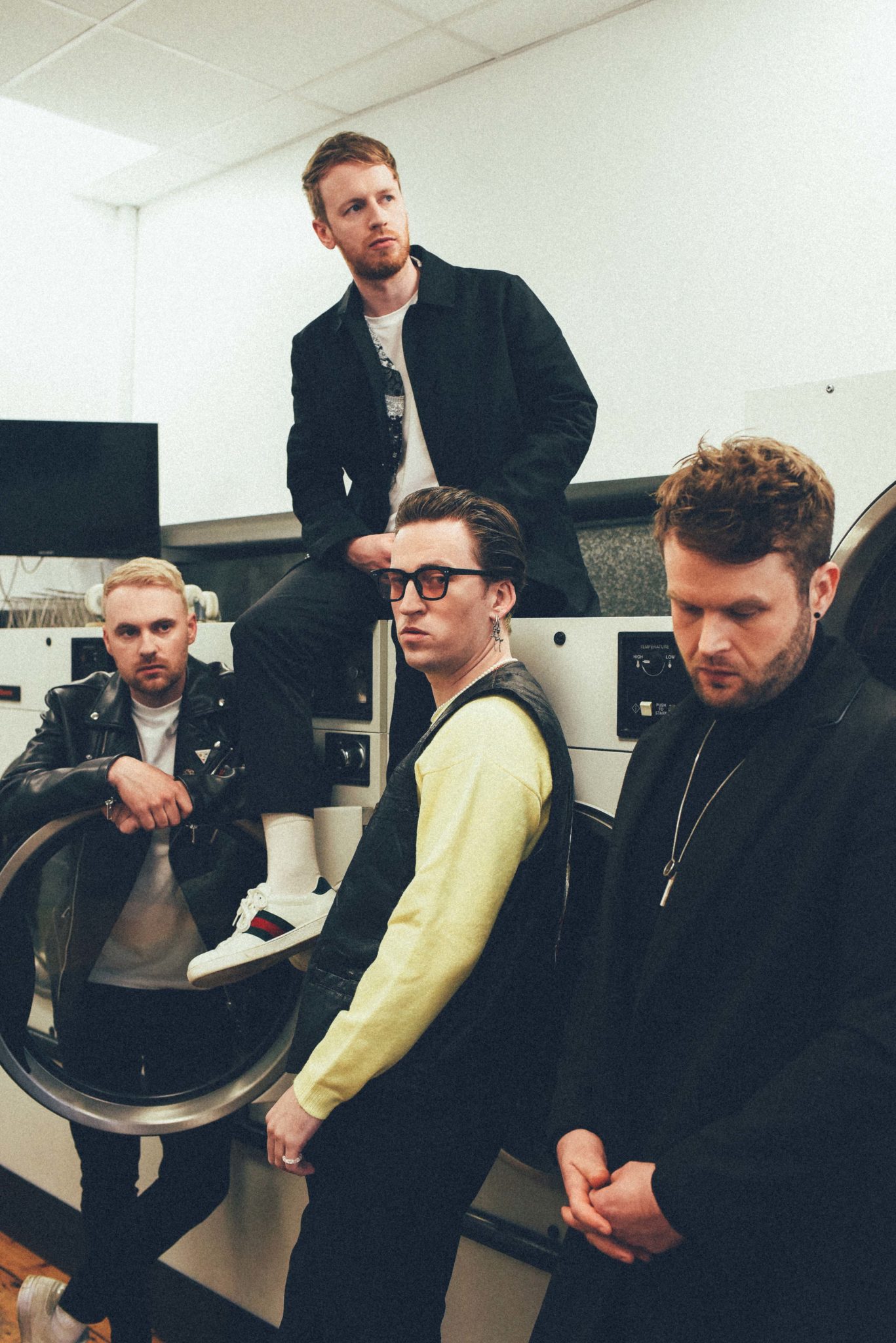 Joe Jonas, James Corden and Phil Coulter aren't the only big names in Picture This' corner with Bono including their 2015 chart-topper, 'Take My Hand' in his all-time favourite Irish songs list.
"It's amazing to recognised by people at that level, especially your own countrymen," Ryan reflects. "Bono has always been supportive of us. For some reason he keeps leaving us these really cryptic messages with self-portraits! Only Bono could do that. I got a gift recently of a photo taken backstage at Electric Picnic where he's standing behind me with his hands over my eyes. He signed it and wrote a hand-written letter, which took me about two hours to figure out. It was amazing!"
Advertisement
No ex- is going to complain about being compared to Winona Ryder, but does Ryan get former girlfriends taking umbrage because he's portrayed them in a less than flattering light?
"I've veiled it well in the past but, like I said, this is the most honest record we've done and there could be a few irate phone calls or texts. Hopefully no cease and desists…"
It's one thing writing a song in the safety of your own bedroom, and quite another it being streamed a gazillion times on Spotify.
"Actually, we have one coming out tomorrow, 'If Ever However Whenever', that I'm scared about because it's so personal. I was very comfortable writing and recording it and all that, but the fact it's now going to be in the public's hands… yeah, scary!"
Judging by the clobber he's got on today and the Vivienne Westwood-esque banknote 'n' safety pin jacket he was rocking on The Late Late Show, Niall Horan and Harry Styles had better start looking to their fashion laurels?
"Niall Horan? I'm not too sure…"
Advertisement
What about Harry then in his dress?
"I thought it looked great. Harry does amazing things for young men in terms of being able to push the boundaries a bit. For a while there men were far too reserved in terms of how they dress. It's great to have someone of his stature bringing it back with such confidence. Of course, a lot of his influences come from people like Mick Jagger who wore crazy shit all the time and is rock 'n' roll's eternal style icon. As I said earlier, football, fashion, women and music are my biggest loves."
What else could a man possibly need? While not in a hurry to talk about Covid – "Obviously, everything's weird but we don't need to have that conversation. We've all had it already a million times" – Ryan is severely ticked off by the pay rise TDs gave themselves in February.
"These people getting more money when there are small and family businesses struggling and possibly closing for good is insane to me," he fumes. "It's just very, very wrong. What makes this country great isn't the government, but the people with their craic, the humour, the sarcasm, all of that. No matter what's thrown at them, the people of Ireland will always win in the end."
With drugs, mental health and homelessness among the things successive governments have spectacularly failed to tackle, would Ryan like to see someone new like Sinn Féin take over the reins?
"I voted in the marriage and abortion referenda, but I've never voted politically," he admits. "I'm not afraid to say that I don't have enough information to broach the subject. I don't know if that's remiss and lazy of me. Maybe I should know more."
What Ryan Hennessy does know all about is making great records. Time will tell how radio reacts to some of the lyrical themes, but it's not hyperbole to say that every song on Life In Colour sounds like a potential number one.
Advertisement
"Thanks, I'm glad you like it," Ryan says. "I'm happy with the songs we chose because there were a fucking lot of them! I've got the opposite of writer's block; Jimmy calls it writer's vomit. I spew out words and melody. But, yeah, I'm very, very happy with it."
He'll be even happier next month when Picture This get to join the likes of Bastille, Hot Chip, Primal Scream and Craig David at Standon Calling, the Hertfordshire, England three-dayer, which will be their first proper gig since Covid struck. For a reminder of just how electric the band are live check out the full-length 3Arena concert video they put up recently on YouTube.
"Of all the things we've done, it's those five nights in the 3Arena that keep popping into my head because they were record breaking," Ryan concludes. "It was the most emotionally fulfilling feeling you could have as a band. I wish we could do five nights there every single week because it's just an amazing place to play. I'm not sure if my senses have ever been as heightened as they were during those shows.
"Being on the cover of Hot Press comes close," he concludes with a grin, "but that's the most amazing thing we've ever done."
So far...
• Life In Colour is out on June 25.
Advertisement