Paul Weller: "I've got to a good place with my music – I never find it a hardship anymore – and just want to keep doing it for as long as it lasts"
Paul Weller's purple patch continues with a new album that finds him working with family and one of his all-time heroes. Spotify, Declan O'Rourke, Nina Simone and David Bowie are also up for discussion when he talks to Stuart Clark.
Before we congratulate Paul Weller on his new record, let us congratulate him on Declan O'Rourke's new record.
"Thanks you man, Declan asking me to produce it was a massive honour," Weller beams. "Before going into the studio I said to him, 'I don't really know what I can do for you because you've already got your shit together', but he was convinced it'd make a difference and hopefully it has. We did it in no more than a total of six days, so it was dead easy.
"You've known for a long time in Ireland how good he is, but the word of mouth is spreading all over now. I'm delighted for him because he's such a lovely, genuine bloke."
That word of mouth includes a glowing testimonial from Pete Townshend who told his Instagram followers: "It is a gem. Fabulous guitar and singing. I love this Arrivals album."
"It's mad, isn't it?" Weller laughs. "Peter loves it and Peggy Seeger who's got to be, what, ninety and royalty also tweeted him. Some records come out, sell whatever they're going to sell and disappear, but I think Declan's will keep going for a year or two with more and more people getting to hear about it. He deserves it because he's such a good songwriter."
Advertisement
Paul Weller has been rock 'n' roll royalty since The Jam in April 1977 unleashed their 'In The City' call to arms. Part of the vanguard of angry young men and women sent to save us from ELO, Genesis and The Wombles, his quality control has rarely dipped since and in the past two years and seven months has shot off the scale with the triple whammy of True Meanings, On Sunset and the newbie, Fat Pop Volume 1.
When I mention they've been dashed out in only a few more months than it took David Bowie to gift us The Rise And Fall Of Ziggy Stardust, Aladdin Sane and Diamond Dogs, Weller comes over all bashful and says: "Very few people achieve the same level of artistry as Bowie – I know I haven't – but he demonstrated that it's possible to be as relevant in your 70s as you are in your 20s without slavishly copying your younger self, which was definitely the case with Blackstar. I'm lucky to have younger kids who are into grime and hip-hop and a lot of other things beside. My son, with no prompting from me, was playing Donnie Hathaway in the car the other day and is also teaching himself classical stuff like Erik Satie and Debussy on the piano. Kids nowadays don't put everything into a compartment like my generation did. What you listened to defined who you were. They're more open and less tribal than we were."
While all unmistakably Weller, Fat Pop Volume 1 oscillates wildly between strutting synth-pop ('Cosmic Fringes'); the theme from an imaginary Blaxploitation movie ('Testify'); soulful summery grooves ('Glad Times'); and Modish moments co-written with his eldest daughter Leah that take you back to where it all started ('Shades Of Blue').
In a previous interview Paul told me that one of the best things about The Jam was getting to travel all over the world with his late dad John who managed Woking's finest. Asked today whether he enjoyed the father/daughter hook-up in the studio, he nods furiously and says, "Yeah, it was lovely, man. Leah's really got her writing chops together and is doing an album at the moment with Stevie Craddock. Again, she's not bothered whether it's this genre or that genre; Leah just goes where the song takes her, which is really good. I try as much as is physically possible to avoid repeating myself, but when you've been doing it for as long as I have there are themes that even subconsciously you'll come back to."
What Weller hasn't become – and I make no apology for using that dirtiest of rock 'n' roll f-words – is formulaic.
"Some songs will take me months to finish. I have to keep chipping away, chipping away until I find it whereas others I'll start and finish within an hour. There's no pattern to any of it; writing happens randomly, which is in contrast to other people I know who'll put a 9-5 in like they did back in the '60s in the Brill Building. For me, these things are in the ether and you're just lucky if you're able to catch one of them."
Advertisement
Sonically he keeps it well disguised, but couplets like "His body broken and battle scarred/ His triumph comes at such a cost" reveal the funky 'Moving Canvas' to be Paul's tribute to Iggy Pop.
"I've met him a couple of times at festivals and he's been a diamond and a real gent," Weller enthuses. "I love the fact that he's a survivor and has had to work really fucking hard to get to the point where he's universally respected."
Iggy is number two behind Johnny Cash on my list of the most charismatic people I've seen play live. Where is he on Paul's?
"He's up there, definitely, but the most charismatic is Nina Simone who I've been lucky enough to see four or five times. One or two of them were so bad that I had to leave, but the others, fucking hell, man; she was so strong and regal like a queen. It obviously depended on how she felt on the night, which in a way is good because she wasn't faking it. You have to admire somebody who overcame the adversity that she did."
All of which was documented in her brilliant I Put A Spell On You autobiography. What are the chances of Paul telling all in print?
"Slim," he shoots back. "I get asked every year to do a book and I think, 'What's the point?' because I don't know what else I have to say beyond my songs. I find a lot of music biographies really boring. I'm quite happy if other people write books about me. They can say whatever they want because it means I don't have to do it!"
Has anyone got it half-right yet?
Advertisement
"I don't know because I've never read any of them! Seriously, I don't care what's in 'em!"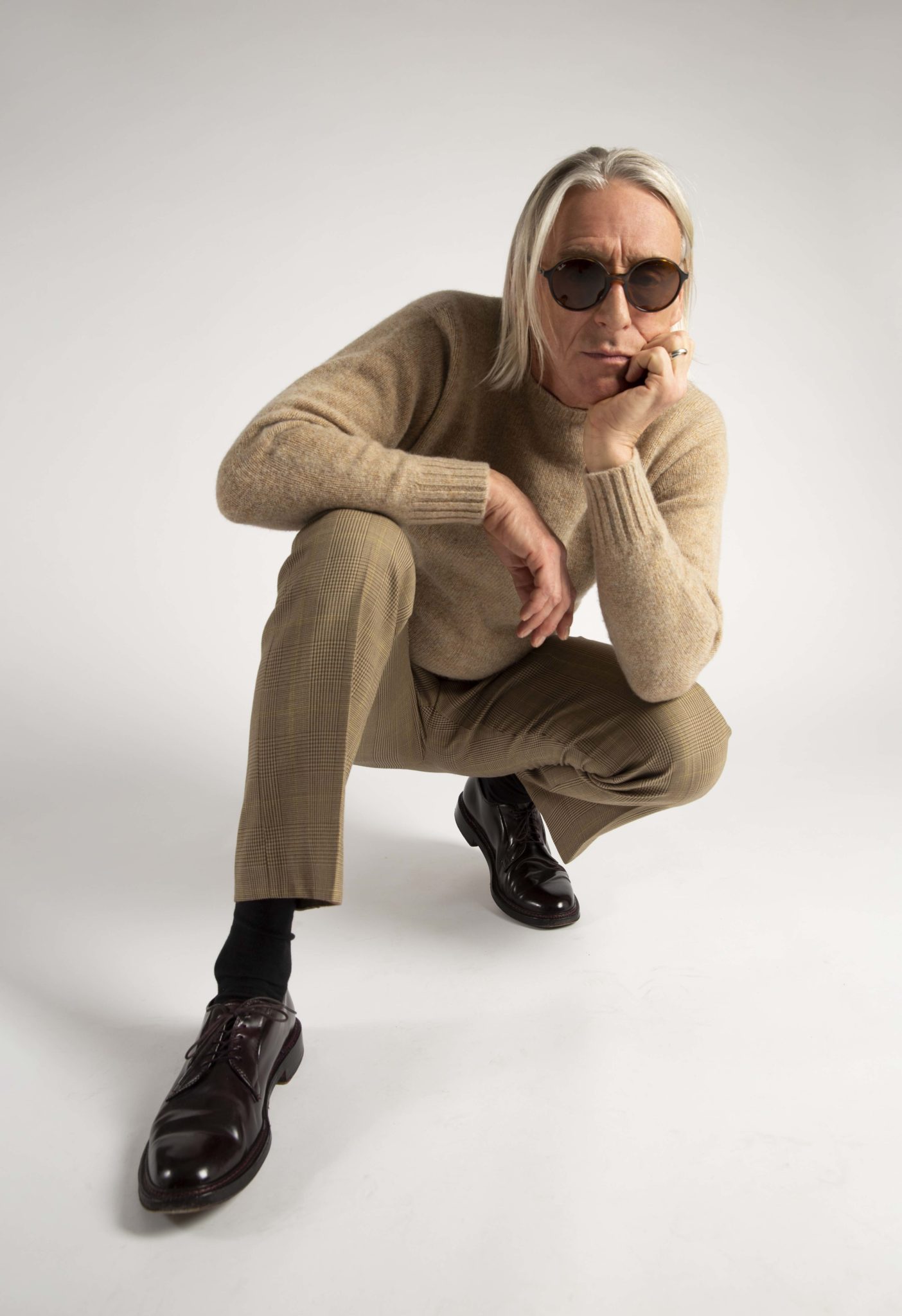 Another Fat Pop highlight is 'Testify', a confessional of the musical variety, which features Andy Fairweather Low, a hero of Weller's going back to the '60s when he fronted Amen Corner.
"It's never lost on me that here I am writing a song with a guy I watched performing 'If Paradise Is Half As Nice' on Top Of The Pops when I was eight or nine," he enthuses. "Last January we did this charity thing where we sung a few Stax numbers together, which was amazing. Our voices sounded good together, hence me wanting to get Andy involved with the new record."
Paul made industry headlines last month when he revealed that Spotify had paid him less than £10,000 for three million streams of On Sunset.
"Whichever fucker thought music should be free was a marketing whizz because the genie will not go back in the bottle," he rued. "I am not for Spotify. It's great for punters but for the artist it's shit. It's disgraceful."
Has he ever thought about cutting out the middlemen and self-releasing on physical formats only?
Advertisement
"I have thought recently about doing it, yeah. It would mean getting out of the competition altogether, but that doesn't bother me. It's a possibility, definitely."
What does Paul make of Spotify using the money they've made from him and other artists to try and buy Arsenal?
"Fucking hell, it's bonkers mate! I might see it a bit differently if it were Chelsea but it's got to be sorted so that artists get their fair share."
Weller, who turned 62 on the same day that Dylan celebrated his 80th, said recently that he feels like he's running out of time. What's left on his to do-list so?
"It's not so much specific goals as the desire to have some more of this," he explains. "I've got to a good place with my music – I never find it a hardship anymore – and just want to keep doing it for as long as it lasts. That's it for me, mate."
• Fat Pop Volume 1 is out now.
Advertisement