The American singer-songwriter Norah Jones returns to Ireland and the UK for a tour in November, 2023, which includes a date at 3Olympia Theatre.
The American singer-songwriter Norah Jones has just announced a UK and Ireland tour for this November.
It comes as an addition to the jazz-pop artist's summer EU tour, which starts this July in Paris, France. From there it will continue on through countries like Belgium, Italy, Croatia, Hungary, Austria, Spain, and Portugal before taking a few months break.
She'll resume the tour in the UK starting in November, finishing it out with two Irish dates, Waterfront Hall in Belfast on the 13th and 3Olympia in Dublin on the 14th.
Tickets go on sale this Friday on both Norah Jones' own site and Ticketmaster.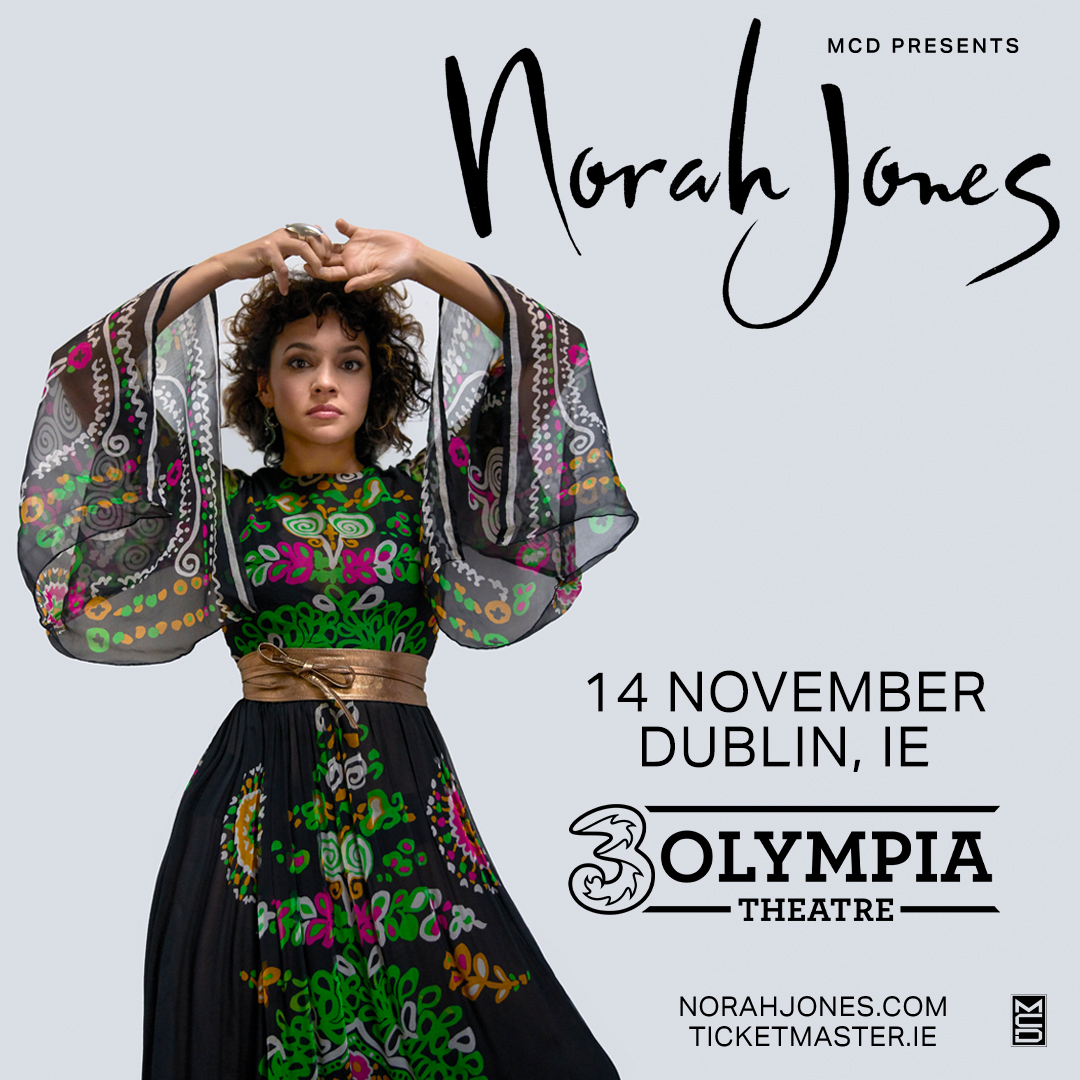 Advertisement
Jones rose to prominence back in 2002 with her debut jazz-pop album Come Away With Me, taking home what would be her first of nine GRAMMYs in 2003.
She's worked with bands like The Little Willies, El Madmo, and Puss n Boots, featuring Sasha Dobson and Catherine Popper. A 2010 compilation of her collaborations, ...Featuring Norah Jones, includes artists like Willie Nelson, Foo Fighters, Outkast, and Herbie Hancock.
Jones' latest studio album, Pick Me Up Off the Floor, came out in June, 2020.
It came after her collected work, Begin Again, was released via Blue Note Records in 2019. Begin Again includes singles made with friends like  Mavis Staples, Jeff Tweedy, Thomas Bartlett, Tarriona Tank Ball, Rodrigo Amarante, and Brian Blade.
The singer even has her own podcast, Norah Jones is Playing Along, hosting improvised collaborations and sincere conversations and making each episode unique from the last. It started in 2022 and each episode has a new musical guest.
Check out Norah Jones' EU and UK tour dates here:
July 6 – La Seine Musical – Paris, France
Advertisement
July 8 – Gent Jazz Festival – Gent, Belgium
July 11 – Jazz a Vienne – Vienne, France
July 14 – Lucca Festival – Lucca, Italy
July 15 – Ljetna Pozornica – Opatija, Croatia
July 16 – Veszprem Festival – Veszprem, Hungary
July 18 – Klassik am Dom – Linz, Austria
July 21 – Cap Roig Festival – Calella de Palafrugell, Spain
Advertisement
July 22 – Jazzaldia – San Sebastian, Spain
July 24 – Jazz in Marciac – Marciac, France
July 27 – Starlite Festival – Marbella, Spain
July 29 – Cool Jazz Festival – Lisbon, Portugal
Nov. 4 – Sage – Gateshead, UK
Nov. 6 – Symphony Hall – Birmingham, UK
Nov. 7 – The Bridgewater Hall – Birmingham, UK
Advertisement
Nov. 8 – Royal Concert Hall – Glasgow, UK
Nov. 10 – Forum – Bath, UK
Nov. 11 – Palladium – London, UK
Nov. 13 – Waterfront Hall – Belfast, Ireland
Nov. 14 – 3Olympia – Dublin, Ireland
Tickets for Norah Jones gone on sale Friday, March 24th at 10AM, starting €51.15, here:
Advertisement