By: Peter McGoran
Hot Press will be hosting private appointments for those who want a fascinating insight into the U2 story, as told by Hot Press.
Ahead of U2's return to their home city, we'll be offering fans the chance to to take a look at every single one of the signed Hot Press U2 covers, from 1979 to the present day, and hear the insider stories about how they started in Dublin and grew to become to biggest band in the world.
In 2017, Hot Press celebrated 40 years of publication by hosting a Covers Exhibition in National Photographic Archive. As part of this, we asked all the members of U2 to sign every copy of Hot Press where they'd donned the cover. This made up part of our dedicated U2 wall, pictured below.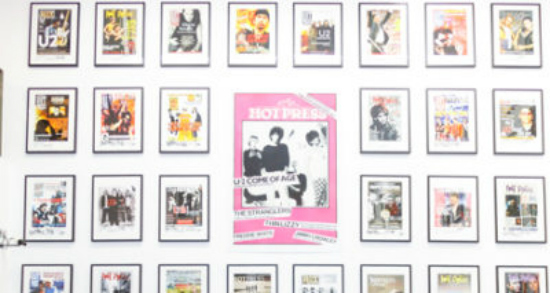 Now, for the first time, you'll be able to view each of these signed covers privately and learn the history of how they were conceived. This is a not to be missed opportunity to find out about U2 and Hot Press' unique history with each other...
Advertisement
The U2 Covers viewing will run from November 5 - 11.
To book an appointment go to hotpress.com cover pop up or email [email protected]