Ready for their next tour, Brass Against are "angry, they're inspired, and they're ready for change—and they hope their music amplifies this energy in everyone who listens," it says in the press.
Brass Against has announced their Irish National Tour, which will begin on October 12 at Belfast's Mandela Hall. The tour includes shows at Roisin Dubh in Galway on October 13, Dolan's Warehouse in Limerick on October 14, and Opium in Dublin on October 15.
While being known for covering a range of rock songs, Brass Against wants their music "to sound inspiring and resonate with people's emotions, encouraging them to act." To achieve that powerful and empowering sound, the group combined elements of classic rock and edgy hip-hop.
The majority of the songs played by the band are politically charged songs and other socially conscious music, with the goal of raising awareness of various issues and encouraging activism and social change. This fits the band as Brass Against was formed in 2017 in response to the political climate and a perceived need for politically charged music.
Listen to the band covering 'Wake Up' by Rage Against the Machine below:

Brad Hammonds, the band's leader, will be joined once again by baritone saxophonist Andrew Gutauskas and a number of friends. Brass Against's previous European tours included 12 sold-out shows, and the band appeared at festivals such as Boomtown, Pukkelpop, Download Madrid, and others.
After three full-length albums, including cover versions of songs by Rage Against the Machine, Tool, and Audioslave, the group released their self-titled debut EP on April 10.
Advertisement
Featuring vocals from Sophia Urista, the EP "marks our first foray into writing after doing interpretations of others' songs for the last two years," Hammonds said.
From Friday 14 April at 10am, tickets for Brass Against's tour can be purchased here.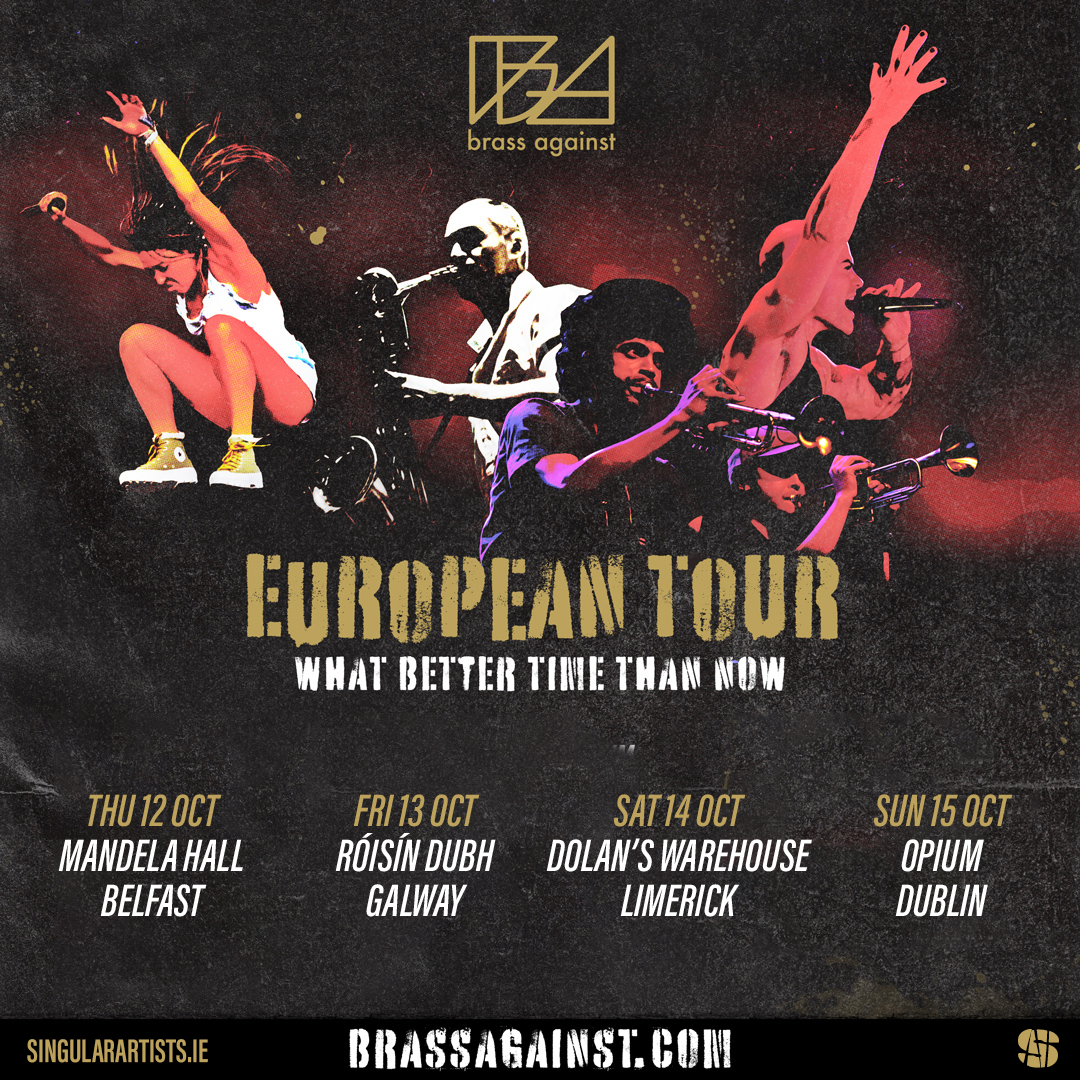 Brass Against's Irish Tour Dates:
October 12: Mandela Hall, Belfast
October 13: Roisin Dubh, Galway
October 14: Dolan's Warehouse, Limerick
October 15: Opium, Dublin