---
Brad Heidi announced as overall winner of A New Local Hero at finale showcase event in The Academy
The winner was announced following a night of brilliant performances at the Dublin venue.
Following a remarkable night of music in The Academy, Dublin, we're thrilled to announce that Brad Heidi has been crowned the overall winner of the A New Local Hero talent search!
As part of his prize, Brad, representing Galway Bay FM, will get to record a single at the prestigious Camden Recording Studios in Dublin – and release the single on the famed Irish independent record label Rubyworks.
Over the course of the evening, fans, friends, family and representatives from across the Irish music industry watched six of Ireland's most promising stars-in-the-making showcasing their talents – with performances from Brad Heidi (Galway Bay FM), Darian June (Red FM), Negro Impacto (LMFM), Temi NLA (FM104), Paddy Keyes (Ocean FM) and Eva Campbell (SPIN 1038).
The acts, who hail from across the country, each brought their own unique sounds and styles to the show – resulting in a brilliantly eclectic celebration of the best of emerging Irish music.
Despite fantastic performances from all of the acts, there could only be one winner – with Brad ultimately winning over the judges.
Advertisement
This Galway-based singer-songwriter initially built up a following on the busking circuit – but successful singles, and a lauded performance at Dublin's New Year's Eve festival, have helped him garner a reputation as a serious star-on-the-rise. After quitting school, he travelled around Ireland & the UK busking with just an acoustic guitar, a suitcase and his earnest songs.
Brad has now gone from the streets to selling out his first headline Irish tour and London show, as well as recently supporting Lisa Hannigan, Royseven, Pa Sheehy and Roisin O. His debut EP The First went No.2 on the official Irish independent album charts in 2021
In addition to music from all six of the national finalists, the night also featured a special guest performance from Nealo, on the same day that he released his eagerly anticipated new single, 'Forest'.
As one of the central features of Irish Music Month, A New Local Hero saw all 25 participating radio stations reaching out for submissions as part of the talent search. From the 25 regional finalists, an industry panel selected the six acts to go forward to play at the special showcase event at The Academy.
Irish Music Month is a partnership between Hot Press and the Independent Broadcasters of Ireland. It is supported by the newly established Coimisiún na Meán (which has incorporated the role of the Broadcasting Authority of Ireland) under the Sound & Vision scheme, and by MCD Productions, IMRO, Live Nation, RAAP, Ticketmaster, Rubyworks, and Camden Recording Studios.
The judges for the A New Local Hero shortlisting process were Cian Boylan (Camden Recording Studios), Ruth-Anne Cunningham (artist and songwriter), Keith Johnson (IMRO), Roisin O'Reilly (artist and songwriter/ RAAP), Lucy O'Toole (Hot Press) and Roger Quail (Rubyworks).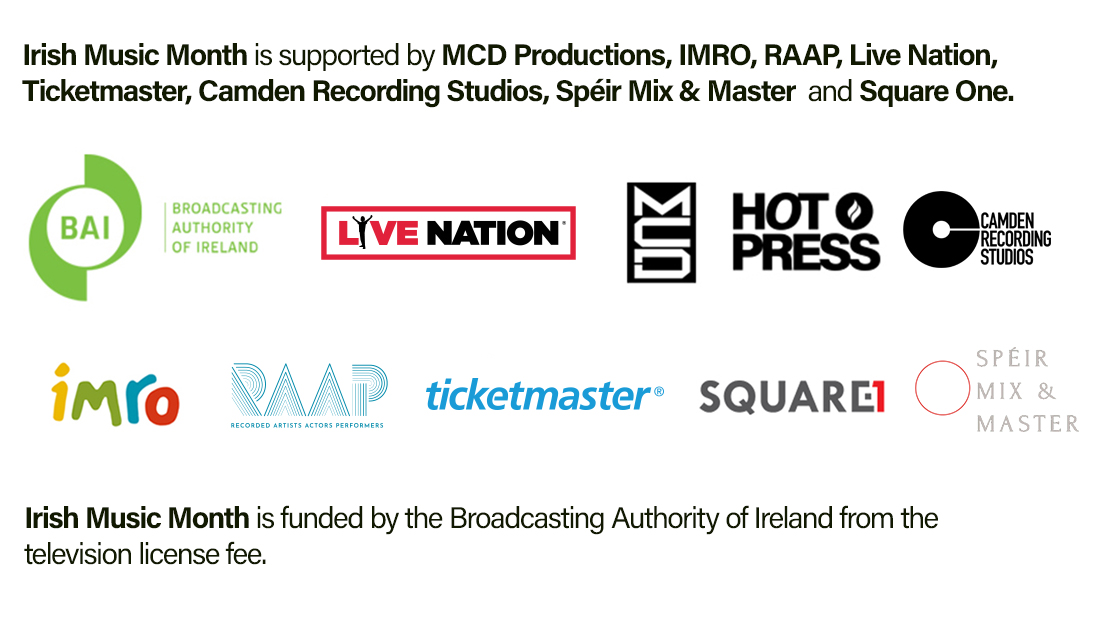 Advertisement
Irish Music Month is supported by MCD Productions, IMRO, RAAP, Live Nation, Ticketmaster, Camdem Recording Studios, Spéir Mix & Master, X-Music and Square1

Irish Music Month is funded by the Broadcasting Authority of Ireland from the television license fee