It takes the perfect blend of ingredients and a skilled hand to make that divine dish or crowning cocktail. Well, the same might be said of a capital city. And the good news is that, here in good old Dublin, we are getting better at it. Sometimes you have to stand back and think about a place, to see not just what it is but what it can become. That is what happened, for example, with the Wild Atlantic Way. It might have started out as a marketing initiative – but it was also an accurate name, and an attractive one, which reflected an important way of understanding the reality. Even more crucially, the very act of naming it offered a new sense of identity to the wonderful patchwork of places encompassed within it – and also, in a sense, to the people who live there. A light bulb goes on: this is what we are part of. Now, we have something to focus on and to live up to. And that is what has happened up and down the west coast. Everone feels enriched, and visitors also have a narrative around which to shape their thoughts, ideas and experiences. A similar process has been taking place in the capital. It is important that initiatives of this kind should feel organic. The last thing you want is to start sticking labels that don't fit, or that irritate, onto places; or to advance artificial notions about the city. But the attractions of Dublin, as a place for gays to live and to visit, in the wake of the Same Sex Marriage Referendum, are effectively symbolised in the concept of the Rainbow Mile – an initiative of Dublin Town – which encompasses a lot of the key gay venues in the capital city. It is a statement about our open-ness. And it works. Ciities are ever-changing. But they also have a habit of clustering activities and attractions in a way that breathes both fresh life and a recognisable character into our urban environment. Dublin's Creative Quarter, stretching from Clarendon Street to Great George's Street and from Lower Stephen's Street to the rear of Dame Street, is a good case in point. There is a youthful buzz about the place, but also a respect for tradition. It is an area to which people with bright ideas and diverse qualities and nationalities naturally gravitate. There is a genuine sense of community here – of people who work in the area, and frequent it, getting to know one another in a positive and neighbourly spirit. And it has just the right mix of independent designer boutiques, galleries, bars, clubs and coffee shops to keep a discerning shopper of any age engaged and enthralled. It is indeed a jewel in the heart of the crown that is Dublin city...
FOODIE'S PARADISE
This truly eclectic part of the city has a rich history, dating back to the 18th century. Striking red brick buildings still stand as impressive testament to times of innovation past, when artisans and artists, entrepreneurs and designers were attracted to this fascinating city centre enclave, due to both its proximity to Grafton Street and its fine independent spirit. It was historically the hub of the rag trade in Ireland, with all of the bohemian and fashionable associations which that implies. Indeed this localised creative spirit was further stoked by writers and revolutionaries who lived and worked on these very streets. Dubliners will be well aware of key buildings and attractions which help to define the area as special. George's Street Arcade and Powerscourt Townhouse Centre provide two of the grandest focal points in the zone, for those wishing to start their journey around the Creative Quarter. But for all the atmosphere which we take for granted, not many know the unique history of these places, which adds lustre to the experience when we see them in real-life close-up.  Urban historians confirm that the arcade was the first purpose-built Victorian shopping destination in Dublin – a kind of Stephen's Green Shopping Centre of the 19th Century. It retains a wonderfully higgeldy-piggeldy quality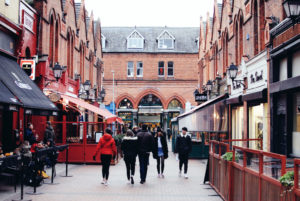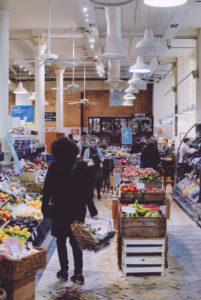 Advertisement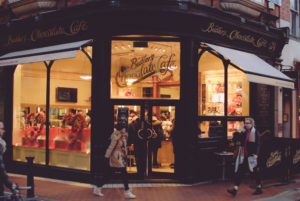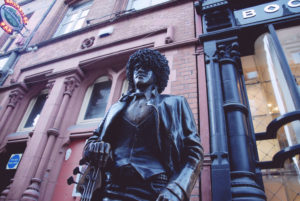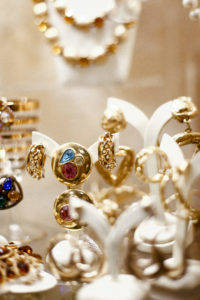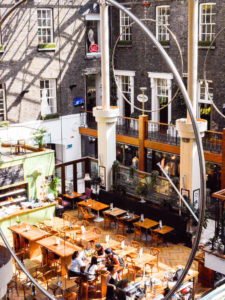 which you can imagine visitors browsing their way through, way back when, in their Victorian finery. Today shoppers can peruse old vinyl in Spindizzy Records, sneak through the back entrance into the Market Bar, stop and buy nuts and dried fruit from a super-friendly stall in the centre isle, or even get their fortune read by Keith Kavanagh, tarot and aura psychic reader. One block across, you'll find the steps leading up to the front of Powerscourt Townhouse Centre. There you can catch hipsters peacocking on the granite steps. Across the road is Grogan's Pub, a landmark outside of which are inevitably clustered a wonderfully wide cross-section of the city's bohemians, literary types, musos and more – and of course visitors and the occasional celebrity too. Take a turn down the terracotta paved path of Castle Market to spot a rare vintage gem in The Harlequin second hand shop. You'll spot Costume, the superb designer boutique founded by sisters Tracy, Leigh and Ann Tucker, a couple of doors down, on the corner of Drury Street. Turn right if you want to ogle at the quirky homeware in Industry & Co just across the road from the legendary Drury Street Car Park. Discover unusual Irish made items in The Irish Design Shop, founded in 2008, or take selfies with the latest wheatgrass juice cleanse, sitting outside the dedicated vegetarian deli Blazing Salads. At the other end of Drury Street is a foodie's paradise. The colourful exterior of Drury Buildings - owned by Declan O'Regan – is like an emblem of what the area has to offer: bright, quirky, interesting and arresting. Better still, the food is superb. Across the road is Asia Market, where you can get just about anything under the sun – and lots from under the sea too! – that might be needed for Asian cooking. On the corner of Fade Street is Dylan McGrath's superb Fade Street Social, which constantly buzzes. A few steps on,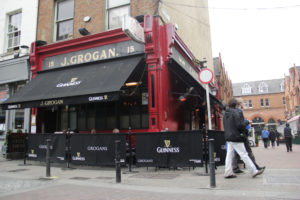 there's L'Gueuleton and Hogan's Bar, which boasts a superb underground club at weekends.
Advertisement
THE PEOPLE HAVE IT
Overall, the influx of creatives has also encouraged a vibrant entertainment scene, which sees the street pulsating with life, day or night. Run by the vastly experienced Frank Gleeson, Farrier & Draper, which is located within Powerscourt Centre, boasts three bars and a superb restaurant, in a lovely atmospheric set of rooms. The restaurant, La Cucina, utilises the traditional Italian Al Forno method of cooking, in a large wood-fired oven. Pygmalion Bar, also located in Powerscourt, is a destination for trendy club goers to see and be seen. The South William Bar where you can catch international and home grown DJs spinning tracks into the early hours is also a hipster haven. If you'd rather a quiet pint in a pub and value real conversation in a buzzing environment, Peter's Pub at the top of South William Street offers a more traditional Irish environment where punters can sit back, relax and soak it all in. Pop into Miss Fantasia's Boutique on South William Street – it's an independent adult retailer where all your kink needs can be taken care of; and turn your head down to find one of the many psychics that operate out of basement properties here. At times, there is a "whew!" element to the sensory overload of the area – but only in a good way. Rachel McCahey, Liaison Manager with Dublin Town, has a lot to say about the heritage and unique appeal of this dynamic area "The Creative Quarter is bursting with creativity," she says enthusiastically, "from galleries to jewelry makers – and just about everything in between. But it's really the people that make the area so special." She explains how, as a response to what was happening in other parts of the city, the creative quarter became the hub of innovation we see today. "A couple of years ago, Dublin Town got talking to a bunch of business owners in the area," she recalls, "and we decided that we would name the area the Creative Quarter – on the basis that a lot of the owner occupiers themselves were so creative and really different from the likes of Grafton Street, which would have a lot of multinationals, or Temple Bar, which is very different from what is was in the 90's and is now catering heavily to the tourism industry." The fact that the Creative Quarter is so accessible gives it another key selling point. It is easy to get to by Luas, bus or car. Meanwhile, many people walk or cycle to the area. However you travel, the important thing is to have enough time to explore the many attractions that pepper the thoroughfares. Galleries and antique shops are an important part of the mix here. The Georgian Society's HQ is located in what was The City Assembly House on South William Street, an important Georgian building (once the City Hall in Daniel O'Connell's time), which houses exhibitions and other cultural events. There's also frequent pop-up exhibitions of different kinds, allowing creative Dubliners to gather and celebrate art and sculpture. And there's street art – including a superb mural which twins Blind Boy from the Rubber Bandits with Donald Trump on the facade of the buzzy venue and club, Hangar, on Andrew's Lane. That's across the street from the award-winning Pichet restaurant,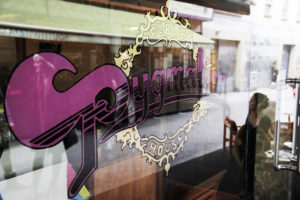 which is one of the city's finest. Check out Conway's Jewellery and drop into No.1 newsagent on the corner, before skipping around the corner to a Hot Press fave, the wonderful Rhinestones, a vintage jewellery shop that is genuinely the finest of its kind in the city. Bars and venues in the area, like Hangar, have been incubators for the burgeoning talents of musicians and DJs over the years. The International Bar has been vital to the Irish comedy scene. Fashion shows regularly take over space in the Creative Quarter, reviving its long association with the Irish fashion scene. And many shops on three parallel streets — Clarendon, South William and Drury — feature local designers. Meanwhile, Exchequer Street is home to Fallon & Byrne, which has become a local food-lovers landmark. Next door is Ukiyo, a buzzy Japanese-influenced place. And, in a nod to the need for variety, there's also a branch of X Music that's well worth any musician's while to drop into. Indeed, the key to getting to the heart of the Creative Quarter, is to spend time getting to know the people that drive the collaborations, the ideas and the projects in the area. This strong local community really does have a neighbourhood feel to it. So consider it a different style of shopping, away from the big high street brands. You'll find more interesting, independent products and produce for sale – and people who know all about them behind the counter. When it all comes down, spending a leisurely day wandering these streets is one of the most rewarding ways to enjoy your time in Dublin – or just to be part of one of the city's most exciting scenes. Here's our introduction to some of the places you will discover in the Creative Quarter...