We had been building up to it for weeks – and now the moment of truth had finally arrived. Could we successfully take-on the champions of Slovenia? It truly was a journey into uncharted territory, and so we just didn't know. But this much we could say for sure: we were utterly determined to give it our best shot…
Sitting around waiting for our Champions League debut was a lot like the feeling of anticipation you experience, waiting for the server to come back with your burger & chips after working 10 hours in retail all day at Dunnes. Excruciating.
Not only did the team have months of build-up to the Champions League, but the days leading up to our first run-in with a tough international team had heightened the anxiousness and nervous excitement. With kick-off in the match against ZNK Pomurje slowly approaching, the crawl to tehe 5:30 start-time was only partially relieved by the cafe chats and the team meeting. I couldn't help but wonder if the Slovenian team were suffering the same nerves. Maybe they were….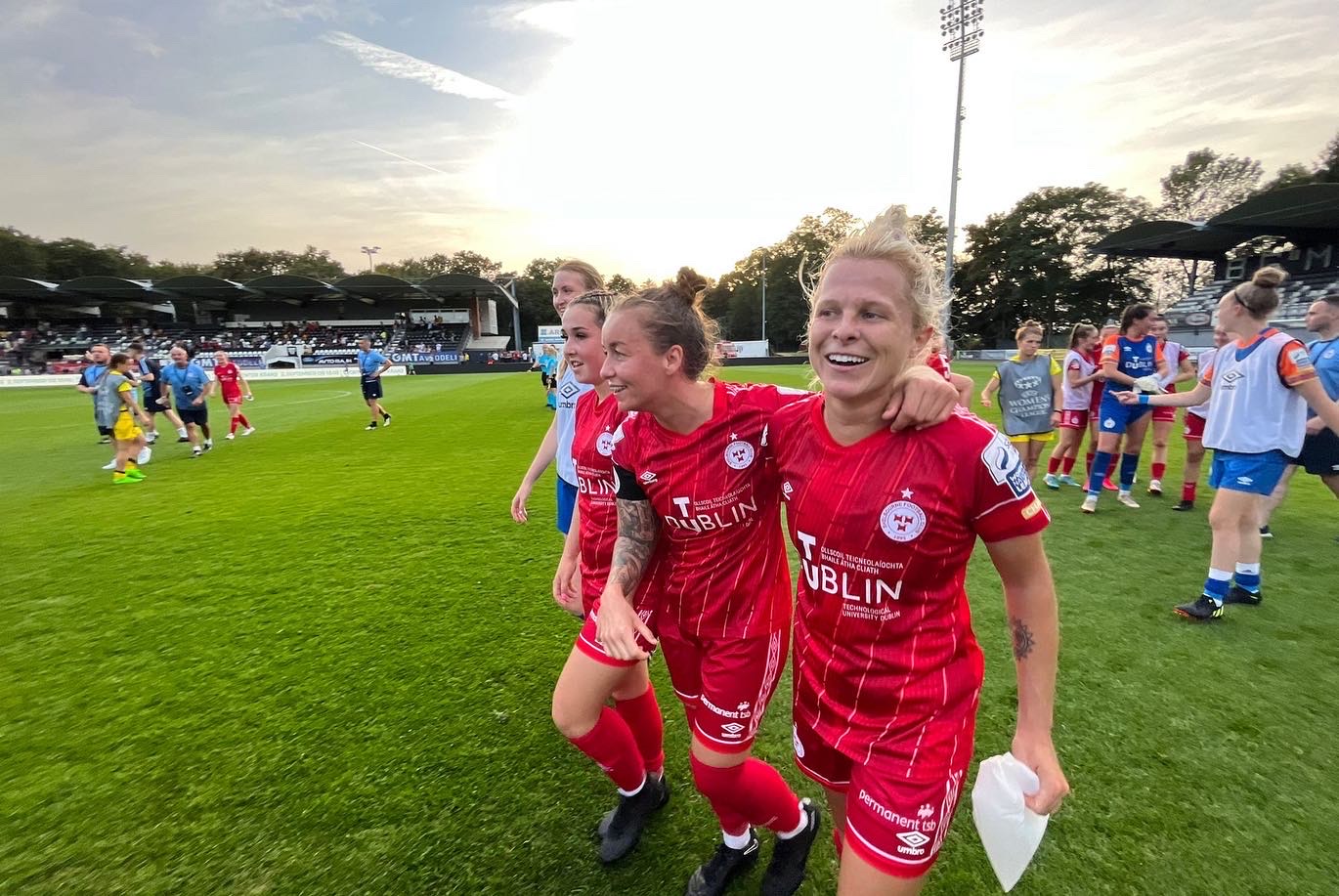 In fairness, we weren't exactly poised to win. Or it certainly didn't feel that way. I don't know why, considering the Women's National League in Ireland is similar in quality to the Slovenian domestic league, but perhaps the underdog mentality suits us best.
On the flip side, we really had nothing to lose — just about nobody expected us to beat a team filled with Eastern European giants, who looked like they ate full-roast chickens for breakfast and three steak and kidney sandwiches for a midday snack. They were big – we knew that from the videos!
Advertisement
JUST CALL ME PIRLO!
The only thing we could do, then, was to prepare as well as possible, in our own unique way. We watched game film, got a good night's sleep and fuelled ourselves properly – with paper-thin crepes and machine coffee, or Barry's Tea if you were one of the few who'd made room in their suitcases for 40+ teabags to last 6 days…
I should really say that we tried to get a good night's sleep. Unfortunately, ahem, there was a seemingly random concert being held on the mini golf course beside our 19th-century hotel – sabotage from the hosts, perhaps?
Just because you're paranoid doesn't mean that you're wrong.
As we met-up in the lobby before the match, the nerves and excitement were so thick in the air you could actually feel it. Players look at these things in different ways. Some girls were hyper-excited, knowing that they were about to play what was probably the biggest match of their careers; others were just anxious to get a good first touch on the ball. But one thing was certain — we were as ready as we would ever be.
Our warm-up on the pristine pitch was smooth and sharp, helping us get into the groove before we headed back into the dressing room, for our final pre-match preparations. Our kit and boots were meticulously inspected by an official, who didn't like us laughing at her inability to pronounce complicated names like "Pearl'' – who she mistakenly called Pirlo! That ritual done, we were ready to head out.
The walk onto the pitch was like Russell Crowe stepping into the Gladiator arena. The Slovenian fans were loud and lustily cheered ZNK Pomurje, in their bright-yellow school-bus-looking kit. But our infamous Reds fans somehow out-screamed the home crowd. You'd have thought there were hundreds of Shels supporters behind our goal, rather than the dozen-or-so fans who had really taken dedication to the next level.
Advertisement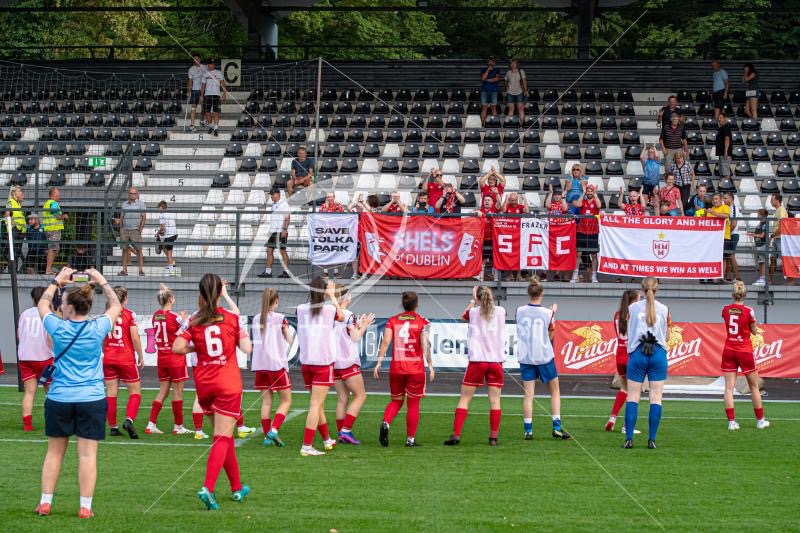 WHAT ELSE HAD THEY PUT IN THE COFFEE?
We lined up and the Champions League music started to blare over the speakers – it was an awe-inspiring moment. We had collectively been dreaming of this for weeks – or years for those who have been in the pro game for a longer time. Now it was finally upon us. All we had to do was deliver.
Yikes! It was scary. But we were up for it: of that much I was sure.
Honestly, we did deliver – and then some.
The Slovenian team didn't know what hit them in the first few minutes, as we came out firing on all cylinders. To be honest, I think we surprised ourselves too — we used the anxiousness, nervousness, and excitement we had been feeling to come out swinging. We took the lead in the fourth minute, with my fellow American Heather O'Reilly grabbing her first Champions League goal with a well-directed, looping header. And from there on, we had to battle every step of the way.
We never stopped running, working together, covering for one another.
Advertisement
I'm not usually inclined to wax enthusiastic about my own performances and I try to err on the side of self-deprecation more often than not – but the resilience and fight that every single one of the girls showed for 90+ minutes was unbelievable.
And yes, it was 90+, because the shocking ref – little did I know what would occur in our next match! – tacked on a whopping seven minutes of stoppage time. Those seven minutes felt like an eternity – if you have ever run on an athletics track, stood on stage, had a one-on-one meeting with your boss, or had an awkward conversation with an in-law after they've had too many glasses of wine at a family party, you know just how long seven minutes can be. Well, this was longer. Much longer.
But we held on.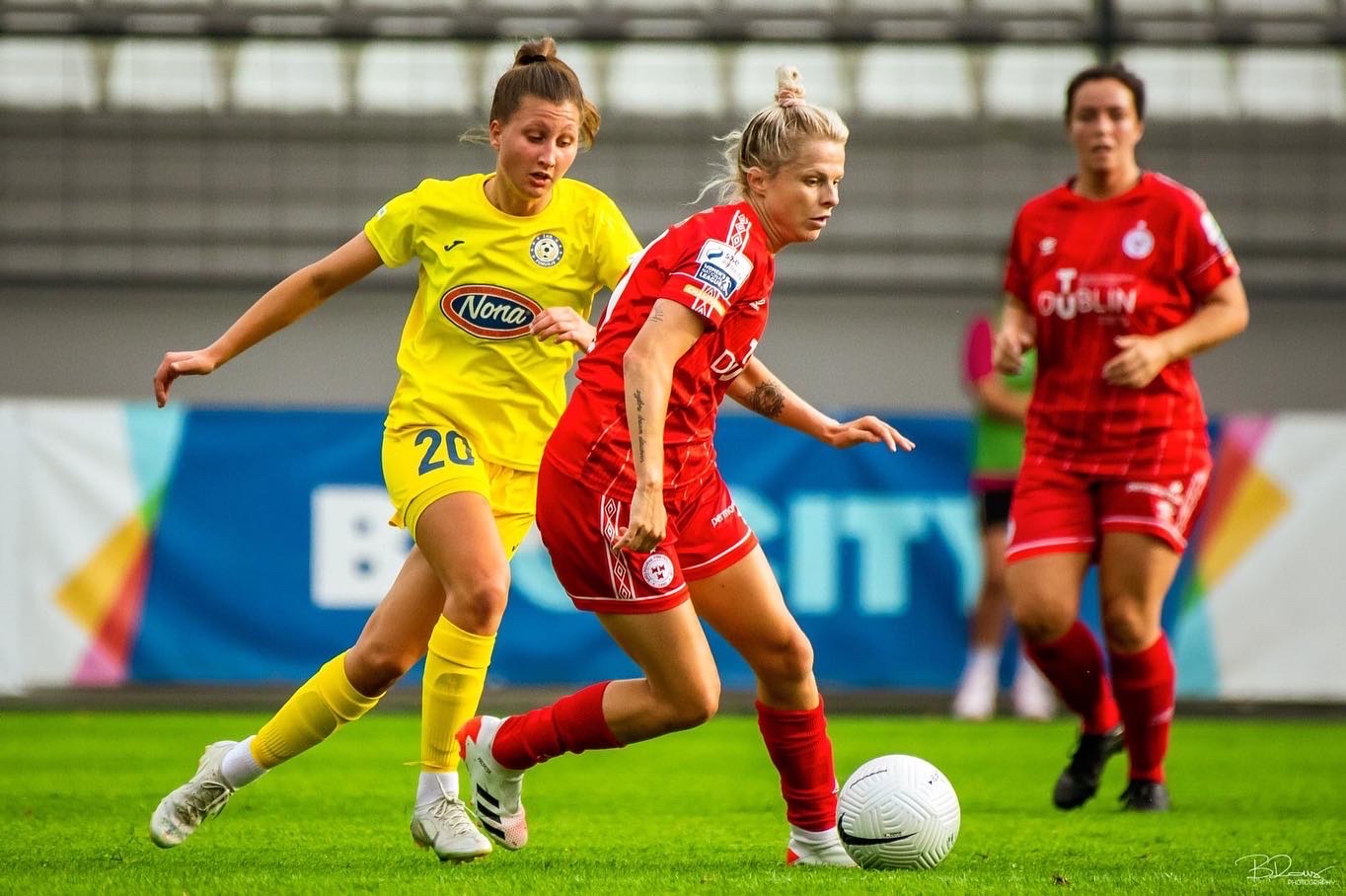 The final whistle finally blew — and it was easily one of the best moments of my entire soccer career. The strange meatloaf, lumpy pillows, old Eastern European men giving us side-eyed glances in the hotel, and the weird taste of the iced coffee – what else had they put in it?, I worried – were all worth it. We had just won our Champions League debut.
Revelling in the moment, it felt like the sky was the limit. Onwards to… Iceland!
READ: Shelbourne FC: Our Brilliant Champion's League Adventure (Part 1)
Advertisement