There was a time, not so long ago, when you couldn't even find a women's soccer game on TV. Now, as the audience for the Women's World Cup final confirmed, the sport is right up there among the most popular on the planet. No wonder Irish women want a piece of the action. And with their draw in Sweden, the truth is that they are in with a big shout of making the play-offs...
"Mom, can you find me the remote? No, not that one. That's for the radiator. No, that's for the lights. Yeah that's it! I need to put on the Liverpool match…"
"That Mo Salah is incredible."
"Yes mom, Salah is incredible – but I'm talking about the Liverpool women's game."
There was a time when women's soccer was impossible to find on TV. Back in the era when VHS tapes reigned supreme and Walkmen were still the rage, even if you had cable TV, finding a women's soccer game was the equivalent of discovering a four-leaf clover (or evidence that Trump isn't a blubbering nincompoop and a dangerous one at that) – impossible.
At least, growing up in the U.S., we had a few games to go to. I remember after our kids' tournaments, wherein our little legs would somehow carry us through six games in two days, we would plan to go to see our local professional women's team — the Philadelphia Independence – in action. With our faces painted, still in our match day kits, we'd rush to get good seats to watch our future selves running around on the pitch. With the football, of course.
Advertisement
Looking back, we didn't really notice there weren't too many people there. There weren't camera crews, boys' teams coming to join in the fun, or stadium seating. We were thrilled to be sitting on metal bleachers slobbering over a stale pretzel, as the superwomen sprinted, kicked, pushed, pulled and struggled against the tide for 90 minutes.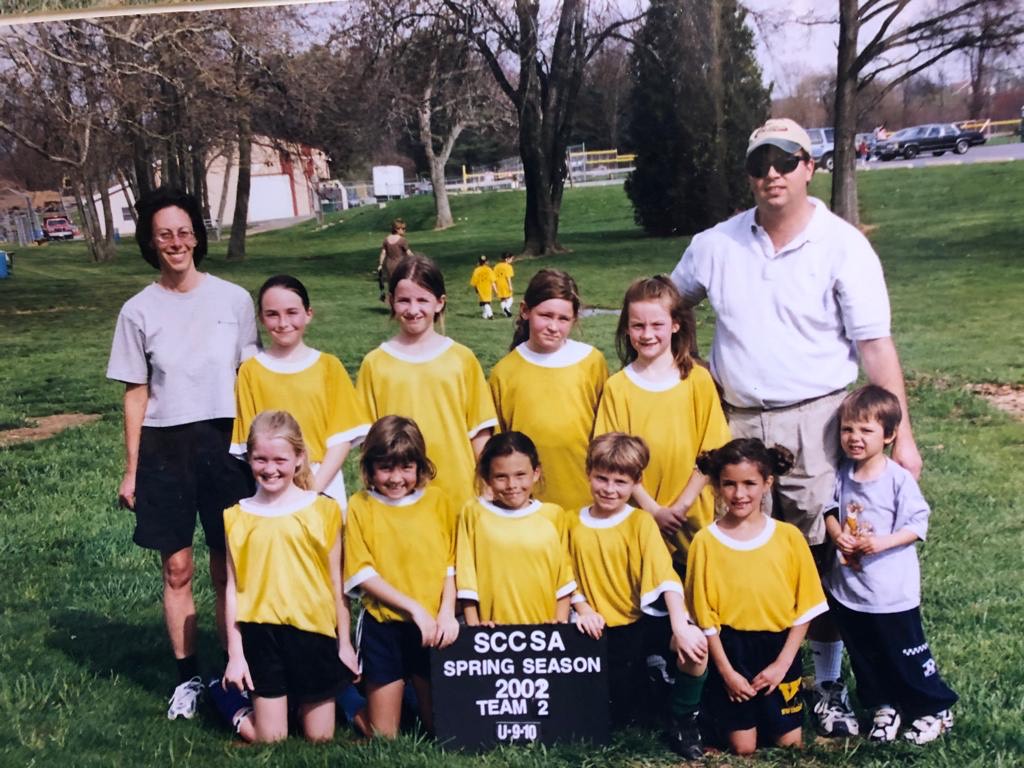 Of course, the '99 World Cup skyrocketed the infamous "99ers" team to the closest anyone had ever come to fame in the women's soccer world. Mia Hamm became the GOAT of the sport. Wambach was a rising star. And Julie Foudy's international career took her into the world of broadcasting.
But women's soccer was still falling by the wayside compared to nearly every other male sport in the world. Curling? Apparently people were more interested. Darts – guys in a pub throwing little metal things at a piece of cork – was more important than any women's soccer match – right?
Wrong. Women's soccer was gaining steam and I was lucky enough to be the age to watch it all unfold. The generation before me had very few people to look up to, whereas my friends and I almost had collective heart attacks (at just 7 years old) when we met Mia Hamm. She was a star.
As I grew up, I started to realise the sacrifices these women had made to even play football. They worked multiple jobs, forfeited time with their families, and trained like demons.
The more the women's game grew, the greater the scepticism among blow-hards. It wasn't really a game for women, was it? They couldn't ever be as skilful. They'd never draw the same crowds? And, by the way, were they even serving the same hot dogs at the games?
Advertisement
Of course, in the US, we'd produce a women's side capable not just of attracting crowds, but of winning the World Cup. Which makes us far more successful than the men's national team (who really haven't won anything at all to date — no offence, Christian Pulisic).

SHATTERING VIEWERSHIP RECORDS
Fast forward over 20 years from the 99ers. The Ireland women's national team has just played Sweden in sunny Gothenburg, and the game was shown live on RTE2, the RTE Player, and covered on RTE Radio 1 Extra.
Now that is a paradigm shift!
Even just a few years ago, it was still hard to find women's soccer on TV. In the U.S., games were streamed on the Hallmark streaming channel – yes, the same channel that does the horrific, can't-take-your-eyes-off-the-screen Christmas movies.
How does one download the Hallmark streaming, you ask? Nobody knows. Viewer numbers dropped, and the people in charge (i.e., the men in charge….) took this as a sign that women's soccer was simply not as popular as the men's game. That women could not do something (anything) JUST as good as men…
Advertisement
Boy, were they mistaken! Like most things in life, the men involved got it wrong. Okay, not all men. But you get the picture.
Just take Kenny Shiels, for example. Please? Anyone?
This bloke, supposedly the "manager" of the Northern Ireland women's team, claimed this week that women's teams let in more goals soon after conceding one, because they were "more emotional than men." I'm sorry, have we seriously teleported a century back in time? Has the gentleman never seen the men's game, in which players flop about upon the grass crying man-tears? Or watched the scenes at the end of the Manchester City .v. Atletico Madrid game on Wednesday?
Talk about people getting stupidly emotional!
Clearly, we need to change the narrative around how women's sports are discussed. Just imagine if we referred to Sean O'Shea in the 2019 All-Ireland Men's Senior Football Championship as being "too emotional" after the loss. The whole of Kerry would be up in arms – and rightly so.
But here's the real story. Over 1.12 billion people around the world watched the official coverage of the 2019 FIFA Women's World Cup, with the final match shattering viewership records to become the most-watched game of all time – either men's and women's. Don't believe me?
The viewership for the women's final was 22% higher than the men's final one year previously.
Advertisement
You could attribute this to many things. Megan Rapinoe's off-the-field political activism. Alex Morgan's rise as a genuine star. Or the fact that Netherlands' Vivianne Mediema is arguably the finest women's player of her generation.
It doesn't matter. The figures tell us that women's soccer is one of the most popular sports in the world. And it's about time that people acknowledged it.
What a night for WNT 🙌

And typical of this team, they share it with their fans 👏#SWEIRL | #COYGIG | #OUTBELIEVE pic.twitter.com/z5fokmw3Zx

— FAI Women (@FAIWomen) April 13, 2022
POLE POSITION
Girls and boys everywhere must be able to see their heroes in action. Whether it's a trip to the Aviva to catch The Boys in Green or watching the brilliant performance of the Ireland women's national team in Sweden on TV, seeing is believing. And when we see the national team take a vital leap forward, as happened this week, then we all start to believe that we are capable of competing at the highest level.
With the likes of Denise O'Sullivan, Katie McCabe – and indeed every player who took to the pitch in Gothenburg – paving the way for Irish women in football, we can see just how important women's soccer can be to the nation's future.
Advertisement
I know, we've had moments like this in men's football, most notably when Ireland beat the World Cup holders Germany 1-0 in the Aviva Stadium in 2015, opening the door to qualification for Euro 2016.
But this result, drawing 1-1 away to the No.2 ranked team in women's international football, was on a par. It was a truly extraordinary moment when Katie McCabe's deflected strike hit the back of the new to put Ireland ahead in the 44th minute. There was just over ten minutes left when Sweden equalised, but – unlike the Irish men in similar circumstances against Portugal in October 2021, when Cristiano Ronaldo scored in the 89th and 96th minutes delivering a 2-1 victory for the Portuguese – they didn't concede a second. I mean: hello Kenny Shiels! Are you out there?
This Swedish side has some of best and most experienced players in the world in Caroline Seger, Hedvig Lindahl, and Sofia Jakobsson. Many of them play for the top teams in Europe — think Barcelona, Wolfsburg, Rosengard, Juventus, and Everton. It seemed almost impossible that the Girls in Green could pull it off – but they did. Not only that, the result puts Ireland in pole position to be runners-up in their group and to qualify for a play-off to get to the World Cup finals.
And that says something about the Women's National League, and the footballers I play against every week. With players from Shelbourne, Peamount, Wexford and Galway in the national squad, the league is getting better and more competitive all the time. Which is exactly what, as players, we want...
Which reminds me – I have a game this weekend to get ready for. See you on the other side…
🚨 MATCH ALERT

Three games kicking off at 18:00 on Saturday

Take your pick which one to watch LIVE on https://t.co/8yFxgvR8mX 💻 pic.twitter.com/qe0D0zRzcj

— Women's National League (@LoiWomen) April 15, 2022
Advertisement
Emma Starr is from Philadelphia in the USA. She completed an internship at the Manchester International Football Academy having graduated from George Mason University, in Fairfax, Virginia, in 2016. She has played football in the UK, the US, Ireland, Denmark and Austria. She joined Galway WFC in 2018 to play professional football, and played for a season with the west-siders. She subsequently signed for FFC Vorderland in Austria and played for a season there, making 17 first-team appearances. She returned to Galway last year, becoming one of the team's most influential players. She has signed again for the 2022 season. Emma is a journalist and writer as well as a strength and conditioning coach.