In Irish women's football, Shelbourne have just done the league and cup double – but, for many, an emerging Athlone Town side stole the show in the 2022 Women's National League. Overall, the season just ended was an enthralling one, with another tension-filled final day showdown for the title. But – for some clubs – it was also a season of multiple challenges, both on and off the pitch. Add to that the new emergence of Shamrock Rovers as a force, and who knows what lies ahead!
It was a new one for women's football in Ireland.
"Are you watching, Stephanie Roche?!"
So went the chant of the triumphant Shelbourne supporters. It was aimed directly at their arch rivals' striker, the Peamount and Ireland player and RTE co-commentator, Stephanie Roche (first picture below), as their team secured the WNL league title, and then the FAI Women's Cup, to complete the elusive 'Double'.
The tune was a nod towards the official complaint made by Stephanie, about the use of insulting language, directed at her during a match between the teams at Tolka Park earlier in the season. Funny as the chant was, one suspects it would take more than a humorous slagging from a few hundred fans to ruffle the feathers of one of the league's most experienced, talented and decorated, players…
IN THE INTERNATIONAL SQUAD
Advertisement
The occasion was Shelbourne's final game of the Women's National League season in Ferrycarrig, Co. Wexford. The 2021 title holders were squaring up against contenders Wexford, with the 2022 trophy still at stake. The showdown had been set in train the previous weekend by a wonderfully competitive game between Wexford Youths and Peamount United, a 3-3 draw finally eliminating Peamount from title contention. The scene was thus set for Wexford v Shelbourne, with Shels one point ahead of their direct rivals and therefore needing only a draw to take the title. Wexford needed to win.
"We'd heard some people saying recently that we were handed the league last year when Galway beat Peamount 5-2 on the final day," says Shelbourne captain, Pearl Slattery. "That was a bit of a bugbear. Especially for me! The fact is that we were in the position to win that title. You have to be there to win it.
"You have to remember that in the previous three years we'd been runners-up, losing it by three points, by one point, and in a play-off. So this year, with the TG4 cameras there as well, we set out to show people what we are really about. We wanted to make sure that no-one could be in any doubt that we deserve to be champions – and that we are worthy back-to-back winners.
"It felt like a home game," she adds, "because we brought several supporters buses and they were brilliant all game. We didn't want to let them down.
"We'd been in good form for the previous few weeks and our training sessions were unbelievable," Slattery continues. "I've a lot of respect for Wexford, a great club, and for Kylie Murphy – the striker – who I've faced many times. Earlier in the season, we went to Wexford and beat them 2-0 and we really were better than them that night. Then, we played them in Tolka Park and they beat us 1-0, but we felt we had dominated that game.
"That said, the title showdown was even enough in the first half. I felt we were dominating, but they were having their threatening moments with the likes of Ciara Rossiter on set-pieces. Our approach was: let's just keep doing what we're doing. And all the work the team had put in since pre-season, and all the sacrifices the players made along the way, this is what it's for. There were no nerves in the team. Everyone went about their business. I was so proud of them."
In the end, Shels prevailed 4-0. For Wexford Youths FC, it was an unlikely final day cave-in. They had played some wonderful football during the season and had gone about their business quietly – in contrast to Shelbourne's conveyor belt of announcements and public relations efforts – of which the signing of 37-year old US World Cup winner Heather O'Reilly in time for their short UEFA Champions League run was a prime example.
Advertisement
Wexford manager, Stephen Quinn, however, was keen to reflect on the positives.
"Going into the game, we treated it as a cup final. I was probably more disappointed that we conceded a goal just before half-time than anything after that because we needed to win, while Shels only needed a draw. So, conceding that goal meant we would have to score two.
"Then, when the second one went in, we had to score three goals. So, we had to push players on, and Shels rose to that and scored two in the space of a few minutes. We were missing players, it had been a long season and we had a few sore bodies, but there are no excuses. We had the work done. There was a great atmosphere, a big crowd, the TG4 cameras were there – but no-one likes to be on the end of a 4-0 defeat."
In fairness to Shels, they had suffered significant disruption when they lost four first-teamers to the UK and US at the mid-season break. However, they had the resources to immediately recruit three Americans: Helen O'Reilly, Izzy Glennon and the highly effective and mobile midfielder Emma Starr (formerly of Galway Women's FC).
As it turned out, Glennon departed home very quickly. O'Reilly also returned to the US for several weeks, or was in Australia and New Zealand as a UEFA ambassador for the forthcoming World Cup, or both, depending on who you asked at Shelbourne, only returning – as a substitute – for the concluding games of the league and the cup final and presumably to collect her medals.
One of two key Wexford players missing on the final day was Ellen Molloy, the gifted 18 year old Ireland international, a diminutive playmaker so central to the Wexford's goals tally. She had suffered a serious ACL (anterior cruciate ligament) knee injury – a fate that also befell the club's excellent centre half, Della Doherty.
"We were playing Treaty United and Ellen did a move she's done thousands of times before," Stephen Quinn says, "but her leg got stuck in the ground. Initially, we thought it was just an impact injury, because her knee clashed with the other player's knee, but the ACL went as well. We brought her up to Ray Moran in Santry, who is the best in this field. He's happy with how the surgery went and she's on the road to recovery now and, hopefully, by the tail end of next season (autumn 2023) she might be on the pitch again.
Advertisement
"It's a tough time for her. She's only started college, so she has a lot of things happening, and a lot of adaptation to do, plus it affects her place in the international squad with the World Cup looming next summer and the whole buzz around that.
"Ellen had scored 16 goals for us this season when she got injured. If we score 50 plus goals a season, she'd probably have a hand in 35 or 40 of them. She was a big loss. Yet, she didn't miss a training session. She came on crutches – and she came to the rest of the games as well. I feel for her, but she's such a strong character she'll be back, and back stronger."
HARD WORK AND DETERMINATION
If Ellen Molloy needs any extra motivation while recuperating, look no further than Shelbourne midfielder Alex Kavanagh, who returned from an MCL (medial cruciate ligament) injury this season. Kavanagh, at just 22, is already one of the legends of the women's game here. Selected at age 12 in the Ireland under 15s , she remains the youngest ever capped Irish player. Alex also scored the first ever women's soccer goal live on Irish television (TG4) last year.
A senior international at the age of 16, she has yet to achieve her full potential on that scene. At club level, however, Alex is a Big Game player. Fans will recall that on 4 June, Shels held an 8-point lead in the league. By 15 October, following a disastrous run, they had fallen a point behind Wexford. In truth, it was Kavanagh's fine post-injury form that drove Shelbourne's resurgence, to nail the league and cup double.
Against Wexford, Kavanagh's powerful strike from outside the box proved too hot to handle for excellent Wexford keeper Maeve Williams, who spilled it into the path of Shels' Jess Stapleton, who tucked it away on the stroke of half-time. 0-1 Shelbourne.
However, Kavanagh's sensational headed goal from the edge of the box on 59 minutes arguably provided the key moment as it meant Wexford now had to score three goals. Alex had delivered the killer blow. Shels went on to add two more as the game closed out, and the title was theirs for the second year in a row.
Advertisement
A week later, before a record crowd of 5,000 people and the RTE 2 live tv audience, Kavanagh was again the dominant creative force in the Evoke.ie FAI Women's Cup Final. She took the free kick that led to the opening goal for Shelbourne, bossed the midfield, and made a number of crucial tackles. At 2-0, one world class last-ditch intervention inside the six yard box with 10 minutes remaining almost certainly prevented an Athlone goal – and what would have been a tense finish. "Are you watching, Stephanie Roche?!" began ringing out around the ground.
Shels captain Pearl Slattery is effusive in her praise of Kavanagh, a calm and composed midfielder, with a penchant for defence-splitting passes and eye-catching goals – and a dead-ball specialist to boot.
"Alex is one of the most gifted, and is probably up there with the best, female footballers in this country," the Shels captain said. "She's had injuries, as we all do, but she's been a big player for us over the years. She deserved that goal, more than any player. She's worked so hard to get back into the side after injury and has deservedly kept her place. She's been unbelievable. She has also been unplayable at times in training, too."
Kavanagh – who won the FAI WNL Player of the Month for October, the critically decisive and final month of the season when trophies are there to be won and lost – is not a header by nature.
"It was just instinct," the soft-spoken Finglas-native explains. "I had already run into the box because I could see a space and I had an eye on where the keeper was when the ball came in from Abbie Larkin. I just directed it into the bottom corner. I've never scored with my head before!"
Kavanagh looks fitter than ever now, proof positive that her hard work and determination is paying off.
"It's been hard doing runs after matches by myself, and lonely in a way," she says, "but it's been paying off recently. It's about discipline and focus. I knew where I wanted to get fitness-wise. What also helps is playing games, because nothing beats match fitness and I'm enjoying my football again."
Advertisement
Put it this way: if Ireland manager Vera Pauw is looking to add more creativity to her excellent Ireland side, Kavanagh could be the one to step in. For sure, she has what it takes…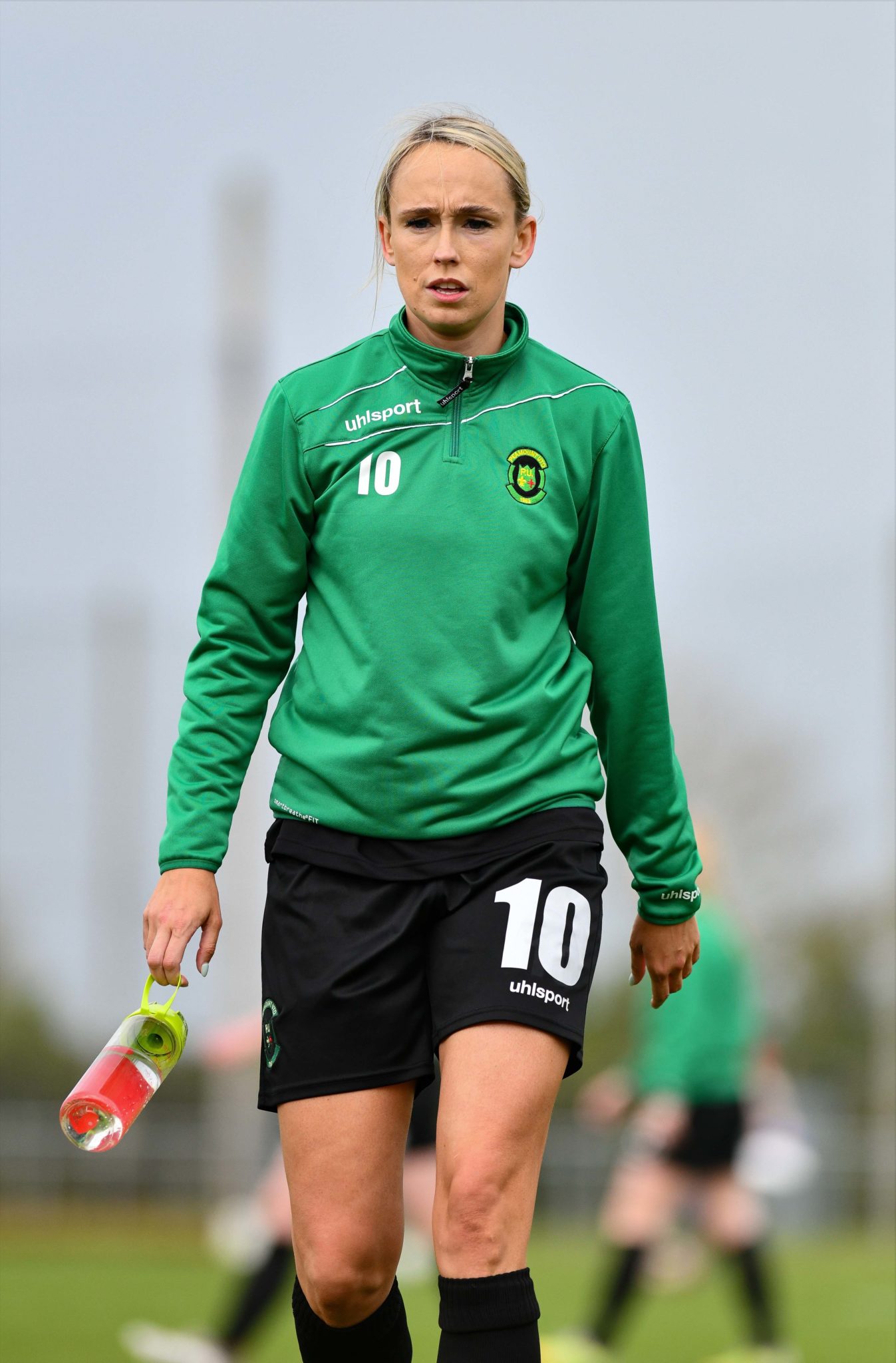 FITNESS AND CONDITIONING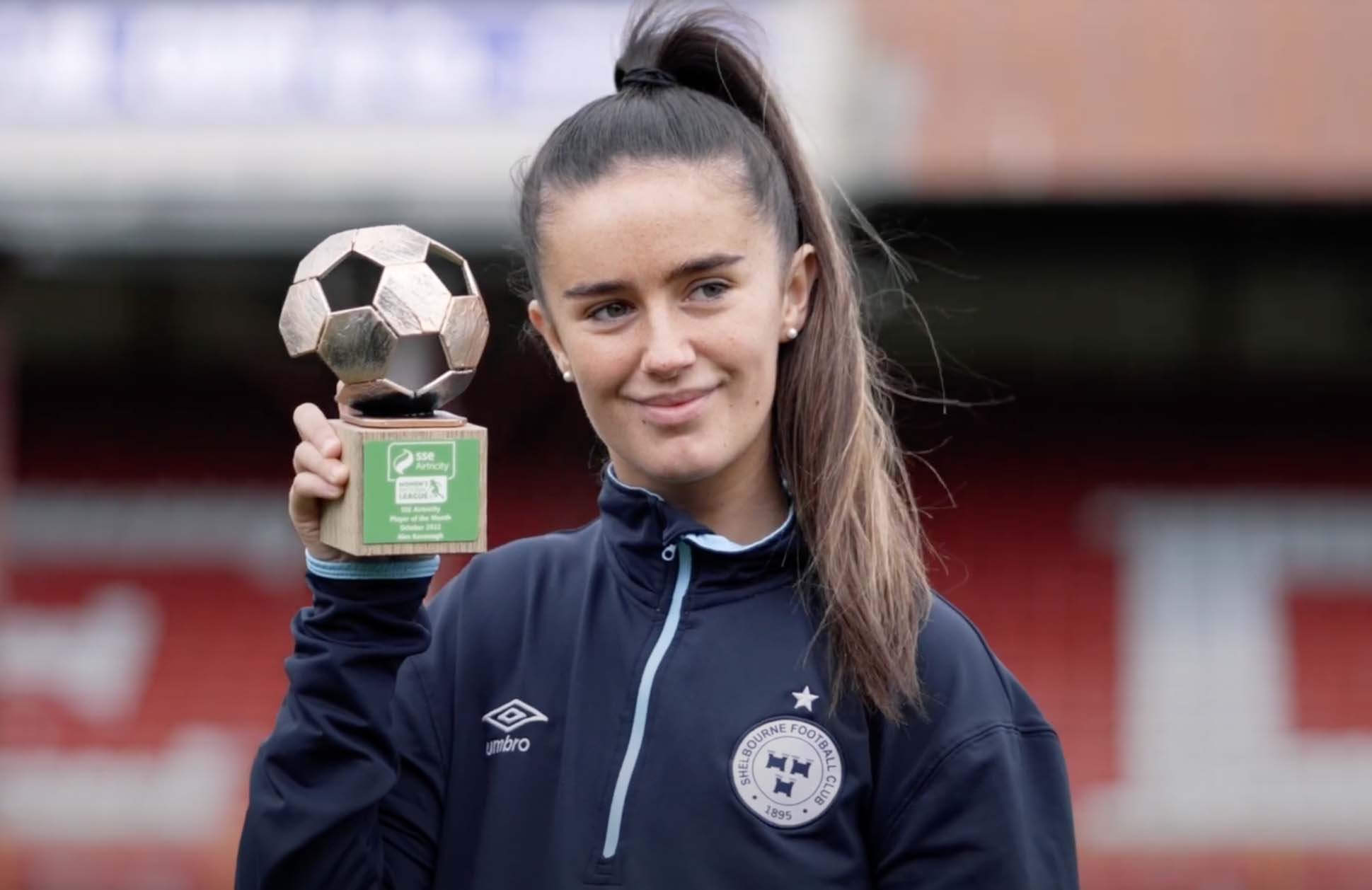 If the return of Alex Kavanagh (pictured above) from injury to season-defining form is a great narrative, the biggest success story of the 2022 WNL season has to be the rise of Athlone Town AFC Ladies.
Athlone finished the WNL as runners-up. More impressively still, they were in with a chance of winning until the final day.
"It's been great," says Athlone manager, Tommy Hewitt. "Earlier in the season I said our goal was to finish in the top five, to get an improvement on last year, but to finish second – to be above Peamount and Wexford, and to bring it down to the last game of the season with a small bit of hope that Shels and Wexford might draw to force a playoff against us – was amazing.
Advertisement
"I guess as the season goes on and results keep coming, you start to believe you're doing something special," Hewitt adds. "What we have is a very good team, a very good squad, players that know their roles inside out, and in the majority of games this season they've executed them. One of the keys is the consistency of the squad from last year to this. The players get to understand what the coaching team want – and they get to know each other better as players as well."
In the first three matches Athlone lost to Wexford, drew with Bohs and lost to Shels. A better start and the title might have been theirs. For many, the turning point for Athlone seemed to occur when they beat Peamount in Greenogue 0-1 on 14 May – but Tommy selects his own 'moment'.
"For me," he says, "the turning point was the scoreless draw in Galway in June, which was held in Mervue instead of Eamon Deacy Park. We were missing five of our first team players and we had to play four of the under 17s, who were aged between 15 and 16. We got a draw against a very good Galway team – and I felt that we really kicked on from there. It gave the players belief – and it gave us all belief that maybe we could do something special this season."
One of the key players that exemplified the Athlone team spirit was centre back Jess Hennessy. When she conceded an injury time penalty against Shelbourne in Tolka Park – Shels scored and the game ended in a draw – she seemed inconsolable, despite a player of the match-level performance.
"Jess is only 21," Tommy says. "She will learn a lot from that. We had a good chat afterwards about all the positive things she did in that game. These things happen. The ref gave the penalty, and you move on. And Jess did. She got Player of the Match the next time we played Shels.
"All of the experiences we have been through this season will stand to what is a very young team. But let me put on the record that they have done themselves, their team, their families and their town proud with what they achieved this season."
Jess Hennessy, Muireann Devaney, Roisin Molloy, and Madison Gibson all did extremely well. However, striker Emily Corbet has been outstanding. Last year, she scored just three goals – and yet she finished season 2022 with 23 goals to her credit – 20 in the league and 3 in the cup.
Advertisement
No wonder Corbet was recently selected – for the first time – as part of Ireland's Home-based Squad, a panel of WNL players who get to train with national manager Vera Pauw and the rest of Ireland's World Cup coaching team.
"It was a really good experience," Corbett tells me, "playing with some of the best players in the league – and for us all to see the kind of training the national team experience and their levels of fitness and conditioning. We get to see the standard they are playing at, as World Cup players. This will benefit me for Athlone next season.
"Everyone in the Athlone squad will have more experience," she adds. "Last year, we were beaten by Wexford and this season we beat them twice. We beat Shelbourne and Peamount. All of that will give us huge confidence going into next season."
STEPPING UP TO THE NEXT LEVEL
Katie Malone of DLR Waves, who scored 11 goals from her left wing position this season, makes no bones about the fact that she didn't enjoy playing against Athlone this season…
"Athlone are my least favourite team to play against when they are on-form," she reflects. "They are so physical. They stick to their game-plan so well. And you can see that their manager really loves his team. When they got to the Cup final, the emotion he showed was unbelievable. At the same time, we put it up to them this season, with two really narrow defeats by one goal – and a draw."
DLR finished in fifth this season, compared to last year's fourth. It was encouraging that they did well against the teams above them, including beating Shels at Tolka with a fine opportunist goal by the speedy Malone, who took advantage of a defence playing too high a line. DLR also had a couple of entertaining ding-dongs with Peamount, conceding a late goal in a 1-1 draw at the UCD Bowl in what was one of the best games of the WNL season.
Advertisement
"Our aim at the outset was to finish in the top three," says DLR Manager Graham Kelly. "It's disappointing that we didn't do that. We probably didn't score enough goals early in the season. We were one up in that Peamount game and should have scored another couple before they struck back late for a draw. We had seven draws and that's 14 points that got away. That's massive."
The talented Malone exceeded her own target goal tally.
"The first half of the season didn't go the way I wanted it to," she says. "I was in and out of the team, not really starting and then not scoring. Then I got my chance and I took it. In the second half of the season, I really went for it. I came to accept playing out of position and, overall, I think it was a good season. I had 10 as my target and came in on 11, and not in my favourite position."
Malone scored against Peamount United, who finished the season in third. The Peas' were involved in several of the best matches of the 2022 season, including the penultimate WNL match against Wexford which provided a 3-3 thriller for TG4 viewers.
Erin McLaughlin, Peamount's central midfielder, recently received her first call-up to Vera Pauw's senior panel for the Ireland squad's short training camp in Spain – and for the friendly against Morocco. She signed for Peas in January 2022, coming from Sion Swift in NI – and was soon embroiled in a controversy not of her own making.
An issue arose around Erin's signing, when International Transfer Clearance was not officially applied for by the simple omission a tick on the ITC box on the player's WNL registration form. Bottom line: the serial Ireland under-age player had moved from another footballing jurisdiction (Northern Ireland) to play in the Republic. She appeared in the opening match against Sligo. Peamount won – but the three points were subsequently deducted when Erin was deemed ineligible.
"Losing that three points was definitely a knock," admits McLaughlin, "but the ITC issue was an easy mistake to make. The club accepted it, and we had a good run, before hitting a bad patch. We were losing points against teams we should have been picking up points against. Things just didn't seem to click, but we got through that and we started to improve again."
Advertisement
That improvement saw 'Peas' saw notching up positive results and gradually improving their position in the table until, almost by stealth, they were contenders for the title in the final two weeks.
"I don't think anyone saw us creeping up!" laughs McLaughlin. "I'm not sure we even realised ourselves until near the end – when we began to think we had a chance to win it. But, overall, it was a brilliant season for the WNL, the competition was intense."
DLR's Graham Kelly agrees. "There's been no easy games. This is my fourth year in the WNL and it gets better each year. That's what we all want – to play at a really high standard. Newcomers Sligo Rovers, as one example, have been a very tough side to beat. They play good football, and they have serious threats up front."
Kelly is hugely optimistic for the future of the WNL, and the boost Ireland's presence in the Women's World Cup next summer will provide. In addition, Shamrock Rovers will enter next season's WNL – they've already been enticing players from other clubs, with controversial effect, including top youthful prospect Abbie Larkin from champions Shelbourne – while 2024 and beyond could see Drogheda United and Finn Harps (who have merged with the Donegal League) and possibly the new Bray-Greystones entity applying.
"I really think the game is going to explode here next season," says Kelly. "Shamrock Rovers have applied for a licence and (as has since been demonstrated – Ed) their coming in will make the WNL even more competitive. Over the next three or four years the league is going to grow. I know the FAI plan to have two divisions, which would be brilliant. I think women's football, with the World Cup happening, will be massive. The hope, too, is that it will attract more sponsors to the WNL. My congratulations to Vera Pauw and Tom Elmes and all the staff in the national team for a massive achievement. There will be such a buzz."
Shels captain Pearl Slattery was also particularly impressed with this year's WNL debutants, Sligo.
"Sligo Rovers did so well in their first season," says Slattery. "Looking back, they might have been the best counter-attacking team in the league, and they had the likes of Emma Doherty and Gemma McGuinness getting goals up front. I think if they can tighten up their defence now and keep recruiting from their region, they'll be a real threat next year. Their local support and the crowds they get is brilliant for the league. It's great to see a new team do so well in their first season."
Advertisement
In their first match of the season, Sligo beat Peamount 3-0 at PRL Park, going on to defeat Cork 2-1 in Cork, Wexford Youths 1-0 in Sligo and to hold champions Shels to just a single goal victory. Manager Steve Feeney, appointed last December in advance of the 2022 season, saw his team finish eighth, in his first senior management role.
"We've come a long way as a team and club, on and off the pitch," he explains, "but there have been disappointments, moments when we haven't got the results we wanted. But this was our first season in the WNL.
"Consistency has been an issue, but also a lack of experience. I guess the biggest learning has been that if you're not switched on as a group, or as an individual, you can be punished and it's very hard to get back into it against the best teams in this league. Other teams had the flexibility to switch from one formation to another during a game by moving a couple of players around, so that was something we worked on ourselves."
Sligo benefitted from the striking prowess of youngster Emma Doherty up front, one of a number of young strikers who lit up the WNL this season.
"Emma has such a great attitude. She'd play a game every day if she could," says Feeney. "She just loves the game. At 18, she is well able to handle different situations. She's a special talent.
"There's some great young talent in the league, but strikers score goals and get more headlines. Strikers like Emma, Abbie Larkin at Shels, Emily Corbet at Athlone, Katie Malone at DLR Waves, and others, they are all very mobile and dynamic. They make games more enjoyable to watch."
Graham Kelly agrees. "Full credit to the FAI for introducing the under 17s and under 19s leagues because that has helped develop players at a younger age and gets them ready for first team senior football. Nine of our underage players have played WNL senior football this year, three from the under 17s and six from the 19s. We have buy-in from all the coaches in the club that when players are ready, they can step up to the next level."
Advertisement
A GOOD FOOTBALL ENVIRONMENT
Bohemian FC ('Bohs') have also harnessed young talent to increasingly good effect. Their performances this season were vastly improved. They also reached the semi-final of the cup, where they were beaten by the eventual winners Shelbourne in what was an excellent game of football.
Assistant Manager Pat Trehy is content with the season and the way the side is making strides. "We've been very tight at the back and our new goalkeeper Rachael Kelly, and other new players this season, have all been excellent for us. But we can't stay still, we have to keep developing and get even more competitive."
Experienced Bohs striker Erica Burke is similarly optimistic.
"We're disappointed to finish seventh. We were much better attacking-wise this season, better at retaining possession and at being difficult to beat. It's maybe a loss of concentration late on in some games that cost us. I think if we can eliminate those moments and focus for the full 90-plus minutes, then we can challenge for the top four.
"To get to the semi-final of the cup was huge for us. We didn't get the result we wanted against Shels, but we put in a good performance."
Advertisement
For Galway WFC, 2022 proved to be difficult on the pitch and devastating off it, with the club being wound up at the end of the season. The local franchise is set to be revived, with Galway United FC confirmed to play in the 2023 season – the expectation being that many of the GWFC players will be signed.
"We didn't want to use what was going on off the pitch as an excuse," reflects GWFC team manager Alan Murphy, "but there was uncertainty. We had bad news at the start of the season with Savannah McCarthy's (captain and Ireland international) bad ACL injury in only the second match. Then we had Emma Starr leaving at the season break, and then the uncertainty around the future of the club.
"But if you take out the remarkable season that Athlone had, it could be the most successful season we've ever had. We've the most points we've ever had, the most clean sheets; we've scored the most goals we've ever had, conceded the least. We even went 11 games unbeaten in the middle of the season until an arguably dubious penalty for Bohemians knocked us out of the cup.
"A lot of our team felt let down by that decision," he adds, "and that broke the momentum, because if you get knocked out of the cup, and you're not in contention for the league it makes things difficult. I look back on the season now as a positive one. Apart from two bad losses to Peamount – early in the season and in the last match – we've been ultra-competitive."
As to matters off the pitch, for his part, Galway WFC co-founder and owner, Stephen Moran, has cited rising costs as the key reason why they could no longer sustain the club.
"The reason I'm optimistic for the future of the team," he says, "is because I know it's in safe hands with Galway United FC and they have the structure and resources to push on."
Cork City also had a troubling season, but their situation improved as the year progressed. Issues to do with training facilities dogged the early season and they were on the wrong end of some nightmarish score-lines in the first few months, being beaten 8-1 by Peamount, 7-0 by Shelbourne, 6-0 by DLR Waves, 5-1 by both Wexford and Galway, and 4-1 by Athlone. They finished the season second from bottom with a goal difference of minus 82.
Advertisement
The second half of the season saw new manager Danny Murphy enter the fray and effect a turnaround on the pitch, with facilities issues resolved by the club. Murphy, as it happens, is a former Cork City FC player, who was part of the League of Ireland title winning side of 2005.
"Cork City is a big club and should be competing at the top end of the table," he says. "Things have been inconsistent, but we now have backing for the women's side of the club and that will help us be more competitive. A lot of the issues that arose earlier this season – like fixed regular training facilities – have been sorted, so we're looking forward to preseason."
The second half of Cork's season saw improved performances and narrow defeats, for example, against Athlone (1-0 and 2-1), and Shelbourne in an impressive away day loss (2-1) at Tolka Park.
"We have the players," Danny Murphy says. "It's getting them to be believe we can stop teams scoring for starters. We played Peamount recently and they had something like 23 shots on goal. For me, no goalkeeper should be dealing with more than five shots in a game. Our keeper, Abby McCarthy has been unbelievable, but there have been matches where she's getting a lot of back-passes and has had more touches of the ball than our outfield players.
"We're never going to able to spend the money that some of the Dublin clubs throw around, so we need to invest in our youth to keep them here – and to develop that relationship with UCC where we can offer scholarships to keep them here. And make their time here more enjoyable, so they are not looking for reasons to leave.
"We'll be trying to build and offer more money as well, but with clubs like Shamrock Rovers coming in next year and already offering more money to players, the worry is that the other Dublin clubs will then want to offer more money, and it becomes unsustainable and teams start dropping out of the league. We're not going to go out and spend money that we don't have, but we're working towards competing on that level in the future.
"So, it's about giving our players the understanding that we can provide them with good jobs, give them a good education, and provide a good football environment. The aim next year is to be a mid-table side and after that to try and break into the top four."
Advertisement
SENSATION OF THE YEAR
Alas, the top four looks a long way off for Treaty United. Bottom of the final table again in 2022, the team finished with a goal difference of minus 105, scoring just five goals all season and conceding 110. Don O'Riordan has now stepped down as manager of the Limerick side after just one season.
The club issued the following statement to Hot Press: "Treaty United are looking forward to their 4th consecutive season in the Women's National league next season and are delighted to welcome Shamrock Rovers into what is a very competitive league. The club acknowledges the hard work and dedication of Don O'Riordan and his backroom staff throughout the 2022 season, a season of much change and, with the experience gained by the youngest squad in the league, we look forward to the further development of the team on the pitch in 2023.
"Treaty United have received a major boost this week with the confirmation of the club's return to the Under-19 national league while also maintaining our Under-17 team who in 2021 lifted the Under-17 league title. Recruitment has already commenced for a new Women's Senior Team Manager, while we are delighted to retain former international Marie Curtin as Under-17 manager and look forward to Leon Casey Ryan spearheading our Under-19 challenge. Preparations are well underway off the field for all three sides, and we look forward to competing on all fronts in the 2023 season."
Onwards and – hopefully – upwards. And not just for Treaty United…
Remember this: Shelbourne may have won the 2022 WNL title, as well as the Evoke.ie FAI Women's Cup, but for many in the game, Athlone have been the sensation of the year. They are widely regarded as a breath of fresh air, fighting their way to the top of a table that had typically been dominated by Shelbourne, Peamount United and Wexford Youths. Quite simply, Athlone achieved this year what several mid-table teams and their managers aspire to year after year: breaking into the top four.
"There's no question about it, Athlone's Tommy Hewitt is my Manager of the Year," DLR Waves' Graham Kelly opines. "No-one has come close this season. He has his players working so hard and has them so organised. He's kept largely the same squad as last year and only added a few players, including Madison Gibson coming in. Huge credit to him and all the players in Athlone.
Advertisement
"It was amazing that in the final week or so of the season they were 'on a Double', with a chance to win the league and the cup. It was a season to remember."
Indeed it was. And Stephanie Roche was watching…
RELATED
Lifestyle & Sports
27 Jun 22