Wolfwalkers: Directors Tomm Moore and Ross Stewart on Cartoon Saloon's acclaimed new film
Following the success of The Breadwinner, Song Of The Sea and The Secret Of Kells, Kilkenny-based animation studio Cartoon Saloon are back with Wolfwalkers. Directors Tomm Moore and Ross Stewart discuss working with the likes of Aurora and Maria Doyle Kennedy on the film, and the surprising parallels between the Cromwellian era and the modern age.
Whatever way you attempt to frame it, the Cromwellian conquest of Ireland – a period of what was described at the time as "unparalleled savagery" – is an unexpected setting for an animated film centred around the friendship of two young girls.
Yet, it's against the backdrop of this dark era that Wolfwalkers, one of Cartoon Saloon's most powerful and visually captivating films so far, unfolds. From the directorial team of Tomm Moore and Ross Stewart, the film looks set to be a serious contender for awards season 2021 – following Cartoon Saloon's previous Academy Award, Golden Globe, BAFTA and Emmy nominations.
Although rooted in universal themes, it was a bold move for an Irish production to tell the story from the perspective of an English girl, whose father works for arguably the most vilified figure in Irish history.
"We were talking about the polarisation that's happening in the modern world, and what it would be like to be a newcomer to a place," Tomm notes. "There's a lot of stories where we talk about the person who's the refugee – arriving into a place. It was interesting to take the point of view of a kid whose parents were the colonisers, and look at how different they would see the world."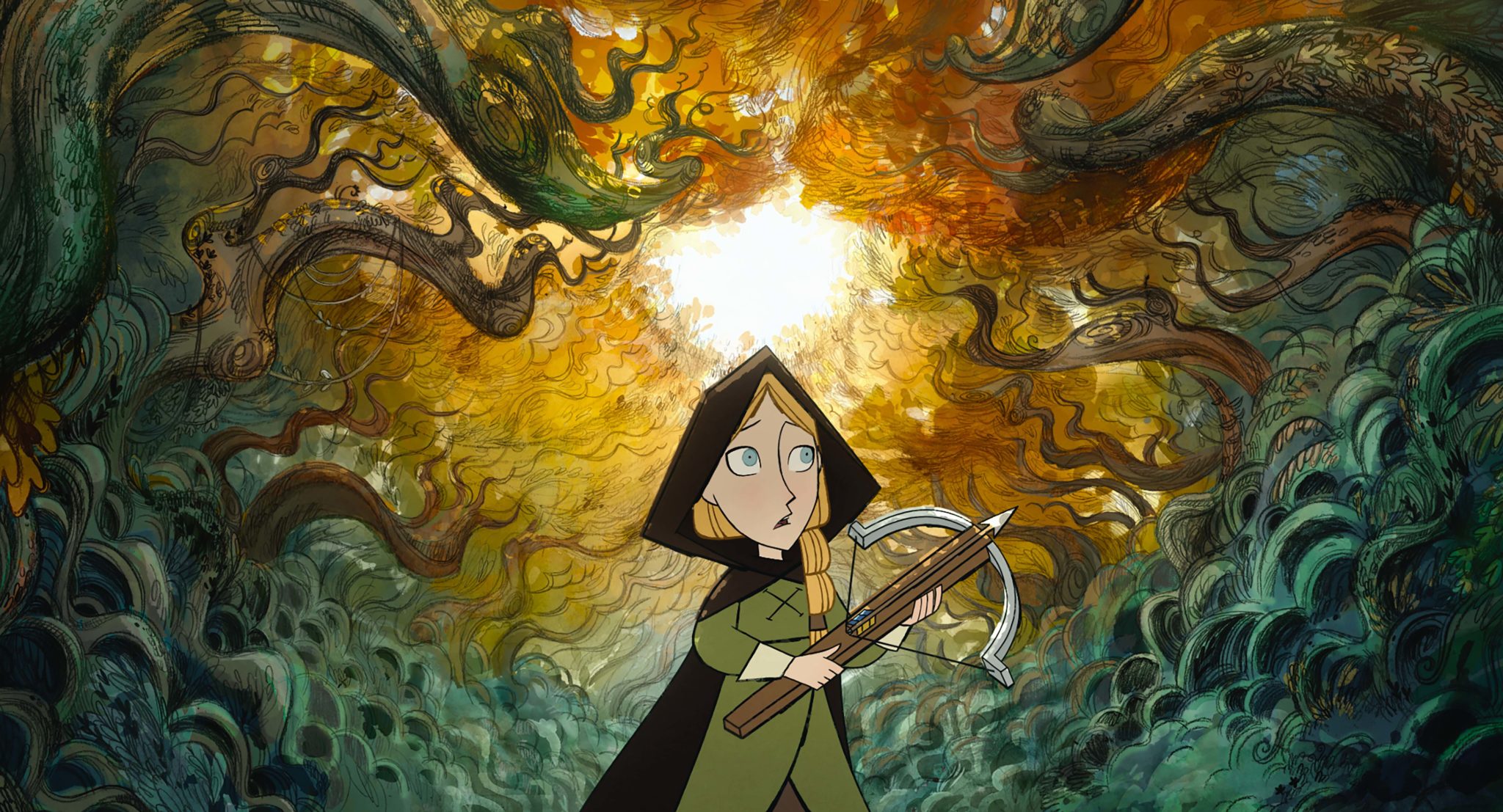 Advertisement
"We didn't want to get bogged down too much with the actual historical references to Cromwell – so he's actually not referred to as Cromwell for the whole film, just 'Lord Protector'," Ross adds. "But there's so much of Cromwell's character and personality that we drew from for the image of the Lord Protector – as a guy who really believed that he was on a god-given mission to tame the savages, and bring civilisation to these wild lands. It was just a pity that in order to do this, he more or less encouraged the extinction of wolves, and the subjugation and oppression of people."
However – fair spoiler warning – Irish audiences might be glad to see that history gets a bit of a rewrite, with an alternative ending for Cromwell...
"We have our Inglourious Basterds moment!" Tomm laughs. "We left it ambiguous enough though. Maybe he crawls out of that aul waterfall, and goes off and does all the rest!"
Although Wolfwalkers draws heavily from folklore, including the legendary Man-Wolves of Ossory, it also addresses Cromwell's real 'War on Wolves'.
"It was a surprise to us to read about the history of it," Ross says. "During the time of Cromwell in Ireland, they put out a five pound reward for every wolf's head or skins that were delivered. There was a massive amount of skins shipped back to England. There were real concerted efforts to make this species extinct – like nothing that had ever happened in Ireland before. So extinction of species was hugely important to the core elements of this story. It was a time that changed the Irish landscape as well, with more forest cover destroyed around that time than at any other point in Irish history."
Of course, when it came to the Lord Protector, there were also plenty of modern world leaders to look to for inspiration.
"It's kind of shocking to see that people are still flocking to these strong men characters, that are ruling through fear," Tomm says. "We wanted him to be an allegory for all them – whether it's Bolsonaro or whoever it is at the moment that's destroying the natural world. The most dangerous ones are the ones who truly believe that they're doing the right thing."
Advertisement
Indeed, against the backdrop of Extinction Rebellion and other climate movements, the film takes on a whole new relevance.
"It was sadly more and more prescient as the years went by," Tomm sighs. "I remember there was one point where we were working on the forest burning, and Australia was on fire. By the time the movie was ready to get released, California and the Amazon were also on fire.
"In human history, the extinction of the dodo is always pointed out – with people saying it was a shame that this beautiful bird was hunted to extinction," Ross argues. "But we're living in a time now of massive extinctions, where there are species of flora and fauna going extinct every single day. It doesn't seem to register as much in our consciousness as the dodo or the rhino. So it's really important for that message to get to a younger audience – that it's still happening, and they can still do something to stop extinction."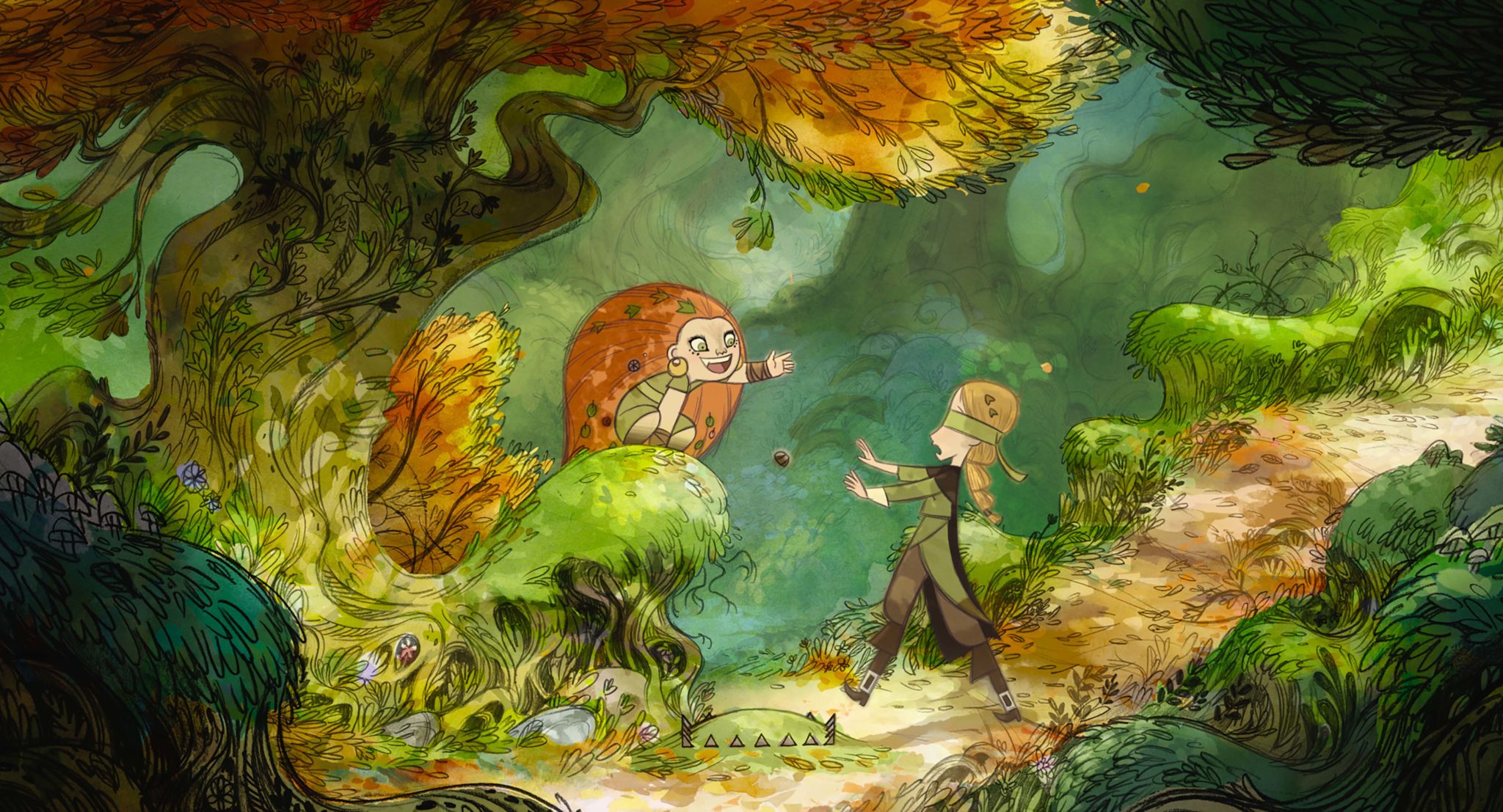 As well as featuring original music composed in collaboration with Kíla, acclaimed Norwegian artist Aurora recorded a new version of her single 'Running With The Wolves' for the film.
"We reached out to her in the very early days," Tomm recalls. "We thought that 'Running With The Wolves' would be interesting to adapt for the film, but we knew the original recording of it was a bit too pop, and too electronic. We wanted it to fit in with the soundscape, and she was up for that. So she worked with Kíla and Bruno Coulais to adapt her song, to bring in the orchestra and the Irish traditional instruments. She even tweaked some of the words, so it would fit the movie more."
"We're big fans," he beams. "She's away with the fairies! There's a good chance that she herself is a fairy, too."
Advertisement
As well as the two young stars, Honor Kneafsey and Eva Whittaker, Wolfwalkers features familiar voices like Tommy Tiernan, Sean Bean, Simon McBurney and Maria Doyle Kennedy.
"Maria Doyle Kennedy was one of our first picks, because she has this kind of deep, powerful resonance to her voice, yet she still sounds like a young woman," Ross remarks. "And she's got an incredible singing voice too.
"When she was doing the wolf howls, we discovered that she could do this 'double tone' singing, kind of like Mongolian throat singing, where she can sing, and then also create a resonant tone through nasal passages or something. Everyone in the recording studio was blown away. But then when we brought it to the sound engineers, they thought that there was something wrong with the recordings, because there were two layers. They were like, 'I think someone copy-and-pasted two layers together'. And I was like, 'No, that's just the way she can sing!'"
Of course, despite the years of work put into Wolfwalkers, Covid-19 restrictions took their toll over the course of 2020.
"We'd all been working with each other for three years at that stage, so we had to finish the movie from home," Tomm reflects. "It was a pity, but we managed to do it. And we were lucky enough that we were in the last bits of productions.
"The sadder thing about the lockdown was that we couldn't have a big wrap party, for all the crew that were still around," Ross adds. "We finished the film, and Tomm and myself were like, 'Oh well... we've finished it!' There was no big collection of people who had all worked on it, going, 'Yay! It's all over!' It was a bit of a damp squib in the end!"
With the lifting of Level 5 restrictions, you can watch Wolfwalkers in Irish cinemas now, ahead of its global premiere on Apple TV+ on December 11 – as Cartoon Saloon once again put Ireland's vibrant animation industry on the map.
Advertisement
RELATED