"We wanted neurodiverse people to see a true reflection of themselves on screen," director Eddie Sternberg has told Screen Daily.
Netflix has shared the first trailer for music drama I Used To Be Famous by director Eddie Sternberg and Irish producer Collie McCarthy, which will be released globally on September 16.
The film follows the story of Vince (Ed Skrein), who used to be in the hottest boy band around, and Stevie (newcomer Leo Long), an autistic drummer with an incredible gift for rhythm. An impromptu jam session in the streets of Peckham sparks an unexpected friendship between the two misunderstood musicians - and prompts them to form a band.
London-born actor Ed Skrein is probably best known as the villain Ajax in Marvel's and Twentieth Century Fox's box office hit Deadpool (2016). He also appeared in the American romantic drama If Beale Street Could Talk in 2018 and portrayed skilled warrior Daario Naharis in the third season of Game of Thrones. Also starring in I Used To Be Famous are Eleanor Matsuura (The Walking Dead), Lorraine Ashbourne (Bridgerton, Sherwood), Stanley Morgan (Prizefighter: The Life of Jem Belcher) and Irish actor Eoin Macken (Resident Evil: The Final Chapter).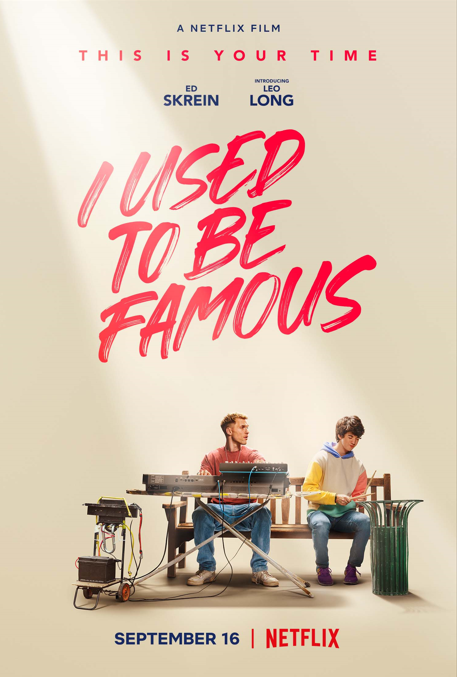 I Used To Be Famous is director Eddie Sternberg's debut feature and was adapted from his award-winning 2015 short of the same name, which was made via the London Calling Southern Exposure film fund by the BFI and Film London. The short-film celebrated a number of wins worldwide and was long-listed for Best British Short Film by the British Independent Film Awards (BIFA).
"There are days you can only dream of. For me, Today is one of those days," Sternberg wrote on Instagram earlier today, where he shared the trailer with his fans. According to Screen Daily, the story is partly inspired by Sternberg's cousin Saul Zur-Szpiro ("an autistic young man with learning difficulties and high support needs") and drummer and co-founder of the band The AutistiX.
Advertisement
"We wanted neurodiverse people to see a true reflection of themselves on screen," Sternberg has told Screen Daily. "Leo not only gives an outstanding debut performance, but he also included his own lived experience as an autistic adult." He added that he has "some ideas" for another music-themed film, saying "I would love to do a gritty but glorious music biopic, something that feels very real."
The feel-good music drama was produced by Collie McCarthy, founder of Forty Foot Pictures, who is known for Rebecca (2020) and Time Traveller (2018), as well as executive producers Damian Jones (The Lady In The Van) and Paul Grindey of Viewfinder Film (The Father). It was co-written by Zak Klein.
Netflix has reportedly also agreed to make another one of Steinberg's features - a thriller that is still unannounced.
Watch the trailer for I Used To Be Famous below.