Rian Johnson: "I wrote the Glass Onion script in the middle of the 2020 lockdown, wishing I was on a Greek island!"
Filmmaker Rian Johnson and his star-studded cast discuss Glass Onion, the eagerly awaited follow-up to critical and commercial smash Knives Out, in which Daniel Craig's master detective Benoit Blanc gets entangled in another gripping whodunnit.
A serious holiday treat arrived last month for mystery fans, with Glass Onion - the hotly anticipated sequel to Rian Johnson's 2019 smash Knives Out - hitting Netflix. Daniel Craig reprises his role as master detective Benoit Blanc, who's this time hired by Helen Brand to investigate the death of her sister, tech CEO Cassandra "Andi" Brand (with both siblings portrayed by Janelle Monae).
Blanc's investigations reveal that Andi had been manoeuvred out of her company, Alpha, by her business partner, the Elon Musk-like Miles Bron (Edward Norton), after refusing to consent to releasing Klear, a potentially dangerous hydrogen-based alternative fuel.
This is the cue for another rip-roaring yarn in which Blanc encounters a further motley crew of protagonists, including Connecticut politician Claire Debella (Kathryn Hahn); Bron's head scientist Lionel Toussaint (Leslie Odom Jr); fashion designer Birdie Jay (Kate Hudson) and her assistant Peg (Jessica Henwick); and Twitch streamer and men's rights activist Duke Cody (Dave Bautista).
Advertisement
Having long since proven himself one of Hollywood's most gifted screenwriters with not just Knives Out, but also his cult classic debut Brick, as well as sci-fi hit Looper and the blockbuster Star Wars: The Last Jedi, Johnson has outdone himself with Glass Onion. Filled with ingenious twists and turns, it also boasts another generous helping of socio-political satire, all of which makes for one 2022's most satisfying movies.
Indeed, so keen were Netflix to secure a brace of Knives Out sequels, they shelled out a hefty $469 million for Glass Onion and a further upcoming instalment. So how did Johnson feel about creating a movie surrounded by such enormous expectation?
"When Daniel and I were making the first one," the softly-spoken writer-director tells Hot Press in London, "we were having such a good time that we were like, 'If this does even moderately well, it'd be really fun to keep making these.' But the mode we were thinking of making them in was, not to continue the story of the first one, but to treat them the way Agatha Christie treated her books. To do an entirely new mystery every time, a new location, a new rogue's gallery of characters.
"Also, anyone who's a fan of Agatha Christie knows she really shook it up book to book. It's not just a change of whodunnit. She was mixing genres, she was throwing crazy narrative spins that had never been done before – she was really keeping the audience on their toes. Every single book had a whole new reason for being.
"Sitting down to this one, those were really the marching orders. It wasn't let's just crank out another, we wanted to do something that was truly different, which would make audiences go, 'Wow, I'm getting the same pleasure I did from the first one, but I've never seen this before.' That was the exciting thing."
Advertisement
Glass Onion also trades the States for Europe, with the action this time unfolding in Greece.
"Well, there are a few things," Johnson notes. "First of all, as I mentioned, I wanted this to be a whole different movie, and to signal that to the audience upfront. Trading the browns of New England for the blues and yellows of Greece seemed like a really obvious way to do that. Also, as much as there's a rich tradition of murder mysteries in cosy English – or in our case, New England – country houses, there's very much a rich vein of destination murders. There's Evil Under The Sun, Death On The Nile and The Last Of Sheila, which is one of my favourite films.
"There's something to draw from in terms of the vacation mystery. Also, I wrote the script in 2020 in the middle of lockdown, so like a lot of us, I was sitting at home wishing I was on a Greek island! That might have had something to do with it."
As for the first meeting of the star-studded cast, Hudson explains it was a memorable occasion.
"It was at Daniel's house," she reflects. "You really had to make an entrance – you had to walk down these steps. So every time a new cast member came down the steps, it was like, 'Oh, here comes Janelle!' But it was great, it immediately felt like we'd all known each other forever."
"There really had to be a lack of ego amongst everyone," adds Hahn. "Because we had to spend every single day together. It felt like there was a backstage and on-stage – we had these holding areas where we were all together. We ate lunches together, it felt very much like we were in a theatre ensemble. Daniel had been through it before, and he had a welcoming generosity of spirit. There were so many shots where you'd love people to see the reactions off-camera – there was often a group of us crowded around. It was remarkable and hilarious, and a great metaphor for the spirit of the whole shoot, which came from Rian and Daniel."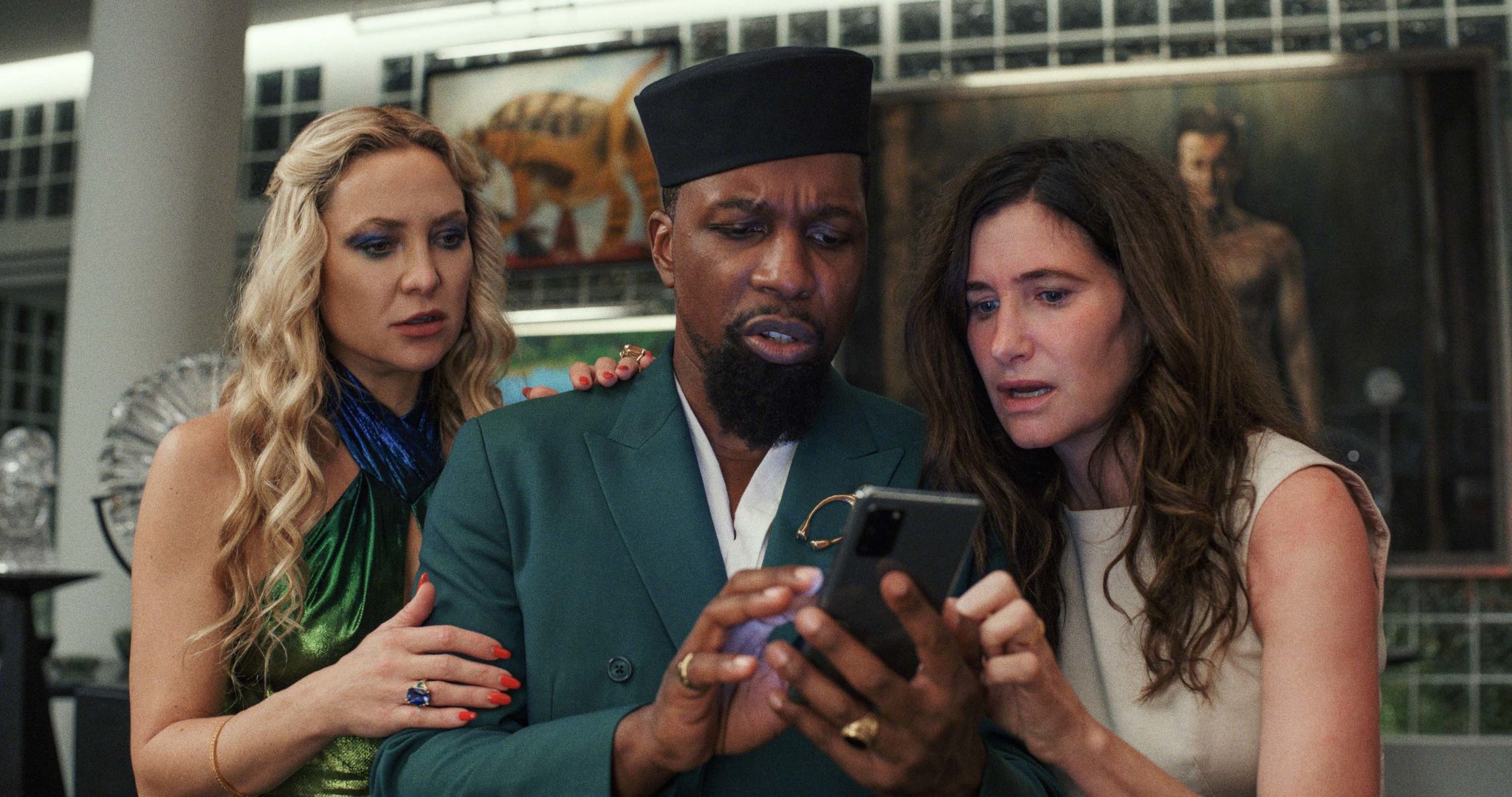 Advertisement
Odom, meanwhile, also enjoyed the camaraderie amongst the cast.
"I've had a couple of opportunities to be part of great ensembles, with Hamilton and One Night In Miami," he says. "This is one of the best. But it's really an impossible thing to achieve without the leadership, it happens from the top down. You can't lead from the bottom of the call-sheet. Ryan and Daniel made it feel that creative, permissive and fun."
Fight Club and American History X star Norton has the time of his life playing the egotistical Bron. As the saying goes, the chance to participate in Glass Onion was an offer too good to refuse.
"When someone like Rian calls and says, 'I'm basically gonna run a summer camp for deeply unserious people, and I need people willing to ham it up' – you say yes!" enthuses Norton. "Also, when you spend some time with this group, it becomes apparent that the words 'repetitive and boring' have never been applied to any of them. It was a lot of fun, like being in a summer theatre troupe. For a lot of us who came into this through theatre, being in a repertory company has a special pleasure.
"It reminds you of being in your high school drama club, for those of us who were dorky enough to do that! There's a funny irony to doing films or theatre: it's a bunch of adults playing dress-up and pretending to be other people. In so many of the things we do, it's kind of amazing the seriousness we layer over that. Obviously, this is a hard-working bunch of people. But when you liberate yourself from any pretension to do anything other than entertaining the audience and yourself, it's wonderful. And after a year-and-a-half in your pyjamas, it's especially great!"
Advertisement
One of the more memorable cinematic characters of recent years, the cast savoured the opportunity to see Craig portraying Blanc up close.
"It kind of lifts the veil," says Hudson. "You go, 'Oh shit, I'm here in a Knives Out mystery!' For me, just watching Daniel work was a privilege. He's the consummate professional and he shows up ready to deliver every line; he honours Rian's words. He brings something spectacular in the way any movie star would. To learn from that was really something."
Another pleasure is experimenting with the characters' sartorial choices.
"In the wardrobe department, they have the polaroids up of everyone who's been in before you," says Norton. "I came in pretty late and I hadn't met anybody. I looked at the polaroid wall and thought, 'This movie's going to be pretty funny.' I saw Dave Bautista in the crocodile-skin bikini and thought, 'There's at least one pretty good laugh in this film!'"
"That will haunt me until my dying day," shudders Johnson. "Dave Bautista in that bathing suit with a gun."
"Because you can't rock it!" quips Norton.
Hudson found the wardrobe discussions similarly pleasurable.
Advertisement
"My favourite was every time someone would walk into the green room," she reflects. "If it was a new costume, it'd be like, oh my God. Particularly every time Kathryn walked in with a new beige. It was so damn funny."
"All the rage, the beige," jokes Hahn.
"And that is the genius of Rian's writing," resumes Hudson. "But the costume designers - I mean, talk about knowing how to create each iconic look. It was dreamy.For all of us, after talking about it so much, when we walked into the wardrobe fitting, immediately you saw your character come to life. It was like stepping right into the character, and, at least for Birdie, it was like looking at her closet. It was insane."
In creating Bron, exactly how much inspiration did Norton take from current tech billionaires and one-percenters?
"I said to Rian that it's sort of like Carly Simon's song, 'You're so vain, you'll probably think this song is about you'," he replies. "There's a lot of tech illuminati who probably will and should think that it's in reference to them. Men and women."
Advertisement
Elsewhere, we also learn more about Benoit Blanc's background in Glass Onion, though Johnson dismisses the notion that he hands cast members character bibles.
"We probably all had conversations kinda separately," says the director. "To me, it's all about what do they need. The characters are very much created in the context of the story that's on the page, and anything anyone needs beyond that, I'm happy to make shit up. And the same with Benoit Blanc. It's not like Daniel and I have a whole backstory bible. In fact we kind of purposefully try to remind ourselves with these movies, that the movie is not interesting because you want to know more about Benoit Blanc.
"The movie's interesting because of the mystery and the ensemble, and the detective plays his role in the centre of that, in solving it. But the notion of doing, like, some backstory for him or something – yeah, it's all about the mystery."
The success of the burgeoning Knives Out franchise has also resulted in revived interest in mystery stories among audiences, which Johnson takes particular delight in.
"I feel like we've rode a beautiful wave of people rediscovering these movies, which has been really nice, with a lot of other great filmmakers bringing them to life," he says. "As a whodunit junkie myself, it makes me happy. But what makes me the happiest is – I mentioned Agatha Christie's books, but those movies that were based on her books in the late '70s and early '80s, when I was a kid watching those with my family, I remember how big of an impact they had. And now the coolest thing for me is talking to friends who have kids around that age, and seeing them get into these movies, and recognising, oh, that's kind of what we made these for. It's super-cool that they can inspire whoever's gonna do their own version of it 30 years from now. That makes me really happy."
• Glass Onion: A Knives Out Mystery is out now on Netflix.
Advertisement
Read more film, TV and music interviews in the 2022 annual issue of Hot Press, out now.