Eve Hewson, Jessie Buckley and Kerry Condon honoured at 2023 Oscar Wilde Awards
Ahead of the Academy Awards, which take place on Sunday night, some of the biggest stars in Irish film and television were honoured on Thursday at the US-Ireland Alliance's 17th annual Oscar Wilde Awards. Stars walked the 'green carpet' at Bad Robot, J.J. Abrams and Katie McGrath's production company based in Santa Monica, California.
Trina Vargo, founder of the alliance who launched the Oscar Wilde Awards 17 years ago, proudly remarked: "From Belfast last year, to Banshees this year, the Irish are on a roll."
Kerry Condon, who recently earned a BAFTA award and an Oscar nomination for her performance in The Banshees of Inisherin, was presented with her Oscar Wilde Award by Better Call Saul's Rhea Seehorn. Seehorn said Condon "so inspired me to the depth of my soul as an actor, and then I got to meet her, and she's even better." She also praised Condon's believability as an actor and called her "searingly honest in her performances."
In her acceptance speech, Condon recalled her early experiences in America and expressed her gratitude for how her roles in the U.S. helped her secure parts at home in Ireland. She said that while in New York, she remembered "there was a fella stalking me, 'cause I was in this HBO show Rome, and no one on the job cared because he kept sending us cupcakes from his bakery."
She also spoke of the many people who have supported her throughout her career, including Martin McDonagh, Dearbhla Molloy and Marie Mullen. "I still remember all those people who made an impact on my life and my career along the way, and I feel really lucky that we crossed paths," she said.
Advertisement
Jessie Buckley, a previous Academy Award nominee, was presented with her Oscar Wilde Award by Sarah Polley, director of the film Women Talking. Polley, who is also nominated for an Academy Award this year for adapting the film's screenplay, praised Buckley for being "the most alive actor I have ever seen.... She's impossibly brave and impossibly funny, joyful, curious, playful, and interested in the world. Her power comes from an insatiable curiosity about the things the rest of us back away from."
Buckley's acceptance speech evoked some laughs as the acclaimed actress said she finds the whole awards thing "a bit bewildering. I usually get kind of squashed like some kind of sausage into a dress and can't wait to get home and like, have chips and tequila, and put my pajamas on." But she thought this Irish award "might be a bit different."
On a more sentimental note, she recalled how her mother took her to see a production of Jesus Christ Superstar at their local town hall in Kilkenny when she was 7, which she said changed her life by sparking a passion for performing.
"To be here today, to be part of a community that celebrates Irishness is so bloody, fucking wonderful," she told the crowd. "I'm so grateful to do something that I love, and I never take it for granted. I am Irish, and so proud."
Eve Hewson was honoured with this year's 'Wilde Card' award, which is given to a rising talent. The actress is known for her role in the comedy series Bad Sisters and her performance in John Carney's new film Flora and Son, which received rave reviews at Sundance.
Charlie Hunnam presented Eve Hewson with the award and described her as an enigmatic, fearless actress who embodies what it means to be a Wilde Card.
Hewson joked that "the last time I got an award I was 11, and I was in the Girls' Brigade, and it was for best hip hop dancer of the year."
Advertisement
She thanked Bad Sisters executive producer Sharon Horgan for casting her in the show, saying it "made her proud to be Irish and so, so, so proud to be an Irish woman. And so, so, so, so, so proud to be a baby alcoholic with emotional issues and murderous tendencies. I can't tell you how many times someone has watched that show, and they tell me how similar I am to my character."
Hewson's parents, Bono and Ali Hewson, were also there to support their daughter. She thanked her father for his wisdom and for teaching her what hard work looks like and thanked her mother for "loving me so much that I feel like I can fly."
Catherine Martin, Ireland's Government Minister responsible for the arts, tourism and the Irish language, presented the special award for An Cailín Ciúin (The Quiet Girl), which made history as the first Irish language film to ever be nominated for an Academy Award for Best International Feature.
Martin said the film has "captured the hearts of so many and done so much to promote our beloved native language."
Director Colm Bairéad and producer Cleona Ní Chrualaoí accepted the award, paying tribute to the cast and crew. They told the crowd that the coronavirus pandemic prevented them from having a wrap party after production, but that the cast and crew now got to celebrate at "the wrap party of our lives here in LA." (The cast of An Cailín Ciúin are pictured above).
Advertisement
"Honorary Irishman" J.J. Abrams emceed the event, showing off some Irish words. At one point, the American filmmaker told the crowd that he couldn't translate for them all night and that if they didn't know what "uisce beatha" meant, they wouldn't be getting any.
Representatives from Screen Ireland, Northern Ireland Screen, and Enterprise Ireland were also in attendance to promote the island as a production destination. In addition, the team behind the Oscar-nominated short An Irish Goodbye were present, including filmmakers Tom Berkeley and Ross White and stars Seamus O'Hara and James Martin. (The cast of An Irish Goodbye are pictured below).
Dublin rock band The Coronas – pictured below by Dean Machin of Event Image Services – also performed at the event.
Now, it's onwards to the Oscars – fingers crossed...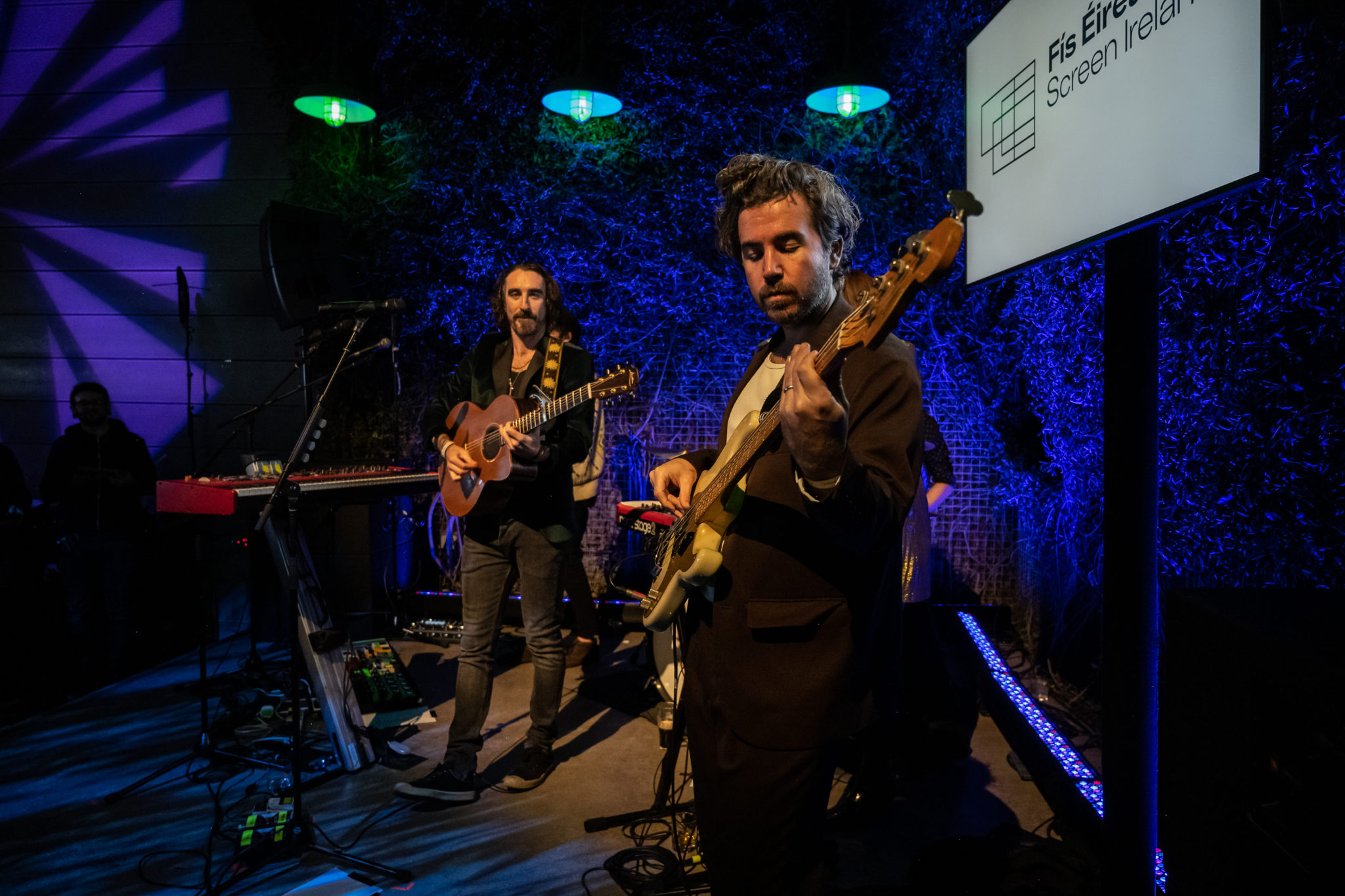 Advertisement
RELATED