Dublin Crust's Baz Black: "There really needs to be separate funding on a lower-scale for independent Irish filmmakers."
Made for mere thousands but packing a big punk rock punch, Dublin Crust underlines the current strength of Irish independent films – whilst also asking serious questions about their funding. Baz Black tells Stuart Clark about his crusade to tear down barriers.
If you've ever wondered what The Commitments would have been like if Irvine Welsh had written it, you'll get your answer (sort of) this month when Dublin Crust hits selected Irish cinema screens.
Made for less than the cost of a new Toyota RAV4, it tells the by turns violent, comedic and touching story of a veteran bunch of spiky hairs who decide to get the old band back for one last hurrah before... well, you'll find out when you're sat there with your popcorn.
Dublin Crust is the brainchild of Baz Black, a Drogheda actor who you'll probably recognise from his turn as Ged Delaney in 'Kin', more of which anon.
First of all, what precisely was the budget - or lack thereof. 
"We're €35,000 in at the moment," Baz reveals. "It should have been around €250,000 but I called in every favour I could. I wrote Dublin Crust in September 2021 and then we made a teaser concept trailer to try and get funding in the December and filmed the real thing in March last year, so it's all happened really fast."
Advertisement
Despite winning a Dublin International Film Festival Screenplay Award and Baz subsequently getting to pitch to big production companies, that funding never materialised. It's a problem, he says, that many independent filmmakers encounter - especially when there are no leprechauns, banshees or flame-haired Colleens in their scripts.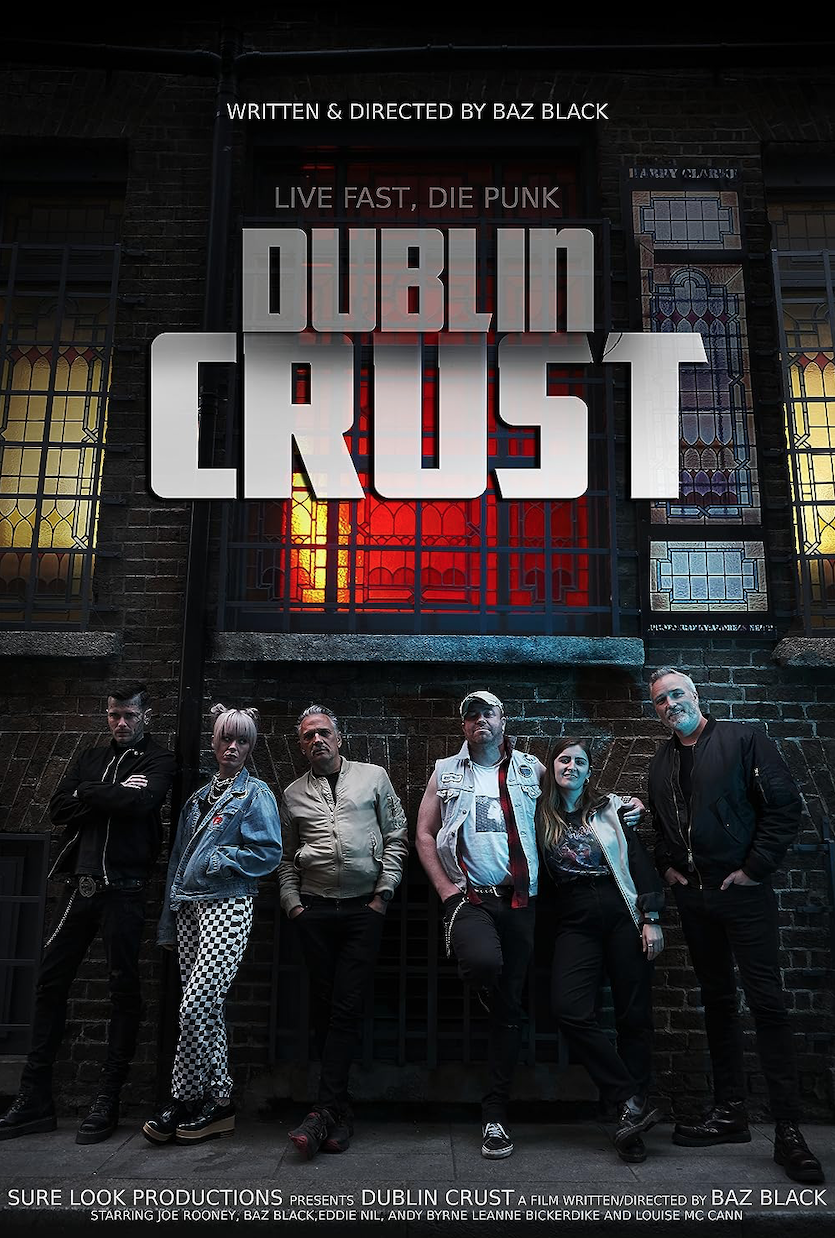 "If your film's urban and contemporary, you're really up against it," he notes. "Every conglomerate coming to Ireland seems to get a million from the Film Board and gives two million back and the rest is swept under the carpet. There really needs to be separate funding on a lower-scale for independent Irish filmmakers who've proved themselves. Sometimes you think, 'What does it take?' I'm not being egotistical in any shape or manner but I have made seven short films and won over eighty awards, the latest being Best Feature Film for Dublin Crust at the South Coast Film Festival in Hastings. I've been in major shows like 'Kin' and 'Into The Badlands'. What other criteria do you need to fulfil?"
Not only is Dublin Crust the least expensive film you're likely to see this year, it's also a shoo-in for fastest production.
"Long story short, because we couldn't get the funding the proposed six-week shoot was condensed into just seven days, which is pretty good considering there were thirty-two locations across three counties – Dublin, Meath and Louth," Baz smiles. "We were reliant on the goodwill of the communities who literally let us film on their doorsteps. We couldn't have done it without them."
Dublin Crust sounds as good as it looks with an all-Irish punk soundtrack featuring the likes of Paranoid Visions, SYMPOS, The Scuntz, The Dubtones, The Lee Harveys, The Nilz and Vulpynes. If you want to hear the tunes in full, there's a handy Dublin Crust Movie Soundtrack playlist on Spotify.
Adding to the air of punk authenticity is the fact that all of the  onscreen members of Crust are real life musicians who know how to throw the requisite rock 'n' roll shapes. 
"Delinquents was a big street band I was in," says Baz who bashes a mean drum, "and then I was a member for eight years of Mongohorn. That's what Dublin Crust is loosely based on with the singer, Eddie, and the guitar-player, Andy, playing themselves in the film. The lovely positive feedback we've got is that we look very natural as a band.
Advertisement
"There are also two songs on the soundtrack, 'Miriam' and 'All This Gold', which we went into the studio and recorded ourselves. The film feels like what I've done for years with the DIY punk thing."
Another member of the Dublin Crust cast you'll likely recognise is Joe Rooney, AKA Father Damo, who before going into comedy was a member of '80s indie hopefuls Guernica.
"Joe also lives in Drogheda and I did a bit of stand-up myself back in the day, which was terrifying, so there are a couple of connections," Baz reflects.
Also featuring in the film are LMFM, who let the Crust crew use their Dundalk studios, and an Irish popular culture magazine by the name of Hot Press.
"I grew up reading Hot Press, so to get your blessing meant a lot to me," he enthuses. "A lot of the cast members came from Bow Street Academy where I went to class. I knew their strengths and wrote their parts specifically for them. It was really Shimmy Marcus and Sarah Hone at Bow Street that encouraged me to develop my own script. I'd been an actor for quite a while so my main reason for going there – and I was upfront about it – was the connections. Every set you're on is, 'Bow Street, Bow Street, Bow Street.'"
Advertisement
There are some great set pieces including a barroom brawl that will have you wincing and giggling in equal measure.
"There's a bit of slapstick-y comedy in there for my Dad who loves that sort of thing," he confides. "The audiences have laughed in all the right places at the film festivals we've been at so, yeah, that side of things seems to be working."
Baz says he struck gold when he bagged his part in 'Kin', which attracted a whopping 500,600 Irish viewers and has also become a cult hit in the States.
"On the strength of the first series exploding over there, I got an American manager, which has opened a huge number of doors," he reveals. "Cast-wise, you're sharing a screen with people like Clare Dunne, Sam Keeley, Francis Magee who has 160 IMDB credits and Ciarán Hinds who's acting is just off the scale. Every scene you're in with him is like a masterclass. He had this eight-page monologue, which I thought he might be nervous about delivering but, no, it was like he was ordering a bag of chips. Nothing phases him."
In case you're wondering, all of Baz's tattoos are real and weren't painstakingly painted on every day.
"Because of my look, I am typecast," he acknowledges. "Why I started making short films was to show casting directors that because I look one way aesthetically, it doesn't define me as a human being. And they were shocked to see the vulnerable characters I was sometimes playing. My agent in the UK wants me to do a romcom, which I'd be well up for."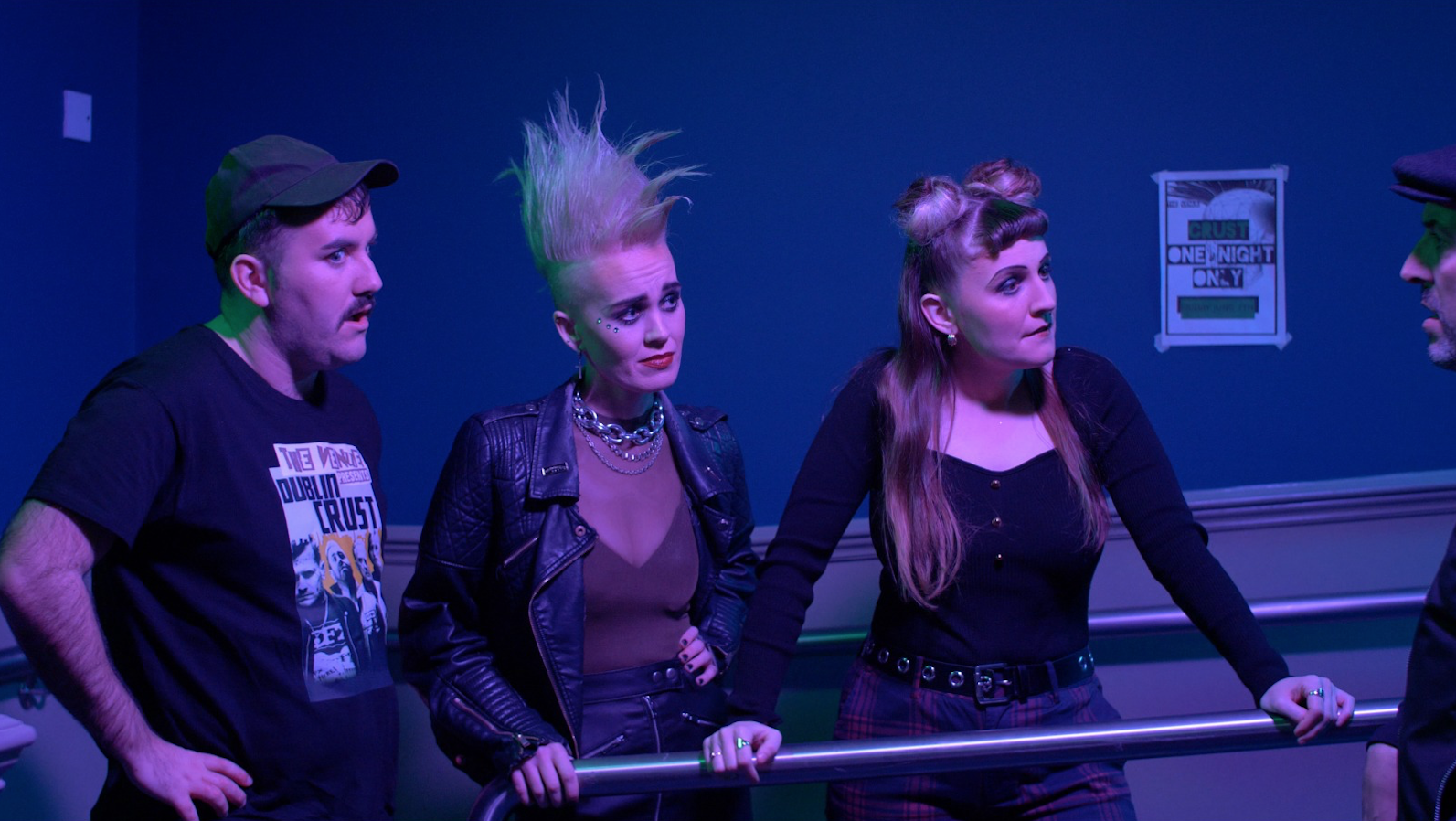 Advertisement
There's a reason for the extra pep in Baz's step today.
"I've just signed up to do the sixth season of 'Brassic', which is a massive one for me," he beams. "There's also another big UK series which isn't 100% confirmed yet but is looking good."
Dublin Crust isn't the only independent Irish film you can see Baz in, with Patrick McKnight's Dublin Mob and Jackson Lennon's whip-smart Northside Shtory mockumentary, which co-stars John Connors, also benefitting from his abundant talents. 
"John's another filmmaker who doesn't get the funding he deserves, especially after the success of Cardboard Gangsters," Baz rues. "Regardless, really great Irish independent movies keep on being made."
While delighted with all the juicy roles that have been coming his way, Baz is determined to keep developing his own projects. 
"I have a completed script for Repent, a psychological horror that's completely different in tone from Dublin Crust and has a company interested in it," he concludes. "If Dublin Crust does well and somebody wants something in a similar vein, I've also started another script called Against The Odds. We'll see what happens with both of those, but I definitely think the longevity of my career will be behind the camera."
Dublin Crust is in selected Irish cinemas this month.
Advertisement
Read the full Student Special in the current issue of Hot Press – out now:
RELATED