The Workman's Club celebrates three years of birthdays in one, with 10 free gigs across August.
Famous Dublin landmark, The Workman's Club, is celebrating it's twelfth birthday from August 4 to August 26.
Missing out on it's tenth and eleventh birthdays due to the pandemic, Workmans's is throwing an extended celebration for the club's 10 + 2 birthday.
The venue is making up for lost time by hosting 10 gigs for 0 euros. That's right, the club are holding free gigs with seriously unreal line-ups.
August 4 sees Kynsy take to the main room. Kynsy is the solo project of Irish multi-instrumentalist, songwriter and producer Ciara Lindsey. With synth-drenched vibes, the artist will kick off birthday celebrations for the popular Dublin club.
Sunday, August 7 welcomes Villagers to the main room, following their recent sold out Iveagh Gardens show. Villagers are an Irish indie-folk band and the musical project of the sole long-term member, Dublin based singer-songwriter, Conor J O'Brien. The band's fifth studio album was met with much acclaim, garnering a deluxe edition release earlier this year. Tickets for the band's Workman's gig are available here.
Advertisement
Overhead, The Albatross are the next band hitting The Workman's Club, on August 11. O,TA are a five piece instrumental outfit accalimed for their intricate, powerful melodies and energetic stage presence. Their sound amalgamates a multitude of instruments which go beyond the normal boundaries of "post-rock" and delve into the realm of the cinematic.
Alt-R&B multi-instrumentalist Monjola hits the main room on August 12, with a slew of deadly tunes to dazzle the crowd. The Dublin based artist has already made a name for himself as a result of his extensive involvement in the business side of the industry. In addition to performing, Monjola runs exhibitions with his art collective, Cleavage Club.
Irish/Sierra Leonean musician Loah is the first artist to hit the cellar as part of The Workman's Club birthday celebrations. The Afro-soul-funk artist will take to the stage on Saturday, August 13 and tickets can be sourced here.
Sunday, August 14 brings Pixie Cut Rhythm Orchestra to the cellar. With a mixture of quick-witted and intimate songwriting, this trio strikes a perfect balance between irony and sincerity. Influenced by indie and grunge alike, PCRO's set is one not to miss!
Acclaimed hip hop artist Nealo arrives on The Workman's Club's main room on August 18. The Jazz Rap, Conscious Rap and R&B influenced artist has accumulated a substantial amount of Spotify streams over his career, with his debut album All the Leaves Are Falling released in 2020.
Also on August 18, a quadruple whammy of acts hit the cellar. Catch alt neo-soul from Negro Impacto, post-punk from Skinner, hip-hop from Fynch and alt hip-hop and rap from Muttonhead presented by Burner Records. Why celebrate your birthday with one act when you can put five artists on in one night - The Workman's Club clearly knows how to do birthdays.
Advertisement
Saturday, August 20 welcomes Cork art-punk trio Pretty Happy to Workman's cellar. Drawing on a rebellious tradition of Rebel County Post-Punk, the band has sculpted their own theatre influenced, all-consuming noise rock sound, garnering the band opening slots for Pillow Queens, headline shows across the country and features in GCN, The Thin Air, and Hot Press.
August 26 closes the birthday celebrations for this monumental Dublin site. What a more fitting way to finish up celebrations that three bands in one night on the club's main room stage. The Workman's club will see rap, jazz and lo-fi beats from Lowkick, soul pop from Fizzy Orange and hip hop from Curtisy.
Doors are at 8pm each night, with tickets available from Eventbrite.
Check out the celebratory poster below.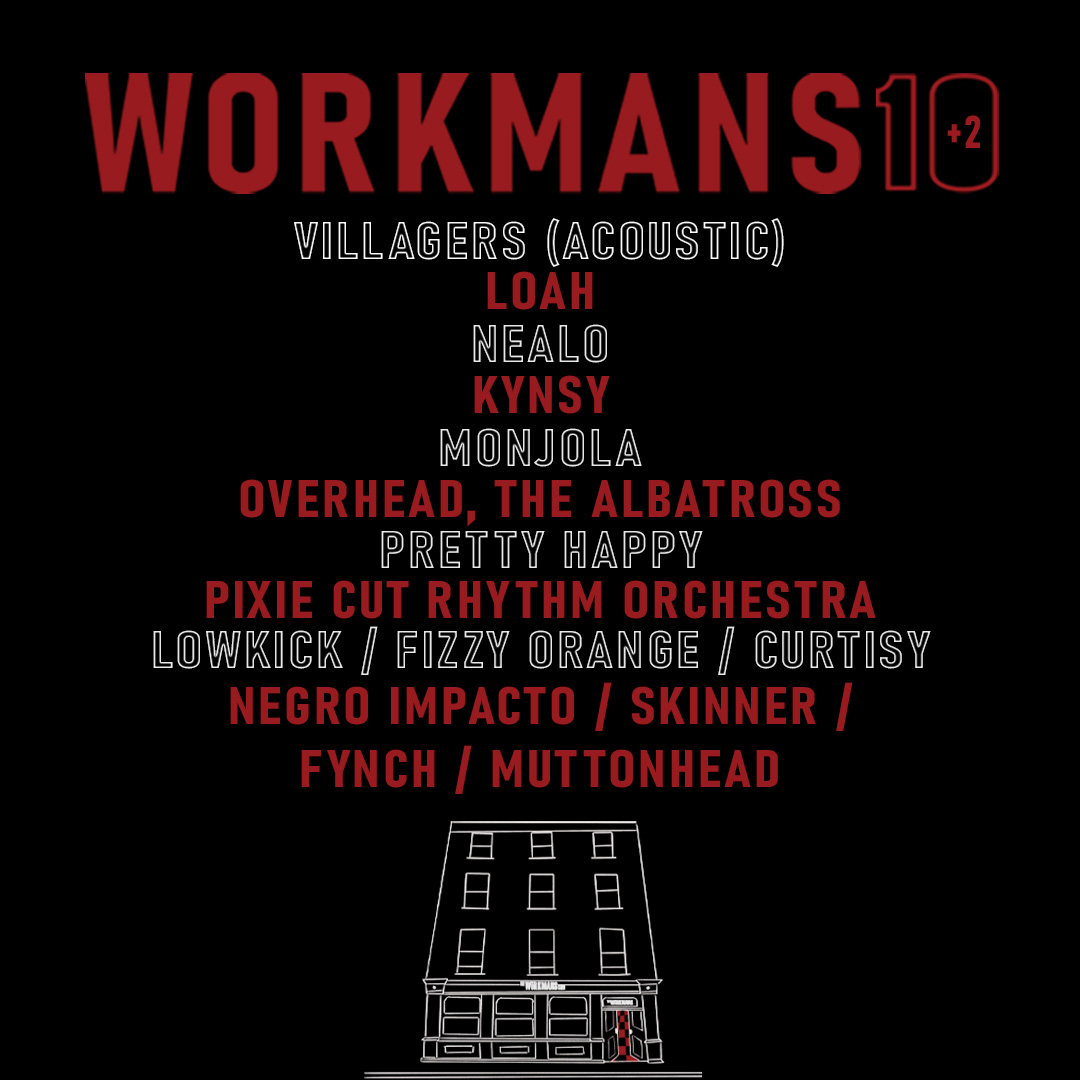 Advertisement
RELATED
Lifestyle & Sports
31 Mar 23