"Once again, we are getting this chance to hear the sound of challenging, exciting, and, above all, new music as the next of the Hot Press Young & Emerging Series takes to the stage," comments Minister Catherine Martin.
The wait is over – the Hot Press Y&E Series is officially back, and brought to you once again in conjunction with the Department of Tourism, Culture, Arts, Gaeltacht, Sport and Media.
Minister for Tourism, Culture, Arts, Gaeltacht, Sport and Media, Catherine Martin, welcomes the return of the acclaimed series – which has featured hundreds of acts over its previous five seasons, including CMAT, Bobbi Arlo, NewDad, Robert Grace, Orla Gartland, Lucy Gaffney, Reuben Hester, and more.
"Once again, we are getting this chance to hear the sound of challenging, exciting, and, above all, new music as the next of the Hot Press Young & Emerging Series takes to the stage," comments the Minister. "Don't miss the next generation of Irish music stars as they perform and continue offering their insight into youth culture, to which we should all listen and from which we can all learn."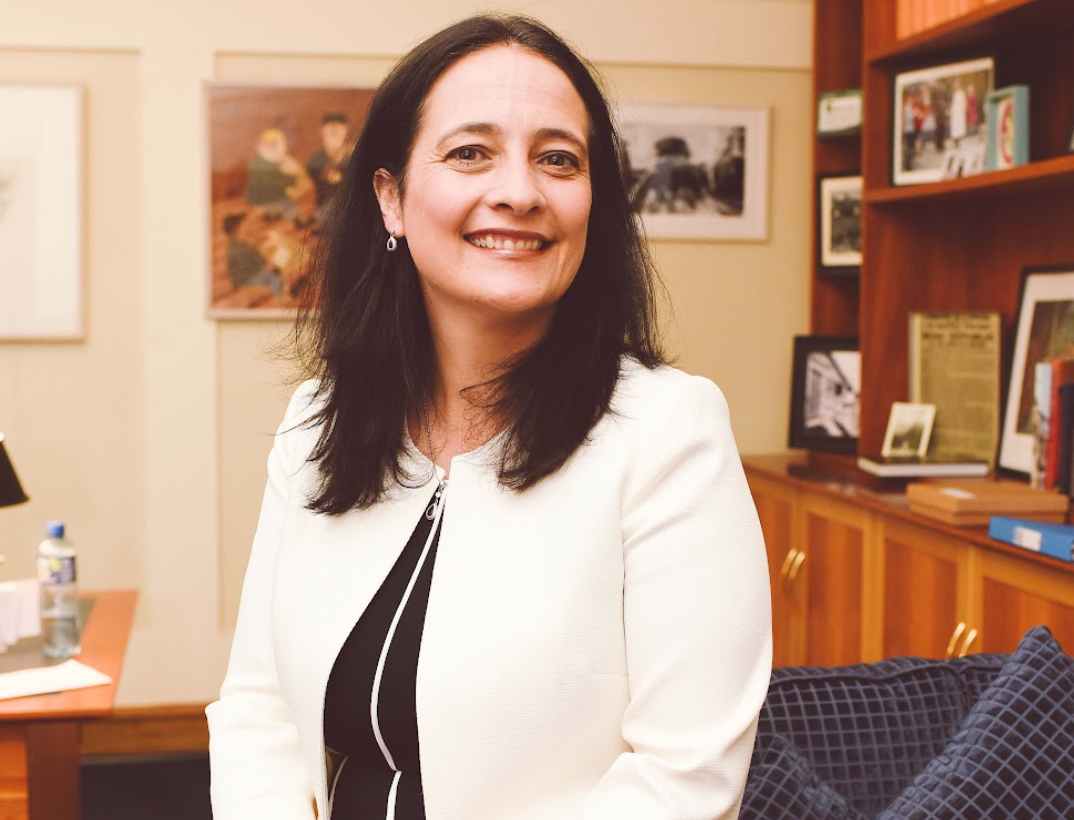 Watch the Hot Press The Y&E Series – supported by the Department of Tourism, Culture, Arts, Gaeltacht, Sport and Media – live on the Hot Press Instagram (@hotpressmagazine) at 7pm each night.
Advertisement
Coming up on the Y&E Series...
Friday, March 25: Travi The Native
With a sound reminiscent to that of Tom Petty, Talking Heads, Maggie Rogers and The 1975; Travi The Native is the latest musical incarnation of Travis Gilbert. Belfast's alt-pop prodigyburst onto the scene in the spring of 2020 with his critically acclaimed debut single 'Heavy Love'. However, he was making moves as a singer/songwriter long before his alter-ego materialised – touring extensively across Europe and attending writing camps with likes of Sam Fender and Artful Dodger. 2021 saw Travi The Native release his highly anticipated debut EP, God Only Calls The House Phone. Turning heads across the UK, Ireland & Europe, this five track ensemble saw Travi claim his rightful place as Hot for 2022 in Hot Press magazine. New track 'Shambles' continues to show off his talent.
Saturday, March 26: Lisa Murray
The Meath-based artist and producer released her debut single, 'The Kind of Girl', in May 2021. The track was written during Lisa's time studying at the world-renowned Berklee College of Music in Boston, from which she holds a master's degree in Music Production, Technology and Innovation. As a producer, Lisa fuses 80s nostalgia with cutting edge vocal production that allows listeners to dive deep into her sonic world. She also works as the Chapter Director of shesaid.so Dublin and fills a myriad of roles within She Knows Tech, a collective aimed at female empowerment in the music tech industry. Latest single 'i unfollowed u' is a certified bop, full of pop ferocity.
Sunday, March 27: Uppbeat
Blurring the boundaries between high-energy punk and socially conscious hip-hop, this Mayo artist refuses to play it safe, with unapologetically raw anthems addressing everything from mental health struggles to the housing crisis. It's an approach that's struck a powerful chord with his online community with over 600,000 Spotify streams on his 2021 track 'Exhale'. His recent nine-track project HI VIS grabbed the attention of tastemakers and music fans alike, while his debut single 'Embers' set the tone for his successive releases in 2017. In his career this far, he's also made sure to tackle serious themes from landlord-ism in Ireland to toxic masculinity.
Advertisement
Monday, March 28: Mia Yermeche
It's been a busy year for the 19-year-old singer-songwriter, whose debut single was released while she was still working towards her Leaving Cert. Following an impressive appearance on The Big Deal – performing in front of a judges panel that included Boy George – her powerhouse vocals marked her as one of the standout acts of 'A New Local Hero'. She was ultimately selected as one of the five finalists for the showcase in The Academy, where she cemented her reputation as a star-on-the-rise. Produced by Chris Kabs, the Irishman behind JyellowL's 2020 D|Vision, recent track 'Butterflies' is a smooth R&B offering with crisp vocals and floating organ synths. Kabs got in touch after spotting one of Yermeche's Instagram covers, and created the TEMO Universal, Dublin.
Tuesday, March 29: Cathal Murphy
Hailing from Camlough, Cathal has been raised on Irish traditional music – a passion passed down through his family from his great grandad. The Edinburg-based singer-songwriter blends soulful vocals with expressive song writing and uplifting guitar. As a member of award winning Northern Irish contemporary folk five-piece Cúig he's already toured extensively across Europe and the USA, also appearing at Celtic Connections in Glasgow. He released his debut EP, I'm Writing to You, It Can Be Lonely and Beautiful at the Edges of Print, last June alongside a 20-minute visual. Lead single 'Frame' paved the way for the project's success.
Wednesday March 30: D. Cullen
The Dublin singer-songwriter gained attention in 2019 when his single 'Alright' made waves at radio and led to an acclaimed performance on The Late Late Show. He followed up in 2020 with a slew of equally addictive releases: The Rising Tide EP, 'Rainbow Weather'; 'Birch Street' and a festive collaboration with Sinead McConville, 'Christmas Ain't The Same (Miles & Miles Away)'. 2021 saw the release of psych-pop tune 'All The People' - co-produced with renowned producer Roger Bechirian - romance-twinged gem 'She Is A Song' and instant pop hit 'Heartline'. Cullen's melodies and soundscapes aim to bridge the gap between Elvis Costello, Tom Petty and Taylor Swift; as demonstrated on his most recent musical number 'Radio'.
Thursday March 31: Tara Nome Doyle
Advertisement
In April 2018, the Berlin-raised Norwegian/Irish musician's first single 'Down With You' was unveiled. It has since been streamed more than four million times, with her first EP Dandelion landing that same year to similar numbers and acclaim. The project was published by avant-pop label Martin Hossbach - noted for jump-starting the careers of many Berlin artists. Debut album Alchemy came in 2020, cementing Tara's status as a star on the rise before 2022's hugely unique sophomore offering Værmin arrived. Previewed by captivating singles 'Snail I', 'Crow' and 'Caterpillar', the album landed via Modern Imprint. Catch her live this March at Doyles' Ruby Sessions.
Friday, April 1: Tommy Cullen
The former frontman with Dublin alt-rock band The False And The Fair, Tommy Cullen has been building up a strong following over the past year as a solo singer-songwriter.  Having spent recent years writing and producing new music, in 2021, he showcased the versatility of his approach with a string of well-received singles, including 'Night Moves', 'Violet Rainbow', and 'In The Winter', featuring Amy Ellen.
Sunday, April 3: Chris Leonard
Born in Dublin and raised in Ballivor, Co.Meath, Chris Leonard's passion for music was first shaped by watching his father play in sessions with the likes of The Fureys, and Barney McKenna of The Dubliners. Chris initially rose to prominence on The X-Factor, as a member of the band Stereo Kicks, who ultimately reached the quarter finals of the show. He's now a solo artist – and following the release of 'Fix' last year, 2022 will see him travel to America to record his debut album.
Monday, April 4: Molly O'Mahony
Initially rising to prominence as one quarter of art-folk group Mongoose, the Ballydehob native has struck out on her own over lockdown – armed with a serious knack for intricate, intimate songwriting, and one of the most uniquely resonant voices in the country. Following two well-received singles, her crowd-funded debut solo album, The House Of David, is set to be released later this year. Back in January, O'Mahony was tipped as one of our 'Hot For 2022' Irish Acts.
Advertisement
RELATED