Following news of Graham Knuttel's death this week, we're revisiting a classic interview with the renowned Irish artist...
Cary Grant was a distant relation of yours, wasn't he?
Yeah. Some things you can't live down [smiles]. I saw a thing in one of the papers. It was something about me and they had the line, 'He's no Cary Grant' – because there was a picture of me in a scruffy old suit beside a picture of Cary Grant. Stupid, really.
You're associated with numerous celebrities, but you don't really hang out on the celebrity circuit much, do you?
God, no! I never did. I had a girlfriend who wrote a celebrity page [former Sindo social diarist Gayle Killilea], but that was the nearest I got to celebrity.
She always used to refer to you as 'Filthy' in her column. Was there any particular reason for that?
Em... a friend of mine used to call me Filthy Rich – and it was just abbreviated to Filthy. That's all it was.
You spent a very long time not being rich at all, though, didn't you?
I did, yeah.
In the same essay, you wrote that you were a regular school truant who deliberately failed the Leaving Cert so you'd be able to go to art college.
Yeah, I failed all of my school exams. I hardly went to school at all for the last three or four years. I used to put bricks in my school-bag to weigh it down.
Advertisement
Were your parents strict?
No, they weren't strict. They were just normal. Then again, they thought I was going to school. Ha, ha! They might've been more strict if they'd copped on.
Did you have a happy childhood?
I suppose I did, yeah. Good fun. I grew up in Clonskeagh. It was a laugh a minute, from what I remember of it. We were messers – professional messers! So it was that sort of childhood, I suppose.
Did you always know that you were going to be an artist?
I think I did, yeah. Just to keep them happy at home, I had some fanciful ideas of being an architect, but I couldn't do the maths. But I didn't really want to be an architect. I used to pretend that I wanted to be one, just as a cover.
Were you academically smart and just not bothered, or always a bit of a dreamer?
Well, I work intuitively. I just follow what I think. Whether I'm smart or not, I don't know. I could be smarter! Ha, ha!
Did you do any real jobs when you left school?
Yeah, I did every sort of job. I was a butler, I was a manager of a battery chicken farm...
A butler! Was that for just one person?
To a family. A snooty family, yeah. They didn't know what had hit them! Ha, ha!
How long did that gig last?
I was fired after about two months. An absolute disgrace! They were in Greystones and I couldn't go to Greystones for about four years after, in case I saw them again.
Advertisement
What did you do?
It's a long story [smiles]. But basically they had some cows. They had a herd of cows and I left a gate open and the cows walked to Kilcoole, and they were meant to go to the market the next day. But of course they weighed nothing by the time they got to Kilcoole. There were a few things. I had to paint the gate lodge and... it went badly. Ha, ha!
Any other jobs?
I worked for a stonemason, making gravestones. Really, I was everything. I was a carpenter, I was a house painter. I was all sorts, did everything. Sold insurance, did property letting in London.
Were you painting in your spare time?
Yeah. Painting and drawing. Drawing really was all you could afford to do. But anything I did used to sell.
When did you sell your first painting?
When I was about four, I think. Me and my mate used to sell them door to door around the estate. We had one good customer, she always bought one. And my best pal was my agent [laughs].
You were drinking heavily in your twenties...
Very heavily. As heavily as I possibly could, yeah. When I was about 33, I convinced myself I was an alcoholic. I totally convinced myself of it. And I didn't have a drink then for about six years.
Did something happen to bring that about?
I was looking after somebody who was in trouble with drugs. A girl. And then after six years, I realised I wasn't an alcoholic at all [chuckles].
Your career really started to take off when you quit the booze, didn't it?
It did, yeah. Because I was working regularly and I was being consistent. And that's what you need, really. You've got to be consistent and able to produce, and work and have discipline. If you go out to the pub every night and get drunk, you've got no discipline. So you can't rely on yourself.
Advertisement
So do you regret all those years you spent drinking heavily?
No, no, no. They were the best years [laughs]. But I think when you're in your 20s and 30s, it's a dangerous time, isn't it? There's a lot of things you can do to become unstuck. It's very easy to become unstuck.
Did you almost become unstuck yourself?
Yeah. Lots of times. Hairy situations...
Were you into drugs as well?
Not really. Drink has always been my thing. But a lot of my friends were.
Well, a lot of artists paint under the influence of narcotics...
I don't think so. I think they say they do, but I don't think they do [smiles]. Although, I think Bacon did.
So it was the late '80s when things really started to happen for you. Was it Sylvester Stallone's interest in your paintings that caused your career to take off?
Yeah. I think I was getting somewhere. I'd found my voice or whatever before Stallone, and I think that was just the icing on the cake – as far as getting some sort of profile.
How did the Stallone thing happen?
It was just a pal of his was over here doing some film business and saw some of my paintings in La Stampa restaurant. In those days, La Stampa was the only restaurant in Dublin, really. And the only hotel was the Shelbourne. A lot of Americans coming over on film business would stay at the Shelbourne, and the porter would send them over to La Stampa for dinner. And I think probably more people from Hollywood saw my work in La Stampa than Irish people.
So anyway, Stallone started to buy them and then his friend started to sell them – to all sorts of people. He still does, actually. He's a film director himself – John Herzfeld [2 Days In The Valley, 15 Minutes]. He actually puts my paintings in his movies. He got me to paint De Niro. And he did a boxing film about Don King [Only In America] and got me to paint him as well.
Advertisement
Anyway, he sold them all over Hollywood – to actors, producers, managers of fuckin' baseball teams, surgeons out of Mount Sinai and all this stuff. He actually wanted me to go there, saying "I'll make you a star," and all this bollix.
But you didn't take him up?
I'm glad I didn't. Jesus Christ! I would have lasted about six months. It would've driven me mad.
Does Dublin inspire you?
It does, yeah. I mean, I'm an urban painter really – bars and restaurants and neon lights. I do a lot of work in Barcelona as well, mostly sculpture. I like it because if I walk out the door here, I'm in the middle of town. And I'm gonna know somebody every fuckin' two minutes. In Barcelona, I come out the door and don't know anybody.
Do you still have a place over there?
I had until recently. I just rent them – sometimes for a year, sometimes for six months. I've been spending a lot of time in Seville recently, doing ceramics.
A few years back, you painted portraits of all of the Irish Taoisigh. Do you have any interest in what goes on in politics?
Well, what goes on is just fuckin' theatre, it's just pantomime. I haven't any interest, as such. No, not at all. I know it's all a bag of bollix, really. Some politicians are more entertaining than others. The really entertaining ones are your heroes, do you know what I mean?
What's your opinion of Bertie Ahern?
I think there's a bit of Bertie in every Dublin man [laughs]. I totally understand Bertie. And I wish the Irish Times would leave him alone. He obviously had to duck and dive a bit when he was breaking-up with his missus. Just leave him alone. It's getting stupid! I mean, it's not as if he's going around in a Rolls Royce smoking cigars. What's he doing with it all if he's on the fiddle? Unless he's like the other guy – Redmond – and has it all in his mattress!
Are you, as Gayle used to put it, filthy rich yourself?
Not at all, no. God no! Sure all I have is my house. I don't have any investments. I'm still paying my mortgage.
Advertisement
Is money a big thing for you?
It was a big thing when I had none of it [laughs].
But was it a main ambition to make loads of money from your art?
I didn't think it was possible. I still don't. I mean, there's richer people than me out of my work, if you know what I mean.
Which contemporary artists do you admire?
The best exhibition in Ireland I've ever seen was that exhibition of Barry O'Flanagan's on O'Connell Street. Sculptures of the hares. Though I think that was on when you were living away so you probably didn't see it. He had about six on O'Connell Street and one on Parnell Square. I think that was the best exhibition I've ever seen over here. But I admire any artist that works hard.
What's your opinion of Irish art critics?
Well... [long pause.] I can't understand a word they write, really. Even when we were kids in art school, there used to be an old boy in the Irish Times, who'd shuffle around in a rain mac. [Sighs heavily] God, the whole thing's so tedious, it really is. Or there's that Arts Council magazine Circa. Biggest load of rubbish – absolute rubbish!
And what's an 'art curator'? "I curated this" and "I curated that" – what's that all about? That word never existed before. The artist has the exhibition, and the curator curates it, and they're both fighting for top of the bill. The curator should be the person who hangs the fuckin' things up on the wall while you go and have a drink! [laughs]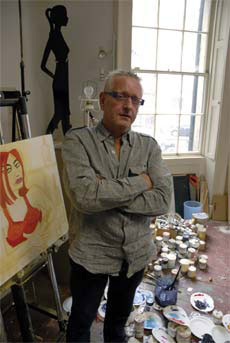 You took your nephew, Jonathan Knuttel, to court a few years back when he imitated your style for paintings he sold to the Turk's Head bar...
That wasn't my nephew, that was a taxi driver. It was the Turks Head I took to court because they had a fella copy one of my paintings out of a catalogue. And they couldn't do that so I took them to court. I got damages out of them – which the solicitor gets, of course.
Advertisement
Oh, I thought it was Jonathan...
What did Jonathan do? Jesus, I can't remember. He did a few fuckin' things! [Laughs]. I can't remember accurately what he did.
Are you litigious generally?
I've taken a few people to court. I sued an interior design shop in Stillorgan. It's all so stupid. And these lawyers are the biggest gangsters of the lot. It's just unreal what they charge. Unreal!
But you're very protective of your style and your brand?
Yeah. It comes under direct fire all the time so I have to be. It's not because I want to, because it's a lot of hassle. But if you have to do it, you have to do it. Prints is an awful problem with me. People making prints of my stuff and selling it on the internet or on eBay. Fakes in auctions – though I don't really get that anymore. Stuff like that just drives you mad.
Still, it's a bit of a compliment that people are making fakes of your work...
Nah [shakes head]. No, no! I spent 30 years trying to stay out of courts. Then I get successful and I find myself in them. It's time consuming and stressful.
How do you de-stress?
Binge drink [laughs]. I drink once a week. I drink a bottle of vodka once a week. And that's it. I spend the next day in bed and that's my day off.
So you work the next five days?
No, the next six. I don't knock off and start drinking until after six on Saturday. That way I don't lose a day.
What's your normal work routine?
I get up at 6.30am and I work until 6.30pm. That's it. I do that week after week after week after week. Then I might go to Spain for a week or two. And then I'll come back and start again.
Advertisement
How long does a painting typically take you?
Well, I'm not painting all the time. I'm doing a lot of sculpture and I'm doing a lot of design work for different things. I'm doing a different sort of painting now – I'm doing a lot of commissions. Strange sort of work, really.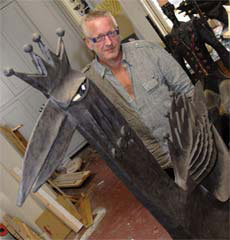 Do you socialise with other artists?
No [laughs].
Who do you socialise with?
No-one [laughs]. Waiters! Waiters and barmen!
Are you in a relationship at the moment?
Yeah. But that's all I'll say.
As a workaholic, do you find it difficult to maintain relationships?
It is difficult, because you're really self-absorbed. I think artists and all creative people are a bit autistic, in a way. They're communicating in a different way to other people. I'm sure musicians are hard to live with. Actually, they're probably easier – they're more gregarious. Painting's a very solitary thing – it's a very solitary life. You need peace and quiet. You need to not be interrupted. And the other thing is when you're finished painting for the day, you're still thinking about it all night. And if you're doing that 20 or 30 days in a row, you're on a different fuckin' planet really.
Did you read that recent story about the Sligo artist, Turlough Moore, who'd covered some ancient dolmens on his land in tinfoil as an art installation entitled 'Punk Rock' – and then some irate hill-walkers ripped it all off?
Advertisement
Was that just in the paper last Sunday? I'd meant to read it, but I forgot.
But do you approve of that kind of thing?
I don't approve of hill-walkers. Ha, ha!
What do you think of the work of [Bristol street artist] Banksy?
He's definitely got a set of icons. He's taking graffiti art further, which is what none of the others have done. But I think he might be getting a little bit cynical now, like Hirst. He'll be on fucking polka dots next as well.
Are you cynical yourself?
No, I'm not cynical. I'm wracked with guilt. Ha, ha!
Are you religious at all?
No.
Advertisement
Do you believe in a God?
Well, I wouldn't have a very developed idea. A guy in a white cloak sitting on clouds. That's as far as my thinking on God is developed. That's what I was told God was when I was growing up, so I'll take their word for it.
Do you listen to music when you work?
No. I listen to RTE fuckin' radio. I'll go down with them. I've never listened to another radio station, and I've never had the urge.
Are you a music fan when you're not working?
No. It was never my interest as a kid. I only had one record as a kid, which I won as a spot prize.
What was it?
Rory Gallagher.
Did that put you off?
No, I liked him. I like music but it's never been part of my life. And my taste in music is just banal. It's country and western stuff or whatever. There was plenty of it at home when I was a kid, but I was just interested in visual stuff.
My other nephew is a DJ. Is he a DJ? I don't know what the fuck he is. What's his name? Pinky? Oh, he's meant to be some big wonder. He used to play down in Whelan's. Have you ever heard of him?
No, afraid not, but then I'm not particularly up on DJs. [Pinky's actually a pretty good singer-songwriter, not a DJ – Music Ed].
Ha! Another fuckin' Knuttel hits the dust! [Laughs]
Advertisement
You mentioned binge-drinking a moment ago. Are you a good drunk?
Yeah. I am. Don't get maudlin at all and have a good laugh. Enjoy it. I've always enjoyed it, except for the last year before I gave it up for that time. That wasn't nice because it was at the height of fuckin' depression in Ireland and you'd no money. It was just depraved, it was awful. But the '70s were great fun.
When's the last time you threw a punch?
I've never thrown a punch.
Not even in your wild drunken '20s?
I got hit a few times, but I never threw a punch back. I wouldn't be that stupid. I wouldn't know how! Have you ever thrown a punch yourself?
A few times, yeah. I used to work in a fairly rowdy nightclub.
Did you? Did I ever work in a nightclub? [Lights a cigarette and stares off into space.] No, I didn't. I worked in a club up on Leeson Street for a couple of weeks.
You don't seem to have held any of these jobs down for very long, Graham!
I was a teacher for quite a while. Alexandra College for Girls, Rathdown Ladies College. I taught in Dun Laoghaire Art School, Blackrock Tech, night classes. All that crap [smiles].
When's the last time you shed a tear?
That would've been a long time ago.
You're not an emotional kind of guy then?
No, I wouldn't think so. So they all say. All the women say that [smiles]. I think all my emotion is in my painting, I suppose that's what it is, really. I would get quite emotional if I wasn't allowed paint.
Advertisement
Do you have days where you don't talk to another human being?
Oh, most days. I just have the radio. I talk to Joe [laughs]. I never open the door when I'm working – and everybody knows that. I mean, I was in Barcelona for two weeks recently and, apart from my daughter, my phone would've rung about four times in those two weeks.
Did you ever get married?
No. My daughter's getting married soon and her wedding is going to be all new to me [laughs]. I don't think I've ever been to a wedding before.
Is it true that an art gallery showing a Knuttel retrospective burnt down during the last LA earthquake –making you a tidy sum when you were commissioned to redo them?
No, that was all Stallone's paintings. It was all exaggerated in the papers. They were saying that there were 30 paintings. There wasn't – there was about 10 of them destroyed.
You mean ten paintings of yours?
Yeah, 10 of mine. Stallone actually rang me up and I could hear the earthquake going on in the background. It was right in the middle of when I was dealing with him. He used to ring me up all the time. He used to drive me mad. I'd tell my daughter to tell him I was out: "he's not in!"
Did you have a falling-out with him in the end?
No, never. I met him a couple of years ago. I was in LA and I had an exhibition of tapestries in a guy's house. And Stallone came along and he brought two of the paintings that he owned and he put them up on easels. It was nice of him.
Wasn't some of your work destroyed in the Twin Towers on 9/11?
I heard that, but I really don't know.
Actually that reminds me. You were the person who told me the attacks were happening on the day.
Oh yeah, that's right!
Advertisement
I rang you up about something on the morning of 9/11 and you started saying, "Quick! Put on your TV – they're crashing fuckin' planes into New York!" I actually thought you were on drugs and getting the fear!
Ha, ha! No, I remember that. It's a little like the JFK thing. Everybody knows where they were when he was shot.
Do you read much?
Constantly. True crime, biographies and travel books, mainly. That's what I read.
Do you travel a lot?
I travel a lot in Spain. But recently I haven't been going anywhere else. I just love Spain. Great people. Barcelona's a wild place.
Do you speak Spanish?
Nah. Basic stuff only. Bits and pieces. I can eat the gear, though. I can eat the fuckin' bulls balls and all that. And I love those little fuckin' shots they drink – chipitas. Aaarrgghhh!
Were you always a hit with women when you were younger?
I always did my best.
What age were you when you lost your virginity?
Pretty young. I think I was 15. And, if you know what I mean, that wasn't for the want of trying. But I was up and running when I was 15.
Have you always had steady relationships?
Em... sort of. Yeah. Ha, ha!
Advertisement
Are they recorded in the paintings?
Yeah. They would be, yeah.
Are there any of your old paintings that, for personal reasons, you've found difficult to sell or let go of? You know, do you become emotionally attached to them?
Em... [long pause]. I've never really consciously kept any. Any that I do have, I got by sort of accident. Apart from not having the space for them, really. Also I don't want to be surrounded by them. And I'm looking at them fuckin' 12 hours a day. I don't need to see them to know them.
What's your ambition as an artist?
Well, my ambition is to stay an artist, I suppose. My ambition was to be one. And now I am one. Now it's to stay one. But in terms of ambitions for my art, I'd like to make big, big sculptures. That's really what I'd like to do. But it's prohibitive – cost, time and whatever else. And there's no way I'm gonna get commissioned off the government or anything like that to do it. And, of course, all the property developers are going skint now. So who knows? But that's really what I'd love to do.
Is being remembered after your death important to you?
Well, I think there's enough of me around now that it won't be a problem. I think I'll be remembered for a while [chuckles]. But I like to think when I'm painting in the imagery that I use, that I'm painting a time. A particular time – 2007 or whatever it is. And that in 50 years time, when you look at a painting of mine, you'll be able to say that that's 2007. That's important to me.
What advice would you give to young aspiring artists?
Well, to the ones in the art schools, I'd say don't listen to a word the teacher tells you! And the other ones, what can you say? I don't know what to say. It's very hard. Em, keep out of Grogans! And if you've not cracked it by the time you're 60, you should probably pack it in! [Laughs].