Freya Ridings: "The first album was a painful experience, I'm not going to lie. I cried every night"
Ahead of the release of her second record, Blood Orange London singer-songwriter Freya Ridings opens up about all things Hozier, céilí weddings, performing for William and Kate, and why Taylor Swift is her dream collaboration.
The notion of that sticky second record has long existed in the music industry, and there's usually no smoke without fire. For Freya Ridings, writing Blood Orange – the follow-up to her chart-topping 2019 debut – came with an unprecedented number of setbacks, not least the lockdown-scuppered writing sessions in Los Angeles. Then there was the break-up of all break-ups just to add to the pile.
Having found the process of creating her first long-player borderline traumatic ("I cried every single night"), Ridings had to overcome a paralysing fear to get back in the saddle. No easy feat when you're broken-hearted in your childhood bedroom, the high of multi-platinum singles like 'Castles' and 'Lost Without You' fading into the distance.
The latter single made Freya the first female artist to have an entirely self-written Top 10 hit since Kate Bush's original release of 'Running Up That Hill' in 1985, and in the process, set up her debut album for immense global success. 'Lost Without You' went six times platinum in Ireland, while 'Castles' achieved similarly impressive sales.
Advertisement
"When I wrote the songs, I genuinely assumed no one would hear them," Ridings tells Hot Press during a stop-off in Dublin. "Nobody told me I'd gone gold and platinum in Ireland! It's good to be back.
"I remember playing for a bride on her wedding day in Cork. An Irish radio station asked me as a surprise, and I was like, 'Let's do it!' I'll always have good memories of that. Same with playing Electric Picnic, that was so cool!"
Is it strange experiencing such success in a country you're not originally from?
"My mum's three-quarters Irish and my grandparents are Scottish," explains Ridings. "My roots are probably through her Celtic ancestry. Maybe that's why I have an affinity with Ireland – everyone looks a little bit like my relatives here. I love learning about the history in places like Galway and Cork.
"My last show here was the 3Arena with Hozier in 2019. That was amazing because I just adore him. When I was younger, I literally bought all my friends tickets, and was like, 'We have to go see this man'. He's the best. I remember hearing 'Take Me To Church' and thinking it was one of the best songs I'd ever heard. It just randomly popped up on a playlist and I was like, 'Fucking hell'.
"We had a good chat when I was supporting him. He was super sweet actually, because there was an electricity scare during soundcheck and he came into my dressing room to check that I was alright! He's so freaking lovely. I would have gone to that 3Arena show as a fan had I not been asked to open for him."
Advertisement
Any chances of a duet?
"I wouldn't say no," says Ridings. "I adore his lyrics. The people I really love and respect are a mix between empowering female legends and really indie men. Taylor Swift, Adele, Florence and the Machine, Beyoncé – they're my favourites. The Holy Trinity, except they're a quartet! On the men's side, there's Hozier and Paolo Nutini for balance."
HEART AND SOUL
What about someone more alternative like James Blake?
"That would be so good," enthuses Freya. "I know his Dad tried to set us up on a date one time. I'm married now, but this was ten years ago. We had meetings with the same publisher. He said his son was an artist, and was convinced we'd get along, probably because we're both tall. Then James got incredibly famous!"
Nestled in a cushy booth at the Marlin Hotel off Bow Lane, Ridings is buzzed with adrenaline. Four years since her first record, you can see how badly she's missed the anticipation that comes with putting an album out into the world.
Advertisement
"It's genuinely a joy to talk about this record, because I put so much of my heart and soul into it," she smiles. "You come out with even more respect for your art. I have always adored promo for that reason. I'm not scared of being asked about my truth. I have definitely heard some really forward questions, mainly in Germany! They'll say stuff like, 'Would you call this a comeback, and if so, would you say it's been successful so far?'
"But I never went away! In my head, there was a lockdown and then I went onto the next album. It was meant to come out at the end of last year, and it was heartbreaking when the label pushed it back. But I used the two months off to plan a wedding, so that was fun! We had a céilí. My mother-in-law is Irish as well, from up North, so there's a lot of that influence within my family."
Did she survive the after-sesh?
"Irish weddings are intense!" says Ridings, shaking her head. "I wasn't really drinking. People thought I was pregnant, but I'm not. Alcohol affects my singing voice. A céilí is just about the most fun you can have. I loved it. 'Will you play at my wedding?' is one of the number one questions I get asked on social media, actually. I played at all my cousins' weddings as a teenager. It's a big honour."
Having gotten her start at London open mic nights, Freya must have a tale or two.
"It's been a hot minute since I've had any bad gig experiences," she reflects. "There was one where I was in Norway, and we were doing a support tour in a church. They turned all the lights off. I remember not wanting to be rude, because maybe they were trying to do a moody thing for the headline act. I tried to gently step off stage and there was nothing there, it was a dark abyss.
"I fell into the front row and these Norwegian people literally caught me in their arms! I was like, 'Thanks so much' because I'm quite tall. That was the last time anything crazy has happened. You go to insane places, though. We had a festival in Switzerland in the mountains, and it felt like I was Elsa from Frozen.
Advertisement
"I've been writing since I was nine and started playing at 11. By the time I was 21, I thought I was over the hill. Then finally at 22, I found this whole other life. No one really cared until the album."
LOVE STORIES
Of course, marriage plays a big part of the newest phase in Freya's life.
"I adore my husband so much," she swoons. "Ewan's a very tall, Celtic looking man. He's a singer-songwriter and producer. We used to be in a band together back in the day. He played violin and sang, and I played guitar and piano. We met at an open mic night 10 years ago. I was 19, and saw him with this really big quiff – Edward Cullen hair. I walked in and was like, 'He thinks he's so cool'. I sat on my own after I played and he asked if I wanted to sit with him and his friends."
Do the tumultuous '70s love stories of Fleetwood Mac and ABBA sound familiar?
"It's literally the same!" replies Freya. "We were writing about each other and then producing together afterwards. It wasn't intentional. I was just trying to be brave and say the thing that scared the shit out of me, then produce it in a way I felt sonically attached to. I played drums on this album and invited people I knew to play violin.
"The first album was a painful experience. I cried every night. I couldn't find the right people to work with, but I cared about the songs so much. I was determined for this album to be different. When you cook with joy, you can taste the results."
Advertisement
What sous chefs did she enlist this time?
"More female producers, and men who empowered me to say what I want to say. I got to work with really incredible female writers, which helped me so much."
Amy Wadge, whose credits include Ed Sheeran, and Kamille both worked on the album.
"Oh my god, they are two of the best," Ridings raves. "Also, Cassie Smith, who worked a lot on Olivia Rodrigo's Sour album in LA. Those three women changed my perspective about being a songwriter. They do it so effortlessly, but also intuitively. That's why this album was more of a joy to make than the first one. When you're starting out especially, certain people knock you back for your suggestions. That's why the first album was really fucking sad – because I was really fucking sad."
On her debut, Ridings worked with producers Greg Kurstin (Adele, Liam Gallagher), Mark Crew (Bastille, Rag'n'Bone Man), Dan Nigro (Lewis Capaldi, Charli XCX) and Jim-E Stack (Vampire Weekend).
Advertisement
"It was literally fucking terrible," Ridings recalls. "I found recording a really scary process, and I was determined to overcome that fear. My husband built a studio in his parents' garden shed during lockdown so we could record some of the songs I'd written about longing for him. I was so sure he'd moved on. Half of this album is me being very heartbroken and alone, and the other half is me being super happy.
"My husband and I lived close to each other during lockdown when we broke up. He was with his parents, I was with mine. I used to walk near his parents' road. I thought I was being really subtle, but eventually my younger brother would pick me up and carry me away! His mum saw me walk by his place. Apparently he was determined to walk to my house, but there were road signs barricading the path."
Freya elaborates on how they negotiated those relationship issues.
"I believe in zero contact to have a clean break," she says. "That saved our relationship. It gave us time to breathe. We did separate Zoom therapy sessions, and he started leaving love letters near my house and emailing me pictures of them. I was on the daily walk with my brother and mum, and I found the letters when I was still heartbroken. We both messed each other up in so many different ways, but we always cared so deeply about each other even as best friends. Looking back, I don't think there was ever a time that he hasn't been there for me.
"I once had a boyfriend who didn't come and visit me when I was in the hospital. Then my mom almost died. Ewan ran through the doors and was there in an instant. There is nothing he wouldn't do for me, but seeing him with someone else was so painful. 'Castles' was about the other boyfriend, who didn't think I had what it took. My current husband always knew I would make it."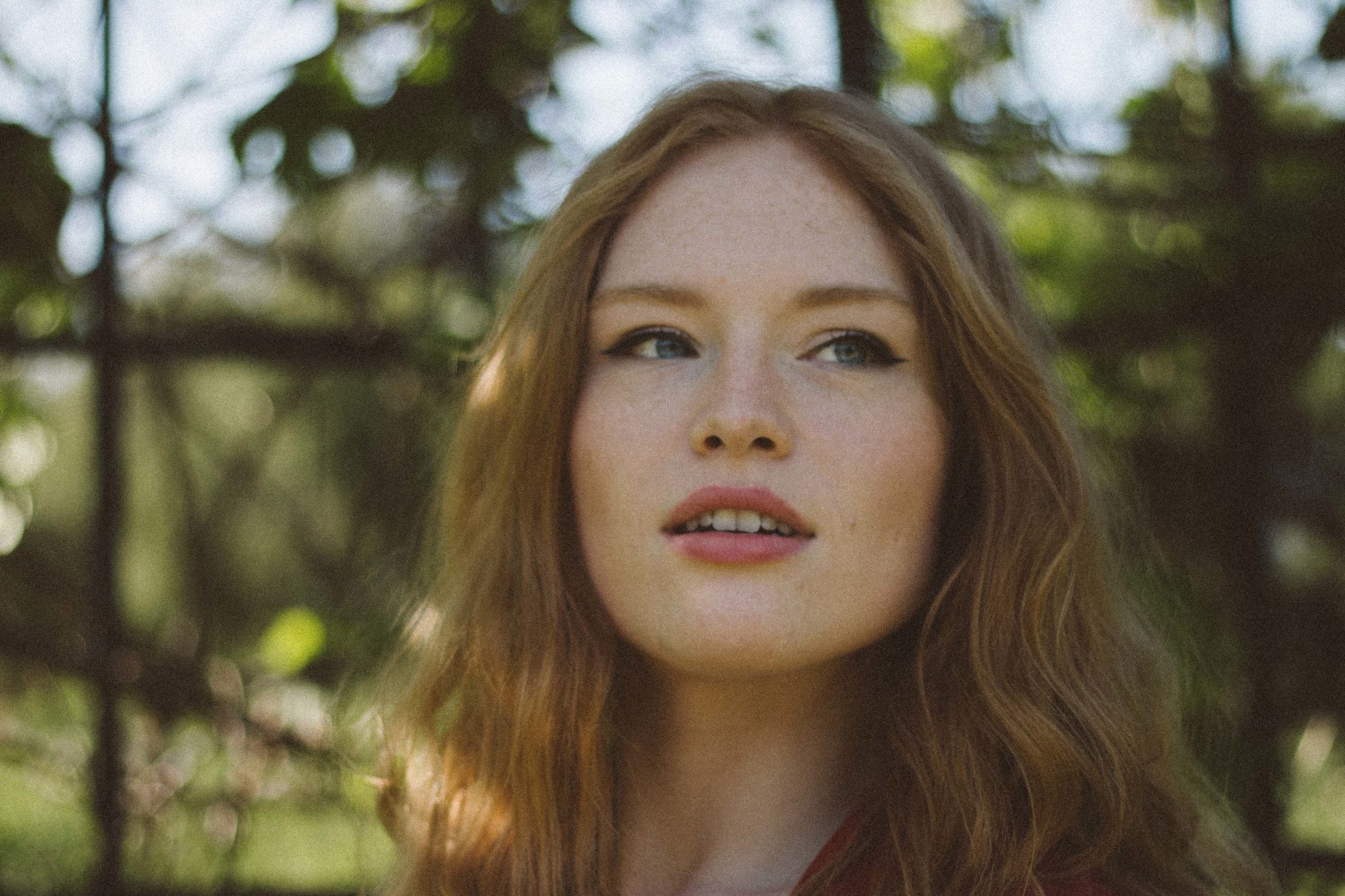 TUMULTUOUS 
Advertisement
It certainly wasn't the only difficult period Freya has encountered.
"My life was really tumultuous," she admits. "It was my chance to choose my career after years, but I overdid that by cutting out too many people. Then I felt really lonely, because Ewan was the only person I wanted to call if anything good happened. We weren't speaking and he turned up to my house one night and proposed on the doorstep.
"Four years later and we're actually married. It was meant to be. Timing is everything. You have to pursue personal development in your twenties. Unfulfilled creative potential is just dangerous. I'll probably do at least one more album before I think about kids."
It's a miracle Ridings hasn't signed a major book deal for this story.
"I'd love to!" she beams. "My mum just finished her first novel and I'm so proud of her. It's set in eighth-century Ireland and I'm obsessed with it. The story takes place on an island after the Vikings arrive – it focuses on a mother/daughter relationship from a female perspective. Mum has put everything into her kids, but this is her time now."
What's been the most surreal moment since Ridings catapulted to stardom?
"There was one random call from reps for the Duke and Duchess of Cambridge one summer, where they asked me to play at a charity boat race," she says. "They're different from the older royals – I wouldn't play at the coronation. It's weirdly political and I just don't want to get involved, but this was a private event.
Advertisement
"I remember an acoustic guitarist and I were driving there, and their people told us to pull over to the side of the road because we were going to miss the ferry. Then a helicopter came down, and we got there in half-an-hour. We went around the back and bumped straight into William and Kate. My make-up artist dropped and rolled on the floor. They were just so lovely. Their kids came to soundcheck. I've never really told anyone this before! William loved 'Castles', apparently. I woke up the next day and was like, 'That felt like a really surreal fever dream'. Then me and my mom are doing the washing-up in our three-bedroom flat.
"It's a mad thing to tell your children that you got to play for the future king. You forget that heartbreak is more universal than you think. I had a great chat with William and Kate after the set, and they'd love to come to Glastonbury. They're champions of British female artists, like Ellie Goulding who played at their wedding."
A certain pop songwriting titan is Freya's number one choice of artist to meet.
"Taylor Swift," she announces, without a moment's thought. "She's my favourite person ever. When I was 12 or 13, I was so inspired by her second album. She was only around five years older than me, but she was indomitable. I knew I could do it, too. My mum and I went to see her live and it was the most incredible thing. When I was introduced to Florence Welch, I physically couldn't speak.
"There were posters on my wall of her and Beyoncé in my teenage bedroom. I just went silent. I saw her later at a festival in Berlin and she ran up to me. How does Florence know who I am? She was a massive influence to me, as was Hannah Reid from London Grammar."
Advertisement
Such exciting female artists are in no shortage, despite Glastonbury festival co-organiser Emily Eavis describing a pipeline problem in the music industry.
"I think it is genuinely a problem," says Ridings, "but if you actually think about it, there isn't a shortage of incredible female artists who perform at headliner level. There's something going wrong somewhere else. It's just kind of strange. I would say that I have relatively had a smooth, non-abusive ride in the business.
"When women want to do a craft - whether they want to be actresses or producers - older men are often in a position of power. Somebody needs to be looking out for them. My dad was my natural force field."
It's an area about which the singer clearly feels passionate.
"Having your opinion on the sonics of a song is often dismissed," she says. "When I was 16, the first writing session I ever did was with this guy after I'd won a competition. We had a good first session because my mum was there, but I was alone at the next one. He was making some changes to my song that felt wrong. I pointed it out and he replied, 'What the fuck do you know?'
Advertisement
"My whole body went cold. I thought about what Beyoncé would do, and got up and went, 'I don't think we'll be working together anymore'. Then, he sent this awful email telling me I'd never get anywhere in this industry. It could have thrown me for the rest of my life.
"Luckily, the next guy was an absolute joy to work with. It gave me a bit of determination. It's an inherently vulnerable situation to be in. That's why I'm so incredibly big on championing female songwriters, because writing your own story is the only power you have. As my dad told me from a young age, if I were to hold out for someone to write me a hit song, I'd still be waiting."
• Blood Orange is out now.
The new issue of Hot Press is out now.
Advertisement