Fontaines D.C., CMAT, The Murder Capital and more announced for Primavera Sound 2022
The Spanish festival returns bigger than ever before with plenty of Irish interest.
Fontaines D.C., CMAT and The Murder Capital are amongst the Irish acts announced to be playing the Primavera Sound Festival in 2022.
The artists will appear alongside headliners The Strokes, Tame Impala, Dua Lipa and Gorillaz over the course of the two weekends in Barcelona.
This is the first time Primavera will take place over two dates, after 2020 and 2021 editions were cancelled due to the COVID-19 pandemic, as a celebration of their 20th anniversary.
Along with the two main showcases, over 150 shows will take place in Barcelona as part of the festival between the dates of June 2-4 and 9-11.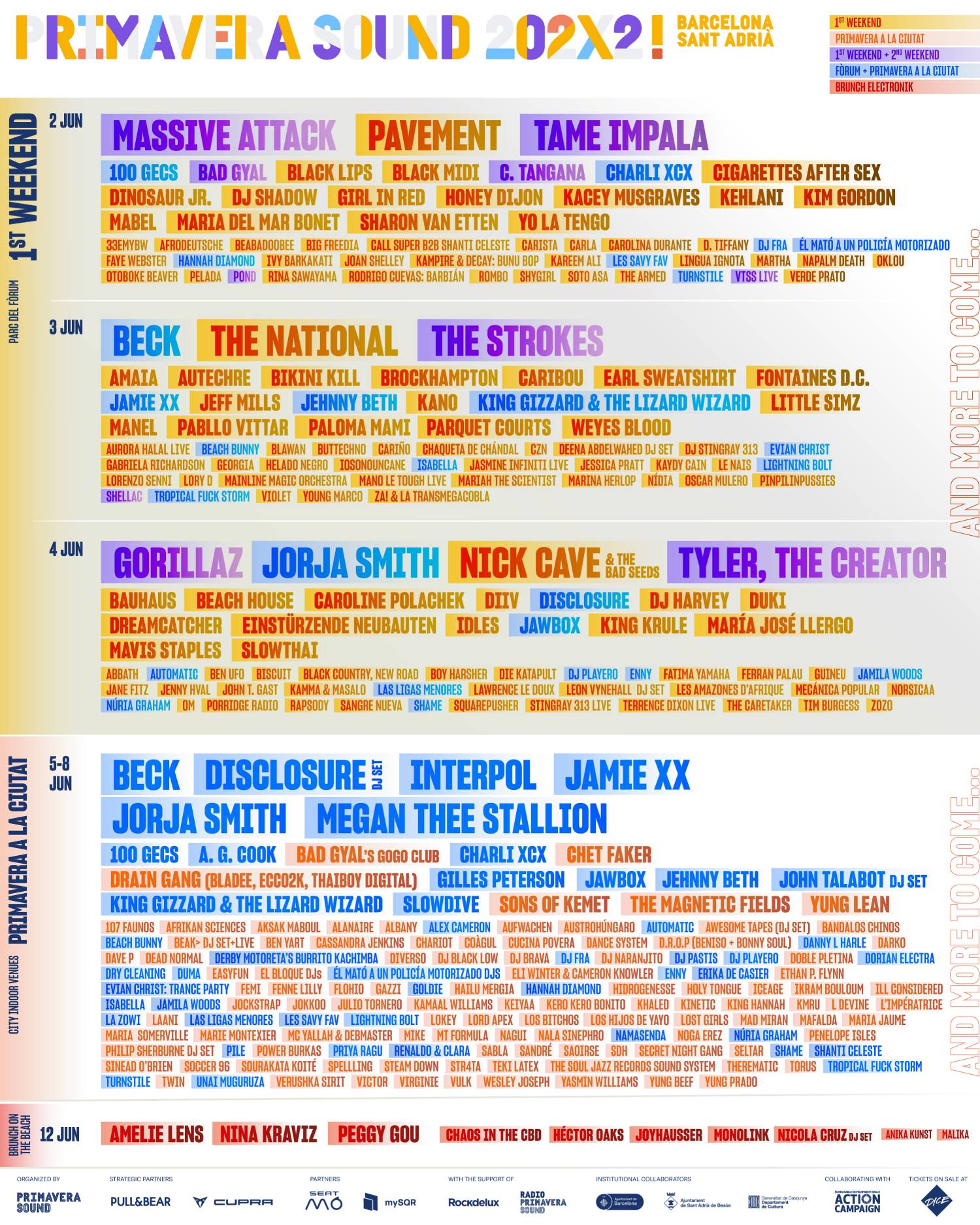 Advertisement
Other Irish acts anticipating shows at the festival next year include Maria Somerville, Sinead O'Brien and Bicep.
All ticket buyers still holding on to their purchases from the cancelled Primaveras from the last two years can attend one weekend with their already bought tickets. Full details will be sent to those who purchased these tickets from the outlet they bought them from with a FAQ available from the festival's website.
For everyone else, tickets will go on sale on June 1 from their website as well.
The festival organisers recently held a trial event concert in January to look at how COVID-19 spreads amongst those at mass events. Organisers found no increase in the transmission of the virus at the event despite no social distancing measures apart from face masks.
Similar trial events taking place this year in other countries are also looking promising, with initial data from the UK Government's similar efforts saying that events are as risky to attend as going to a restaurant or shopping.
Drummer of Fontaines D.C., Tom Coll, recently spoke to Hot Press writer Lucy O'Toole about his new record label's trad compilation album, Goitse A Thaisce.
See the full line-up below:
Advertisement