Fontaines D.C.'s Tom Coll: On Launching His Own Label, Skinty Records, With An Upcoming Trad Compilation Album
Goitse A Thaisce, Tom Coll's upcoming compilation record, is available to pre-order now.
He may have recently picked up a Grammy nomination for 'Best Rock Album' as a member of Fontaines D.C., but Tom Coll has no intention to abide by the laws and limitations of genre, scenes or trends. Rather, the Mayo native is taking a step in a direction that no one saw coming – launching his own label, Skinty Records, with a compilation of traditional Irish music.
The project, titled Goitse A Thaisce, is a celebration of the Irish trad and folk music that has soundtracked Tom's life – featuring the likes of Lisa O'Neill and Ye Vagabonds alongside The Bothy Band, The Dubliners, Planxty and more.
Although the inspiration for the project was born out of a period of lockdown stagnation, its roots stretch back much further.
"My dad played a lot of trad music," Tom tells me. "Bagpipes were his thing. I used to spend most Saturdays of the summer at bagpiping competitions all around Ireland. It was a pretty big deal in my household. Trad music was always there – even before contemporary music, really."
Of course, the central ethos behind punk and folk  – with their emphases on authenticity and independence – are not a million miles away from one another...
Advertisement
"From the '50s on, the more modern-leaning side of trad was super punk," he nods. "The craic that Planxty were at back in the day was the most punk shit ever.
"But finding that balance between pushing the tradition forward, and staying true to it as well, is a hard thing..."
Fontaines D.C. have incorporated plenty of that fiery spirit into their own approach – walking out onto some of the biggest stages in the world to the voice of Luke Kelly.
Does Tom reckon the band are directly indebted to Irish folk music?
"I think so, to be honest," he says. "I would've grown up in more of a tune tradition. A lot of my household would've been listening to trad tunes and trad melodies – whereas a lot of the other lads in college would've gotten into balladry, and the songs.
"It definitely does translate," he continues. "We've taken an awful lot from the ballad movement. It's just about being honest. It's about good story-telling. That's something that we all connected with."
Undoubtedly, folk and traditional music in Ireland is currently enjoying a level of popularity not witnessed in generations.
Advertisement
"Back in the '70s, when my dad would've been a teenager, there was a huge movement of trad becoming really cool, with all these really forward-thinking artists," Tom notes. "I'm not really sure why, but between that generation and now, there was a decline – '80s and '90s trad didn't get as much recognition as it should've."
While it's hard to pinpoint one direct factor behind the swell of interest in Irish folk music right now, Tom points out that the establishment of Rough Trade's imprint River Lea – which has released projects by Lisa O'Neill and Ye Vagabonds – has played a significant role.
"These amazing Irish trad musicians are signed to a big label, and are doing stuff outside of Ireland now," he resumes. "That's what's really important, and that's what pushes it forward. That's a huge part of it.
"I'm really excited about having Lisa O'Neill and Ye Vagabonds on the compilation record," he adds. "I'm such a huge fan of all their work."
Of course, Skinty Records also looks set to play a role in spreading a love for trad among a new generation in Ireland and beyond.
"I'm no expert – I feel like I'm not the person to pass anything on, really!" he grins. "But if somebody inside or outside of Ireland listens to this record, and gets a feel for Irish music that they weren't exposed to before then, then I'll be so delighted. Hopefully it will spread Irish music to different parts of the UK and America. I've got it stocked in a few places over here in London. I'm really excited about that kind of thing, with the whole diaspora of Ireland. I moved over to London in January, and I feel like I'm so much more Irish in my outlook than I ever was in Dublin! Hopefully we can make some Irish people over here feel a little bit more at home."
The compilation arrives in the wake of another phenomenal year for Fontaines D.C., following the release of their second album, A Hero's Death, in 2020, and the subsequent Grammy, BRIT and Choice Prize nominations. Although Tom stresses that the rock 'n' roll world isn't quite as glamorous as the award shows make it look, he's still found it refreshing to explore a new musical space.
Advertisement
"The trad music world – the brief toe-dip that I've put into it, at least – is much more authentic," he reflects. "That's what I'm really enjoying. Just talking to people about tunes, and people really reacting to them emotionally and culturally – it's really nice. Sometimes you don't really get that in the rock 'n' roll business!"
While he's excited to see where this new adventure takes him, he tells us not to expect a Fontaines D.C. and Skinty Records crossover any time soon...
"This label is my little baby – so I'm keeping it away from the rest of those lads!" he laughs.
Goitse A Thaisce is out on August 6, and is available to pre-order from skintyrecords.com now.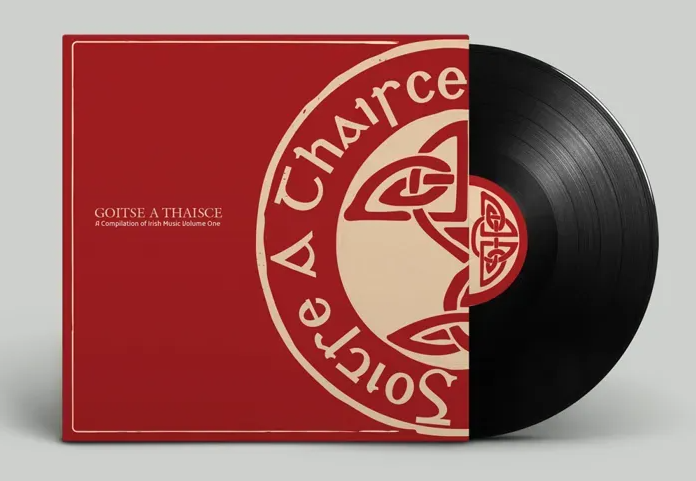 Goitse A Thaisce Tracklist:
Side A
1. Martin Wynn's / The Longford Tinker - The Bothy Band
2. Arthur McBride - Andy Irvine & Paul Brady
3. Apples In Winter - Dervish
4. Bacach Shíol Andaí - Ye Vagabonds
5. Farewell To Whalley Range - Sharon Shannon / Mike McGoldrick / Jim Murray / Dezi Donnelly
Side B
6. Sí Bheag, Sí Mhor - Planxty
7. Oro, Se Do Bheatha 'Bhaile - Joe Heaney
8. Méiltí Cheann Dubhrann / Cloch Na Ceithre Mhíle - Mairéad Ní Mhaonaigh & Frankie Kennedy
9. John Doherty's / Charlie McKernon's / The Antrim Rose - Emer Mayock
10. The Factory Girl - Lisa O'Neill
11. The Parting Glass - The Dubliners
Advertisement