10 Years of BIMM: "Our students are surrounded by creative thinkers, so they feel at home"
Celebrating ten years since the college first opened, BIMM Dublin college principal, Alan Cullivan, reflects on proud milestones, BIMM as a creative hub, graduates making a name for themselves – and shares some future plans. Interview: Riley Glaister-Ryder
BIMM Dublin opened its doors on Francis Street in 2011. Since then, it has been a remarkable success story, with nearly 2,000 students landing there, with the ambition of igniting their careers in music.
For many artists, it has been a seminal experience. Some have been hugely successful. But the college is also about preparing its students in the wider sense, for a variety of different roles in the industry.
The best known outfit to emerge from the BIMM melting pot are Fontaines D.C., who met there and have since gone on to scale the heights internationally. Their landmark achievements include a Grammy nomination for Best Rock Album in 2021, for A Hero's Death, as well as globe-spanning world tours, showcases on all of the leading US chat shows, a Glastonbury appearance and a headline show at Iveagh Gardens, Dublin.
"We're very proud of them and the small part we played in that," Alan Cullivan, College Principal at BIMM Dublin reflects. "We want to encourage creativity and push students in that direction. Hopefully the next artist to come away from here will offer something equally as fresh and unique as Fontaines D.C., but in a completely different musical vein."
Cullivan began his own career as a bass player with the Dublin pop-punk band Puppy Love Bomb, before working at the Lakota Label. He subsequently discovered and managed The Thrills – who were enormously successful – Humanzi, plus And So I Watch You From Afar, before switching to his current role as an educator.
THRIVING SCENE
"That kind of varied background gives him – and other BIMM staff – a special edge. Other working musicians or industry professionals on the team include Pillow Queens manager James Byrne; Alan Duggan (guitarist with Gilla Band), Paul Moore – Van Morrison's Musical Director, and Anne-Marie Shields, who has experience in record companies and management, working closely with My Bloody Valentine."
The attraction for students is obvious.
"BIMM Dublin has become a genuine hub of creativity," Alan says, "and that's seemed to develop quite naturally since 2011. When they arrive in BIMM, our students are surrounded by hundreds of people who think in the creative way they do, and they feel at home. Something like that gives people the confidence to create and collaborate."
In this way, BIMM is contributing to the growth of a thriving scene in Ireland.
"They come here," Alan says of BIMM students, "because they are choosing something they are passionate about and that they really want to do anyway."
Fontaines D.C. may be the best known, but there are dozens of graduates flying the BIMM flag, from singer-songwriter Maria Kelly through pop starlet Pastiche to Ciara O'Connor, who is currently touring with international pop star Dua Lipa, as her long-time backing vocalist.
"Ciara is great. She has shown our students that there is massive success to be had, even if you're not right at the front," Alan Cullivan notes. "One of our graduates is Director, Creative Sync, UK & Europe at Ultra Music Publishing. Another is B2B Marketing & Communications TikTok while another is Digital Communications Manager at PIAS. Many have continued on to study at masters level. Erica Cody studied here and has gone on to do some fantastic things! We have lots of people who have their own studios, who teach music or are session musicians. There's others who work in social media or PR."
In other words, BIMM is not just about the headline artists. It equips graduates for any and every aspect of a career in music.
ALL ABOUT THE STUDENTS
BIMM opened its campus recording studio in 2013, that was just the first in numerous important new milestones. The college's first class graduated, degrees under their arms, in 2015; they have increased their student numbers from an initial 200 to roughly 800 this year; and more courses in Music Business and Production have been developed.
The expansion of BIMM's campus has also been vital, transforming the area into a major, modern creative space in Dublin. On any night, it's typical to find a BIMM-associated artist playing in one of the city's many music venues.
"It's different here," says Cullivan. "With other courses, you don't usually get to do the job you're studying for until you graduate. But once people come to BIMM, we make those connections right away. They are, essentially, joining the industry. It starts immediately."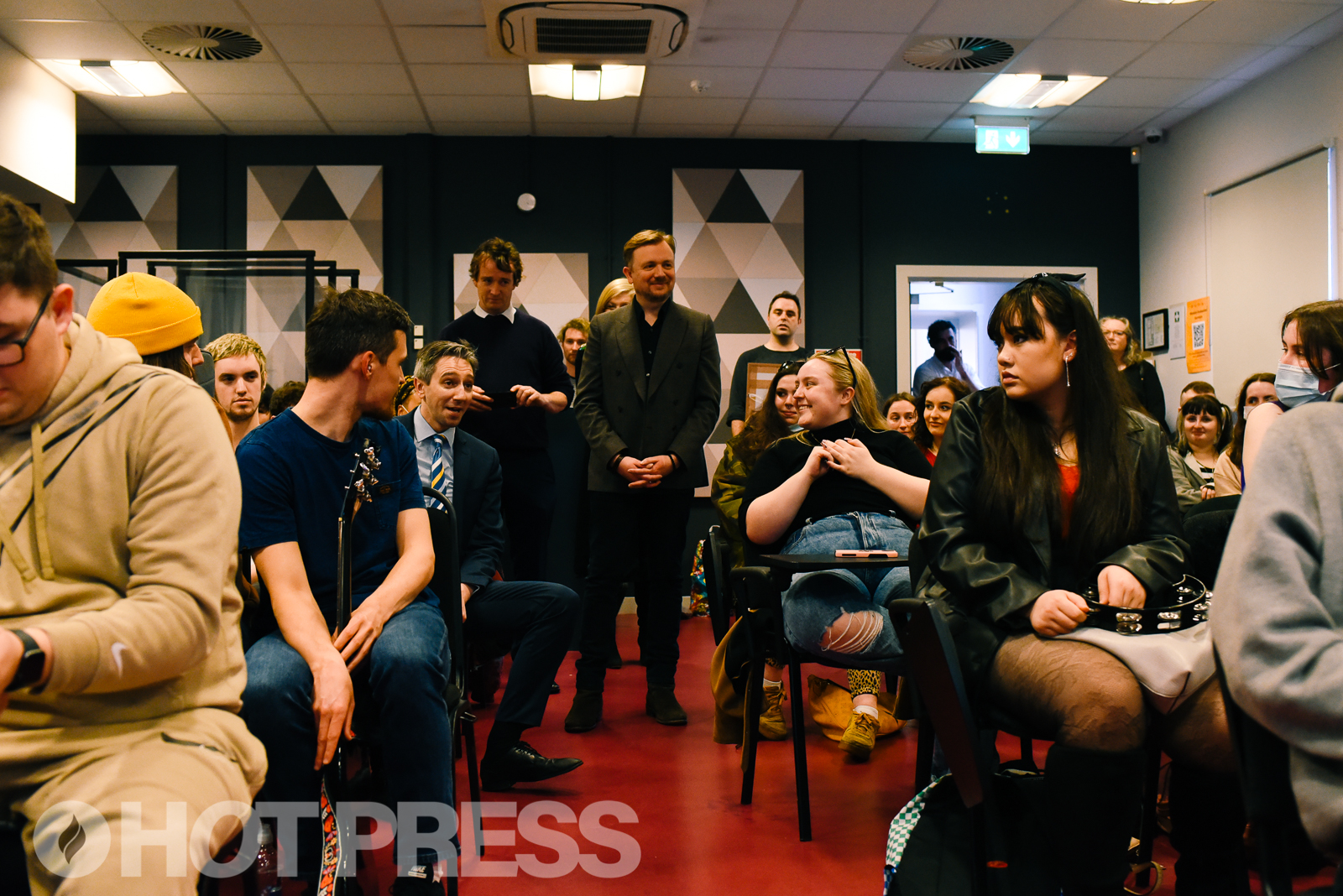 BIMM students also have the freedom to pursue a final project that will aid them in their blossoming careers.
"It could be recording and releasing an album or designing music for games," Cullivan explains. "If they're going to put so much time and effort into something, they might as well make it something that'' stand to them."
Part of what makes BIMM work is being unafraid of change. The college is evolving all the time.
"We are constantly updating our performance course," says Cullivan. "We want to look at the industry, and get more people from within the industry involved in what we do. That means speaking with those currently involved in the industry and taking their feedback on board to ensure that our courses remain not just relevant but ahead of the curve.
For more information, visit bimm.ie.