A rally, organised by the socialist TD Ruth Coppinger, took place in Dublin city centre this afternoon, in response to remarks made at a rape trial in the Central Criminal Court in Cork last week, when a barrister used the female complainant's underwear as evidence in the case.
A major rally took place in Dublin today to protest against victim blaming in rape trials, using the hashtag #thisisnotconsent.
Anger at the way rape trials are handled in this country has been brewing, particularly since the Belfast Rugby Rape Trial eight months ago.
This anger has resurfaced, following a case in Cork last week, during which the defendant's barrister claimed that the 17-year-old was "open to being with someone" based on her choice of clothing, pointing out that she was wearing "a thong with a lace front."
The 27-year-old man who had been accused of rape was found not guilty of raping the 17-year old woman in a laneway in Cork. The decision by the jury was unanimous.
Ruth Coppinger TD made headlines yesterday when, in response to the comments made in the court, she held up a lace thong in the Dáil chambers, stating that Irish women were getting weary of the "routine victim-blaming in Irish courts." She asked the Taoiseach, Leo Varadkar, "Why is nothing yet being done to stop the routine use of rape myths in trials, and how concerned is this Government about the chilling effect this is having on victims coming forward?"
Advertisement
I hear cameras cut away from me when I displayed this underwear in #Dáil. In courts victims can have their underwear passed around as evidence and it's within the rules, hence need to display in Dáil. Join protests tomorrow. In Dublin it's at Spire, 1pm.#dubw #ThisIsNotConsent pic.twitter.com/DvtaJL61qR

— Ruth Coppinger (@RuthCoppingerSP) November 13, 2018
Protests have also been taking place on the streets elsewhere across Ireland today and on social media with the aim of highlighting the way the Irish legal system handles rape cases. In Dublin, hundreds gathered at the Spire at 1 pm this afternoon, with simultaneous protests in Cork and Limerick and one planned tomorrow in Belfast.
Organised in conjunction with ROSA (for Reproductive rights, against Oppression, Sexism and Austerity), those gathered held up underwear and signs reading "This is not consent" and "The system is sexist".
Rita, from ROSA, opened the rally emphasising the absurdity of the use of underwear as an indication of sexual consent.
"The idea of a young persons' underwear being used by a barrister as an indication of their intention is absolutely despicable," she said. "The culture that tells us, we have to keep ourselves safe, we have to wear conservative clothes, we can't go to certain places is a culture that tolerates rape and we won't take it anymore."
Tara Browne, of the National Women's Council of Ireland said, "Today we stand in solidarity with victims of sexual assault who are being grievously failed by our criminal justice system. The use of rape myths such as the type of clothes the victim was wearing has no place in our criminal justice system.
Advertisement
"Victim blaming rhetoric is particularly insidious because it shifts the responsibility and the focus to the actions of the victim – and the attention shifts away from the actions of the perpetrator. Today we are here to challenge victim blaming – and to call for an effective and realistic understanding of violence against women and to focus the conversation on whoere it belongs: the perpetrator".
Tara went on to call on Judges to tell jury members to stop relying on rape myths and stereotypes when deliberating – and to argue for the setting up of specialised sexual violence courts.
Tyra McKee, an organiser from Unite the Union, said that from her experience working with hospitality workers, the number one issue in the hospitality sector was sexual harassment in the workplace, with a TUC survey showing that 66% of female workers aged between 18 and 34 suffered sexual harassment at work.
"In how many industries is both overt and casual sexism tolerated?" McKee asked. "I can tell you, it's virtually all."
Ms McKee advised that forming into unions was the way to fight against this. "The only answer is for us to get organised."
Ruth Coppinger TD began her speech by expressing her solidarity with Spanish students staging walkouts today against macho culture, before going on to address issues arising from the rape trial in Cork last week.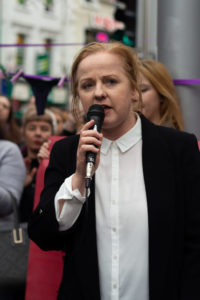 Advertisement
PHOTO: Ruth Coppinger TD, by Zoe Keating.
"Last week we saw the humiliation of another young woman in a Cork courtroom," the TD said. "Today I read again in a paper that a man got a suspended sentence for sexual assault because and I quote, 'I was under the impression she was awake' as he sexually assaulted her. These are the kind of misogynistic tropes that are encouraged in the courtroom and also encouraged in society."
Ruth took out the underwear she had shown in the Dáil yesterday, encouraging protesters to do the same, saying: "This is not consent, sleeping is not consent, silence is not consent."
She also drew attention to the need for publicly-funded consent classes across secondary schools and colleges.
"Why should Students' Unions be running around looking for funds for consent classes?," she asked. "That should be government funded".
Finally, she drew attention to the need for action within the workplace, taking as her example the Google Walkouts that took place earlier this month in protest at how sexual harassment claims are handled by the tech giant.
Organisers are planning more demonstrations on the 18th of March – International Women's Day – the first since the Repeal the Eight Amendment was passed.
Advertisement
As with the Repeal movement, the role young people have to play is increasingly vital. Aoife of the Union of Students in Ireland addressed the crowd by asking, "Why is it we are warned from a young age, how to dress, how to act, how to speak? Why is it that my parents were always more worried about me on a night out than my brother? Why is it that what we drink, what we wear, how we look is always brought into account? That will never, ever, ever mean consent.
"What I wear, and how I dress will never mean that I am asking for it," she added. "We have failed our young people. We need inclusive sex education and we need reform so that this never happens again".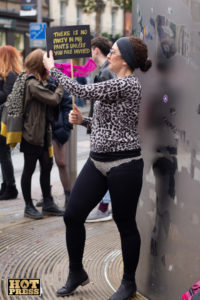 PHOTO: Norma Burke, by Zoe Keating.
Speaking to Hot Press after the rally, Rita from ROSA expressed her hope that the woman involved in the Cork case would take heart from the support today and that it would encourage victims to come forward. Her message unequivocally is that victim blaming must stop.
"The whole system is set-up that it's the State taking a case, and so there's no representation legally for the victim," she said. "You're only there as a witness, with no right to any voice in the court – other than when you're being asked specific questions about what happened. That is a huge problem. It's something that needs to be addressed perhaps in legislation.
"But more fundamentally if we build a mass movement for women's rights we can challenge these attitudes: number one that lead to rape and lead to people thinking it's okay to coerce or to physically pressure someone into having sex, but also that say victim blaming is acceptable. Again and again, you hear about what a complainant was wearing, how much they had to drink where they went - apparently, if you go into a confined space with a man you're asking to be assaulted. These myths need to be challenged."
Advertisement
I also spoke about the issue of victim blaming to Brian Murphy President of UCD Student's Union. "From the male perspective," he told Hot Press, "it's very important for people to know that, like we supported our female sisters in the campaign to repeal the Eight Amendment, a lot of young men are willing to support this campaign going forward in the next few months. It's important that young men see people calling out others for making inappropriate comments.  While it's predominantly a female issue, young men are in support of it too."
RELATED