Snow Ghosts: "People think it's weird smashing folk, electronica and dark stuff together, but it came quite naturally"
Ross Tones and Hannah Cartwright of Snow Ghosts decided to leave the UK post-Brexit, and bought their house in Donegal sight unseen during the Covid pandemic. They open the doors to Hot Press, whilst musing on shape-shifting hares, Sean-nós singing, supernatural housemates, psycho-geography and their stellar new album, The Fell. Photos by Miguel Ruiz
Hot Press arrives en masse – writer and two photographers – to a 19th century farmhouse, at the foot of the Blue Stack mountains near the coast of Donegal Bay, to chat with Snow Ghosts about their brilliant fourth album, The Fell. Ross Tones and Hannah Cartwright, two-thirds of the band (the other third, Oli Knowles, referred to constantly and fondly, is in Sweden), welcome us warmly into their cosy home.
In a jiffy, we are sat around their large wooden kitchen table, like old friends, supping tea and swapping stories, books and music. We are joined by their two very excited terriers, Vixen and Indy, and perhaps the ghost of Mrs. Crawford, the previous occupant who is rumoured to haunt the house. Indeed, the first description that Ross and Hannah received when they were considering buying the house was that it was dark, cold and haunted.
"Well," Hannah deadpans, "for a band called Snow Ghosts it works perfectly."
We laugh, the mood is light. Indeed, for a band so often tagged as dark electro, Ross and Hannah are laugh-out-loud funny. They say that many people who meet them are similarly surprised, perhaps proving Robert Smith Syndrome  – the darker the music, the happier the band. They are also quite the pair of daredevils, having bought their Donegal home online, sight unseen, desperate as they were to escape post-Brexit Britain.
You can add "polymaths" to their attributes. Hannah formerly belonged to Augustus Ghost and post-rockers Masakichi, while Ross's other project, Throwing Snow, continues to inspire and innovate. Movie trailer production credits with Marvel and film soundtracks also form part of their varied CV. Rivetingly, they both speak about music as something elemental.
Advertisement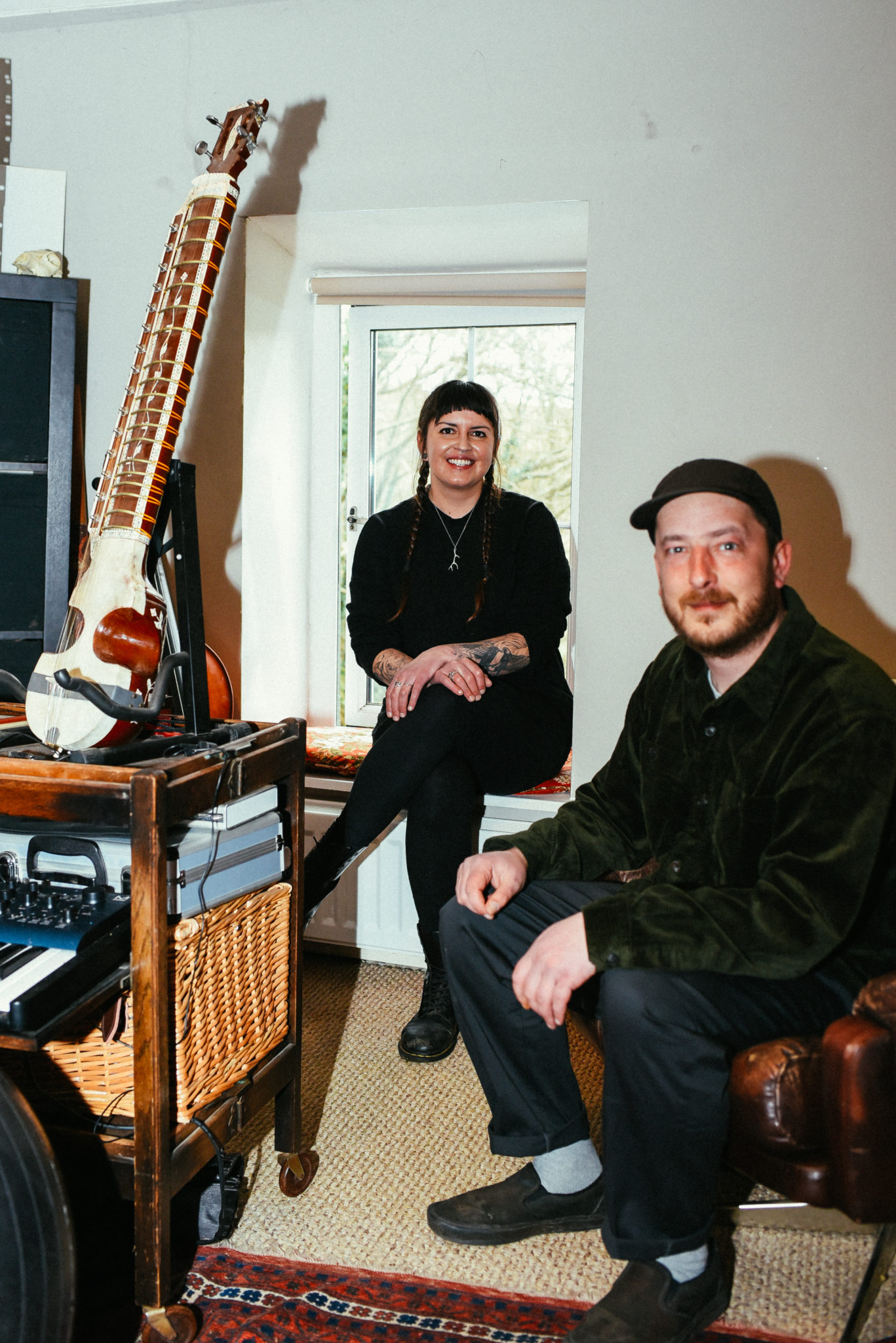 "There exists a thought process of a boundary between acoustic and synthetic music," says Ross. "But in my head, I think they're just things that create noise. The start of a note is the bit where your brain decides what the instrument is. However, with the release or the decay of that note, you can chop sound, so you can put a synth line on a decaying piano. And you'll probably think it's a string. That idea means that synthesised sounds can easily sound like a pipe or a Shruti box. We've got this thing called an Onde made by a French guy – let's show it to you."
We all traipse into the well-furnished sitting-room containing leather couches and Persian carpets, with Hannah pointing out antique pieces. There is a David Rooney etching of the carnyx – the boar-headed, 12-foot-high brass instrument they used on their last album – and the artwork of Snow Ghosts' first EP on Black Acre. Bodhráns and exotic drums lie on shelves alongside maritime lanterns. There is a stuffed bird of prey with a circle of petrified knitted owls staring at it. Ross points at a beautifully crafted wooden instrument: the Onde.
"It's a guitar body, but it's got resonators on either side," he explains. "So whatever you put into it, it comes through the guitar body. You put a synth through that and it sounds acoustic. So where is the line between these things? We also processed the drums electronically, so they sound electronica. It is a blurring that fitted with the rest of the themes on the album, because it's all about liminal places and bits that are in between – boglands and springs.
"A changing from one medium to another and a useful parallel is to make something organic be electronic. The Esraj is an Indian string instrument that we played on the album, but you distort that and it sounds like a synth. It is meant to be a bit ambiguous. It's similar to why Hannah doesn't like describing her lyrics."
"Let's go upstairs," Hannah suggests "and see the miniscule squashed version of the studio."
We pass closed doors that have hung since Mrs. Crawford possessed bodily form. The house is all old-worlde and wonderful, while through port-hole windows you capture glances of rolling moorland, and the Oily River that runs in an oxbow around the holding. Ross tells us of three lassies who were swept away by it, on the way to a dance, a hundred years ago. About these parts, witches abound.
Advertisement
Ross plays the esraj – the sound is beautifully evocative.
"Then you put it through all that stuff behind you," he informs us, pointing at his mixing desk, "and it becomes something totally different. The other thing is that there are masters of all of these instruments. So, us replicating the sound is a bit disingenuous and appropriating. We try and play them wrong or play them in a way that's not traditional."
Trip-Hop & Astrophysics 
It's safe to say Snow Ghosts approach things differently. The couple's story is one of ideals of punk and metal evolving across time and space, through decades and continents. As a teenager, Hannah performed in metal bands in Abu Dhabi and attended music college in Australia. Ross, meanwhile, played in the only band in Weardale, County Durham; after hearing drum and bass on John Peel, he departed for the trip-hop scene in Bristol and a degree in astrophysics.
"Myself and Hannah met in London," he reflects. "We were both working for a music publisher, coming from different angles. But we were both into metal, that was the touchstone. But it was definitely a smashing of styles, which slowly developed into something. Then with Oli, it came together as something which feels normal to us."
Advertisement
"To us!" Hannah chimes in, with emphasis.
"People may think it's really weird smashing together folk music, electronica and really dark stuff," considers Ross. "But it came quite naturally."
I may be a closet Snow Ghost, for I didn't find The Fell all that dark – it's more Clannad than The xx.
Hannah teases, "You obviously joined the Darkside."
"That's weird that you heard that," offers Ross. "Alongside Tina Turner and Foreigner, I grew up with Clannad and Scottish folk. Dad blasting it out on the car stereo."
What was the scene in London like when they were first there?
"From 2007 – 2011, it was amazing," Ross enthuses. "Mount Kimbie, James Blake and that sort of stuff was happening. It seemed everyone was in one place doing one thing, but everyone did it in a totally different way. There was a hip-hop beat scene, but then also dubstep and drum and bass – this weird amalgamation of everything. And singer-songwriters chucked in there as well. It just felt really fresh.
Advertisement
"The first Boiler Rooms were kicking off in a warehouse with fifty people. And then it moved to a club, but it was essentially the same thing. It grew and grew, then became not at all something that I'd like. It felt totally weird – sponsored parties and tonnes of people trying to get in front of the camera."
Houndstooth signed Snow Ghosts early.
"When Houndstooth started, Rob Booth got in contact and signed my Throwing Snow project. And I was writing Snow Ghosts' debut record. I played it to the two Robs (Booth & Butterworth) at Houndstooth, who said we have to have this, so it ended up that both my projects were on the label."
We all tramp back downstairs talking sean-nós singing.
"Sean-nós just gets me," says Ross. "The tradition of holding hands to support the singer, facing the corner for the acoustics."
Advertisement
"Or the horsehead skull under the floorboards to make the dancing resonate better," Hannah continues. "Using your environment to make the most out of it."
It's a house where books are constantly thrust at you. Ross hands me one by  local historian Michael Culligan.
"When you look outside, you'd think that's all wild and not touched by hands," he observes. "But everything was forested, so it is completely changed from what it would have been during the Neolithic period. The landscape contains monuments to the Neolithic Age, Bronze Age, Iron Age, all the way through. And there are stories attached to the place-names."
Michael, they tell me, has been a great help with place-names which they come across whilst out rambling, foraging and fly-fishing.
"Michael told us that bronze was smelted in one of the surrounding townlands during the Bronze Age," says Ross. "It stank so bad of sulphur that it was called 'wind in the proximity of my bottom'. I love that, it's humorous and helpful. If  you are told to go to the place that stinks like a fart, you will know when you are there! It's extra-sensory. You can use the stories to navigate around like Aboriginal song lines."
Shapeshifting & Dance Influences
The Fell album cover is dominated by two fighting hares.
Advertisement
"There there are lots of stories about metamorphosis between hare and witch," says Ross. "We've seen quite a few hares around here. The way they run is hag-like. They always stop at the fence line and look back at us. It's really amazing."
Hannah hands me another book – Thin Places by Kerri Ní Dochartaigh.
"It's about those liminal spaces halfway between life and death," she notes. "Sort of about shapeshifting and thin veils."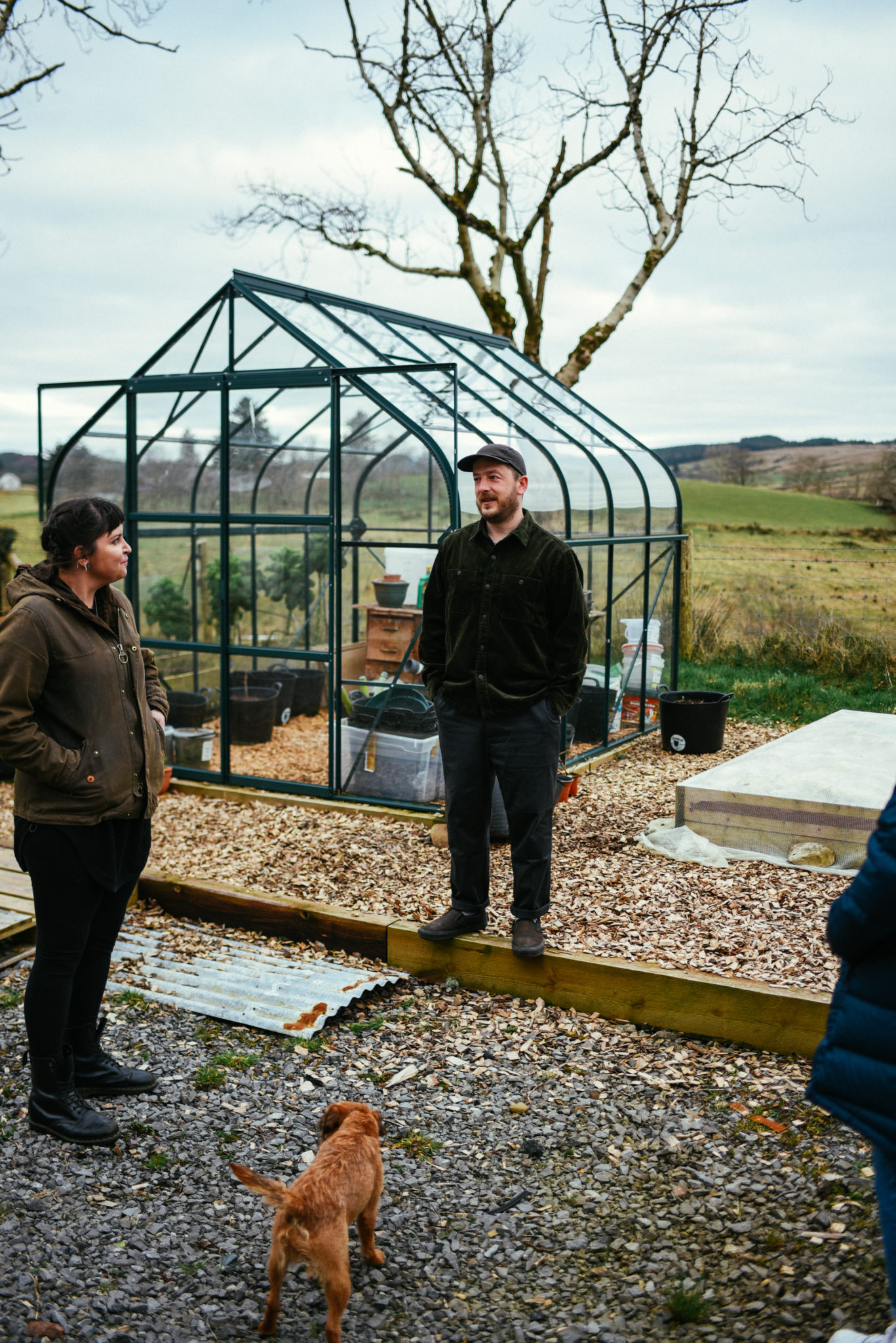 "There's another side of the album, which is highlighting all the nature that surrounds us, because it's just disappearing so rapidly," says Ross. "These creatures were part of everyday life, and now they're more or less thought of as being seen in a nature preserve. Similarly, the plight of the salmon is just a disaster. There are some protections, but there could be a hell of a lot more."
With talk of all this shapeshifting, how are the locals?
"Amazing," Ross says with no hesitation. "We bought here in lockdown and couldn't get over for six months, and our neighbour mowed the lawns every week. It's a bit like Weardale where I grew up. There is a feeling that whatever anybody else says, we do it our way and as long as you fit in with that, it's absolutely fine. I respect that.
Advertisement
"It feels wild – it feels like punk. Punk formed my political opinions very early on in my childhood, and this feels like the modern version. There's definitely a distaste for being told what to do by someone who doesn't understand the life."
Talk to me about the dance element of the record.
"Yes!" Ross exclaims. "People think that in folk, dance music doesn't matter, but it really does. Having that element of dance is as much a part of our culture as beautiful songs. As a band, we can probably come across as too cerebral. If someone reads our press release, they might think those guys are, are…"
"Wankers?" Hannah proffers.
We all erupt into laughter.
"When we write music together," Hannah continues, "it's makes us so happy. Drinking at the same time and staying up till five in the morning, because we can't go to bed until we've written this piece of music. And we read a lot of books."
She hands me another tome – this time a copy of Adrian Room's Brewer's Dictionary Of Phrase & Fable.
Advertisement
"They're always on the table when we're writing. We're all obsessed with so many different things. We spend our time researching loads of things, but it feels like a waste if you're not combining it into something that is a career. So, if you can do that and push all your passions together, it makes it a lot easier."
The Fell was created during the pandemic across Wiltshire and Gothenburg, and finished here in Donegal. Ross and Hannah lead us across their lawn to a barn, which they are converting into a studio where they plan to create their fifth album. They pose for pictures in front of it, then show us their vegetable garden and stock of sheep wool they use for mulch.
Upon leaving, the countryside suggests something heavenly and glorious. The sun's golden rays slant through the clouds, spotlighting splashes of ocean, patches of the moors and the house of Snow Ghosts itself. It's perched on a hillock above the fast-flowing Oily River, surrounded by tall trees beginning to bud for the approaching summer. Theirs is a world of curiosity, creation and charm. Long may it spin.
• The Fell is out now.
The new issue of Hot Press stars Freya Ridings and Metallica.
Advertisement