Pillow Queens: "The culture of Dublin is slipping through its own fingers – but the people are holding onto it for dear life"
With the release of their brilliant upcoming album, Leave The Light On, Pillow Queens are about to cement their reputation as one of the most promising Irish acts in recent memory. We catch up with the band to discuss new adventures, Dublin, and breaking out of pigeonholes.
It's been just over a year since James Corden declared Pillow Queens' full-length debut, In Waiting, "one of the best albums of 2020," in front of his late-night chat show's audience of approximately one million US viewers. Following Corden's bizarre attempt at an Irish accent on the show recently, it remains his central redeeming moment.
Now, after almost two years of major Covid-related disruptions, the Dublin-based band are finally ready to start building properly on that momentum, with their first headline tour of North America – kicking off proceedings with an appearance at SXSW Music Festival in Austin, Texas. Halfway through those American dates, Pillow Queens will also be unveiling their eagerly anticipated second album, Leave The Light On.
It's their first full-length release since signing to Canadian label Royal Mountain Records, whose alumni include the likes of Alvvays, Mac DeMarco, U.S. Girls and Orville Peck. Fuelled by the ecstatic reception to their independently-released, Choice Music Prize-nominated debut album in 2020 – which has since clocked up millions of Spotify streams – the band are poised for a serious international breakthrough.
Of course, Covid isn't a completely distant memory yet. There's three Pillow Queens squished onto the couch in front of me – with one quarter of the band, bassist, guitarist and vocalist Sarah Corcoran, noticeably absent. "She has the Covid," lead guitarist Cathy McGuinness informs me.
While they wait out Sarah's return to full health by playfully downplaying her symptoms ("She's grand – she's just exaggerating!" Cathy grins), the band are keeping busy with rehearsals, ensuring the songs from Leave The Light On are fully gig-ready before they set off on what promises to be a monumentally busy year of touring.
Advertisement
"We're a little bit scared,"  singer/guitarist Pamela Connolly acknowledges, in reference to their month-long stint in the States. "But we've earned our stripes, because we've had really long drives when we do UK tours – just because we've done something wrong. On our last tour, I can't remember where we were going, but it was supposed to be a four-hour drive, and it ended up being ten hours, because we had a tyre blowout. And technically, I don't think any of our drives in America are ten hours."
As Pamela points out, the fact that they'll be headlining shows in America for the first time brings its own unique set of jitters.
"It's a new crowd of people," she notes. "Our expectations in terms of how we're going to be received is different. We'd perform somewhere in Ireland, and we'd be like, 'Ah yeah, there'll be loads of people'.
"But as far as we know, there might not be anybody there!" she laughs.
"And America is just so different," Pillow Queens' drummer, Rachel Lyons, chimes in. "They speak differently, they act differently."
There's also the "normal nerves" associated with long tours. "We're leaving our lives, our loved ones and our partners, for two months," Cathy says. "So I'm real nervous – but we'll be okay."
There's also a sense of needing to make up for lost time. Despite having hit some major landmark moments over the past two years – including playing on national US TV and selling out Vicar Street –  a significant chunk of Pillow Queens' rise to prominence took place inside the bubble of Covid-19.
Advertisement
"It's super bizarre to think that we've done so much but also haven't…" Pamela nods. "We missed out on certain experiences, like touring our debut album. That's sad, because at this point, we're happy to move away from it – and yet, we should've been able to play it to so many more people. But it is what it is. I think we made the most of a very bad situation."
SOMEBODY LOVES YOU
The release of Leave The Light On will take place under very different circumstances – with the band set to ring in the arrival of the album on April 1 with a gig in Salt Lake City, right in the middle of their American tour.
Although their plucky spirit, unapologetic edge and strong independent ethos remain safely intact, the project is Pillow Queens' most instantly accessible outing yet, as they boldly blur the boundaries between indie-rock, punk and pop – rejecting gimmicks, trends and lazy categorisations, in favour of an approach that places authenticity and genuine emotion first and foremost.
Like In Waiting, the new album finds them teaming up with producer Tommy McLaughlin once again – heading into the studio with him as he was putting the finishing touches on their good friend SOAK's upcoming album, If I Never Know You Like This Again.
Advertisement
"He speaks our language," Pamela says of the acclaimed Donegal producer. "He knows exactly the way we want to sound. He's very talented in getting that out of someone, so it's a really nice fit. We're simpatico."
Despite working with the same producer, Leave The Light On is by no means an In Waiting: Part Two.
"We made In Waiting in dribs and drabs," Pamela explains. "When it's your first album, you're bringing your back catalogue with you – seeing what works, and adding new stuff on. But for this one, it was us in the studio for the better part of a month, just being completely, 100 percent 'in' the album-making experience. Every day was a creative day, for a month. It allowed us to not fall out of the headspace, and to ride that through the whole record, which we didn't get a chance to do with In Waiting."
Although Pillow Queens are, in many respects, reflective of a generation that's unwilling to be tied down by the constraints of genre or labels, Cathy reckons that, if anything, their sound is "going more country."
"I've just been flat-out listening to country music, all through lockdown," Pamela agrees. "And we kind of drew influence from '80s Americana as well."
Rachel, meanwhile, continues to view Irish artist Gemma Hayes as a source of inspiration.
"She's another country-influenced singer-songwriter," Rachel points out. "I came into the studio, and Tommy and Cathy had created this wall of sound that sounded exactly like a Gemma Hayes song. I was like, 'You nailed it!'"
Advertisement
The album title is taken from a lyric in the penultimate track, 'My Body Moves', which the Pillow Queens reckon stood out for its "warmth."
"It's something that has so many different meanings," says Cathy of Leave The Light On. "It's definitely not a Covid record, but the phrase is hopeful. And it's a really warm image – like when you go out to the pub, and your mum leaves the light on for you. It's a beacon that means someone's waiting for you, and somebody loves you."
RELIGION AS A METAPHOR
Elsewhere – particularly on 'Hearts & Minds' and 'Delivered' – religious language continues to seep into the songwriting.
"While writing it, I was aware of that," Pamela acknowledges. "I was like, 'Okay, I need to pull back a little bit – we can't have every song have a huge religious sentiment'. But there were certain ones that it just made sense. And it's in our lexicon at this point. When we do reference religious themes in songs, it's not necessarily us talking about religion. It's us using religion as a metaphor for something else. It just seems like a very good way to articulate a certain feeling. The language is there and it's beautiful. So it would be a shame not to."
"Religion is just an easy vehicle to talk about something," Cathy nods. "So in 'Hearts & Minds', it's that false worship of icons – which could be the media, or whatever. But it's easy to use religion."
Advertisement
The songs on Leave The Light On also contain references to some fellow poetically-inclined musical heroes including nods to Bob Dylan and Leonard Cohen in 'Delivered'.
"And in 'Hearts & Minds', the end of it nods to a trad song that Lankum do, called 'Henry My Son'," Pamela notes. "In the chorus, there's also a very American phrase: "fixin' to move." I was thinking about [Jackson C. Frank's] 'Fixin' To Die' when that lyric was being put in. A lot of references are to other musical artists that we feel are poets."
They also looked inward for inspiration – drawing unconscious influence from the strange times we all found ourselves living through.
"We like to say it's not a lockdown album but you can't help but be affected by it," Pamela considers. "It's not until after it was made, and looking back on it, that we said, 'Oh, there's quite a few themes of loneliness here…' It wasn't intentional, but I certainly see it. It was quite an isolating life we were all leading at the time. Sometimes it's a positive loneliness, and sometimes it's a negative loneliness – but loneliness nonetheless.
"We are at a particular stage in life, one in which you think you're not going to feel emotions as much as you felt them when you were younger, but then you find that that's not necessarily the case," she continues. "It was an active thing for us, to be a little bit more forthcoming with our emotions on this record. Because we had the time to feel them, articulate them, and explore them."
'Hearts & Minds' was also influenced by issues closer to home, including the kind of insecurities about body image experienced by musicians on the rise.
"It's part of the game – you go do your photoshoots, and you make music videos," Pamela reflects. "And you have to put up a lot of pictures of yourself on socials. It's just a few steps above what you would normally feel comfortable with. When you're up on a stage, you become very aware of your body, and how you move, and how many people are just literally staring at you.
Advertisement
"So, depending on the sort of person you are, there's certain things that you wouldn't necessarily have thought about," she continues. "Like, 'I should probably wear a bit more make-up, or do my hair better, or wear nicer clothes, or be more aware of my body when I'm moving'. These are not necessarily things that people are putting onto us – it's more what you're putting onto yourself. Because you've become more aware of yourself."
"It's just human nature," says Cathy. "You're seeing more of yourself, so there's that shitty niggling feeling in the back of your head, saying: 'That angle wasn't great'. In normal life, you probably wouldn't think twice about it."
FIGHTING AN EXTRA LAYER
They also admit that, despite their success, they're not immune to an occasional bout of imposter syndrome.
"It comes about with stage performances, where you feel like you're not giving enough," Pamela reveals. "Then you see the other performers, and you're like, 'Look at how they can just move their body and control the crowd, and give so much charisma'. And you just feel a bit void of that. So you feel like a bit of an imposter – you're like, 'Ah Jaysus, I'm just standing here singing…' I know that's silly, but it still happens."
These kinds of insecurities, experienced by countless artists, are only aggravated by the kind of mindless hate and abuse churned up by online comment sections – something Pillow Queens know too well.
Advertisement
"There's been a few comments here and there," Rachel confirms. "You have to try and brush it off, and think about all the positive comments that outweigh it."
"But you never remember the positive ones," Cathy points out. "If we're in good form, and we're feeling strong in ourselves, we can totally laugh off the comments because they're ridiculous. But if you're having even a slightly off-day, you're like, 'I'm going to remember that forever'."
The worst of the comments, they tell me, are shared on Facebook.
"After doing the Irish Late Late Show, we were annihilated," Pamela says.
"They turned off the comments on YouTube, so it was all on Facebook," Rachel elaborates. "That's where all the trolls go to leave comments. We made the mistake of reading them and we never went back!"
"And not to be like, 'Oh, we're women and life is hard!' but unfortunately, it is a little bit harder," Cathy says. "People are more inclined to comment on your appearance, or undermine your music or your message. There's that extra element. It's like you're fighting an extra layer of something – as four queer women especially."
"But it can only get better," she adds.
Advertisement
"Or worse!" Pamela laughs.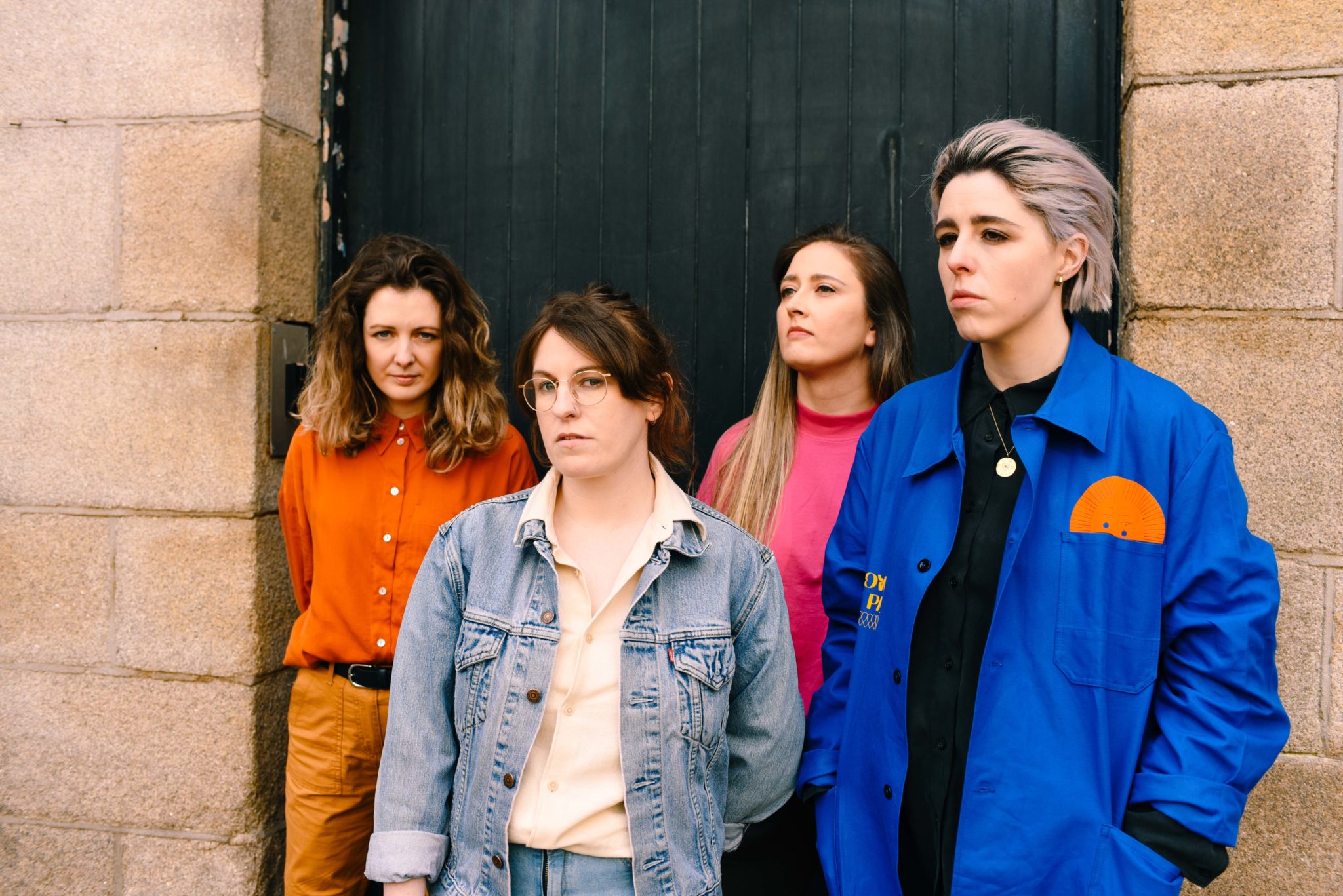 DOLE OFF YOUR BACK
Despite occasionally coming across as self-deprecating, there's no doubt that Pillow Queens know exactly who they are, and what they're capable of. Even with their ever-growing popularity, they've retained the fighting spirit of their early days, and proudly use their platform to address the issues that are important to them – whether that's by speaking out about the housing crisis and direct provision, or wearing a t-shirt emblazoned with 'Fuck Fianna Fáil' and 'Fuck Fine Gael'.
They're also keen not to be boxed into categories based on preconceived notions. As Pamela remarks: "We're very proud of what we represent, but it is very pigeonhole-y, when we're set aside as something different to everything else…"
"We can't help but have the experiences of women – it's who we are," Pamela resumes. "We're four queer women, and that's just the way it is. But when people speak about us, I don't want them to lead with that. I want them to lead with how the music makes them feel and their opinion of the music. And then, if they want to be like, 'Oh and by the way – it's actually four women', they can do that. Because I don't see male bands being described as male bands, or their sexuality being talked about very much. I'd like the music to come first."
"When there is a queer artist in the spotlight," Cathy points out, "you know that they're queer straight away because everyone chooses to focus on that, first and foremost."
Advertisement
"It's just kind of shite," she continues. "We're obviously really proud, and we'll always be vocal about being part of the LGBTQ community but in the music industry, why is it necessary?"
"When it's truly important to us, is when it means something to fans," Pamela adds.
Of course, having initially cut their teeth on the Irish scene while still in their teens, Pillow Queens' status as seriously capable and increasingly influential musicians speaks for itself. Pamela's past musical ventures include Mothers & Fathers, a duo with David Balfe – now better known as For Those I Love – as well as indie-pop three-piece The Trouble Is. Fellow Pillow Queens' other previous projects include Bear Plays Spoons (Cathy), Kate's Party (Sarah), and The Skuts (Rachel).
Given this history, they have a better understanding than most about how difficult it is to carve out a living as a full-time musician in Dublin. Having previously balanced day jobs with their double lives as independent artists, signing to Royal Mountain Records last year helped to take some of that pressure off – allowing them to focus primarily on their artistry.
"For the majority of Pillow Queens' existence, we've been constantly putting out our own stuff," Pamela explains. "It's a great thing to do, and to know how to do it. But being a band – and being creative while also doing a lot of admin – it's going to take away from something. So it's great to have them to lighten that load, and be there as a support.
"Putting out In Waiting, on our own, was very difficult," she continues. "We're glad that we were able to do it, because it kept us busy when we weren't able to make music together. But trying to figure out how we were going to pay for it, and trying to figure out all these immense details, was really hard. It takes a toll, and it takes away from what you're here to do – which is make music, and perform for people."
As such, they reckon Ireland's upcoming basic income pilot for artists could "turn this country into an amazing, creative place to be."
Advertisement
"At the very least, it's like the Government saying: 'Okay, now we respect artists, and value your work'," Cathy notes. "So it can only be positive."
"And get the dole off your back!" Pamela grins.
INTRINSICALLY MUSICAL
Earlier this year, Pillow Queens got a chance to show off their Dublin pride, as part of a special video for Lonely Planet – which featured the band visiting some of their favourite spots around the city. But, like many people in Dublin, they also struggle to balance their love of the city with their frustrations over the ongoing destruction of some of its most treasured cultural spaces.
"It's super hard," Pamela reflects. "You could bring someone like Lonely Planet to somewhere really special – and then, two months later, it's been knocked down and turned into a hotel. I think one of the places in that video were since kicked out by their landlords. It's just ridiculous. The culture of Dublin is slipping through its own fingers, but the people are holding onto it for dear life."
"And it's just so corrupt," Cathy adds. "It's the most beautiful city, with the most incredible people. But the wrong people are running it. People can't live in it."
Advertisement
While their music isn't overtly political, it's largely Pillow Queens' own experiences that have inspired them to use their platform to address issues like this.
"I don't think we feel a responsibility to speak out about it – it's just something that's affecting us all," Pamela asserts. "And it's affecting so many people around us. I definitely wouldn't describe us as a political band, but we'll talk about the stuff we care about."
Another issue that's concerned them recently is the loss of DJs like John Barker – who presented the Irish music show Totally Irish on 98FM for the last 12 years – from the airwaves. While initiatives like Irish Music Month have signalled a positive change, there remains a lot to be done in making Irish radio more Irish music-centric.
"I don't think Irish radio appreciates how much of a difference they could make to artists' lives in this country," Pamela posits. "They kick the ball down the road a lot, when it comes to the responsibility of playing Irish artists – they say, 'Well, it's not up to us, it's up to them…' If things were to change, it would make a huge difference to Irish artists. Because when they do pinpoint certain Irish artists, you can see how it affects their career – when it comes to fanbase, and the amount of money they get when they play gigs, and making them household names."
"Ireland is such a musical country, and Irish people are so intrinsically musical," Cathy adds. "It's in everything – it's in all of our households. You'll walk in and my mum will be singing, and my dad will join in on harmonies. If it was given more of a platform, it would create much more space for different genres."
"It might even have a positive impact on the Irish people," Rachel nods. "So they're not just listening to one homogenised genre of music. I know people are happy to listen to… I'm not going to drop any names! But that doesn't mean they don't want to listen to other music. It's really a case of them just being fed the same thing – and they don't even know that they might enjoy something else. It just happens to be that everything is geared towards that one type of sound."
Of course, while Pillow Queens' are unlikely to alter their sound and vision to fit anyone's idea of what works on the radio, their new album has all the hallmarks of becoming an instant classic. And although Leave The Light On is yet to be released, the band admit that they're not wasting a second – with Album No.3 already "in the back of the head…"
Advertisement
"I'm excited to hear what the third album's going to be like," Cathy remarks. "I feel like we're definitely honing our sound. I'm incredibly proud of this album, and I wouldn't change it at all but I'm really excited to explore No.3."
"And I feel like we're always getting closer to a self-titled album," she adds. "That's the plan for the next one."
"We just can't think of any other name for it!" Rachel laughs.
Leave The Light On is out April 1, via Royal Mountain Records.
Pillow Queens play Button Factory, Dublin (March 11 & 12); Vicar Street, Dublin (October 1 & 2); Dolans, Limerick (7); Cyprus Avenue, Cork (8) and The Empire, Belfast (14), Roisin Dubh, Galway (October 15 & 16) Set Theatre, Kilkenny (20). See their international live dates here.
Advertisement