As Louise Nealon establishes herself as Ireland's brightest new literary star with her debut novel, Snowflake, she reflects on mental health, class, music and her book's upcoming adaptation by Element Pictures.
Through the window behind Louise Nealon, I can see a gathering of cows moseying around a field. A herd? A drove? I don't know. The closest I got to livestock as a child was yelling 'cow!' or 'sheep!' from the back of a car on the motorway. I try my best to suppress this urge now.
Anyway, the cows make a nice change from the usual backgrounds of makeshift offices I've become accustomed to on Zoom calls. Like Debbie, the protagonist of her debut novel, Snowflake, Louise lives on her family's dairy farm in Co. Kildare. Right now, it's an ideal place of refuge, in the run-up to what's been widely tipped as one of the most eagerly anticipated literary releases of the year – following Snowflake's acquisition in a six-figure, two-book pre-empt deal by Bonnier Books UK imprint Manilla Press.
This time last year, Snowflake was already making headlines – after the film and TV rights were sold to Element Pictures, the team behind the hit adaptation of Sally Rooney's Normal People.
Literary stardom looks likely – but Louise's self-deprecating humour immediately displaces any fear of the creeping onset of notions. Despite having turned 30 last month, she tells me that her deceptively youthful looks haven't helped matters...
"I look about 12," she laughs. "I went to the dentist the other day, and they said to me, "Ah, did you get the day off school?"
Advertisement
"And in Tesco it's a nightmare – it's always the teenage boys being like, 'Can I see your ID?' And then one of them says, 'Oh, you could be my ma!' Thanks!"
Although she's often grouped alongside the likes of Sally Rooney and Naoise Dolan, as another acclaimed young female Irish writer and Trinity College Dublin alumna, Louise is by no means riding on the coattails of some new literary wave. In fact, Snowflake is a story that's been a decade in the making.
"It took ten years to write, because I spent so many years trying to get better at writing," Louise explains. "It started off set in America –  because I was like, 'All the good stories are set in America...' I'd never been to America! It took a lot of hard work, basically. The characters were in different stories, and I had to figure out how to fit them together. It was very gradual – but then it did click."
Despite the vulnerability at the heart of Snowflake – as Debbie navigates the uncertainty of young adulthood as a first year student at Trinity – there's also an invigorating sense of fearlessness in Louise's approach.
"I'm lucky in that I don't have any shame," she smiles. "I'm an oversharer. I always was. But I get angry, a lot, about how young women are perceived – and about how we have to be nice. We can't come across too threatening, or be too ambitious."
These are sentiments informed in no small part by Louise's own coming-of-age experiences.
"My whole twenties were a trainwreck," she tells me. "Everyone was flat out telling me that these were the best days of my life. I was like, 'Jesus – if these are the best days, I'm really in trouble'. Because I didn't really like myself, at all. I had all of these embarrassing stories, and embarrassing feelings towards myself, and towards other people.
Advertisement
"My writing is autobiographical, in the sense that the feelings I had in my twenties are all in there –  but I'm not necessarily in there," she continues. "You start writing as an 'I'. But that 'I' turns into someone different. To be honest, reality gets in the way of it. You're like, 'Oh, it didn't actually happen this way...' But then you can say, "It's fiction – so you can write it whatever way you want!"
The way Louise writes about sexuality, and how the characters view their own bodies, is particularly striking.
"I'm a big fan of Elena Ferrante," she says. "The way that she wrote about her characters' sexuality really inspired me – because there's so much lies out there, in Instagram-filtered perfection. Especially with American culture seeping in over here. I just feel so sorry for teenagers today. But I think Normal People did a really good job of representing sexuality in a positive way."
Snowflake also serves as a compelling commentary on Ireland's unique system of social segregation, based on geography, class, education, mental health, religion – and of course, the inescapable urban-rural divide of Dublin vs 'The Country' (i.e. anywhere that's not Dublin).
"Even if you live in a town in the countryside, when you go to Dublin, people just presume you're from the sticks," she remarks. "Now, I am actually from the sticks! But I'm only 40 minutes away from Dublin city centre. That's the same as someone coming from Bray or Malahide. But still, I was so intimidated in university."
One intriguing aspect of rural Irish life touched on in the novel is 'the cure' – a mysterious healing ability passed down through families. It's portrayed as a normal part of life, in contrast to Debbie's troubled mother Maeve's belief in her ability to enter other people's dreams.
"The cure is accepted in Irish rural culture," Louise explains. "It's seen as kind of magical, but aul lads believe in it. Aul lads who don't believe in anything, and don't even go to Mass anymore, will call up someone who has the cure, to cure ringworm, or to cure a sick cow. Whereas, with the dreams, Maeve is just seen as a total loo-lah – off in her own head, and completely cut off from the community."
Advertisement
These elements of tradition and folklore are explored alongside mental health in Snowflake – providing insight into how people can be othered by their communities, as well as the alternatives to therapy that people attempt to find meaning in.
As Louise points out in the novel, therapy doesn't always work for people the first time around.
"I put some of my bad therapy experiences in the book – like people throwing CBT at me," she notes. "I told them, 'That doesn't work for me'. And they went, 'Oh, still try it'. I was like, 'No, that's like Honours Maths for me – I just don't understand it'. It was like this was the only option.
"But I actually went back to therapy after I got the book deal – it was the first thing I did, having some money in my bank account," she adds. "And I found a really good therapist. I was writing an article about mental health, and I was kind of nervous about it, so I had a chat with her. I realised that I came across as being very cynical and prejudiced against mental health professionals. It was kind of awkward, because she was like, 'Not all therapy is like that'.
"For all of the bad experiences with therapy that I had, there are good ones as well. That's important to note – because you have to give hope to people who are struggling."
The characters in Snowflake also see firsthand what kind of bearing class has on access to mental health treatment in Ireland.
"It's something I'm really worried about," Louise nods. "People are dying, and we're not having the uncomfortable conversations that we need to have. Society has manipulated us into commodifying mental health. All of the advertisements on my Facebook or Instagram are for meditation cushions, or adult colouring books.
Advertisement
"We're in danger of making vulnerability, and being human, elitist. If you can't afford therapy, then you have to fix yourself. And that doesn't work – I know that from past experiences. You can't help yourself when you're sick. We're hearing in the media: 'Look after yourself' or 'Mind your mental health'. Well, how? When your mind is the thing that's broken in the first place, you can't double down and think yourself out of being depressed."
Of course, Ireland's drink culture also plays a major role.
"I started reading recovery books, and they leaked into the book as well," she reflects. "That made me evaluate my own relationship with drink. We tend to label 'alcoholics', and then 'normal people'. But alcohol is an addictive drug – so if you're a human, you're at risk of getting addicted to alcohol.
"I gave up drinking for a year – and then my camogie team won the county final, so I was like, 'Ah, fuck it'," she laughs. "But I'm glad that I did that, because I could see that I was able to have the craic without drinking. And I was having the craic so much on nights out that people thought I was off my face."
In addition to balancing these heavy topics with a brilliantly sharp sense of humour, Snowflake is also sprinkled with references to Irish music icons – including Sinéad O'Connor, The Gloaming and Lisa O'Neill.
"I adore Lisa O'Neill," Louise enthuses. "She has a song called 'Dreaming', and that was the soundtrack to the book while I was writing it. Also, Maeve has a jumper that James really likes, called the 'Red Geansaí' – that's a nod to a Lisa O'Neill song. I got a bit obsessed with her! And Sinéad O'Connor, obviously. I also listen to loads of The Cranberries. My good friend Laura Sheary is in an electronic-pop duo, Kyoto Love Hotel. So I listen to loads of them as well. Music was really important when I was writing.
Advertisement
"Especially the Pocahontas soundtrack," she grins. "It's amazing!"
Whether any of those artists make the soundtrack to Snowflake's upcoming adaptation remains to be seen. Following the global hysteria sparked by Element Pictures' Normal People – and the palpable excitement surrounding their upcoming Conversations With Friends –  their plan to bring Snowflake to our screens still feels 'mental' to Louise.
"It was nerve-wracking, but they've been so lovely to work with," she says. "It's really early stages. But we had this book club thing, for my own book, with people from Element Pictures – and it was probably one of the nicest things that's happened since the book deal. We were workshopping, and they were asking me questions about the characters – about things that weren't necessarily on the page. That was surreal. I feel like I'm in really safe hands with them."
Until then, there's also the small matter of Snowflake's follow-up to keep Louise occupied...
"My sister's pregnant at the moment, and you know before the 12-week stage, you're afraid to say anything?" she laughs. "I feel like that, with the second book. It's all very nebulous and tentative. But I'm working on it! Instead of 12 weeks, it's been nearly a year now... And I'm still not sure. But the last one took ten years! Hopefully my publisher will be like, '10 years? Yeah, that's fine!'"
Snowflake is out now.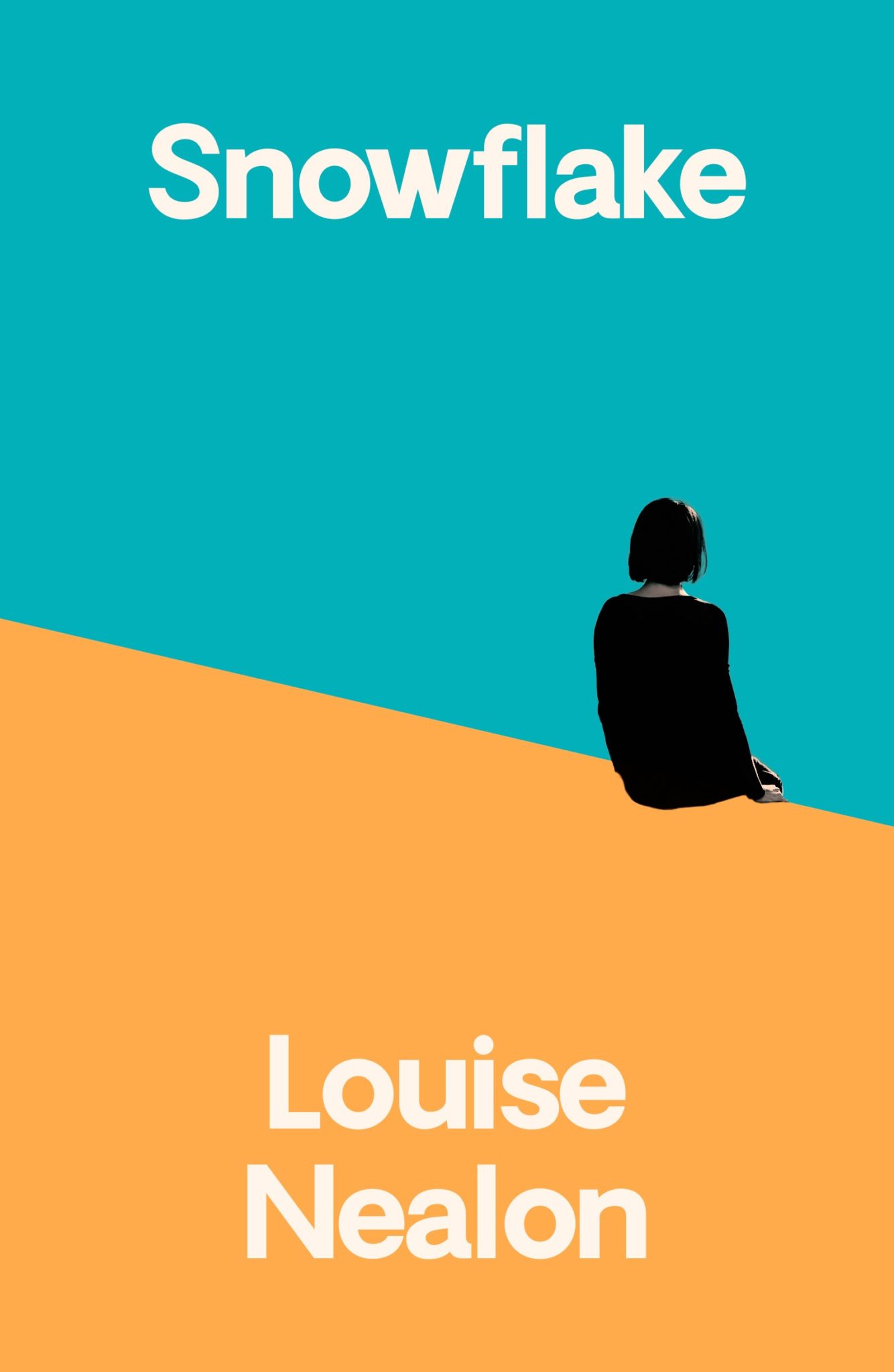 Advertisement