Taking place last night at the Chocolate Factory in the heart of Dublin, in partnership with Hot Press, The Summer Party celebrated the launch of Smooch's new summer ice cream flavour, Bubble Gum Bliss – and featured superb sets from headliners Chasing Abbey and rising support star, Saige.
With the start of June (and Leaving Cert exams, of course) comes an unexpected burst of sunshine. Hot Press kicked off the nation's favourite season last night in style, teaming up with Irish brand Smooch Ice Cream to present The Summer Party.
There was a bit of a special occasion involved! What turned out to be dazzling evening of unmissable music and tasty treats marked the exciting launch of Smooch's new delicious ice cream flavour, Bubble Gum Bliss. To celebrate the occasion, Wexford pop artist and producer Saige warmed up the crowd, before Tullamore trio Chasing Abbey brought their energetic style of dance-pop to the Chocolate Factory stage.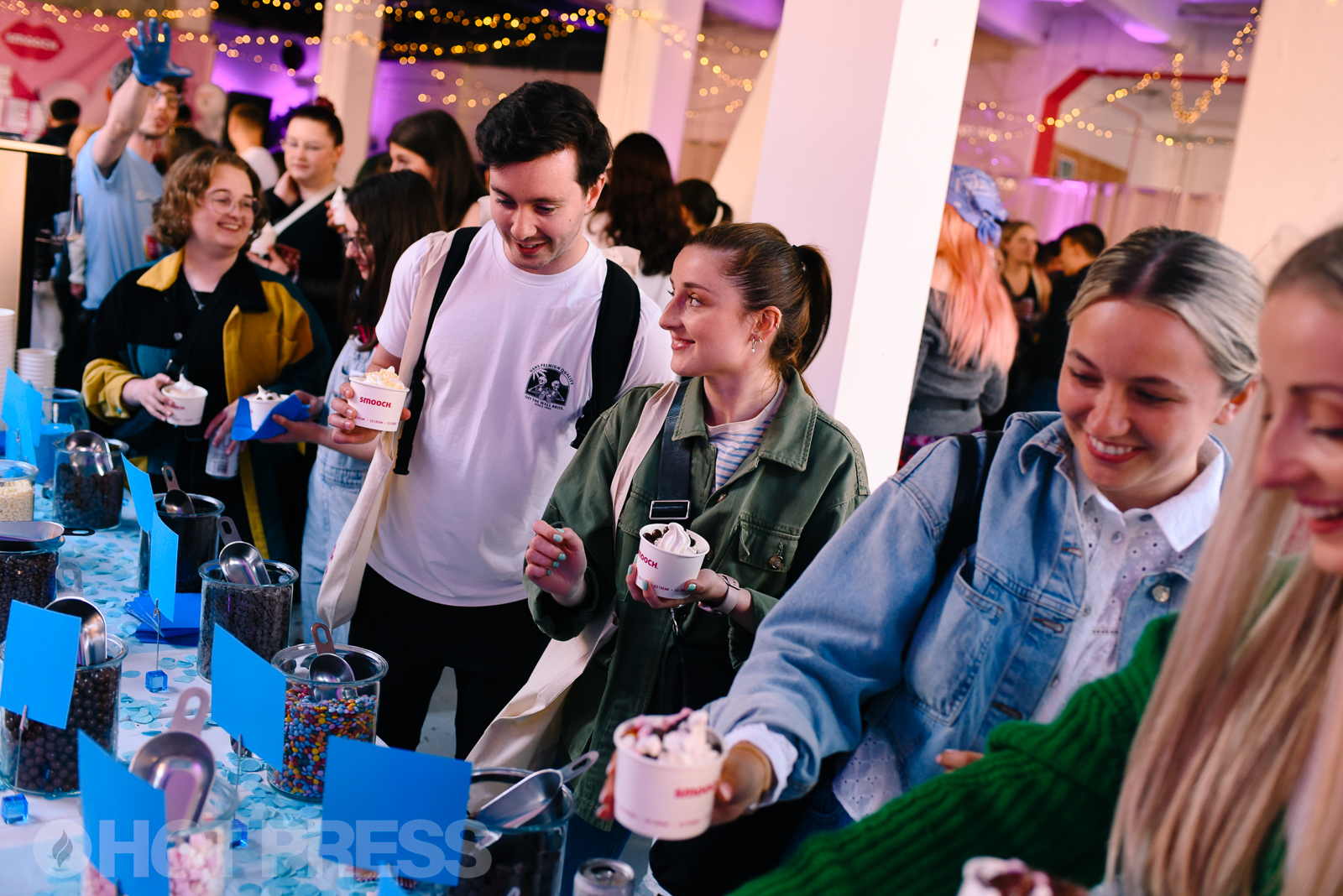 Stocked with a free, unlimited ice cream bar, it's no surprise that college students flocked to the event in their droves. Here's the key: nothing accompanies the magic of a summer day in Ireland quite like Smooch, which is the country's No.1 soft service ice cream. With over 170 locations across Ireland, Smooch's creamy ice cream and luxuriously thick milkshakes have found a place at the heart of every community, and have proven to be a real local favourite.
Those at the event were busy creating their own ice creams, choosing from a variety of thrilling toppings to craft something unique before the tunes kicked off. Heading up the stairs of the King's Inn Street venue, gig-goers entered in through the side door, resembling a hidden New York rooftop loft. With fairy lights and purple hues, the venue was decorated in pink to welcome summer (and the upcoming Barbie movie!) in with added vibrancy. Warm lighting and huge windows created an ultra-modern aesthetic, building nicely on the foundations of the venue's special charm.
Advertisement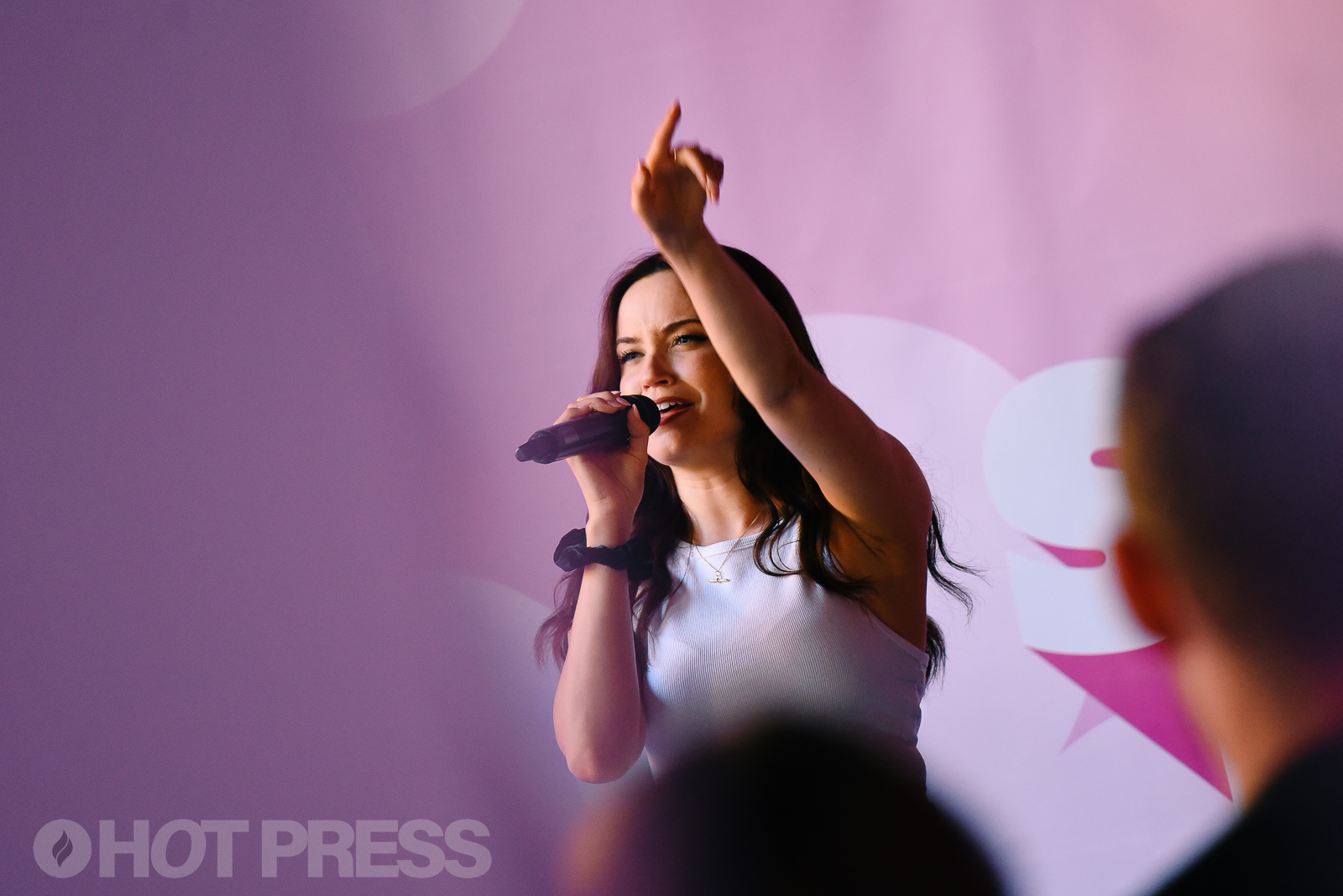 Proceedings kicked off with Saige. The rapidly rising talent was accompanied on guitar by Sean McManamon for an acoustic set that saw her show off her incredible vocal talents. Saige opened her six-track performance with her 2020 debut single 'Soothe Me', before slipping into 2023 single 'Falling' from her debut EP Sparks. Slick pop melodies and meaningful lyrics added a compellingly to her impact.
'In One Ear' and a beautiful cover of Lizzie McAlpine's runaway viral hit 'Ceilings' were up next, maintaining a steady grip over the young crowd's attention, before 'Mirror Cry' and 'Late Nights' illustrated her natural songwriting abilities. Saige concluded her set with the title track from this year's impactful EP, 'Sparks'. The track landed at #10 on the Irish Breaker Charts and remained there for six weeks after its release, and for good reason. Whilst Saige has only a handful of releases under her belt, she left the crowd in no doubt as to why she's seen as a real rising star at The Summer Party last night.
The Summer Party was an alcohol-free event. But who needs booze when you have Smooch on the menu?
There was also a draw for Sea Sessions festival tickets and giant Jenga & Cornhole games. The ticket winner couldn't believe their luck, gratefully nabbing the chance to see Kasabian, Becky Hill, The Coronas, Tom Grennan, Inhaler, The Mary Wallopers, a DJ set from Groove Armada and more in Bundoran next weekend.
Advertisement
After a brief break to set up the DJ decks for the headline act, the evening culminated in a brilliant, intimate set from one of the most prominent acts in homegrown dance-pop, Chasing Abbey. Heading up the steps dressed all in black, the lads were ready to deliver their best.
Initially making their mark on the Irish scene with breakout tracks like 'Talk To Me' and 'That Good Thing' – both of which have garnered streams in their millions – the Tullamore trio have continued to impress, with energetic live sets and a series of superb singles.
Chasing Abbey recently teamed up with a choir for a special version of their single 'Lie', and launched their impressive The Vault series, which finds them uploading one song a week exclusively to SoundCloud and YouTube. One of their latest tracks from the series, the irresistible 'Oh My Johnny', recently hit No.1 in Ireland on SoundCloud's New & Hot playlist. 'Lately' and 'Call Out My Name' continue their momentum of catchy beats and warped vocals.
The event saw them perform all of their standout hits and 'Oh My Johnny' for an adoring audience, who inched closer to the stage and cracked out the dance moves to match the band's infectious energy. Chasing Abbey have the talent and the chops. They really do deserve to go all hte way.
It was a night when good vibes prevailed. Chasing Abbey were, indeed, the perfect outfit to finish off a night of complimentary ice cream, gorgeous pop vocals and dance party vibes in the heart of Dublin city. Wrapping up the night with smiles all around - not to mention the endless Instagram-worthy photo ops – The Summer Party firmly lived up to the hype.
Advertisement