Hozier: "Perpetual growth economics has led us to some very dark places – and seems like it's going to carry on forever"
Inspired by Dante's journey through the underworld, Hozier's new Unreal Unearth album finds him at the peak of his musical powers. He talks deadly sins, circles of Hell, Irishness, LGBTQI+ rights, fatherhood, Putin, Irish neutrality and Joni Mitchell with Stuart Clark.
It's the day before the first of Hozier's Malahide Castle homecoming shows and the Wicklow superstar is taking time out from rehearsing on the extremely big stage to talk to Hot Press.
With his extended family, friends and a sizeable chunk of the Ireland rugby team on the guest-list for tomorrow you'd expect his nerves to be jangling a bit but, no, the 33-year-old is coolness personified as he settles his long frame into a comfy backstage chair.
I've already received high-quality intel on what life on the road with Mr Hozier-Byrne is like from his American friend and support act, Allison Russell.
"Hozier has one of the nicest audiences I've ever experienced," she tells me. "There are tonnes of women and tonnes of queer folks, which being both of those things makes me feel very at home and welcome. The audience comes knowing, 'Oh, these are people Andrew's picked because he likes their songs.' They trust his curatorship and are really prepared to give you a chance.
"It's testament to Andrew and his whole camp that they've created such a sense of community and family with everything they do."
Advertisement
That family now includes the crack band of players, most of them Nashville-based, that Hozier and his musical director, Alex Ryan, assembled between lockdowns. As I reflected in the last issue, he's always surrounded himself with talented types but these guys and girls are off the scale.
They all sing as beautifully as they play, which means that the harmonies on his new Unreal Unearth album have a choir-like quality. There's also an actual choir who make their celestial presence known on the likes of 'Francesca', 'All Things End' and 'First Light', a gospel belter that deserves its place next to 'Take Me To Church' and 'Nina Cries Power'.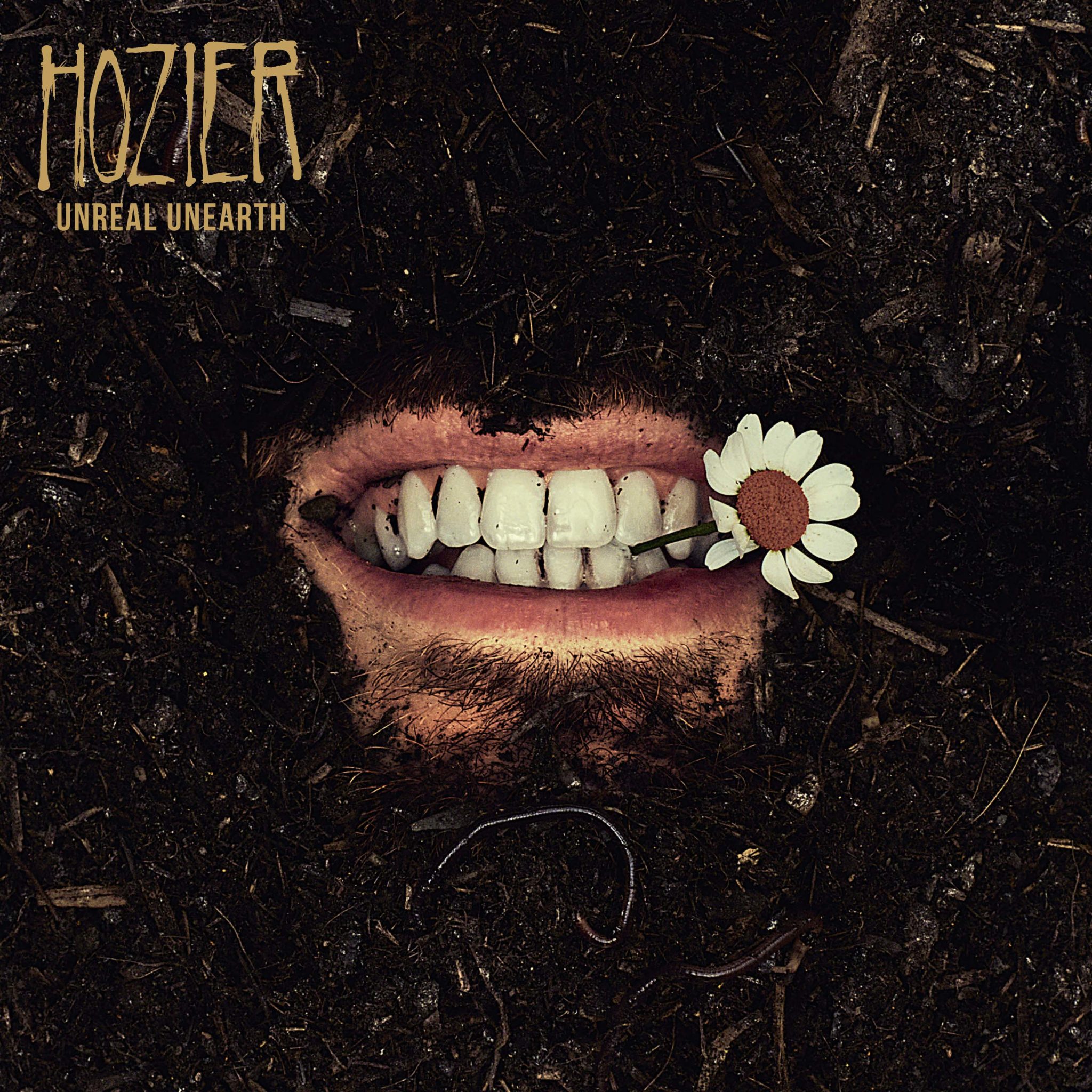 Unreal Unearth's sixteen tracks have a combined running time of 62 minutes and 22 seconds, which in olden times would have made it a double-album.
It's also something of a concept piece based on Dante's Inferno and the Seven Deadly Sins. I therefore feel it incumbent on me to start our interview by asking Hozier how many of them he's committed. And, rest assured, I'll be making inquiries to see if he's telling the truth.
"Er, probably all of them," he admits with a wry grin.
Which were the most fun?
Advertisement
"Gluttony and lust – y'know, Caligula vibes! What else is there? I've been slothful, definitely. I've ticked the wrath, greed and heresy boxes too. I don't actually know the Seven Deadly Sins off by heart. Is being a musician and everything that comes with it one?! That leaves, what, treachery? I'm getting my Seven Deadly Sins and Nine Circles of Hell mixed up, but I don't think I've ever deeply betrayed anyone. Another of the Circles is Limbo – I reckon I'd be lucky to end up there!"
Does Hozier believe in heaven and hell?
"Um, in the actual literal concept?"
Yep.
"No, I don't. And that's not to say that I don't believe we go somewhere or that there's some returning. But, no, the Judeo-Christian idea of heaven and hell doesn't really make sense to me.
"I wouldn't say that Unreal Unearth is a concept album," he says of my previous bandying of the C-word. "During the early stages of making the album I was nodding to the literature a little bit, but I wanted to make sure that all of the songs stand up on their own and can be enjoyed as a standalone piece. They don't need any understanding of what's being nodded to in the Circles, but if you want to dig into parts of the poem, there are little references to it."
When I reflect that's it never been the right time for me to start The Divine Comedy, the narrative poem which has Inferno as one if its component parts, Hozier laughs and says, "Yeah, I don't actually recommend it. I only read it because it was lockdown and I didn't fancy keeping a Tamagotchi in the fridge or making sourdough. Actually, I made a loaf of banana bread and perfected a few recipes, but that's as far as I got with the cooking!
Advertisement
"There are quite a few different translations of The Divine Comedy, but it was a more modern one by Robert Pinkskey that I stuck with. It's this merchant and nobleman and Florence politics from the 1300s. There's a lot of visual language, which resonated with me during the early parts of the pandemic. It became a useful device to talk about a journey into and out of something, like lockdown, without it being an actual lockdown record, which I don't think too many people would've had an appetite for."
Unreal Unearth gets off to an exquisite start with 'De Selby Part 1' and 'De Selby Part 2', a song suite that goes from sensuous hushed vocals, gently strummed guitars and ambient textures to a symphonic funk groove of immense proportions. De Selby being who or what precisely?
"It's a reference to a footnote character in Flann O'Brien's The Third Policeman novel," we're informed. "He's this kind of philosopher/scientist/lunatic who views the world with a childlike dream logic. It's a nod to his way of thinking with the lyrics reflecting the coming of nightime and darkness."
The Gaeilgeoir in my life was very impressed when halfway through 'De Selby Part One' Hozier suddenly bursts into Irish. Is he a fluent speaker?
"No, I'm not," he confesses. "I used to be far, far better and coming out of school I was fair decent. So I did seek advice on some of the translations. It was something I've wanted to do for a time, explore this whole new toolbox. There are things you can express in the Irish language that don't really have a direct English equivalent. I had to break it down phonetically for the choir who were like 'Seriously!?' at first but did a brilliant job on it. There's something wonderful about singing in Irish. It just sounds beautiful to my ear."
Is there a different rhythm in Hozier's head when he's singing in Irish?
"Yes," he nods. "Because you have all the soft consonants, like at the beginning of words, it offers you a lot of different options of how to phrase something. Even within Irish, those soft consonants and those vowels are shaped differently from region to region. So there's a different flow to it for sure."
Advertisement
When he's abroad, does Hozier ever talk in Irish so that the locals don't know what he's saying?
"I do, yeah," he grins. "It can be really useful when you're in delicate situations!"
How important is his Irishness to him?
"That's a tricky question because it's hard for me to measure something I've always been. But it does inform my understanding of Irish history and world politics and geopolitics and how power is used and abused. I can only be the way I am having been born here."
With Russian ships sniffing around in Irish waters and the British Air Force and Navy having to patrol them on our behalf, is there a case to be made for a referendum on Irish neutrality?
Advertisement
"It's a debate that needs to be had, sure, but you need only look at the realities of NATO action and how western imperialism has operated over the last twenty, thirty years and the innocent lives that have been lost as a result," Hozier insists. "The serious question is whether you want to be part of that. I think President Higgins made some really, really valid points about the drift towards NATO, and was right to describe it as 'playing with fire.'"
Single #4 from Unreal Unearth is 'Damage Gets Done, an insanely catchy tune that finds Hozier joined in the studio by another of his musical allies, Brandi Carlile.
"Brandi is a special artist," he enthuses. "We met for the first time at the 2015 Newport Folk Festival – she'd been covering 'Work Song' in her set – and just clicked as friends.
"There's such a magic to her as a person, and her music is just staggeringly wonderful. Listening to her put down those lines was a real gift."
THE QUEEN OF MY HEART
Christmas came early for the duo in May when they got to perform The Band's 'The Weight' with Mavis Staples at a festival in Florida.
"It really doesn't get any better," he beams. "Mavis is really the sovereign Queen of My Heart. She's such a hero."
Advertisement
Who chose the song?
"It's one of Mavis' go-tos. The Staple Singers sung it with The Band at The Last Waltz so it's a mainstay for her.
"I've had some really good sit-downs with Mavis," he continues. "She's an incredibly charming and funny person. And her energy – she exudes more generosity and fun at 83 than I struggle to do at 33!
"She told me a lot of stories about when she used to travel with Martin Luther King and sing before he spoke. She was very young at the time – maybe twelve or thirteen – but remembers it all vividly. It was a very inspiring moment where America came together with the same sort of collective conscience. The stories of resistance that she told me were just staggering. Mavis really was in the eye of such an incredible part of history."
Hozier was also part of the line-up in March for Love Rising, a Nashville benefit for those effected by the new Tennessee-wide ban on gender-affirming health care and 'adult-oriented male and female impersonators' performing on public property.
Advertisement
"Allison Russell, who's with me here at Malahide, co-organised it with Jason Isbell and asked me to be involved," he recalls. "We had Maren Morris, Hayley from Paramore, Sheryl Crow, Brittany Howard, some of the Haim women and Alexia Noelle Paris, a Nashville drag artist who's one of the targets of the ban. There was such a spirit of quiet, joyful resistance to what's happening in Tennessee – and what could easily happen in other parts of the States.
"Like I say, it was more joyful than angry and very affirming, I think, for people who identify as queer. Jake Wesley Rogers, who's an incredible artist, opened it up. You got a real sense of what we owe queer culture in terms of its contribution to fashion and music and nightlife. It was an honour to be part of it."
Hozier put his money where his political mouth is last November when he donated the proceeds from his non-album single, 'Swan Upon Leda', to organisations working to provide women and pregnant people in the US with safe access to reproductive healthcare.
"I was working on 'Swan Upon Leda' in the studio when news of Roe vs. Wade being overturned broke," he sighs. "I don't want to say it was grimly predictable, but there was a sense that it was coming. Myself and Jenn Decilveo, the producer, felt it was an appropriate song to release in response to the Supreme Court ruling. There's a cultish, feverish appetite for 1950's, 1940's and 1930's politics. It keeps going back there, which is awful."
Does America feel even more polarised now than when Hozier first started travelling there regularly?
"It's easy for us to see snippets of conflict online and say it's polarised, but when you're living there day-to-day, you meet a lot of nice people," he reasons. "A lot of not-so-nice people, though, are getting themselves dizzy and worked up online over stuff. A tiny, tiny minority of them are making a huge amount of noise in public spaces.
"That's not to say that there aren't serious divisions and that things don't feel polarised at times. But how many fist fights did I see walking down the street? I didn't see any."
Advertisement
NUMB TO THE VIOLENCE
Hozier had been inspired to write 'Swan Upon Leda' by Mona Eltahawy, an Egyptian author and activist who refers to the global systems that control and endanger women as "the world's oldest form of occupation."
"I met her years ago at the Save Ireland summit where she was a speaker," he recalls. "Mona's a really fantastic writer and made an Australian TV show about how many women are murdered by their partners, and how little coverage it receives in the news. She makes the point that everyone's become numb to this violence and accepts it as part of the way things are.
"She also asked, 'What if the shoe was on the other foot and it was men being murdered by their spouses?' As a result of that question, ABC Australia received so many complaints that they pulled it off their servers and won't show it again. Mona's line about institutionalised violence against women needing to be viewed as a long-term occupation really struck a chord and led to me writing 'Swan Upon Leda', which references Greek mythology but could be about, say, what's happening to women at the moment in Iran."
Getting back to this year and June found Hozier joining the likes of Marcus Mumford, James Bay, Anna Calvi and fellow Irish hit machine Dermot Kennedy at War Child's Syria-Turkey earthquake relief gig in London's Albert Hall. Had Dermot and his paths crossed before?
"Yeah, I've got to know him a bit over the last few years. Dermot's a very lovely, sweet man and outrageously talented. Incredible voice, incredible songwriting. He had a fantastic run there with his two Marlay Parks and three nights in Limerick."
Hozier's championing of Irish acts doesn't end there with him adding, "I'm very friendly with Steve Appleby, the former Little Green Cars singer. He's a writer I've always greatly admired – there's such a beautiful honesty to his work – and who's started releasing new music. I'm really excited that Denise Chaila is working on something at the moment. I managed to bump into her in Los Angeles when we were on similar travels. I have huge respect for her work. I've only ever met her briefly at a thing, but CMAT is fantastic too. And there's another Dublin singer, Rachael Lavelle, who has a great song out called 'Let Me Unlock Your Full Potential'."
Advertisement
Did he foresee the huge renaissance in Irish folk music, which has led among many other accolades to a Mercury Music Prize nod for Lankum?
A DARK ART
"No, there's a dark art in predicting stuff like that and I don't quite have the gift. I think people respond to something that feels honest and comes from an authentic place. It's a really interesting time for new Irish music."
With couplets like "It ain't the being alone/ It ain't the empty home, baby/ You know, it's more the being unknown", 'Unknown/Nth' is the album's break-up song. How literally should we take it?
"As literally as you like, I guess," he laughs. "I don't really know what to say… It nods a little bit to Dante's description of the Ninth Circle. He comes across Lucifer there as the Fallen Angel and the song plays around with some of that language. The songs always start from some personal place – something just sparks. It's definitely about the feeling of being let down by somebody and then accepting that. You take part in your own betrayal and falling for things."
There's a line – "Skinning the children in a war drum/ Putting food on the table selling bombs and guns" – on the plaintive 'Eat Your Young', which is sadly all too relevant to what we're seeing on the news every night. What was the catalyst for Hozier writing it?
Advertisement
"It's just the world around us," he sighs. "Perpetual growth economics has led us to some very dark places – and seems like it's going to carry on forever. The song explores the way big industries use destructive means to make their profits, and how we're all worse off because of it. It's playfully saying, 'Look, skip the middleman and get it over with. To save us all the time and energy, just eat your kids.'"
As a long-time critic of his despotic tendencies, does it anger Hozier that Putin's been able to do what he's done with almost impunity?
"Yeah, it's a war of aggression and it's disgusting," he spits venomously. "It's disgusting and my heart breaks. I have a very close friend whose father, up until recently, was on the frontlines in Ukraine doing camerawork. The loss is staggering, the terror is real. It's a horrifying reality."
A close family member of mine, who's in his late teens, insists that he's not going to bring children into this world. Can Hozier relate to that?
"I can, yeah," he nods. "A lot of other friends of my age, who are thinking about starting a family, are having that conversation. We have very, very powerful private interests making it very, very difficult for people but there's still a lot of goodness in the world."
Whether platonic or romantic, how does Hozier maintain his relationships when he's almost constantly on the move?
"It is a challenge," he concedes. "I have huge admiration for artists who have families. It's hard managing your time and having the energy to put into relationships when the energy you're expending through the course of the day is intense. It's just a very demanding job."
Advertisement
Does he have an imagined future where he puts his career on 'hold' for a partner and kids?
"Yeah, possibly," he says picking his words carefully. "If I was to do that, I'd like to take a break for a couple of years and just be a dad. But it's all very hypothetical."
A BIT SNAKE OILY
These are strange times for artists and their creativity. Is he concerned about AI?
"No, I think a lot of the AI talk has been a bit snake oily," Hozier insists. "They're just probability machines regurgitating information back at you. I don't think they're terribly interesting. To me, the definition of art is something that human beings make. So semantically, I don't think AI can really do that."
Has he, if only for curiosity's sake, asked AI to write a Hozier song for him?
"No, but a friend of mine sent me one that they'd come across. I wouldn't release it, it was shockingly bad."
Advertisement
At around about the same time that AI-generated song was giving him earache. 'Take Me To Church' racked up its two billionth stream. How was that milestone celebrated?
"I got a wonderful diamond disc from the US record company in the run up to St. Patrick's Day but because I was releasing the Eat Your Young EP on March 17th, I took it easy," he reveals almost apologetically. "You write and record the song once and then there's a lot of bringing it to other people and the song doing what the song does. It's a hard number to get your head around – 2,000 million. But I'm just thrilled. If any of my songs could have been a crossover hit into that pop world, I'm delighted and proud it was 'Take Me To Church' in particular."
As a Joniphile myself – the new Joni Mitchell At Newport album has been on repeat in Stately Clark Mansions – I have to ask Hozier about his encounters with the great Ms. Mitchell.
"Brandi Carlile produced that record and hosted the recent Joni Jam in the Gorge Amphitheater, which was her first announced gig in twenty years," he beams. "A few years ago Brandi invited me to a private dinner and jam in Joni's house, which was a really, really special experience.
"To be honest, I was awestruck to be there and hear Joni tell her stories. I was so staggeringly moved to be in her presence and hear her sing live for the first time. You feel like you're in the presence of a minor god, sort of a living Orpheus, y'know? So, yeah, she's wonderful."
Advertisement
Finally, on a scale of one to ten, how happy is Hozier right now?
"I don't know if I could give it a number, but I'm in a good place," he concludes. "The band are a joy to work and tour with and to live alongside. And I'm just excited to get this music out to people.'
• Unreal Unearth is out now on Rubyworks.