Electric Picnic's Melvin Benn: "My most magic Picnic moment was the first time I visited Stradbally to see if the site would work..."
Having set up the rock 'n' roll-inclined Workers Beer Company in the 1980s, Melvin Benn has gone on to become the MD of Festival Republic whose massive portfolio of live music events includes the Electric Picnic. He talks to Stuart Clark about the Stradbally weekender's enduring appeal, changes to this year's site and why climate action and gender parity are causes close to his heart.
As you read this, a city you could fit the population of Galway into is being constructed on the Stradbally Hall Estate in Co. Laois.
Presiding over the return of the Electric Picnic festival after an enforced three-year absence is Melvin Benn, the Managing Director of Festival Republic who've already brought you Longitude in Marlay Park this summer. With a portfolio that also includes the UK's Latitude, Wireless, Wilderness, Download, Live In Hyde Park, Community, The Great Escape, Reading and Leeds festivals and Lollapalooza Berlin, Benn is one of the key players in the European live music industry.
Originally from Hull in Yorkshire, he moved down to London in the 1970s where, working in tandem with the Trades Union Congress, he set up a free festival in Battersea Park that was attended by 20,000 people.
His activist streak was evident again in 1986 when he co-founded the Workers Beer Company whose running of bar services at major events like Glastonbury, Reading, Leeds, the London Fleadh, Longitude and Electric Picnic has raised millions of pounds/euro for grassroots organisations.
Formerly one of the head honchos at the Mean Fiddler Group, a Glastonbury director and chairman of the board of directors at Wembley Stadium, Melvin in 2017 launched ReBalance, a scheme to address the gender imbalance in the music industry. He's also signed the Picnic up to the Vision: 2025 carbon emissions reduction initiative and introduced a successful drugs outreach programme at the Picnic, originally provided by the Ana Liffey Drug Project and now being run under the auspices of the HSE.
Advertisement
There's therefore lots to talk about as Hot Press manages to grab some quality interview time with Melvin in Festival Republic's London HQ.
Stuart Clark: After the travails of the past few years, would you say that the live music industry is back to normal?
Melvin Benn: It's very much back to normal in the sense of presenting shows to the public, but the work behind the scenes is absolutely insane. I hate that the term 'supply chain' is now in our lexicon, but that's just the reality of the world we live in at the moment. You wouldn't believe, for instance, how challenging it is for artists to find tour busses. You're not going to be aware of that if you're in the audience, but it's really, really difficult.
What was the first festival you attended as a punter?
I went to a little thing at Burton Constable Hall near Hull in the late '60s but my first proper one was the Reading Festival in 1972, which was headlined by Rod Stewart and The Faces. I saw The Faces and am told they were great, but I don't remember too much about it…
Which is the sign of a youth well misspent.
Indeed, yes! Originally it had been the Jazz Festival held in Richmond, London. Reading Council invited it to move to Reading in '71 not realising that they were changing it to a rock event!
Advertisement
There's been some fairly major reconfiguration of this year's Electric Picnic site. Can you talk us through the key changes?
As you know, MindField was tucked in behind the Main Stage and you could barely hear a word at times. Instead of it being isolated on its own, I thought it would be more coherent to have it with the new Mind & Body and Theatre (see panel) areas, which are where Body & Soul used to be. It's a different format, but one that I think will work well for everybody. It won't feel dramatically different, but I've slightly repositioned the Main Stage because suddenly it's 70,000 people and you need to accommodate everybody. There will be those moments – Billie Eilish in 2019 being one of them – when almost the whole festival will want to watch the Main Stage, so it's now a slightly larger space. I've moved the Comedy Tent a little bit too so, yeah, we've been busy!
Half of the 2022 Picnic headliners are Irish – what are we doing right?
It's just really good music, isn't it? I know people who are coming over from England just to see Picture This play in front of a home crowd. It's been a long time since I've seen an artist take off internationally like Dermot Kennedy has. Fontaines D.C. have also exploded over the past couple of years despite the pandemic. I think Picnic-goers delight in connecting with homegrown talent, of which there's a ridiculous amount at the moment.
Reports suggest that another of those Irish headliners, Snow Patrol, played an absolute blinder a couple of weeks ago at Latitude.
They were astonishing, Stuart! I've seen Snow Patrol at least as often as I've seen my own wife – maybe more. They always deliver, but more so this time than ever before. You could see they were just delighted to be up there playing music together.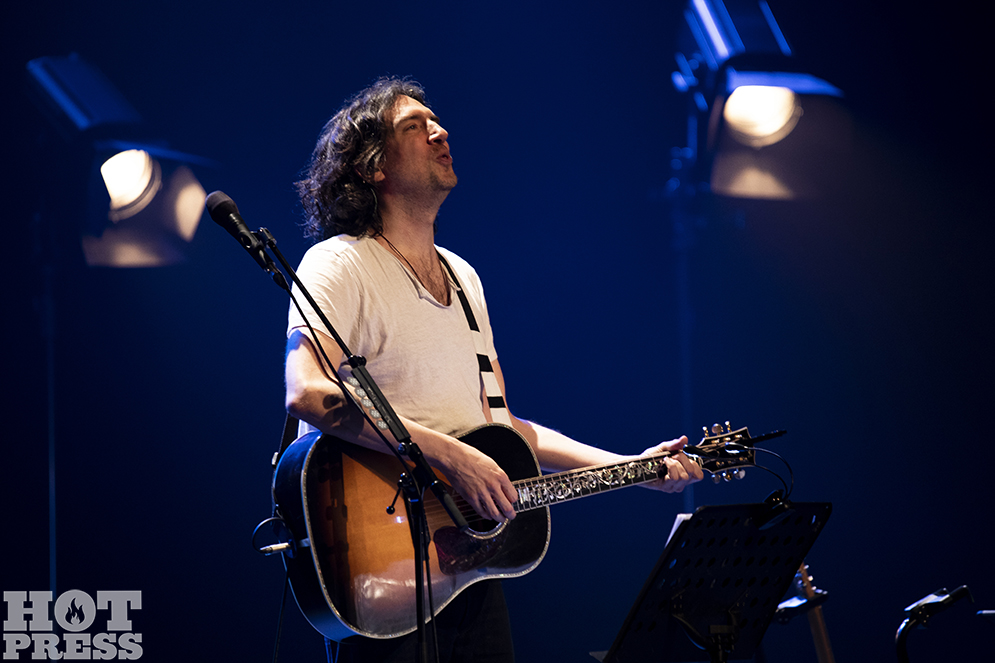 Advertisement
Gary Lightbody is one of that small coterie of frontmen who's able to make the massive seem intimate.
He did exactly that. Ed Sheeran joining them was just the icing on the cake. We were lucky in that he'd played the day before in Brussels, but had the Sunday off to see his wife and kids. He's a local – interestingly, Latitude was the first festival he attended – and wanted to come along and support Snow Patrol who are friends of his. There was a lot of serendipity about it. We had Snow Patrol lined up to headline the Picnic in 2019, but Johnny got some illness that put him in hospital and they weren't able to play. We rescheduled them for 2020 but then, of course, Covid happened. I know from talking to them that the Picnic is something they're really looking forward to.
Longitude was in many respects a coming of age for homegrown hip hop with Irish artists higher up the bill than ever before. The same's true of the Picnic with Denise Chaila, For Those I Love and Kojaque leading the charge. Has anyone in particular caught your ear?
I don't think there was an assumption that Irish hip hop would do well, but the scene there at the moment is incredibly strong. A number of them played on smaller stages at the 2018 and '19 Picnics and at our various launch events, and now they're deservedly making their way up the bill and will continue to do so. They're not particularly crossing over into the UK at the moment, but any of the artists playing this year could change that.
Chart conquering R&B stars don't come much bigger than Megan The Stallion. How far in advance do you have to book your headliners?
Advertisement
Twelve to eighteen months is pretty standard. Anything less or longer than that would be unusual. Sometimes you get lucky. We booked Billie Eilish when she was a star and by the time she got to Stradbally she was a superstar!
As a promoter, what makes the Electric Picnic stand out for you?
It's couldn't be any simpler: it's the people who come to it. The fans are just extraordinary. A lot of them don't really care about this headliner or that headliner – they just want to hang out in the MindField or in the Comedy Tent. The people in Trailer Park, quite frankly, don't even know their way to the Main Stage. There's a very significant amount of contribution from people who are interested in things other than just music. I love the fact that they claim ownership of their favourite stage or area.
It seems like an awfully long time since the last Picnic…
(Laughs) There are going to be people who bought tickets in 2020 for their children under twelve who are no longer under twelve or didn't have kids then but now do. A majority of the 2022 attendees bought those tickets three years ago. As we battled our way through Covid, it was very heartening that they decided to hold on to them for what I imagine is going to be an extremely celebratory Picnic this year.
The music industry's very obvious gender disparity led to Festival Republic's setting up in 2017 of the ReBalance initiative. How's that been going?
It was coming on really well but since the pandemic has stalled. I appointed a new person to lead ReBalance in June, so it's gearing up for a very busy Autumn '22 and onwards into '23. It's something we're all working on but it's not an overnight fix, you know? What we do as music promoters is present artists that are being played on the radio or streamed on Spotify, Apple Music and other platforms. Our line-ups reflect what our customer base is listening to.
Advertisement
Which is why it's imperative that more female artists get played on daytime radio.
Lots of areas need addressing. We're pushing hard for it to change. It's massively important. I hadn't previously included Ireland in ReBalance because we'd been partnering with the Performing Rights Society who are a UK agency. Now that they're no longer key participants, I want to involve Irish acts in it as well.
A link to Festival Republic's Green Nation Environmental Sustainability Charter can be found on the Electric Picnic website. The commitment you're making is a substantial one.
It needs to be. A few weeks ago we saw London literally burning. It wasn't the Californian desert or the woods in the driest part of the world: it was right on our doorsteps. The fire brigade isn't equipped to deal with the reality we now find ourselves in. I employed my first full-time sustainability manager in 2008 and have been measuring the carbon footprint at all my festivals since then. That in itself has resulted in a huge amount of doing things better. It includes using generators more efficiently; moving to biodiesel; taking renewable green energy from various festival sites. We've been working very closely with the Music Declares Emergency organisation whose 'No music on a dead planet' slogan says it all. It was London burning two or three weeks ago, but it could just as easily have been Paris or Berlin or Dublin. It's not a one-off: it's a complete manifestation of the danger we're in. We could set fire to this bloody planet.
In 2017, you invited the Ana Liffey Drug Project to initiate a drugs outreach programme at the Picnic, which has resulted in thousands of positive engagements with punters. The baton has been passed on this year to the HSE/drugs.ie who were also at LIFE and Indiependence.
Yes, Professor Eamon Keenan, Nicki Killeen and the rest of the Health and Safety Executive team have been working on a new approach to harm reduction. That sort of drugs outreach is really important.
Is there anything that would make it easier for you to do festival business in Ireland?
Advertisement
The UK joining Europe again. In fairness, it hasn't affected business between the UK and Ireland much, but for UK bands touring mainland Europe it's a disaster. It's something that I just can't get my head round.
What it's been like having Nadine Dorries as the UK Minister for Culture?
Oh, I mean… Jesus, where do you start? Ugh, it's just off the scale. I don't think there's ever been a less appropriate appointment. I don't know why or how she could have been given that role.
Shortly before Covid, I spent a very interesting afternoon in the House of Commons talking to Conor McGinn, the Northern Irish Labour MP who heads up the UK's All Party Music Group and is a close friend of Feargal Sharkey's. Is it just a load of parliamentary hot air or are they actively helping the British music industry?
I don't know if there's a direct equivalent of a select committee in the Dáil, but they're actually really valuable in scrutinising what's happening – and not happening – in the industry. The MPs on it really understand the value of music venues and festivals, and want to ensure that the government doesn't do anything to hinder the continuity of business. They've a very good grasp of things.
What do you make of our Culture Minister, Catherine Martin?
I think Catherine is very much properly focused on wanting artists and the business to do well.
Advertisement
Finally, can you pick out some of your golden Electric Picnic moments?
I'm still in a state of shock that we had Billie Eilish as one of our 2019 headliners. It was great that she got to meet Glen Hansard, who she's a massive fan of backstage. My most magic Picnic moment, though, was the first time I visited Stradbally to see if the site would work. I was like, "Oh my God, the things we can do here…" It's just an absolutely brilliant place to stage a festival.
For more about Electric Picnic (September 2-4), see electricpicnic.ie – and pick up a copy of the new Electric Picnic special issue of Hot Press:
Advertisement