Education Special – Simon Harris: "I know, in many ways, my career has been a bit odd... Life came at me a lot faster than I expected it to"
As part of our Education Special, we sit down with Minister for Further and Higher Education, Research, Innovation and Science, Simon Harris. In an extensive interview, he addresses some of the biggest issues facing the third level system in Ireland. Plus, he discusses his personal journey from dropping out of college to becoming 'Baby of the Dáil' – and why social media companies should be doing "an awful lot more" to stamp out online abuse.
"I know, in many ways, my career has been a bit odd," Simon Harris acknowledges. "I was a County Councillor at 22. I was a TD at 24. I was a Junior Minister at 27. I was the Health Minister at 29. Life came at me a lot faster than I expected it to."
In many respects, the Greystones native is living proof that the journey from school to a career doesn't always follow a neat, linear path. As his critics like to point out, despite his current position as Ireland's first ever Minister for Further and Higher Education, Research, Innovation and Science, Harris left college before completing his undergraduate degree. From there, he set off on a career in politics, just a few short years after becoming old enough to vote.
The intervening decade has brought significant highs and lows, particularly during his time as Minister for Health – from Repeal the 8th and the Sláintecare plan, to the CervicalCheck scandal and the Covid-19 pandemic.
Alongside the more serious political issues, the 35-year-old's presence on social media has made him one of the most visible Government ministers in the country – though his efforts to get 'down with the kids' via his TikTok account, with videos that occasionally dip into bizarrely awkward territory, have provoked more than a few eye-rolls in certain quarters. With 89,000 followers and over one million 'likes' on the platform, however, Harris could be having the last laugh.
Now, with the CAO deadline fast approaching, he's putting an emphasis on alternative learning pathways, and a more flexible approach to education – something in relation to which, he admits, his "own experience has probably coloured [his] views."
Advertisement
What was your own response, when you found out you were going to be the Minister for Further and Higher Education, Research, Innovation and Science?
It was peculiar how it came about. I'd been the Minister for Health for nearly four-and-a-half years. Obviously, when the new Government came into office, we were still in the middle of the global pandemic. So it was a surprise to me that I was going to be leaving the Department of Health – so I hadn't really had any time to think what I might be doing next.
It was also a brand new department.
It had just been created. In fact, it hadn't been created, I had to create it from the start. I was pleasantly surprised, to be honest, to take up the role. It's a huge change though. When you're in the Department of Health, you're responding and reacting to very difficult and challenging things everyday. And now, all of a sudden, we have almost a blank page – to create a new department from scratch. So it's a very different sort of challenge.
Was it a bit of a relief, leaving the role of Minister for Health in the middle of a pandemic?
I'm probably a bit odd, but I really liked being Minister of Health! It was obvious there was going to be change, and I was very much at peace with that reality. But I was a little bit uneasy, leaving in the middle of the pandemic. You're spending so much time in the Department of Health, and working so intensely with the people there – you feel like you're leaving some of your family behind. But at the same time, being Minister of Health for over four years was very intense – and it was probably time to move on to something fresh.
You're now planning to reform third-level governance, with the recently published Higher Education Authority Bill. How have you responded to fears that the autonomy of colleges could be threatened?
Advertisement
The last piece of legislation in relation to governance of the sector was 50 years ago. Fifty years ago, there were about 20,000 full-time students in higher education in Ireland – there's now over 200,000. Change is something people get nervous about. I will protect, to the nth degree, the independence or autonomy of our universities. Educational independence and educational autonomy is absolutely vital in any democracy, or in any open society. But it's not in conflict with that, to say that it's also important the proper structures are in place, to oversee the running of those institutions. They don't need to be structures controlled by a Minister or Government – they shouldn't be – but they should be structures that are robust enough.
You've mentioned that it will also help tackle issues like sexual harassment by sanctioning colleges that fail to comply with set policies.
Obviously there's lots of examples of good leadership across the third level sector, but you also have to look at the issue of sexual harassment. And look at the case of Dr Aoibhinn Ní Shúilleabháin, who had her own situation last year. This sends a very strong message to me, that it's really important the governance structures we have in place are modern, fit for purpose, and that our institutions are inclusive. If the taxpayers, the citizens of our country, are going to be investing more and more money into higher education, we have to make sure there is accountability and oversight.
What do you think are the other most critical issues facing Further and Higher Education right now?
There's lots of issues that maybe didn't get the attention or the focus that they deserved over the last number of decades – that's why this new department is so exciting. We now have a dedicated department and a dedicated Minister working full-time on these issues. Such as working on a new sustainable funding model for higher education – something people have been talking about for years, but hasn't happened. Another issue I don't think we talk about enough in Ireland is adult literacy. Yes, we have a very well-educated population, but we live in a country where nearly one in five adults struggle to read. One in four struggle to understand numbers – in terms of the ESB bill, for example. And one in two of us lack digital skills.
You've also put a big emphasis on apprenticeship programmes.
There is so much potential. When we talk about building houses – or when we talk about climate, and retrofitting homes – who do we think is going to do it? No one in the Dáil is going to build a house. We can talk about building a house, debate it, and put policies in place, but you need to make sure you have the skills.
Advertisement
That's also been reflected with new changes to the CAO website – with information about apprenticeships and Post Leaving Certificate (PLC) courses available there for the first time. What do you hope that will achieve?
We've created a nearly elitist view – that you go to school, and then you must go to university. But what if you want to do a trade, or a craft? Why haven't we been showing our 16 and 17-year-olds these options? For the very first time this year, when a Sixth Year student logs on to the CAO website, they'll see a button to apply for the traditional CAO, and a button alongside that for further education and training, and a button alongside that for apprenticeships. That's part of the conversation – broadening the options and recognising that people learn in different ways. I feel really strongly about that. We have skills-shortages in our country, because we've been funnelling everyone through this very narrow lens of the CAO.
Improving access to third-level education for people with intellectual disabilities has also been a major passion of yours. Is that still a priority?
That's what I'm most passionate about – the whole area of access for people with disabilities to education. I think we've made a lot of progress as a country in primary school and secondary school, and we've made some progress in third level – but not enough, particularly when it comes to intellectual disabilities. I'm publishing a new national access plan, which will have a real focus on that, before March of this year.
That's been a goal of yours for a while, hasn't it?
Advertisement
When I was a moody teenager living in Greystones, my brother Adam, who's eight years younger than me, was born with what we used to call Asperger's syndrome – a condition on the autism spectrum. I was really frustrated, as that moody, opinionated teenager, with the lack of information around autism. I saw the stress and strain my parents went through, and called a public meeting in my hometown. It sounds like such an odd thing to say now, but it happened! I asked anybody else living with autism, and their families, to come together. About 60 people turned up in the parish hall that night, and we set up a support and lobby group. So from a very young age, about 16, I was involved in advocacy, but also campaigning. I remember campaigning for a special needs facility to be set up in a new secondary school being built near where I lived. I ended up finding myself politicised at a young age.
What was your own experience of college like?
I went to Saint David's in Greystones, and then I went to DIT, where I studied Journalism and French. It's a four-year degree, but about three years into it, the opportunity arose to get more involved in politics. It was one that I just couldn't not seize, because I saw an opportunity to try and make a difference. So, I ended up deferring. I still need to get around to completing the last two modules! I've done some part-time since, but I have a little more work to do.
Was the lack of flexibility the main issue preventing you from finishing the course?
I suppose, yeah – but that's certainly not to be critical of the college. In an ideal world, my political life could have come five or six years later than it did. But life isn't ideal, and politics doesn't wait. When there's opportunities, you have to take them. But I do think there's a lesson in that, and it's certainly a lesson that I've taken with me – the more flexible we can make education, the more we can ensure people can participate.
Is that indicative of the way higher and further education is moving forward?
People aren't always going to go to school from the age of five to the age of 18, and go to college from the age of 18 to 22. More people are going to be dipping in and out of education at different stages of their career, and different stages of their life. And more people are going to be looking for different ways to get their qualifications. Apprenticeships are going to become more and more common, and so is further education and online education. My own experience has probably coloured my views of that. But I did have a very positive experience in college, and I really enjoyed DIT.  And I've no doubt that I will be continuing to use the education system throughout my life.
Advertisement
So you can see yourself going back to education?
After nearly four-and-a-half years in the Department of Health, and now here, I don't know exactly when it will come about – or exactly what's next for me – but I know that I'll definitely want to go back, and do further education as I go through my life, absolutely. In politics, the jobs that you do are really intense, you work really hard, and you give them your all – but they're also only for a period of time, and then life moves on. So, whenever that happens, I'll give it some consideration.
Going out, forming relationships and experimenting – were they also important parts of your own college experience?
Yeah, absolutely. College life is about so much more than just the education. The academic education is important of course, but it's also about development as a person. I certainly felt like I grew and developed and matured through my own college experience. I made a lot of good friends, and enjoyed the RAG week and the mystery tours, and all those other things that are a part of growing up.
Over the course of the pandemic, that's been taken away from young people.
That's one of the reasons I was so determined to get students back to college campuses safely this year. In theory, you can have the lectures online. I was actually getting different reports sent to me, showing that the quality of education was actually holding up very well during the pandemic. But that wasn't the real worry. My real worry was that people's worlds had been reduced to a Zoom camera in their bedroom. College is about sitting down and having a cup of coffee, and being able to tease through a problem with someone. It's also about RAG Week and Freshers Week, and joining the clubs and the societies. I think older people and younger people have been the two groups most impacted by the pandemic. And for younger people, it hasn't been talked about nearly enough. That sense of loss – lost opportunity, life being put on hold, missing out on certain things, and legitimate expectations that you have growing up not being able to be realised.
So you're hopeful we can learn to live with Covid, in a college setting?
Advertisement
We have to let people live again. Yes, we have to be careful and wear face masks and get our boosters, and all of that – but we also have to realise that people can't have their lives on hold forever. Asking people to live in an unnatural way for a very long period of time is having an impact.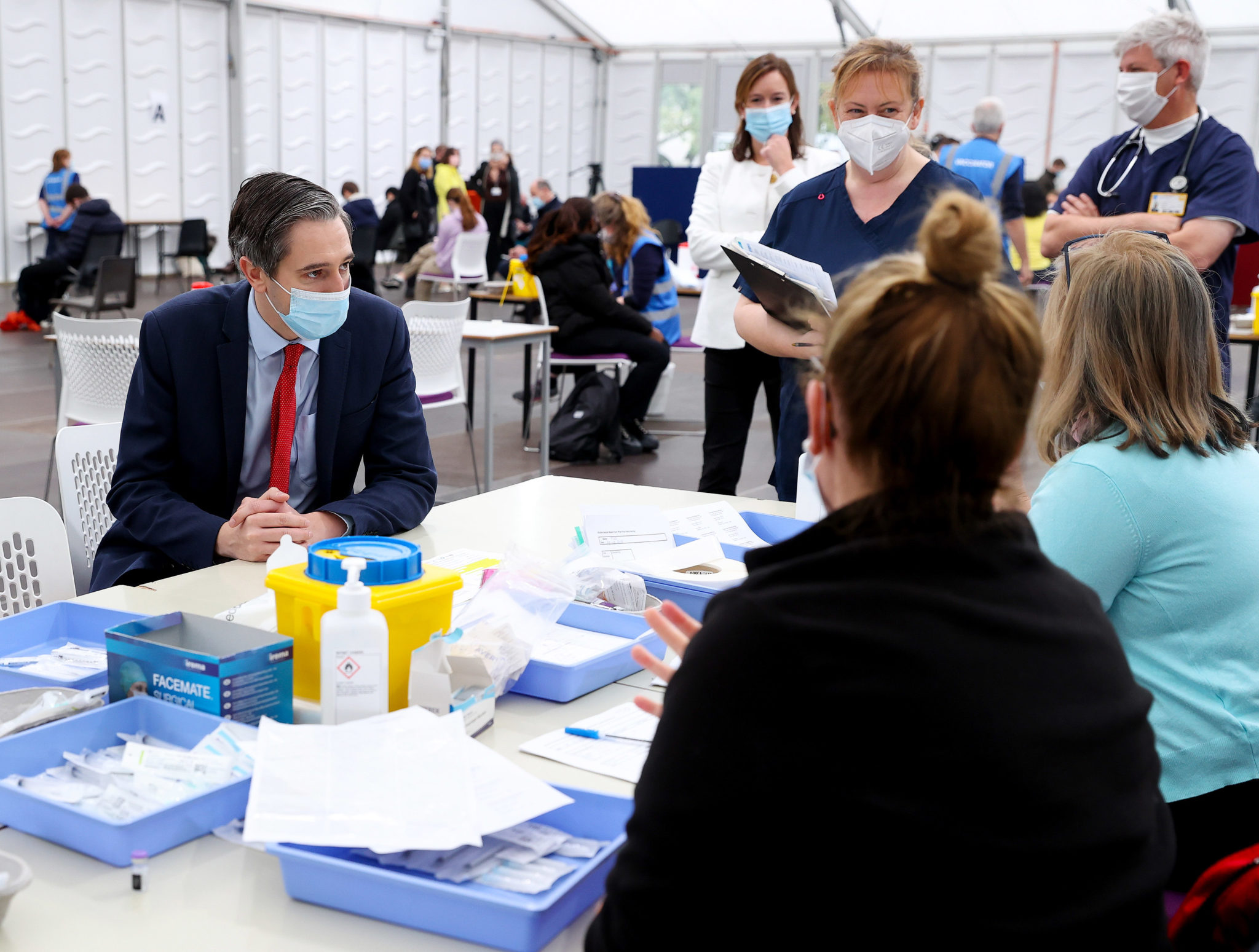 Do you think there should have been a better consistency across colleges in Ireland – in terms of responses to Covid, and getting students back on campus?
I suppose. But it's also fair to say that, physically, a lot of them are very different, with very different buildings. What we've tried to do is put a plan in place to get students back to college campuses. It's gone very well, actually. There's an awful lot more on-site attendance this year than last year, thank God – because the previous year was really, really difficult for students. But, at the same time we have to give them a bit of flexibility, to risk assess their own buildings, and make sure that it's safe.
A recent ESRI study found that almost a third of Irish 20-year-old women and over a fifth of Irish 20-year-old men were experiencing symptoms of depression. The majority of those surveyed were in third level education. What can be done about that?
Investing more into student mental health services than ever before. We've announced a very significant increase in student mental health funding again this year. More work needs to be done in talking to the students about how that money is spent. I've asked every university to talk to their students' union, because they will know best.
You recently launched a public awareness campaign on spiking. Have you found that's a serious concern for college students?
Advertisement
Students around the country were telling me that spiking was a real concern. This was when restrictions were a little bit easier, and pubs weren't closing at eight o'clock. They were also telling me about the whole issue of needle spiking – which I must admit, I didn't know much about at all. But we were also seeing in the British media that there were cases in the UK. So myself and the Justice Minister Helen McEntee jointly launched an awareness campaign with the USI.
What was the main objective of that campaign?
It had two messages. Firstly, what you or I should look out for, when you go out socialising – to be aware of the signs of spiking. And secondly, and equally importantly, a message for people working in the sector to be more aware. If they see a man or a woman, and they think, 'Oh, that person just has a few too many drinks in them' – don't just say, 'Off you go on home now'. Be conscious of the fact that we need to make sure that person gets home safely, and they're not left on their own. They need to know that it's obviously a medical situation as well. And of course, it goes without saying, it's a criminal offence to spike someone's drink.
Do you think there's a disconnect between traditional politics and how this generation of young people engage with issues?
I do. I'd visit a lot of primary and secondary schools, and I always make a point of asking the class: 'Does anyone here have an interest in politics?' Generally very few hands go up. When you ask that question, there can often be a bit of a deathly silence. And then I'll say, 'Okay, but does anybody here have an interest in climate change?' And hands go up. Or, 'Does anyone here have an interest in whether they'll be able to buy a house?' And hands go up. Or, 'Does anyone have an interest in whether they'll be able to go to college after school?' And hands go up. So then I'm like, "That's politics!"
So it's a problem of perception.
There's a responsibility on people like me to address this too. But all too often people think that politics is just grey-haired men – I know, I'm getting there! – in grey suits shouting and roaring at each other in the Dáil, and the clips you see on the news. But politics for me is about finding something you're passionate about – that you're annoyed about, or want to fix or make better – and getting involved, trying to change it. There's a job we need to do, to work out how we can bridge that. I think there has to be a new deal for young people as well. We have to recognise that there are serious worries and concerns and challenges that young people have.
Advertisement
What can you do to address those concerns?
One concern is the cost of going to college. The registration fee is one part of the cost, but there's also our SUSI grant scheme. Up until this year, we hadn't increased the grants in a decade. I'm delighted we've now increased them, but we have more work to do.
Student accommodation is another crucial issue.
It's important in politics, when you get something wrong, not to just keep coming up with speaking points to defend it – but actually admit that it's wrong, and needs to be fixed. When it comes to student accommodation, we've been far too reliant on the private market. And as a result of that, we haven't had enough college-owned student accommodation. We're seeing scenarios now, where four, five, six or seven students are trying to rent a private home – and they're competing with a family, who might have a couple of kids. It's a real challenge. I'm working on a new proposal, to try and ensure that the colleges can build affordable, college-owned student accommodation.
There's also still a serious class gap when it comes to third-level education – how can that be tackled?
As a country, we're seeing a massive increase in the numbers of people accessing third level education. But it hasn't been equal across the board. However, we just published a report at Christmas that showed the number of people from DEIS schools going on to third level education is significantly increasing. I'm not saying we're there yet, but it does show the progress we've made as a society over the last number of years. Student accommodation and housing is a part of it. Addressing the cost of going to college – making sure more families qualify for the grant – is part of it.
Advertisement
As a public figure – and particularly as a politician – abuse on social media almost comes with the territory right now. Has that been an issue for you personally?
I really like social media. Sometimes, not everybody gets the importance of it, but I think it's a really important and useful way of communicating directly with the people in the country and updating people. I've even engaged in TikTok – and of course, some people ridicule me for it! I'm not very good at using it. But I know that there's so many younger people there that might not be listening to RTÉ Radio One at seven o'clock in the morning. But, yeah, from time to time, you get abuse. I've had abuse but I don't let it put me off doing my job. There's been some examples of really vile abuse, particularly towards female public figures.
What more should the social media companies be doing?
I do think our social media companies have a responsibility to do an awful lot more. I don't think being able to set up anonymous accounts should be allowed, quite frankly. If I'm going to go on social media, I should have the courage to put my name beside what I'm going to say, or at least register or verify who I am. That's an area that needs to be looked at, not just in Ireland, but in the European Union, and globally. Some of the social media companies need to get much tougher on stamping out abuse. I hear all the time that people are reporting certain things on social media only to be told it's not a breach of the company's policies. That's not right.
It seems that, more and more, politicians are expected to offer updates about their personal lives – like announcing when your partner is pregnant. Do you find that strange?
People probably don't believe this – because they see me as a public persona – but I'm quite instinctively shy as a person. So yeah, it's a little bit strange. At the same time, I also think it's important that the public sometimes get a bit of an insight into the fact that – breaking news! – politicians are human beings. We're real people who face real challenges, real happiness and real sadness, at times, too. One of the benefits of social media is that it can let people see that human side. Sometimes, I think there's an effort to create a them-and-us mentality. But that simply isn't true.
Advertisement
How so?
I'm a 35-year-old man who grew up in Greystones. I'm the son of a taxi driver and an SNA who had an opportunity, when my brother was born with special needs, to get involved and make a difference. If I can become a Government minister, anybody can.
We're seeing more and more of an overlap between the world of politics and the world of celebrity, particularly in the US – to a serious extent, in the case of Trump. Does that frighten you?
Yeah, it does. We live in a republic. Politicians are members of our community, who ask their neighbours and their community to give them a mandate to represent their views in our Dáil. That's who we are – we're doing a job. Most people, regardless of whether I agree with their views or not, do the job to the very best of their ability, for a certain period of time in their life. And that's it. So this kind of cult of personality does worry me. We saw the damage it can do – particularly with the Trump stuff. Sometimes we don't get enough chances to talk about policy and our ideas. And sometimes it's too adversarial.
Have you tried to avoid that kind of adversarial politics yourself, do you think?
The times I've been at my best is when I've been a little less partisan, and worked across the political divide. Like the Repeal the 8th campaign – people came together across politics and across civil society and said, "How are we going to make a difference? How are we going to address this issue?" I'm not in any way perfect – I can be partisan. But I think the public would like us to be a little less partisan, and I think we're better when we are.
Speaking of Repeal the 8th – do you ever think about your legacy, or what you want to be remembered for?
Advertisement
No. I like to think I'm only getting started. I'm 35 years of age, I'm giving this job my absolute all for as long as the people want me to give it my all. Politicians thinking about legacy and the likes – it's a dangerous thing to get into, because it distracts you. But I always try to remember that it's an honour to be here. You're here for a certain period of time, and you've got to make it count. You don't want to look back and say, "God, if only I'd worked 10% harder at that". I'm proud of the role that I played in Repeal, but I'm also conscious that I just played a role. So many people, over so many decades, fought for women's reproductive rights. It was a real team effort. But it's a campaign I'm always proud to have been involved in.
Read the full Education special in the current issue of Hot Press: