12 INTERVIEWS OF XMAS: Dermot Kennedy – On L.A., Album No.2 & Winning Big In The Hot Press Readers' Poll
As part of our 12 Interviews of Xmas series, we're looking back at some of our unmissable interviews of 2021. After he scored five major wins in the Hot Press Readers' Poll in March, including the overall title of Best Polling Artist, Dermot Kennedy sat down to discuss the state of Irish music, hanging out with CNN's Donie, joining forces with Paul Mescal, looking up to Roy Keane, fate, mental health, and that all-important Album No.2...
The last time I sat down with Dermot Kennedy, he was a bright-eyed 27-year-old on the cusp of international stardom – sipping herbal tea, and unaware that his then-unreleased debut album, Without Fear, was set to debut at No.1 in both the UK and Ireland. Although vocal troubles were a concern at the time – following a relentless run of touring – he was still floating on air after a festival-stealing set on Electric Picnic's Main Stage just days before. He was also facing into an action-packed 2020, set to take him and his music across the world.
Of course, there's nothing like a global pandemic to shift perspectives ever so slightly. With lockdown upending the music industry, and forcing musicians and their crews off the road, 2020 was an unexpected shift in gear for the Rathcoole native – who'd spent the last few years garnering an international fanbase that includes Taylor Swift and Billie Eilish.
Despite this seismic change in circumstances, however, 18 months after our last meeting, Dermot is exuding a calmer, more reflective confidence than ever. While his ambitious nature and remarkable work-ethic are still safely intact as he focuses on the making of his second album, his attitude to the chaos around him suggests a new found, and no doubt hard-won, maturity. Plus, his current location – reclining in his bright, sun-soaked Los Angeles living room – can't hurt either.
He's also in a suitably celebratory mood. After emerging as one of the big winners in last year's Hot Press Readers' Poll, Dermot has repeated that magic once again, coming out on top in the highly competitive categories of Best Male Artist; Best Songwriter; Best Track for 'Giants'; and Best Livestream – as well as being crowned the overall best polling act.
His wins are especially impressive, considering he was up against the likes of Hozier, Glen Hansard, Sinéad O'Connor and Bono.
Advertisement
"It's mental," he nods, grinning. "To be in a position now where stuff like this happens – and to hear names like that alongside my name – is not lost on me at all, honestly. It's class, to be acknowledged for the hard work you put in. Having spent the guts of 10 years working away to no avail, it feels amazing now to get things like this."
To be included alongside one of his heroes, Hozier, is a particular honour for Dermot.
"The last time I was here in LA, I went to see Hozier in the Greek Theatre," he tells me. "To see him set an example like that, as such a classy artist, and a well-respected musician – and to consider him a peer, or anything like that – is just amazing."
Despite the challenges of the pandemic for artists, the past 12 months have also given rise to some phenomenal Irish releases – including Dermot's latest solo single, 'Giants', which has clocked up nearly 119 million streams on Spotify alone. The single was featured among a star-studded shortlist for the recent Choice Music Prize for Song of the Year – indicative of the vibrant and dazzlingly diverse state of Irish music right now.
"You know who has been on constantly in the car and in the house? Tolü Makay," he remarks. "We've been listening to her a lot. Irish music just feels strong – it feels like good things are happening, and it feels like a very creative time. I was just talking about how Ireland consistently punches above its weight. There's no sign of that slowing down.
"The main thing for me right now is For Those I Love," he continues. "I saw his performance on the Tommy Tiernan Show, and on Jools Holland. That was powerful. It just seems honest, like it comes from a real place. Music needs a lot more of that."
Advertisement
A collaboration between Dermot and For Those I Love – who was tipped as one of the Hot Press 'Hot For 2021' Irish Acts – could certainly be something special.
"Oh, for sure," he enthuses. "I was talking to him. I also saw an article about him the other day, where he talked about how important football has been in his life, and how that has brought him so much comfort and solace throughout difficult things. I can relate to that. I would absolutely love to work with him."
Another Irish star who shares this penchant for football – albeit of a Gaelic kind – is Normal People's Paul Mescal. It was like two worlds colliding when Dermot and Paul teamed up for the lauded Some Summer Night livestream from London's Natural History Museum in July – which went on to win Best Livestream in our Readers' Poll.
"Because there's no crowd at virtual gigs, you're constantly thinking about how to make the downtime between songs not just stale silence," Dermot explains. "There's obviously a story running through my album, and a story running through the set at that gig – so I thought, 'Surely an actor is the perfect way to bring out this drama.' So I presented that idea to my team, and they were like, 'Is there any actor you have in mind?' He was literally the only person that I messaged, and he instantly came back to me. That was really cool."
Dermot also reached out to Paul in the midst of the Normal People global hysteria to congratulate him, primarily – but also to check in on him.
"I sent him a message, because there is this assumption that, just because someone's flying and doing really well in entertainment, they're having the best time of their whole life," Dermot points out. "And so often that's not the case. But I hope it is the case with him."
In a sense, his reaching out to Paul was paying forward a similarly kind gesture from Hozier.
Advertisement
"Around two years ago, I was having trouble with my voice, and I was going back-and-forth to different doctors," Dermot recalls. "I was also in the middle of a tour of the UK. It was brutal. Newcastle and then a train to Middlesbrough, and then a train to London, and then a train to Southampton. I was lugging guitars around, and I wasn't sleeping properly. It was really wearing on me. And then, in the middle of that, I had to get the Eurostar to Paris, straight away after a gig, to see this doctor. I was half-revelling in the way that I was putting in all these hours – in a pat-yourself-on-the-back sort of way.
"And then Hozier messaged me," he continues. "He was like, 'Look after yourself with that type of schedule – because I've seen it'. He was basically like, 'I hope you're good, because I've done plenty of that, and it can really wear on you'.
"We're a small country – so when someone is at the forefront of something, and doing something to that level, there is an element of responsibility to look after the people that are about to do it."
Like Hozier and Paul Mescal, Dermot's rise to fame was a high-speed process – which he managed to take in his stride. In addition to having a strong support system, he remains notably protective of his privacy, and his private life.
"I think that's always going to be important to me," he nods. "If I share every single aspect of my life and my character on the Internet, when I put a show on, people probably won't come – because they know me anyway.
Advertisement
"Take someone like Mick Flannery for example," he adds. "He doesn't share a ton on social media. But then you go to a gig and realise he's actually hilarious. This whole character unfolds, and that's the only place that you can really see it. There's a magic to that, and a magic to artists like Frank Ocean, who don't document every single second of their life. That's an important thing, as artists. If you do something special, you need to reserve it, and keep it as a magical thing – because otherwise it's just boring. So I think I'll always be protective of that part of my life."
Of course, that outlook wouldn't necessarily be the norm in his current base of LA, where sharing your life with the entire world is almost seen as a prerequisite for fame.
"That's because people are desperate," Dermot argues. "They're desperately seeking some level of notoriety – so the bar has been set so low for what will get you that. People will do anything. I'll continue to make music, and stick to my guns, and do things the way I'm supposed to – and if it goes really well, then great! But I can't lower myself to some of that stuff you see."
While he's keen to distance himself from the dark side of celebrity culture, he admits that even he isn't immune from getting the jitters when meeting his musical heroes.
"The only time I've ever been really starstruck was meeting Justin Vernon from Bon Iver," he grins. "I met him in 2019. I waited outside their gig in Boston, as a fan, and got a photo with him. Micheál Quinn, who plays drums with me, was there as well, so I took a picture of him with Justin Vernon too – and my hand was actively shaking. It was nuts. I've seen it since, when I'm getting a photo with people – I'm like, 'I've been there with the shaky hands! I get that!'"
And despite having appeared on some of the most iconic stages in the world, he confesses that he still feels the nerves before certain performances – like his appearance on The Ellen Show this month.
"When it's on telly, you're very conscious of wanting everything to be perfect," he says. "In a gig, you allow for mistakes and imperfections, because you know there's an atmosphere. Whereas on TV, it could just be someone sitting at home on their couch, who decides that you're not good, just because of this little teeny mistake. That's one of the few things that I do still get antsy about."
Advertisement
While living in LA certainly makes the commute to Ellen's studio that little bit more convenient, it must feel like a strange time to be over there, in the midst of the ongoing pandemic – and everything else that's been happening Stateside…
"A little bit," he acknowledges. "But America's so huge. It's so different to home – it's harder to cultivate a sense of unity, because there are so many people. So people here in LA are going to go out and do stuff regardless. They're also rolling out the vaccine so quickly – so I think they're opening restaurants and that type of thing sooner rather than later."
He's been in the States since January 11 – landing less than a week after the storming of the US Capitol.
"It's been weird," he says. "But LA is a very liberal melting pot of different cultures, so I feel I didn't get the full scope of it. But you know who was out here? Donie O'Sullivan from CNN. I met up with him, and I was talking to him about the things he's seen in the last while. That's properly bananas. He was talking about how, when he finally gets to go home, his friends are going to be slagging him for like three days straight!"
Although his day-to-day might differ somewhat from CNN's Cahersiveen man – who was trending on Twitter following his live reporting at the Capitol insurrection – Dermot's work has also been increasingly shaped by the volatile state of the world right now.
"In a strange way, I'm kind of excited about making music through a strange time," he remarks. "It's important, throughout times like this, for artists to carry a bit of the burden, and to take a bit of responsibility for making people feel better. That's why we make music. I've felt a bit of a sense of duty, in that way, to get the album over the line."
Advertisement
Indeed, Dermot's currently approaching Album No.2 with unwavering focus.
"I've got a load of songs floating around," he says of the highly anticipated follow-up to Without Fear. "There's some really special days – and there's some days where, at the end of the day, I have nothing to show for it. Some days it just doesn't hit. But I'm working all the time. I think I'm almost there – but there's a lot left to be done. I'm very determined to not just have a replica of the first album. A lot of people fall victim to that. But I also don't want to leave behind anybody who has grown to like my music so far. So I'm just trying to do something interesting, and meaningful.
"If there's anything I know I'm good at, it's emotion, lyrics and vocals," he continues. "I don't want that to get lost in a wash of production. So I want stuff to be stripped back, without being straight-up 'singer-songwriter'. I do want certain elements that take it forward, but I also want it to be minimal, in a sense, and quite raw."
By the sounds of it, Dermot could well be on course to repeat the chart magic of Without Fear. A year-and-a-half after its release, his debut has spent a remarkable 25 non-consecutive weeks at No.1 – in addition to selling over one million copies worldwide
"It was No.1 last week still, which is nuts to me," he says, shaking his head. "I was like, 'Wouldn't that be class, to have the most weeks at No.1 of any album in Ireland?' But then I checked – and Adele's at 37 weeks. So we'll see!"
Any career – and any 'big break' – is launched by a combination of hard graft and a few lucky moments. But Dermot also reckons that a lot of it is down to "putting yourself in the right position."
Advertisement
"For everything that did go my way, I could probably list about 20 things that didn't," he reflects. "I just kept doing it, until something worked. If your moment's going to come, then it will. I'm not totally dismissive of the idea of fate. I do believe that if you just keep at it, and if it's meant to be, it'll come together."
Did he always feel that way – even as a struggling artist, trying to get his career off the ground?
"Yeah, I always thought it would happen," he smiles. "To what extent, I don't know. You never know how far you're going to take it. But if I didn't believe it was going to work, then I would've stopped – because there was a long time where it wasn't going well."
When we last spoke in 2019, Dermot discussed how the back-and-forth of life on the road can take its toll, physically and mentally. Now, a year without live gigs has altered his perspective further still.
"I'm more conscious now of the fact that I don't need to be on the road all the time," he notes. "It felt nice to actually have some time. And I know I've been lucky, too – because I've actually been given time to make the second album, which a lot of people don't get. We were supposed to be on tour for a long time in 2020, up until October or November. And then we would've had this tiny window to make a second album – which just wouldn't have been enough.
"That, potentially, goes a long way towards explaining why people often have underwhelming second albums," he continues. "They just don't get the time. Especially these days. It's relentless. You release some music, and there's this wave of momentum – and if you don't want that to die, you've got to release more music. It's a constant thing, and I don't love it, honestly. It's not necessarily the best environment for art – for real art to grow and breathe. So I'm grateful for the fact that I've had time to make a proper second album."
Like many artists starting out, Dermot had to learn how to adapt to the not-so-glamorous reality of life on the road.
Advertisement
"It does take a toll, physically," he nods. "And the crazy thing is, it can wear on you without you knowing. You think you're fine, because you're banging through all these gigs, but you find that you're actually exhausted. So you've got to look after yourself – especially these days. Back in the day, when people were going crazy all the time, they didn't have schedules like artists do nowadays. It's never clinical – we always have a laugh, and there's always messing around after a gig – but if you go mad, you're just going to compromise the gig you have the next day."
While the raw, gravelly tone of his voice is a huge aspect of Dermot's appeal, the intensity of his delivery can cause him serious trouble when overused.
"It's priority number one," he says of his voice. "It's the only thing on my mind when I'm on tour. Say you do a gig in LA, and it goes really well – but you've exhausted your voice. And because it's LA, there's probably label people there, so you're hanging out afterwards, and having a few drinks. But then you get to Vegas the following morning, and you have to sing in a radio station at 8am. It's just impossible.
"The voice thing is tough," he continues. "It's even kind of rough right now, because I was filming something in the desert yesterday, and it started snowing. It was freezing. And with something like that, for filming, you end up singing each song about 10 times each. So my voice is goosed today. It's a constant – I'm just trying to figure it out the whole time."
Of course, concerns about the nature of modern touring feel like a distant memory now. Did the movement from a period of such intense activity, to a period of nothing but uncertainty, take a toll on his head during the first lockdown?
"A little bit, maybe, without me knowing," he muses. "There are days when you can feel a bit pent up, and a bit aggravated, without knowing why. But then, if you really think about it to yourself, you're like, 'I feel useless, for the first time in a while, because I'm not doing that thing I do – the most important thing in my life'. There have been days when it's been tricky, but I've kept at it – I haven't slowed down too much. Rather than worry about everything, I've kept my head down. If worries do come up, I just try to reassure myself that I will get to play gigs – hopefully soon-ish."
Advertisement
We don't yet know the full extent to which lockdown has impacted on the mental health of musicians and music industry workers – but it's an area that Dermot feels deserves more attention in general.
"We exist in a sector of society where it's kind of messy – so many people draw enjoyment from the creations of people who struggle mentally," Dermot posits. "Like in the Amy Winehouse documentary. She was going through hell, but had this music that everybody adored. I don't think there's a great system in place to look after people like that, at all.
"It's funny – when you make art, there's supposed to be struggle, to a certain degree," he continues. "There's supposed to be mental turmoil. But you also have to look after yourself. People need to be taken care of. I would love to see a push for better facilities for people like that. I know there are some people you can reach out to – but it would be nice if there was a very obvious outpouring of support for people who struggle in that sense."
At the beginning of lockdown, Dermot was one of the first major Irish figures to take a vocal stance – urging people to cop on, essentially, and abide by the restrictions.
"I had friends who are doctors, asking me to do them a favour, and put something online," he recalls. "I was in Chicago Airport flying home after we postponed the rest of the US tour, and it was packed – there was no talk of masks or anything. I thought it was important. If you've got any sort of platform, it's important to do the right thing.
"...But yeah – now I'm conscious of the fact that I'm here in LA!" he adds. "But, I also shouldn't downplay what I do as a job. I was even laughing about the thing I have that got me here, which says, 'Essential Travel'. I was like, 'That's gas – because I'm a musician'. But it is what I do. If I don't do this, I've got nothing else to do. I've got to work."
Although he's away from home, the anti-lockdown protests back in Dublin have also been on his radar.
Advertisement
"I saw a video of some lad at the top of Grafton Street – and I'd say he no more believes in a tyrannical government than anybody," Dermot sighs. "He was just there to cause trouble for the Guards, which isn't good. That stuff is just messy, and it's a shame to see. I even saw that video of someone letting a firework off at a Guard's face, and I was like, 'My God – if you were in trouble, that's the first person you'd call'. It's just awful.
"I'm on the phone to home everyday, and they fill me in on what's going on – good and bad."
After years spent on the road, another silver lining of lockdown was the fact that Dermot could spend the majority of last year reconnecting with friends and family.
"I never forget about how important home is," he says. "Even when I'm out here – it just reinforces for me the fact that I always need to come home. It's nice being here, obviously. The weather in LA is so great, and there's a part of me that's like, 'No wonder so many people move here'. But I could never do it. I always see myself going home.
"I also feel a certain responsibility to prove to people that I haven't changed," he continues. "I feel like some people might expect that, or might be ready to jump on that – in case it does seem like that. But nothing has changed. I do music for a job – that's the only thing I do. I'm not trying to change as a human."
True to his word, Dermot has made a conscious effort to stay attuned to his roots. He's been sporting his Roy Keane jersey around LA, and recently shared his appreciation for the iconic Irish footballer on social media.
Advertisement
"Everybody thought I was just jumping on the bandwagon, because he's finally on Instagram," he laughs. "As if! I've had a Roy Keane jersey above my bed since I was eight-years-old. To me, he set an example for how you should approach things in life, and how you should ask a lot of yourself, and push things."
With the Cork legend as a guiding light, there's no doubt that Dermot has achieved plenty already. But of course, this journey isn't wrapping up anytime soon...
"I want to make music with people I admire," he tells me. "I want to get in the studio with Justin Vernon. I want to get in the studio with J.Cole. I want to do special things. I want to play milestone gigs. But it's hard for me to come up with one ultimate goal – because I'm already doing what I want to do. I get to do music as a job – so I couldn't be a whole lot happier. I'll do it relentlessly, and if good things happen, then great!
"Doing the two 3Arena shows, I was like, 'Well, this is definitely a big deal'. But even then – you start thinking about Croke Park, or Slane, or stuff like that. But that probably will never happen!"
I wouldn't write it off so soon, Dermot. Watch this space…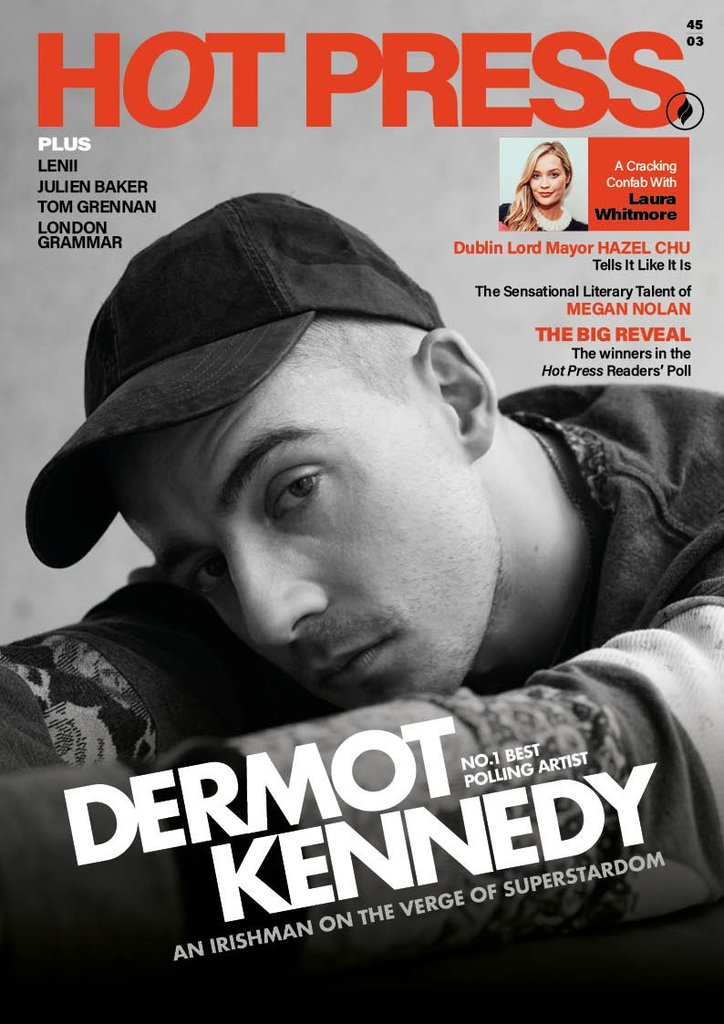 Read more of the 12 Interviews of Xmas here.
Advertisement
RELATED