12 INTERVIEWS OF XMAS: Lorde – On Solar Power & Why She "Didn't Want To Provide A Soundtrack For The Titanic Sinking"
As part of our 12 Interviews of Xmas series, we're looking back at some of our unmissable interviews of 2021. As she geared up to release the hotly anticipated Solar Power in August, pop megastar Lorde joined us live from New York, where – fresh from performing on The Late Show with Stephen Colbert – she spoke widely about life during the pandemic, Bobby Gillespie, Radiohead, fame, politics, the differences between Gen X and millennials, and more.
August saw the return of pop superstar Ella Yelich-O'Connor, aka Lorde, with her hugely awaited third album, Solar Power. Trailed by the anthemic title track, the album is another wonderful effort, filled with the kind of bittersweet art-pop that the 24-year-old New Zealander has very much made her trademark.
When I catch up with her on a Zoom call, Lorde is in a hotel room in New York, where she chats warmly, and occasionally sips from a Late Show with Stephen Colbert mug. It's a souvenir from her appearance on the programme the previous night, when she turned in a dazzling performance of 'Solar Power' from atop the roof of the Ed Sullivan Theater.
As has been the case with countless Zoom calls throughout the pandemic, however, we first have to overcome the obligatory technical issues, with the screen intermittently freezing at the outset of our conversation.
"I'm hearing a kind of warped robot energy," Lorde says of the patchy connection.
Hmm… Not too different from what people usually get from me, so. Lorde manoeuvres her tablet until, finally, we can hear and see each other clearly. She's seated just in front of a suit hung on a railing, while at the back of the room, a row of book shelves sit above a mantelpiece, just to the right of a plush leather chair. It looks like a very cosy room.
Advertisement
"It's so nice," Lorde enthuses. "I was like, 'Can I afford this?' It's really fancy, but apparently it's okay!'"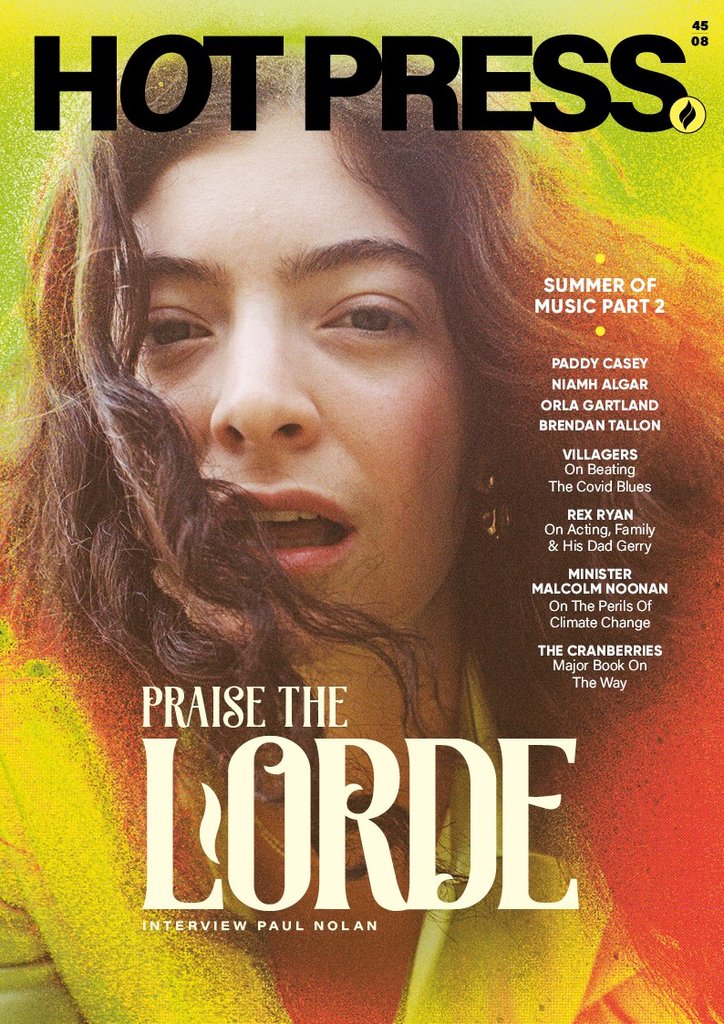 With that, it's down to business. How has Lorde fared during the extraordinary 18 months we've all just experienced?
"You know, because I was a couple of years into my own sort of home time, it wasn't too different for me," she replies in her strong New Zealand accent. "I had always been the person who was at home while my friends were at work, and then everyone was at home. I mean, it was obviously a huge shift in so many ways. The nuts and bolts of my life didn't alter that much, but the ways in which we were all thinking and behaving changed hugely.
"I was also halfway through the album and we were kind of picking up steam, and then we had to stop. So the producer Jack Antonoff and I had about six months of longingly FaceTiming each other, wishing we were in the same place. But we did end up meeting again, and we managed to finish it off."
Did the pandemic end up informing the subject matter in any way?
"I don't think that it did," she considers. "We were pretty set in what we were doing, and it's funny, because there are moments on the album that feel like they could be hinting at it. Even on 'Solar Power', I say 'Forget all the tears that you've cried, it's over', and that could seem pandemic related. I was already on-track in terms of the themes, but I'm sure it creeps in in subliminal ways."
Advertisement
My chat with Lorde is actually the first interview I've done since returning from holiday. In an odd coincidence, the last I did before my break was with Primal Scream's Bobby Gillespie, whose name has turned up in dispatches about the 'Solar Power' single.
Lorde began the track at the Martha's Vineyard home of her friend Cazzie David, daughter of Larry David, the co-creator of Seinfeld and star of Curb Your Enthusiasm. Its optimistic feel – which somewhat echoes the irresistible summery vibes of Madonna's 'Holiday' – perhaps owes something to the fact that it was written following an afternoon of swimming in the sunshine.
Initially, Lorde felt the song recalled Robbie Williams' 2000 pop classic 'Rock DJ', which for those of us of a certain vintage, soundtracked our Leaving Cert summer. It was then that the singer and her team also recognised its similarities with a certain disco-punk landmark.
"I wrote 'Solar Power' on my keyboard, completely alone," Lorde notes. "Screamadelica had always been one of those records where I was like, I have to check this out. Everyone said I'd love it, but I never had. Obviously, I was born in '96, so I missed it while it was happening. But I heard it and was like, 'Oh wow. Somewhere along the line we have just osmotically crept upon this thing.' Sometimes that happens – the combo of the chords and the drums was similar.
"What may have happened is that you send something to someone, and it has the same kind of chords, and they're like, 'Oh, this is a sort of 'Loaded' energy.' We really responded to that, but I had never heard the song. So as soon I heard it I was like, 'Oh man, I've gotta reach out to Primal Scream.'
"I ended up talking to Bobby Gillespie and I said, 'There's absolutely a connection here for whatever reason, whether I knew it or not. 'Loaded' preceded 'Solar Power' in a really cool way.' But he was so awesome about it, he was like, 'Thanks for reaching out.' It was important to me that he felt cool about it, and he seemed to. But I've just been like, 'Let the record state guys: 'Loaded' – that's it!' And I've since gone on to spend more time with Screamadelica and enjoyed it so much."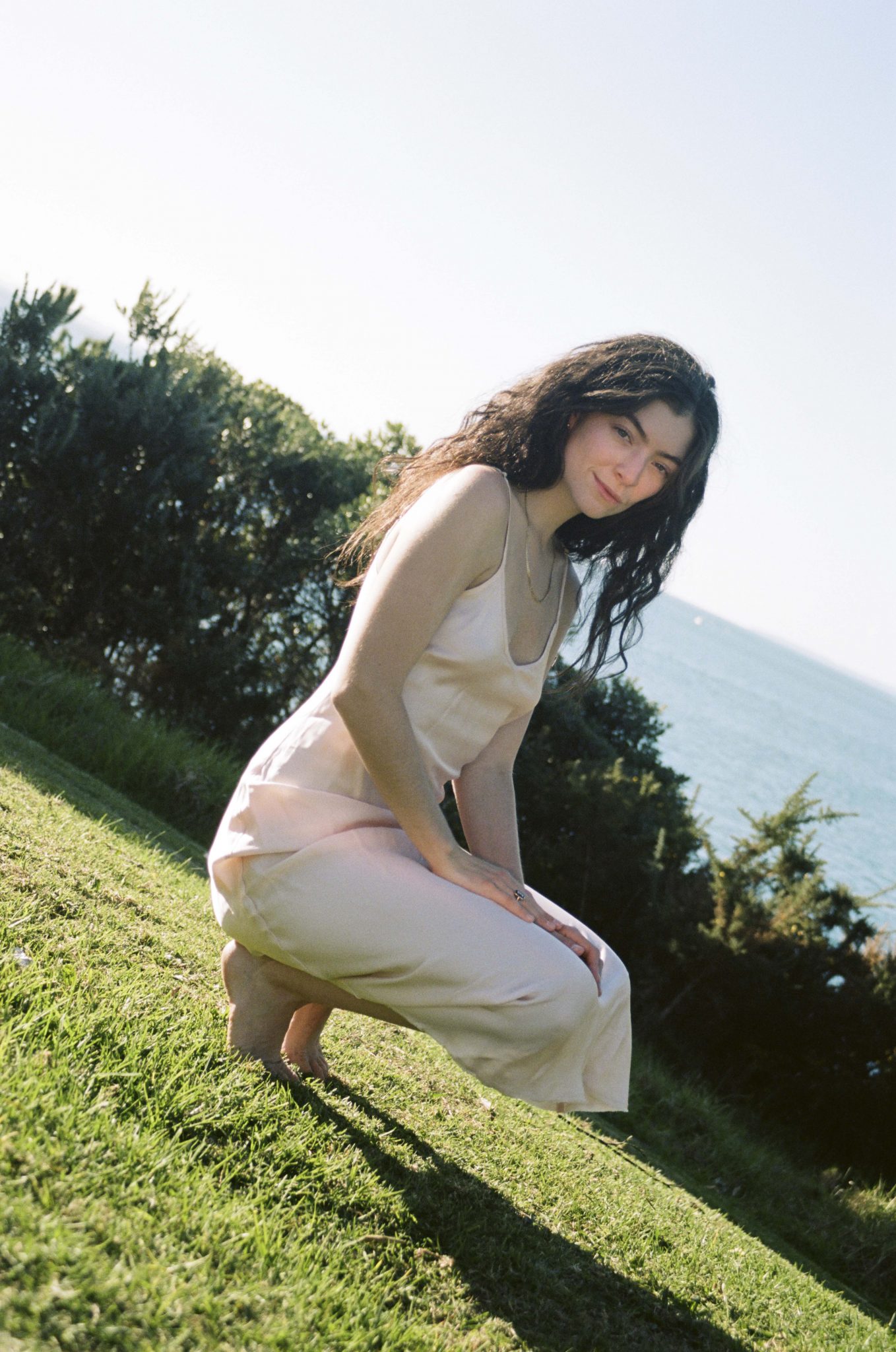 Advertisement
GLOBAL STARDOM
A composed and articulate interviewee, listening to Lorde talk, it's easy to forget her global stardom. Indeed, that she has already achieved so much whilst still in her mid-twenties is nothing short of staggering – starting with her 2013 debut single 'Royals', the opening chapter of Lorde's career ranks amongst the most spectacular in music history.
A sublime slice of minimalist art-pop, which offered a sardonic commentary on consumerism and bling-obsessed pop culture, 'Royals' spent more than two months atop the US Billboard charts. Eventually, it became one of the biggest selling singles of all time, with cover versions by everyone from Bruce Springsteen to Jack White.
Still only 17, Lorde was among the guest vocalists invited to fill in for Kurt Cobain during Nirvana's Rock And Roll Of Fame induction in early 2014. Two years later, she sang a stunning version of David Bowie's 'Life On Mars?' – backed by Bowie's band – as part of the Brit Awards tribute to the late icon. Bowie himself had described her as "the future of music", just about the most lofty tribute an artist can receive.
It goes without saying that both her debut album, Pure Heroine, and its follow-up Melodrama were enormous international hits – which brings us right up to Solar Power. In keeping with the tenor of the times, the album made an impact almost before anyone heard a note.
The cover prompted considerable online commentary due to the prominence of Lorde's buttocks, with the photo taken by a friend of the singer as she jumped over her on the beach ("You've gotta do it while you've got it," she told Colbert). More seriously, as the title indicates, Solar Power has occasional allusions to climate change. Though it's not the album's central focus, it's definitely present around the edges.
"Absolutely," nods Lorde. "It's interesting, obviously I am super-engaged with all things climate. It's one of the primary focuses of my life, but it was important to me to make something that felt celebratory, and that matched how I feel when I'm outside. I didn't want to provide a soundtrack for the Titanic sinking. I don't think I would enjoy listening to that record, but the subject is very much in there.
Advertisement
"There's a simmering undertone, I would say – there's lots of lyrical references to a mythical day in the future, where the shit has hit the fan and we've had to escape to elsewhere. But yeah, it was definitely a balance, cos I think as well you don't wanna be like, 'Hey guys, I'm back and this is what I'm preaching.' Just as a listener of pop music, that would possibly not thrill me.
"But it was really interesting that I had these profoundly joyful experiences in nature, followed by that feeling of, 'Oh god, this is at risk.' That definitely made for a one-two punch, so the album is very much a combination of those two things."
When addressing sociopolitical themes, the greatest art is often about glancing blows. A prime example is Bowie's 'Five Years', one of his lyrical masterpieces, which paints an unnerving picture of a futuristic society disintegrating amidst some unspecified disaster. Similarly, Bowie memorably described the dystopian Outside as being about "atmosphere. It's about the sound of 1995… the musical texture is the flesh and blood."
"Yeah," says Lorde, "when I think about listening to OK Computer as a kid, for example, I know it's a totally different thing, but it conjures a particular mood without being necessarily overt. They just did it in this cool way, and I still feel that when I listen to that record – it's still not obvious even though it was so prescient."
POLITICS & THE GENERATION GAME
Notably, last October, Lorde urged her fans to vote in the New Zealand general election, as well as in the country's referendums on the personal use of cannabis and euthanasia. Did she advocate in any particular direction?
"I advocate in no way," she chuckles. "Can you imagine? I think if there's one thing we've learned, it's that people in my position going 'Vote this way' is so dorky and embarrassing. Like, I'm a wealthy person, it makes no sense to listen to me on how to vote. But you have to vote, so that's all I can do."
Advertisement
Of course, New Zealand is a country rightly admired around the world, due in no small part to the strong and inspiring leadership of Prime Minister Jacinda Arden. Still, in a scene from the 'Solar Power' video – which quickly generated an avalanche of online analysis – the focus jumps from Lorde, who merrily leads a hippyish cult around the New Zealand seaside, to a shot of rubbish strewn on the beach.
Lorde has said the moment was merely intended to convey that New Zealand is a society with problems like anywhere else. The perhaps darker elements to come in the forthcoming videos might also be signalled by the quote on Lorde's Instagram: "The themes are always the same – a return to innocence – the mysteries of the blood – an itch for the transcendental."
The lines are taken from author Joan Didion's masterpiece Slouching Towards Bethlehem, her journalistic portrait of how the Californian hippy dream curdled at the end of the '60s.
"Yeah, I think the video – and actually the videos, because we made seven in the end, all set in that same world – while they're not depicting New Zealand, the place where I live and where I'm from, it's a surreal kind of version of that," says Lorde. "It's totally pristine, and it was important to me to wink at that. There's a huge amount of idealism being where I'm from, and probably where you're from also.
"I wanted to slip in the idea that all is not what it seems, which gets more revealed over the course of the videos. More people are starting to have that thought of, 'Literally, where would I go if the shit hit the fan?' Everyone sort of has that place. Maybe it's some weird house in the Bush, or maybe it's the beach, but not too close to the waterline. It was interesting to me to think about that, literally and metaphorically, whilst making those videos.
"The first one is so light, I really wanted it to feel introductory, and then it gets a bit meatier as we go on."
Advertisement
Over seven years on, Lorde's fronting of Nirvana seems a more culturally fascinating moment than ever. As well as heartfelt emotion, there was also scathing irony, cynicism and nihilism in Nirvana's output – qualities that characterised a lot of Gen X art in the '80s and '90s, which perhaps aren't in vogue amongst millennials. Has Lorde noticed a generation gap in that sense?
"Well, I don't know if I have as much perspective on it," she suggests. "I feel like '90s rock is one of my big gaps – or so I've been told – and I think it is an attitude.
I found it tricky to tap into, like you say, that cynicism maybe. But I don't know really how that links into this work – I guess that would be something someone else would have to tell me.
"I do think this one is a little more, I don't know if I would say cynical, but there are elements of, 'We're sick of your shit, we're not going to fucking get involved in this dumb bullshit.' You know, I have periods of being away from the spotlight, and then I get dropped back into this world, and there are parts of it that are quite silly.
"Especially having just gone through a global pandemic, all of a sudden you're dancing the dance as a pop star. There is a part of my brain that's like, 'Ooh, that's jarring.'"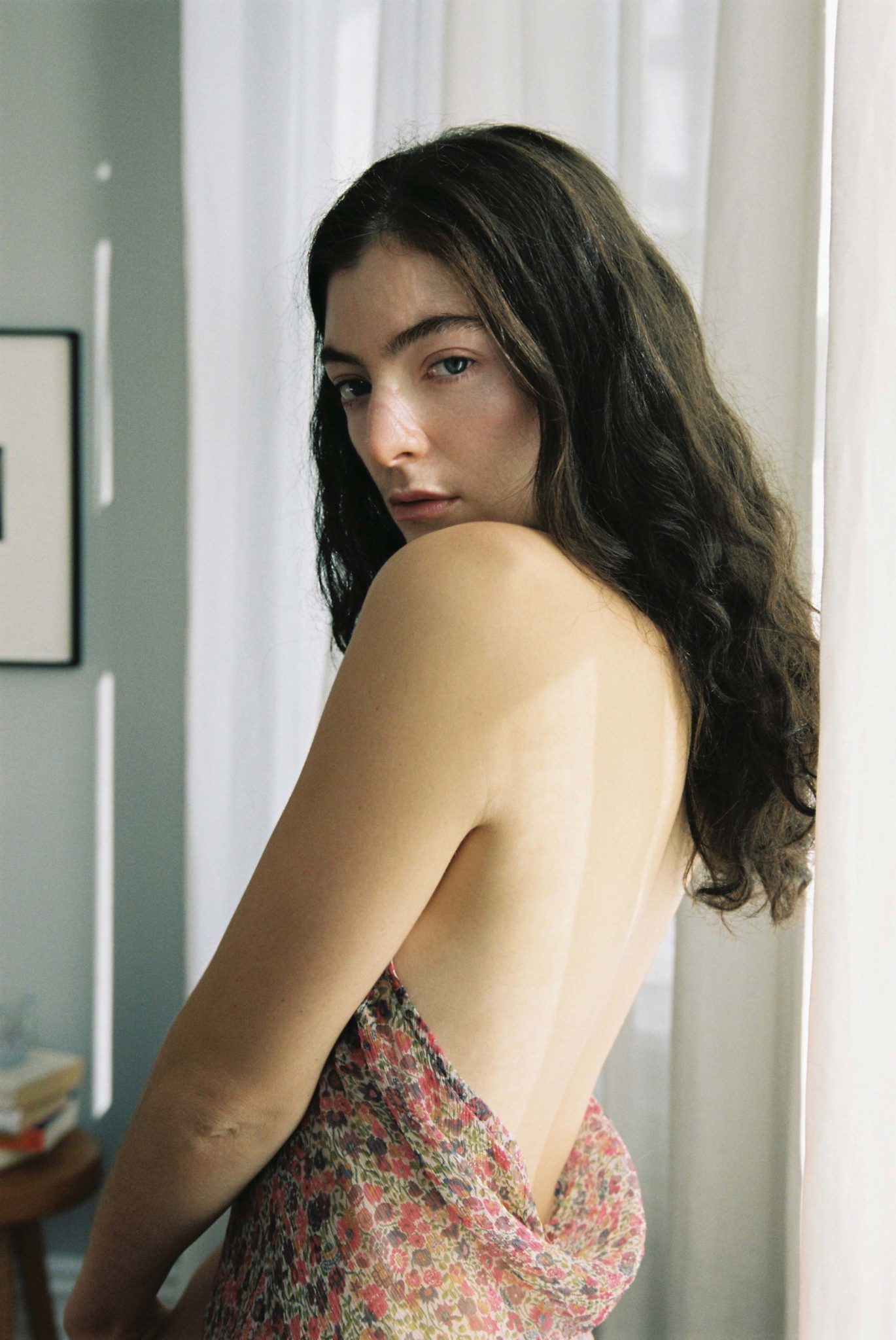 THE GREAT ESCAPE
Advertisement
Moving onto other topics, and – bar a few exceptions – amongst my circle of friends in the media, I am virtually alone in not having a Twitter account. After a few years of enjoying social media, in the middle of the last decade, I had a horrifying vision of myself posting shite on Facebook for the rest of my life. These days I have minimal engagement.
It sounds like Lorde has had a similar trajectory: in an atypical move for a star of her stature, she now rarely posts online.
"Yeah, I was thinking about this the other day," she reflects. "I thought about having my first email account at age 10, and sending off messages to various people. Then I came back later and spent an hour going through the replies. The endorphins and the happy chemicals of that communication were so potent, and that sort of continued on through MSN Messenger, maybe having your first Facebook, and then maybe Twitter when I was 15.
"It wasn't really a thing, pop stars weren't running their own social media, and it wasn't seen as crucial yet. It was just this fun way to express myself – I would use it like an art-form, and it was the same with Instagram. It didn't feel like marketing yet, and it was fun. And then, I think we all know that feeling transmuted into something else. Especially for someone in my position, it became something very different."
For Ella, the time had come to take a step back.
"I'm just the kind of person who… like, I could feel my brain rewiring. I could feel different neurons activating in this way that started to make me concerned for my own practice. I was like, 'I don't know if I can have the kind of thoughts I need to have, while every day giving my brain this rigorous gym workout of Twitter and Instagram.'
"I also had this sensation of… I remember sitting up in bed and being like, 'Is this it for the rest of my life? Am I gonna have this addiction?' If it was anything else that I was addicted to, I would say, 'This ends tonight'. It did depress me thinking about being 70 and having given so much time over to this, you know what I mean? It was so much fun and it was so cool, and then I needed to search for greener pastures."
Advertisement
These days, she finds considerable peace in unplugging from social media.
"I love it, but it is isolating," she says. "Especially being my age and not being on TikTok, that's a real choice. I just don't know anything about these platforms. But I'm so much more deeply in touch with how I feel and what I think."
After a full decade of social media overload, I am perhaps a bit surprised more people don't do it.
"It's extremely addicting technology," says Ella. "Its very, very hard to resist, so I have a lot of empathy for people who stay in it."
Finally, I mention Lorde's Irish roots – has she visited the auld sod yet?
"I haven't, and I'm so psyched to get there," she says. "I'm dying to visit – I think I need to do a big personal trip. Any recommendations, please fire them over, because I'm really keen. I haven't been to Croatia either, and that's my other bloodline. They were on my list pre-Covid, and then obviously the plans got thwarted, so I'll have to make it there!"
• Solar Power is out now.
Advertisement
Read more of the 12 Interviews of Xmas here.
RELATED