YUNGBLUD: "This new rock scene is so refreshing – because it's pissing off an older generation of rock fans"
As YUNGBLUD makes his defiant return to Dublin, we catch up with the Doncaster star to discuss Ireland, Putin, Lewis Capaldi, WILLOW, "pissing off an older generation of rock fans", and his upcoming self-titled album.
In a world that can feel unceasingly cynical, YUNGBLUD's unapologetically earnest energy has always marked him as a unique force. Rising from what he's described as "industrial as fuck" Doncaster in England to the forefront of international music, he rapidly established himself as an artist who wears his heart not only on his sleeve, but literally tattooed on both middle fingers – consistently using his platform to wage war on whatever modern ills are most deserving of his ire on any given night, be it homophobia, racism, Brexit, Putin, or the NRA.
I first spoke to the 24-year-old star, also known as Dominic Harrison, backstage at Vicar Street in 2019, ahead of his last Irish show before the pandemic.
"It's so funny, I always think back to that tour, just before it all happened," he reflects now – speaking over Zoom from Stockholm, in the middle of his Life On Mars European Tour. "We were just happy chappies, running across the fucking world. We had no idea that the rug was about to get pulled out from under us."
But the irrepressible spirit that I first witnessed at Vicar Street has gone nowhere in the two-and-a-half years since. If anything, it's become more focused, as he continues to clock up streams and views in their hundreds of millions, and prepares to unleash his self-titled third studio album this September.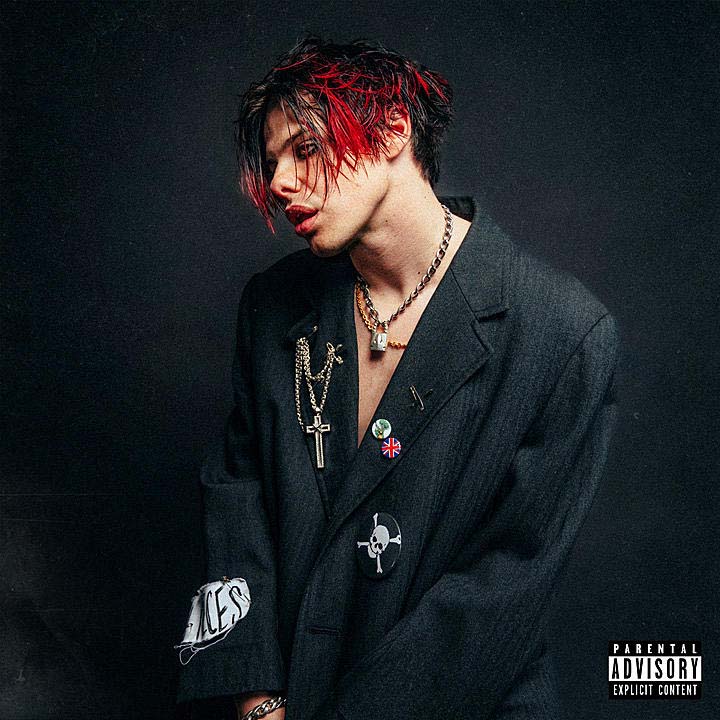 Advertisement
Before that, however, he makes his long-awaited return to Dublin for a headline show at the 3Arena. In addition to his Vicar Street and Whelan's gigs, YUNGBLUD tells me that he's spent plenty of time on these shores in the past – and is a man who knows his Guinness from his Murphy's.
"My ex-girlfriend was from Cork, so I was down there every three weeks or so," he recalls. "Someone did an Irish slang test with me on the radio, and I got eight out of ten! I got most of it right – like, 'The neck!'
"I can't wait to come back to Ireland," he adds. "I love it. It's always a riot. We always go for a pint of Guinness in Temple Bar after our gig, but I don't know what that's going to be like this time – there might be too many people now!"
Preceded by the singles 'The Funeral' and 'Memories' – as well as a live-streamed album announcement that featured him getting a tattoo on his ribcage – YUNGBLUD's upcoming album finds him turning the focus on himself to a greater extent than ever.
"I was like, 'Alright, it's time to talk about me, and my upbringing, and who I am as a person,'" he says of YUNGBLUD. "The world still wants me to be something I'm not – just as much as it did when I was 15, when I was cross-dressing and figuring out my sexuality in fucking Doncaster. Everyone who doesn't understand me formulates an idea of what I am, instead of taking the time to actually understand what I am."
If the tracks we've heard so far are anything to go by, the project finds the Doncaster star growing more confidently into his own sound, while still drawing influence from his musical heroes.
"I listened to a lot of The Smiths, The Cure, the Pistols, the Ramones, and new wave in New York," he says. "It just needed that spirit – that happy-sad thing. You know when you put a Cure record on, and you feel so happy but the lyrics are so fucked? And Morrissey – before he was a dickhead – was one of the best lyricists to exist, because he got that mood within happy songs. I think 'The Funeral' and 'Memories' have that."
Advertisement
'The Funeral' finds YUNGBLUD grappling with his ego, and arrived earlier this year alongside a video that features guest stars Ozzy and Sharon Osbourne running him over in their car. When Ozzy exclaims, "What the fuck was that?", Sharon responds: "Just some fucking poser..."
"YUNGBLUD became a caricature to the world because he got bigger than anything I could control," Dominic tells me. "It was either the best thing in the world, and it saved your life, or you thought it was fake and a load of bullshit.
"So I thought it was about time for me to reclaim the humanity within it, because that's what I believe gave it such a strong rise," he continues. "That's why I called this album YUNGBLUD. I was talking to Lewis Capaldi. He's one of my best mates, and we've come up together from totally different ends of the spectrum – so we can see each other's lives from a bird's eye view. We were talking, and he was like, 'Don't call the album YUNGBLUD, that's such a cop-out!' Because I was originally going to call it You Only Lose When You Stop Getting Up."
Going the self-titled route – something that's typically associated with debut albums – was inspired by questions he found himself continuously coming up against: "What is YUNGBLUD? And what's it like to be YUNGBLUD?"
"I was just like, 'At this point, I don't know. You tell me,'" he remarks. "It gets to a point when you're like, 'I don't know how the fuck this happened, and I don't know how to navigate it.'
"But YUNGBLUD is all about energy – and energy doesn't lie," he adds. "And that's why I can never lose myself. As long as I'm acting out of my energy, I ain't lying. It's so easy to sing a song for another reason. But if it comes out of my fucking soul, and people don't like it, I can't really do much about that, can I?"
Advertisement
The political edge of his songwriting hasn't waned with success either.
"I'm singing about shit people were afraid to sing about," he asserts. "Pop music says everything and it says nothing all at the same time. That's not what YUNGBLUD's about – it's about saying it even if you get in fucking trouble. It's so easy to wave a flag in the air and take credit, but that's not how you change things. You've got to fight, and you've got to get in trouble, and get in disagreements."
On 'Memories', released last month, YUNGBLUD joins forces with WILLOW who, following in the footsteps of her mother Jada Pinkett Smith's nu-metal band Wicked Wisdom before her, is revolutionising a modern rock scene that's been largely dominated by white men.
"It's all about defying genre and defying boxes," YUNGBLUD says of WILLOW. "This new rock scene that's happening at the minute is so refreshing, because it's pissing off an older generation of rock fans. And thank fuck – because rock 'n' roll became such a fucking science lesson. It was so formulated and there were so many rules."
He's also been joined on his European tour by special guest Nova Twins, who are similarly redefining the rules of heavy music, as two mixed race women who've been championing underrepresented artists in the scene through their Voices For The Unheard compilation.
Advertisement
"Rock 'n' roll became a white man's genre," YUNGBLUD reflects. "To put a formula on something is literally the antithesis to what rock 'n' roll is about. Rock 'n' roll is about freedom and expression, and baring your soul and your spirit to the world, without hesitation. Those girls and WILLOW should be uplifted, and they should be superstars. Because they are superstars! No old ideology, such as the colour of someone's skin, should hold them back within a genre, and if it does, I'll fucking spit on it. I'll spit on anyone holding the future back, because it's coming anyway."
With his passionate stance on social issues, YUNGBLUD is aware that many will dismiss him as "a dreamer" but he's yet to lose faith in the power of his own generation.
"The world is a place full of so much hate, violence and horror," he notes. "I genuinely believe that's something our generation can change, because we're rooted in a lot more love. And we're rooted in the internet, and the idea of education, and the idea of consequence.
"At the end of the day, I know I'm just a fucking rockstar, and I don't have any solution for it. But what I do have is a massive platform – probably ten to twelve million people across my social media platforms – and I'm going to fucking shout about it everyday. That encourages people to use their voice, and know that what they have to say should not go wasted."
He has little patience, he says, for artists who waste that platform.
"If you've got a platform in music, you should be speaking about the world," he reasons. "It infuriates me that people are so afraid of protecting a brand, that they say nothing at all. That's why I love Strummer, Geldof, McCartney, Lennon, the Ramones and Bowie – they fought for the world, and they put it in the music. That's why I write music."
Advertisement
But even when he's shouting about some of the most horrific issues facing the world today, he stresses that his activism never comes from a place of hate.
"If you fight hate with hate, you only get more hate," he says. "It's all about love. Even when I'm shouting 'Fuck Putin.'
"That's why I've got these tattoos on my middle fingers," he says, holding his fingers emblazoned with the famous black hearts up to the camera. "It's about standing up and saying 'fuck you', but saying that in order to fight for a more loving, more unified, more equal world.
"With Ukraine, it's not the people of Russia," he adds. "It's an outdated, old fucking tyrant who is so afraid of the world getting to a place where he doesn't understand it or can't control it, that he's prepared to kill millions of people. It's fucking ridiculous. That should be talked about in music."
No matter how clichéd it might sound to cynical ears, that emphasis on spreading the love remains the primary motivator behind YUNGBLUD.
"This has never been about hit songs," Dominic states. "It's a vehicle to make people feel safe in their skin. YUNGBLUD is about making people feel loved. People don't just want to be accepted – like, 'Thanks Dad, you accept that I'm gay!' We all want to be loved.
"If you come to a YUNGBLUD show, there's more love in the air than you could ever imagine," he continues. "Everything comes down to love at the end of the day. That's what it's all about."
Advertisement
YUNGBLUD plays the 3Arena, Dublin this evening, June 10. His third album, YUNGBLUD, is out on September 2.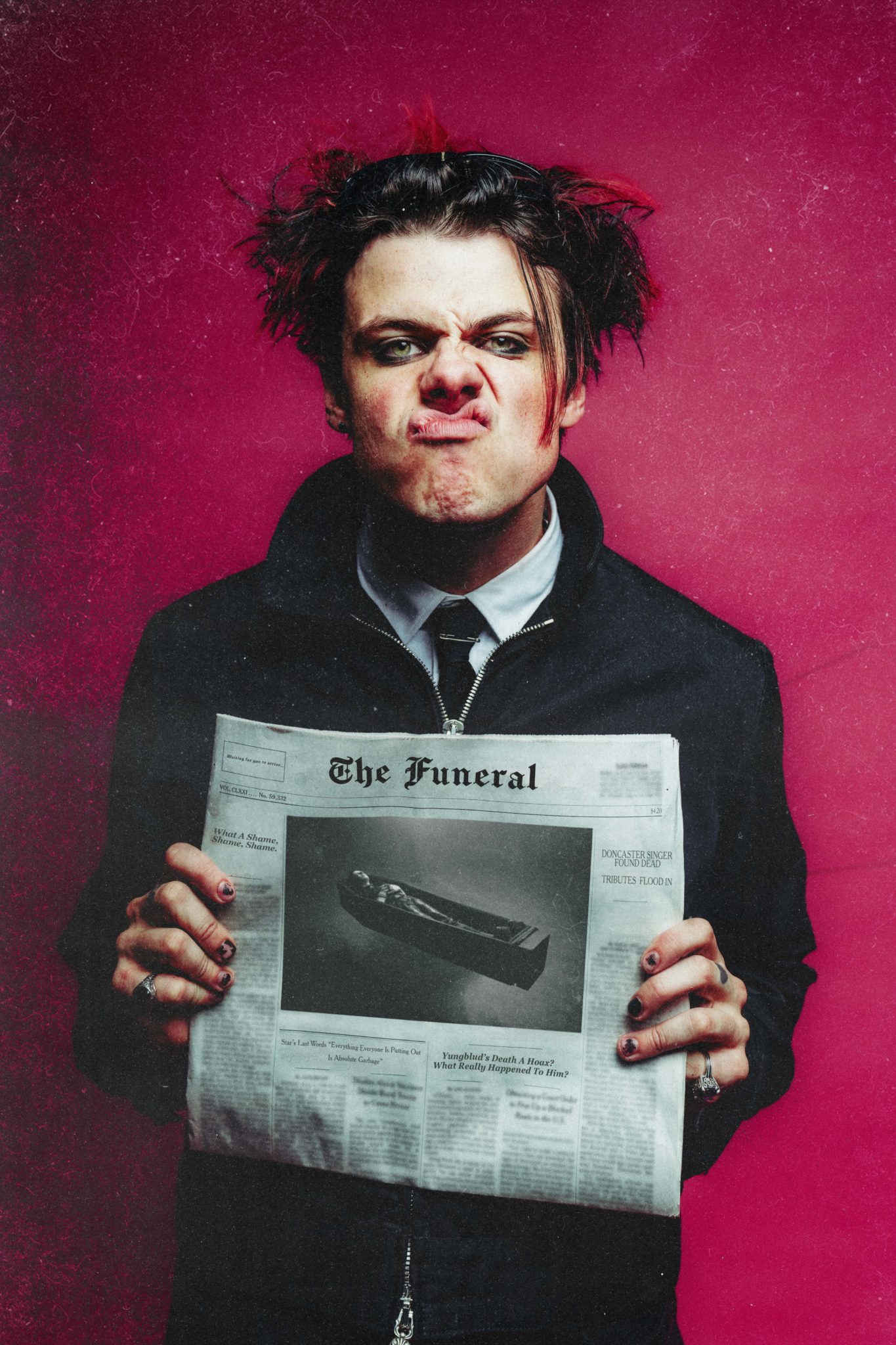 Read our interview with Nova Twins in the new issue of Hot Press – out now: