Interview: Yungblud – "The common denominator with young people is the genuine sense of intelligence, and the drive for equality and unity"
Backstage at his sold-out Vicar Street show, rapidly rising star Yungblud sits down to discuss controversy, pissing off the alt-right, and his acclaimed EP, The Underrated Youth.
'Love Will Tear Us Apart' is blaring out of Yungblud's dressing room. It's no surprise he's a Joy Division devotee, given his track record for bucking industry norms, putting on manic live shows and garnering worldwide legions of young misfits as fans. And, of course, like Ian Curtis and co., the music is only part of the appeal – sporting black eyeliner and an androgynous look, the Doncaster artist has become a movement as much as a musician, preaching postive mental health, progressive politics and the importance of community.
Since his previous visit to these shores with a Whelan's headliner just a few months before, Yungblud's career trajectory has skyrocketed – powered by an irrepressible, hyperactive energy that's on full display during our pre-gig chat, backstage at Vicar Street.
"It's gone mental," grins Yungblud, aka 22-year-old Dominic Harrison. "Everything's just sort of quadrupled, even in the US and Australia. Stepping out into a big venue, there's a certain kind of magic. It feels like there's so much energy in the room – like the roof is going to blow off."
Yungblud initially sprung to international attention by showcasing his hip-hop-flavoured brand of pop-punk on collaborations with ex-girlfriend Halsey, Travis Barker and Machine Gun Kelly, as well as his 2018 debut, 21st Century Liability. However, he considers his latest project, The Underrated Youth EP, to be his most important work so far.
"What Yungblud was changed," he explains. "With the first record, it was about me, and what I thought. It was almost like a callout: 'Is there anyone else out there who's like me?' And it turned out there was a lot of fucking people. So now it's become less and less about me, and more about us. It's a community. I can't wait to meet them and touch them and smell them and fucking hear them tonight. Because they're just like me."
Advertisement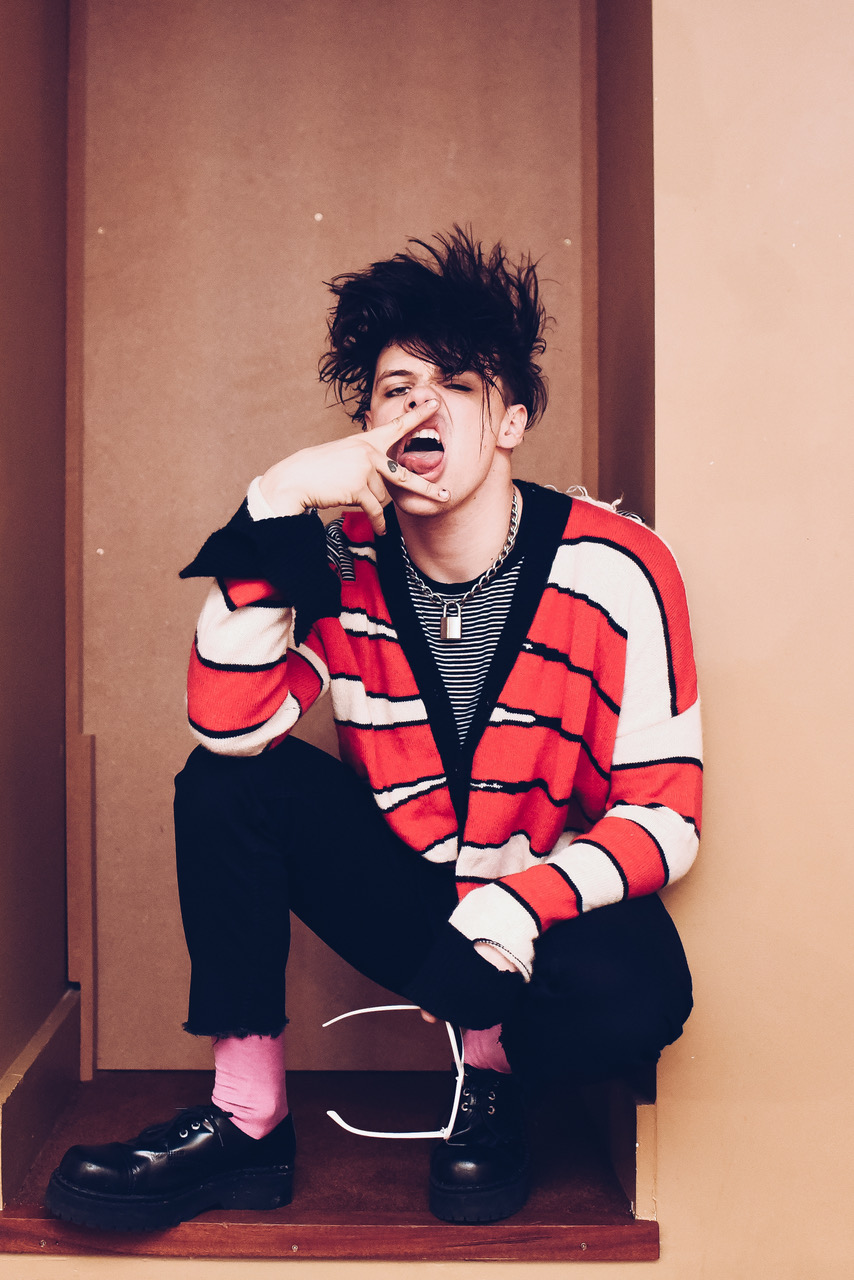 As evidenced by the eager throngs of young fans queueing around the corner of the venue from midday, Yungblud's empowering message has struck a powerful chord with politically active Gen Zers.
"The common denominator that I find with young people is the genuine sense of intelligence, and the drive for equality and unity," he muses. "Right now, young people have so much to say – but the rest of the world ain't quite caught up with us yet."
Of course, life as an unapologetic mouthpiece for a dissatisfied generation hasn't always been so glamorous – as he recalls the days of "standing outside the shop in an Adidas hoodie, waiting for someone to buy me a fucking Scrumpy Jack cider."
"I'm from Doncaster, which is industrial as fuck," he relates with a smile. "It's slightly backwards – and I was there putting on make-up and fishnet tights, from about the age of seven. My mum and dad were alright with it, but it was always the teachers and youth leaders, and other people in positions of power, that didn't get me. If you're not the ideal kid, your parents are still going to try to accept you, because you're part of them. But someone who clocks off at five o'clock doesn't have to go to that deeper level. They can just cast you aside. For a young person, that's really damaging. It made me feel like I couldn't be who I was.
"People in the older years would be like, 'Who the fuck is this wanker?'" he continues. "I had mates, but I was the kid that the mums didn't like: 'Don't hang around with him, you'll turn weird.' I just said what I thought. I'd tell someone to fuck off if I didn't think what they were saying was right, and people hated that."
That abrasive streak hasn't softened with success. Recently, Yungblud sparked controversy after being scheduled to perform a private concert at a California high school.
Advertisement
"Every year, this textbook company in America, called Chegg, holds a competition," he explains, "and every school across America gets to vote. The winner gets an artist to come and play at their school, and they get a $10,000 grant for their music department. Ed Sheeran and Taylor Swift have done it, and this year it was me.
"But the local community petitioned against me coming, because they believe I'm a bad influence, and that all my songs represent the wrong things," he continues, shaking his head. "I'm like, 'No – you're looking at me at surface level.' If they actually listened to my songs, or studied what I'm about, they'd know I'm trying to unify people. I told them I'd be there – even if I've got to play outside the fucking gates on the back of a truck. But there's no push forward without a push back. People just don't get it yet."
He's also recently found himself targeted on Twitter by frighteningly popular alt-right personality Paul Joseph Watson.
"I usually hold my tongue with things like that, but he just tried to belittle my whole community," he explains. "He was completely naive in the way he was talking – calling it 'basic bitch mentality'. I was like, 'You just sound like a bit of an uninformed, out-of-touch idiot, who's tweeting things to bait people.' I just wanted to slap him down a couple of pegs. His followers are all probably British National Party people. The 'fuck you, you're immigrants in my country – but I eat Indian food five times a week' sort of people."
Although he counts Bob Dylan among his influences, he's slow to refer to his music as 'protest songs' – despite penning a track called 'Machine Gun (Fuck The NRA)'.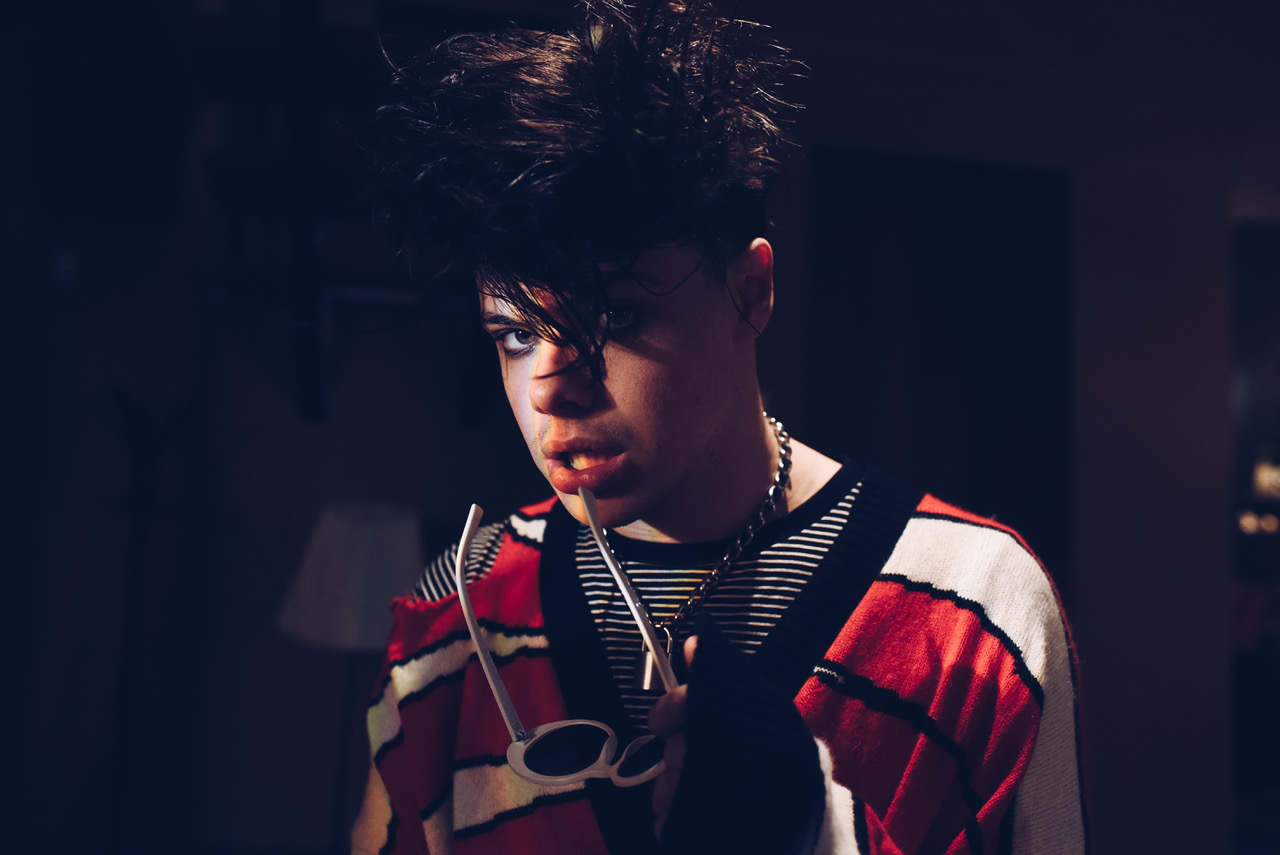 Advertisement
"I'm not going to stand out and say 'I know all the answers'," he shrugs. "I don't fucking know fuck all. I'm full of contradictions. It's not about being perfect, it's about learning. But I went to America, and I saw that I couldn't buy a can of lager – but I could buy an assault rifle."
'Machine Gun' provocatively approaches the gun-control debate from the perspective of a mass shooter.
"It needed to be uncomfortable," Yungblud explains. "I needed people to be shocked by it. I'm not here to be a fucking squeaky clean, not-piss-anyone-off artist. If I wanted to do that, I'd write a song going, 'I love you so much, baby, I want to shit myself'. I'm here to bring together a community of people who can genuinely make a difference in terms of culture. I grew up on Nirvana, and you could compare the grunge scene to what's happening now. People are pissed off again, because we've been spoon-fed this bullshit, watered-down music, art, entertainment, news and politics for so long. Now everyone's like, 'Hang on a second – what you've been telling me for the last eight years has been bullshit. You telling us to keep quiet isn't going to happen anymore.' It's sick to see people riled up again."
With this fearless stance, as well as the high-profile relationship with his ex Halsey, it's no surprise Yungblud's every move of late has sparked media frenzies.
"Obviously it was a bit mental with my last relationship, being all over the headlines and getting followed about London with cameras," he reveals. "Then, last week, The Sun wrote about me and Noel Gallagher's daughter Anaïs being in a relationship. No, man! She just came out to shoot, and she's like my best friend. But, of course, because a girl's on the road with me, you're going to go, 'Oh, they're dating!' We just love salt and vinegar crisps and Joy Division. That's it!
"But, it is what it is – I'm just myself. When I go to Ireland, me and the band are just three idiots. We're not putting on a mask. If someone takes a picture of us on the street, and I'm having a piss on a lamppost, then that's not going to cause controversy – because that's just Dom being Dom, isn't it?"
But as a young megastar in the making, Yungblud's well aware of the toll such public attention can have on his mental health.
Advertisement
"It can be hard," he nods. "The amount of hate I get is fucking crazy. But I have such a good team around me – so I'm able to be thick-skinned about it. And every time I feel like shit, I can just walk out on stage. The amount of love in that room tonight, for everyone, for each other, overpowers it all. So fuck it anyway."
https://open.spotify.com/album/0kGTcfwQC5nlsubgxUXdwP