Warner Music IE presents BRELAND showcase ahead of opening for Shania Twain's Dublin takeover
Next Tuesday, Warner Music IE will hold an intimate showcase for New Jersey-born artist BRELAND. RSVP now for a chance to get to know more about the genre-bending country star opening for country icon Shania Twain at Dublin's 3Arena.
Announced today, Warner Music Ireland presents a showcase for rising country star BRELAND. Hosted at the Warner Music IE office next Tuesday, September 19, the event will begin with an artist Q&A followed by a live performance from the 'My Truck' singer, who is gearing up to support country queen Shania Twain's Dublin shows next week.
Embodying the future of contemporary country music, BRELAND's unique blend of country, pop, RnB and hip-hop is what blew the New Jersey native up in 2020 with the smash hit 'My Truck.' Influenced by 70s Motown and the evolution of pop music, BRELAND bravely navigates the highways between music genres.
With pastor parents who met in the gospel choir, Nashville-based singer-songwriter and producer's homegrown roots shine proudly through the metropolitan pop and hip-hop twist of his tracks. He has earned over 2.6M monthly Spotify listeners and 1.1B global artist streams, recently released his latest single 'Cowboy Don't,' and shares the deluxe version of his debut album today.
Cross Country: The Extra Mile (Deluxe) sees BRELAND collaborating on tracks with Keith Urban, Lady A and Mickey Guyton. He's previously teamed up with Nashville producer Sam Sumser and Sean Small, who've worked with Lizzo and Usher, and many more legendary industry figureheads, now including Twain.
Advertisement
Originally announced as an opener for the country queen's US tour, BRELAND proved to be such a hit with Twain's audience that he was added to her international dates of her Queen of Me tour. He will support Twain next week, September 19 and 20, at Dublin's 3Arena. With a five-week headline tour under his belt, it won't be long before he's playing the very venues he's opened at this summer.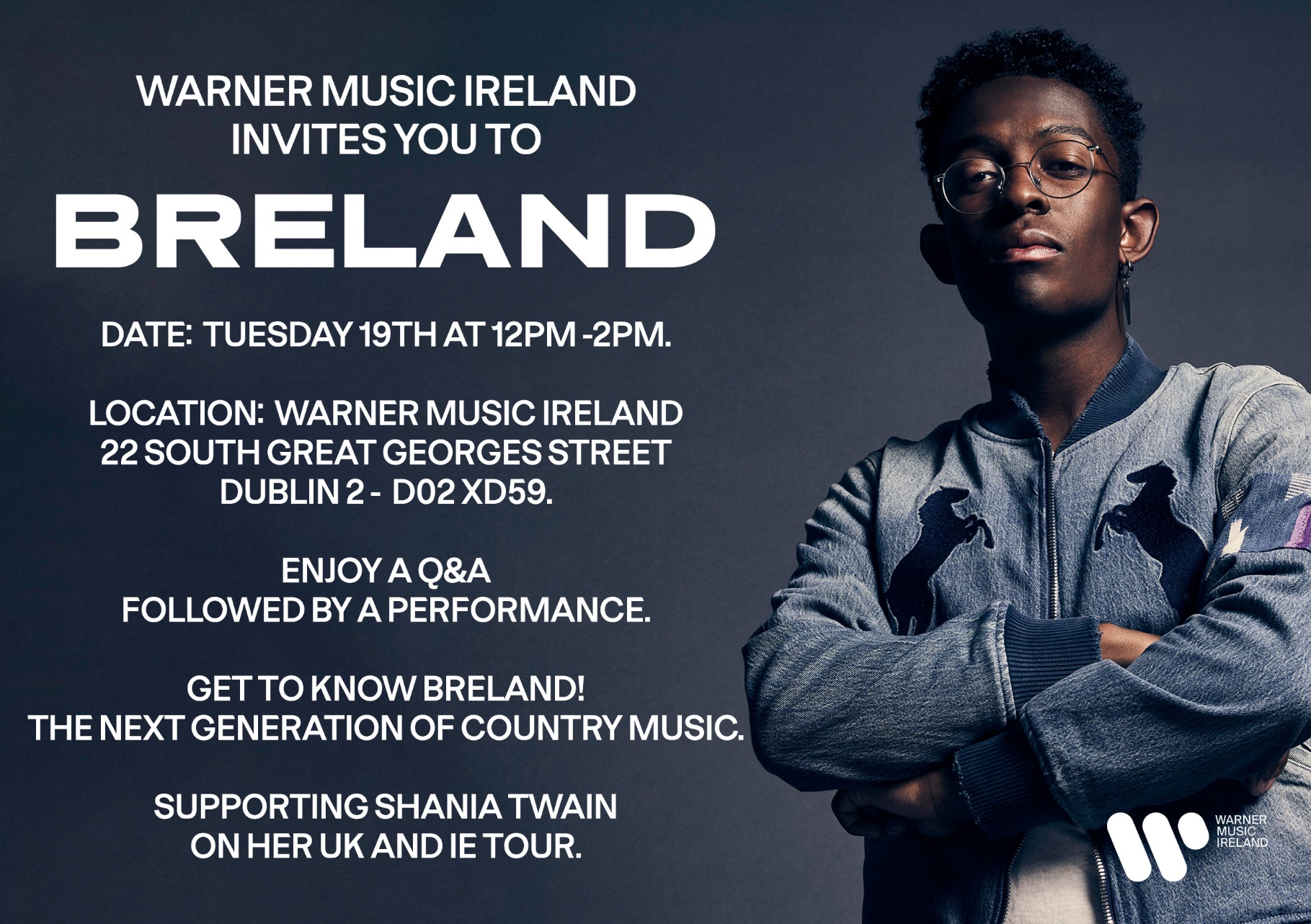 To attend Warner Music Ireland's showcase with BRELAND, RSVP to [email protected] by the end of the day today, Friday September 15. The event will take place at Warner Music Ireland Office at 22 South Great George's Street. The artist Q&A will begin Tuesday, September 19 at noon, followed by a live performance.
RELATED
Lifestyle & Sports
27 Sep 23