Tickets from €46.50 go on sale next Friday, June 2nd at 9am.
Royal Blood have announced news of the band's Irish return, scheduled for October 30th at Dublin's 3Olympia Theatre.
Igniting a huge summer ahead for the UK rock duo, their fourth album Back To The Water Below is due to land on September 8th. Last night, the pair shared the project's lead single 'Mountains At Midnight'. The news arrives ahead of their gigs supporting Muse, and an appearance at BBC Radio 1's Big Weekend on Sunday (May 28).
They'll also play various festivals and headline shows across the UK and Europe over the summer, including Glastonbury, and a major homecoming show at Brighton Beach, following warm-up concerts at Nottingham's Rock City tonight (May 26) and Newcastle's O2 City Hall on June 21. Starting with the Apollo Manchester on October 20, Royal Blood also play Belfast's Telegraph Building on October 29th on the eight-date autumn jaunt.
Long before Royal Blood were even formed, they spent years together in various bands playing to half empty bars around Brighton - and only then did they suddenly become a decade-in-the-making overnight success story. From plotting how to recoup the meagre £300 they had spent on their first recording to hitting the top of UK album charts a year later - Royal Blood have since stormed Glastonbury and won the BRIT Award for Best British Group.
Their spirit of independence continues into Back To The Water Below, which saw them self-produce an entire album for the very first time. It was a process which cancelled out the noise of any external influences, while also allowing them the convenience to write at their own studio in Brighton whenever inspiration struck.
Advertisement
If in doubt, they remembered a nugget of advice offered by Rick Rubin – that the sound of Royal Blood isn't defined by genre or the instruments that they play, but by the unique chemistry forged by the two friends.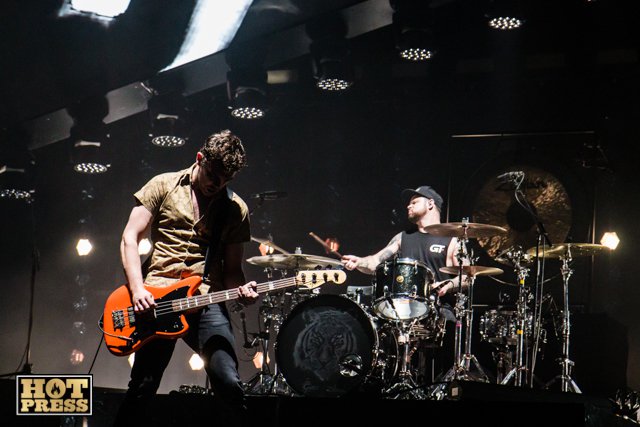 "I think this record was about letting the ideas take us where they needed to go," Ben Thatcher notes. "If there was a song that was calling us to do something that wasn't typically what we're known for, that's where we're going to go. The songs are in charge and if that means having a record that's quite varied that's what we're going to go for, rather than trying to shoehorn everything into the same world. As a result, we've made a record that's a bit of a rollercoaster. It's everything we could do."
'Mountains At Midnight' is a ferocious call back to their roots, marrying rock charisma, booming electronics and infectious pop. Mike Kerr layers a heavyweight wall-of-sound solely with his bass, while Ben Thatcher's rhythms simultaneously swing with a spacious groove while pummelling us into submission.
"No-one saw the years of us playing in loads of bands to no-one, that all gets swept under the carpet because the other story is magical and much more wondrous," Mike Kerr adds. "Luck is where passion meets opportunity. We got our golden ticket and walked out as tiny ninjas. We were in the right place at the right time, and we have to remember to give ourselves the credit that we didn't get into this position by winning a quiz show, we put in a serious amount of work. It's taken us four albums to realise this isn't luck, we're good and we're committed to this."
Revisit Royal Blood's May 2021 interview with Hot Press here.
Check out the new video below.
Advertisement
Back To The Water Below tracklist:
'Mountains At Midnight'
'Shiner In The Dark'
'Pull Me Through'
'The Firing Line'
'Tell Me When It's Too Late'
'Triggers'
'How Many More Times'
'High Waters'
'There Goes My Cool'
'Waves'
Deluxe Edition 7" single bonus tracks:
'Supermodel Avalanches'
'Everything's Fine'