Royal Blood: "The first year I was sober, I kept it a secret. But now I feel a duty and responsibility to share my story"
As Royal Blood take a disco turn on their third album, Typhoons, frontman Mike Kerr sits down to discuss sobriety, the return of live music, Inhaler, and karaoke at Workman's...
Being hailed as the saviours of modern rock is a heavy crown to bear. Whether it's based on the promise of a groundbreaking debut album, or the fiery passion of a couple of genre-bending wunderkinds, the honour often brings with it a deadly combination of pressure, attention and celebrity – that can disrupt the artistic and personal progression of even the most talented emerging acts.
It's a whirlwind that Royal Blood found themselves at the centre of with the release of their lauded, self-titled debut album in 2014. The LP, which became the fastest selling UK rock debut in years, and earned a coveted Mercury Prize nomination, catapulted the Brighton duo to unprecedented heights at a ferocious velocity. Lead vocalist and bassist Mike Kerr, who was in his early twenties at the time, was on top of the world – but as he and drummer Ben Thatcher set off on a gruelling touring schedule, followed by another tour in support of their second album, 2017's How Did We Get So Dark?, he also found himself following a path that has upended the lives of countless rock musicians before him, as the destructive forces of addiction took hold.
"I see my relationship with drugs and alcohol as a crescendo," he reflects now. "From the moment I started, to when I finished, the volume was just being turned up, and up, and up."
While these dark days have informed aspects of the duo's third album, Typhoons, Mike is thankfully in a much healthier place now. He celebrated two years of sobriety in February, and is back with what is undoubtedly Royal Blood's most confident creation yet – featuring surprising disco and dance-rock influences.
Of course, that kind of shift in sonic direction is a risk for any band – particularly one that's already established itself at the forefront of international rock.
Advertisement
"These songs have gone down a lot better than we thought they would," Mike admits. "For a traditional Royal Blood fan, we've probably made quite a challenging record. It wasn't made with that purpose in mind – to try and challenge anyone. This was just the album that we wanted to make, despite what anyone was going to think.
"Our fans have taken really well to the first singles – and if people loved them, then they're going to love the record," he continues. "We've kept it pretty concise and focused. I hate when you hear the first couple of singles of an album, and it has this sound – but then you buy the record, and it just retreats back to what they were doing before. We haven't done that!"
To Mike, exploring a dance-oriented sound felt like "an evolution, not a reinvention."
"If we had completely reinvented what we'd done, then it would feel risky," he resumes. "It would feel like we were starting from scratch. But to us, it just feels like a shiny new jacket..."
Foo Fighters also ventured into the world of disco and dance this year, with their tenth studio album, Medicine At Midnight. Could this be a reflection of a wider movement in rock right now?
"Rock is definitely loosening up a bit," Mike nods. "But I also think that rock 'n' roll has always been music to dance to, historically. So incorporating that sensibility into rock music is really nothing new. Most of our favourite rock bands have always got to this point in their career, and in their creative journey, where they've introduced that. It just works so well. And for us, being a band made up of a rhythm section, it was inevitable for us to explore this."
That being said, Royal Blood shift gears completely on the poignant piano ballad 'All We Have Is Now', which closes the album.
Advertisement
"I wrote that, and I didn't have any intention of it going anywhere," Mike reveals. "It was something I wrote for myself. A friend of mine, Harry Robbins, is an amazing artist and tattoo artist. He dropped off all these paints and canvases around to my house once – and he said to me, 'You should make art for yourself, and have something that isn't anyone else's.' I'm an awful painter, but now I have these paintings – and I'll never let anyone see them. I realised that everything I do, I share. This was a song where I thought, 'I should write a song that's for me – for no one else to hear'.
"But one day I played it for Ben," he continues. "I said, 'I want to share this with you'. He loved it, and was like, 'Can you record it? Now?' So I did, there and then, in the studio. When it came to putting this album together, he was the one who was like, 'We've got to put that song on the record'. So I failed miserably at keeping it to myself! It did feel like publishing my diary to an extent – because it is quite a personal song. But I'm actually really glad it's on the record."
Although it's worlds apart sonically, 'Limbo' is a similarly personal song – inspired directly by Mike's struggles with self-destruction and addiction.
"'Limbo' is really about when it was at its craziest – when I was just a maniac," he tells me. "That song for me was like, 'When is anyone going to say anything?' I realised that the crazier I got, I just couldn't get in trouble. No one told me to calm down. No one told me to take a break. It was quite a lonely part of my life. And thankfully someone did say to me, 'Maybe you should stop…' Part of me was probably waiting for that – waiting for someone to notice."
It's important to him to be able to talk openly about his sobriety with his fans – but he admits that, at first, it was something he was "really apprehensive about doing."
Advertisement
"The first year I was sober, I kept it a secret," he says. "But now I feel a duty and responsibility to share my story – not just to help others, but also for my own sobriety. It's important to pass it on, and be open about it. It's not always that enjoyable – it's quite hard! It's not something I always want to talk about. But I think I should, basically."
Recently, Royal Blood have also used their platform to raise awareness and funds for crews and other music industry workers whose livelihoods were decimated by lockdown.
"People don't realise the amount of work and people it takes to put on a show," Mike reflects. "It's funny – we walk out, and people are probably just focused on us being there, and playing songs. But they don't realise that, to get all that gear working, and travelling around the world, it takes a lot of people. We rely on that. We could never do those shows without those people. So we all owe them.
"It's great that live music is coming back – but basically all of our crew have got other jobs now," he adds. "They've all had to go and find other work. So this idea that they can just drop their new jobs, and go back to this... it's not as simple as that. We felt like that needed recognising, and that we should do our bit."
Does he think enough has been done over the past year or so, to support struggling musicians and crew members?
"No, not at all," he sighs. "What we've done is an effort – but it certainly hasn't solved the problem. The industry is on its knees in that sense. But let's hope that things do pick up, and we can get going again – so we can start picking up the pieces."
Although lockdown has been enormously difficult for the global music industry, it hasn't been without its silver linings – offering Mike space for some much needed reflection, as well as more time to work on Typhoons.
Advertisement
"I had also done a lot of that before lockdown, because I'd been sober for a year," he notes. "But the experience of it allowed me to go much deeper into the record-making process. I wrote 'Typhoons', 'Limbo', 'Mad Visions' and 'Oblivion' all during that lockdown. So I'm grateful that it happened, really – because the idea of those songs not being on the record is crazy to me."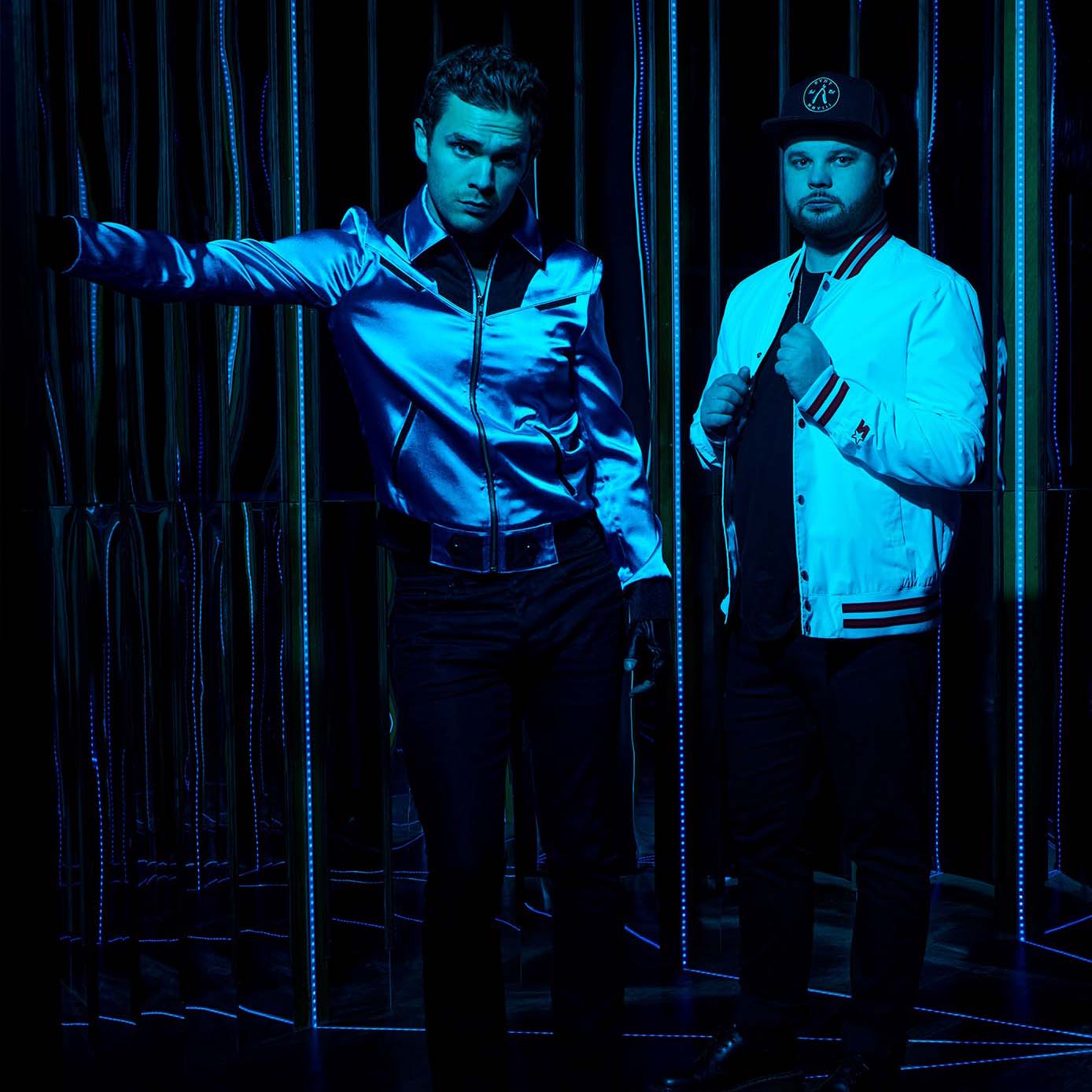 With live music in the UK making its gradual post-lockdown return, he admits that the thought of once again stepping out onto a stage – to be greeted by tens of thousands of gig-deprived fans – feels a little surreal at this point.
"I saw a clip of us playing live, and it looked terrifying!" he laughs. "I was like, 'Aw, no...' It's quite a daunting prospect. It's weird, isn't it? Even meeting up with people, there's this social anxiety, when you're not really used to it. So the idea of being around thousands of people is crazy to me right now. But like most things in life, they get normalised quite quickly."
Normality is relative of course. Three albums in, Royal Blood are now at a stage in their career where their sound has directly influenced the new generation of emerging bands.
"It seems like five seconds ago that we were the new band out," Mike reflects. "But it's awesome. And that's how it works – much like sobriety – it's about passing it on. I can't wait to see what bands are waiting around the corner."
One band who have discussed the influence of Royal Blood are Dublin's own Inhaler – whose debut album, It Won't Always Be Like This, is likely to establish them as a major force to be reckoned with internationally, on its release this summer.
Advertisement
"I love those guys!" Mike enthuses. "I didn't know much about them – I think I first saw them on New Music Friday on Spotify. I posted about them on our Instagram, and they reached out, to say thanks. They told me that they came to our show in Dublin, when they were like 15 or something – which is crazy. They're so young, but I think they're fucking awesome."
If our maths is right, it was likely Royal Blood's fabled headliner at The Workman's Club in 2014 that the young Inhaler members first caught the duo live. From that intimate gig, Mike and Ben were playing the 3Arena within the space of three years. During one of Royal Blood's early Irish gigs, another Hewson-fronted band, U2, also reached out to the pair – leaving the ingredients for Black Velvets in their dressing room: "They left us a nice hamper, which was great!" Mike grins.
"The Workman's Club was awesome," he resumes. "I feel really bad because I can't remember the name of the support band! [It was Dublin band Leaders of Men, who graced the cover of Hot Press back in 2011] Not only were they great, but they were such nice guys. I remember the show ended by kind of turning into a karaoke night. We all sang 'Copacabana' on stage, playing bongos... It was wicked."