We're continuing to celebrate the 40th anniversary of U2's iconic third album – with a look back at The War Tour. Neil Storey was press officer at Island Records, and a close confidante of the band, when War crashed into the charts at No.1 in 1983, setting things up beautifully for the tour. Here, he shares his reflections on a brilliant chapter in U2's history...
"They were barely played on radio at all..."
War was the first U2 album that went in at No.1. That took a lot of people by surprise when the news came through. At the Island press office, we had anticipated it going top three, but going straight to number one? That was something else. It was driven, more than anything, by the fact they had built up a really powerful fanbase. The fans went out and bought the album in droves and hey presto!
At that time, the LP charts were announced on a Monday, although the singles charts were released on the previous day on BBC Radio 1, when the top 40 countdown was broadcast. The release of the album charts occurred as near as dammit at 8am. Usually there was a few of us gathered in the office those early mornings, especially if we were expecting any decent news. We knew the album had sold well over the weekend. As I said, the general consensus was it should definitely be top three. Nope… Wrong.
Straight in at number one. Fantastic. It was down to me to call everyone.
I cannot remember where U2 were. Out of London for sure. Probably Bournemouth or somewhere like that. Everyone took the call – and they were thrilled to hear the news. Bono sounded a bit groggy. The exception was Adam who, no matter how long the phone in his room rang, couldn't be wakened up. For what it's worth, I was also the one designated to call Mr and Mrs Evans – The Edge's parents – who, in turn, spread the news in Dublin. They were significantly more awake at that hour than the rest of the crew!
Advertisement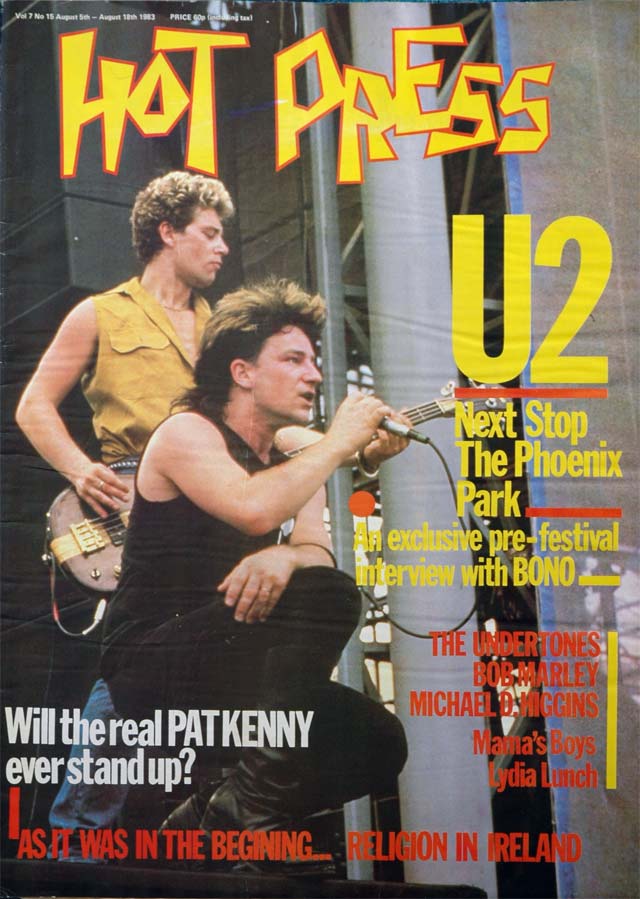 The War Tour naturally assumed a different level of significance as a result. They were now a bone-fide number one act. Paul McGuinness had a strategy at that time: to always play a venue slightly smaller than they could fill, if that makes sense. Let's just say they could have done five nights at the Marquee. He'd have done three and left it at that. The whole point was to leave your audience wanting more.
You create that vibe: it's such a hot show, you can't get in. The band becomes a hot ticket. It was very similar to how we worked with Bob Marley. When the famous Lyceum shows came around, we could have done four or five nights. We did two. It's like being a conjurer: you create an illusion.
Everything Rob Partridge and I, in the Island Press Office, had worked for across the three or four preceding years was coming to fruition. We were working mainly through the print media. It's hard to credit now, maybe, but at that point they were barely played on radio at all, no matter what anyone else tells you. It was print driving everything. In that respect you could feel it happening.
Was it a surprise they were playing larger venues? No. The band themselves were a bit surprised, in a way, however, at just how big it was starting to become. I remember sitting with Larry in his house in Dublin and having a conversation, saying sooner or later it's going to get much bigger. It's going to be Wembley. I recall him looking at me, as if to say, "You're not serious?" They were a little bit shocked. At the same time, there was no 'surprise'. When you work towards something – well this was the next level. You keep pushing.
That February, before the War Tour kicked off, McGuinness and Bono landed up in our office in Island. Possibly Edge was there too. They were carrying a large brown cardboard box. Inside was the most garish, unpleasant-looking old-fashioned telephone in the shape of a small box. It was mostly red, but with a fake gold and ivory receiver, all mounted on a plinth. That was painted red too. Paul said they'd found it in one of the Middle-Eastern shops just off Marble Arch. And... with due ceremony, it was presented to Rob and me.
Advertisement
A brass plaque was attached to the plinth. Annoyingly, over the years with various house moves, the actual phone disappeared. But I found the only remaining remnant of it just the other day! It was in the barn next to the house in which I live in France. There, on the floor, was the brass plaque with the inscription that reads: To Rob and Neil. From U2. That was also the first tour for which I did the programme. It was all out-of-hours stuff and didn't involve Island. Like the one I did for the Unforgettable Fire Tour later, it was designed and assembled on my kitchen table. All the lettering and maps were hand-drawn. It was a labour of love.
There was a lot of scary stuff along the way: this was a really full-on rock 'n' roll show, with incendiary songs like 'Sunday Bloody Sunday', 'Surrender' and 'Seconds' from the War album, alongside the likes of 'I Fall Down', 'Out of Control', 'Gloria' and 'I Will Follow'.
And Bono was taking risks that were borderline certifiable at times – climbing up on speaker stacks, throwing himself into the crowd, leaping off balconies on top of fans and generally putting himself in physical peril. But, eventually, after a lot of soul-searching, the band got him to rein it in just a little bit and everyone got back to Dublin in one piece.
The War Tour ended with the Phoenix Park show, which was absolutely mighty. It was a lovely sunny day and the crowd was huge: the place was packed. As much as Eurythmics and Simple Minds were really good – and they were – U2 were blistering that evening. I think that was the moment we all knew – 110% knew – that lift-off really had been achieved. There would be no going back.
Revisit Hot Press' original 1983 album review here.
Advertisement
Browse the extensive Hot Press U2 Collection here.