Written by Jason O'Toole, and inspired by the John Gilligan interview that appeared in Hot Press back in 2008, The Intruder features new music from Bowie collaborator Gerry Leonard, as well as a fine cast that includes Titanic star Jason Barry as the criminal Old Nick.
People who have been keeping an eye on hotpress.com will already be aware that a rehearsed reading of a new play entitled The Intruder, is being premiered on the Hot Press YouTube channel tonight, June 10, at 9pm.
The highly anticipated drama is written by sometime Hot Press writer, Jason O'Toole, and was inspired by the infamous John Gilligan interview which O'Toole carried out for Hot Press in Portlaoise Prison – which caused considerable controversy. In fact, that interview – let's just say that getting it didn't involve a polite request to the prison authorities – saw Hot Press being banned entirely from Portlaoise Prison by the then Minister for Justice Dermot Aherne.
Featuring a new score by renowned Irish musician Gerry Leonard – famed for his work with David Bowie – the rehearsed reading boasts a stunning cast, with Jason Barry as the criminal Old Nick, Rex Ryan as the journalist and Charlene Gleeson – all players at the top of the game – as a barrister (of sorts!). The action takes place in the home of the journalist, after the criminal breaks in. There is cocaine involved – lots of it. The whole caboodle is directed by Stephen Jones.
INHIBITIONS OUT THE WINDOW
"Writing for The Intruder, I wanted to get to the point," guitarist and composer Gerry Leonard explains. "Get in and get out. It's more like a headline and it sets the scene – and then, hopefully, the character will emerge from that and take the audience on the journey.
Advertisement
"Old Nick is a career criminal and he's got a lot of complexity," Gerry ponders. "But, to me, it was like an angular thing I was looking for when I was writing the theme for him – that it would have this kind of more angular, or arresting, kind of thing.
"You know, often with characters like that, there's an element of surprise they use in their 'work' as career criminals," he adds. "It's kind of like taking people by surprise. So I wanted the music to have that feeling of a little bit like, 'Whoa! What was that?' You know, that it's a very strong colour. And, of course, the guitar is a great instrument for that kind of thing."
And so it proves: Gerry's music is a brilliant feature of what is a fascinating whole.
Rex Ryan, the son of the late broadcaster Gerry Ryan, plays the journalist.
Having trained at the Gaiety School of Acting, Rex has worked extensively in Irish theatre. In addition to his impressive career as an actor – he was nominated for Best Actor at the Manchester Theatre Awards and the Dublin Fringe Theatre Awards – Ryan is also the director of the Dublin-based Glass Mask Theatre, who are working towards opening in a new venture in Dawson Street, Dublin shortly.
"Jason sent me the script," Rex says. "I read it and I thought, 'There's something interesting in this thing'. He told me he wanted to do a rehearsed reading and put it on Hot Press, which is also an original idea.
"The experience? I've enjoyed it. Like I said, there's potential in the play: I can see it being a wild night in the theatre. An experience! Readings can be shite. Or, they can be wild, if they are embraced for what are, which is works in progress.
Advertisement
"I enjoy watching some of the readings, seeing people diving in, having less inhibitions than they'd normally have. I don't know if I can speak for the other guys but for me, inhibitions are out the window!"
That's a promise we'll hold him to!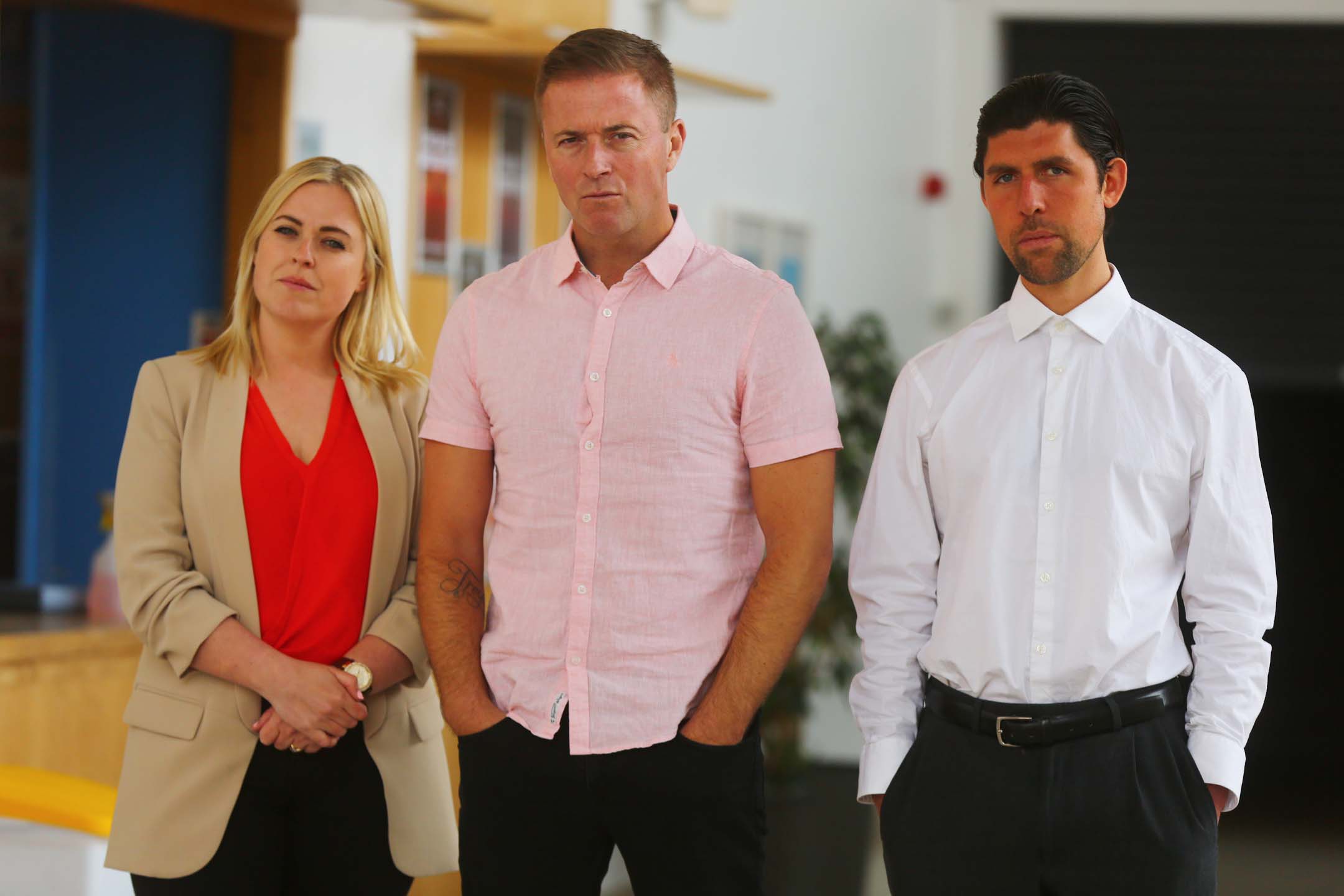 THE BEAT, THE RHYTHM, THE EXCITEMENT
Artane native Jason Barry – whose brother Glen Barry starred in Van Wilder 2 – is a hugely talented actor, best known for his iconic role as Tommy Ryan in Titanic, as well as appearances in Sons of Anarchy, Love/Hate, voice credits for the Call of Duty video games – and lots more besides. Having lived and worked as an actor across the world, in more recent years he has expanded into directing and writing.
"I play a mobster who comes and takes a journalist hostage," Jason says of The Intruder. "He's sick and tired of what's being written about him. It's set over one night. In a way they are both profiting from crime. It's a wild ride and it's crazy – you never know who's going to come out on top."
Charlene Gleeson, a graduate of the Gaiety School of Acting, has appeared in several stage productions, including Roddy Doyle's version of Playboy of the Western World and Harder Faster More. Her television credits include Emmet Kirwan's Sarah and Steve; Raw; John Logan's Penny Dreadful; and Stacey in Fair City. Charlene currently teaches in the Gaiety School.
Advertisement
"The characters are really interesting, and I could see this happen," Charlene Gleeson says. "There's so many layers to this play. I love Jason Barry's take on it. And I've really enjoyed being in the room with Stephen Jones and with Rex. It's been really, really cool to do a play again. And I think that's the most important thing we brought to this reading: that we had the beat, the rhythm, the excitement – so hopefully it'll bring audiences on a good journey."
Director Stephen Jones is also an acclaimed actor – having appeared in Dublin Oldschool, Between The Canals, King of the Travellers, Red Rock, Nowhere Fast, Damo & Ivor, Love/Hate and Ripper Street.
Jason O'Toole, meanwhile, is a widely published writer and journalist, who is currently a columnist with the Irish Sunday Mirror. In addition to his work for Hot Press, he has also written for the Irish Mail on Sunday, The Herald, The Sunday Times, Empire, and more. He has published several books, including the biography of the former Taoiseach, Brian Cowen: The Path To Power.
The scene is set. Old Nick is just outside the window. Fasten your seat belts.
Take it away, Gerry!
The Intruder is available to be viewed on the Hot Press YouTube channel from tonight, June 10, at 9pm:
Advertisement
Remember to subscribe, to get notifications of new films and videos.