Tickets from €49.90 including booking fees go on sale Friday, November 4th at 9am. Subject to licence.
Britpop icons Pulp, who rose to fame in the 1990s, have announced a show at St Anne's Park in Dublin on Friday, June 9th, 2023, as part of their highly anticipated upcoming tour.
The long-rumoured 2023 reunion is becoming a reality, as the band looks forward to their first gigs together since 2012.
"Three months ago, we asked, What exactly do you do for an encore?... "Well… An encore happens when the crowd makes enough noise to bring the band back to the stage. So… We are playing in the UK & Ireland in 2023. Therefore… Come along & make some noise. See you there," frontman Jarvis Cocker revealed.
He shared details of the group's this is what we do for an encore tour on his social media, which kicks off in Bridlington on May 26th and includes stops in London, Glasgow, Cardiff and Sheffield.
Notably, there is a hole in the touring schedule over the Glastonbury weekend, between the Dublin show and a massive concert with 45,000 fans at London's Finsbury Park on Saturday, July 1st. Pulp have also been announced as the headliners for the 2023 Latitude festival at Henham Park, Suffolk in July, as well as for next year's TRNSMT festival in Glasgow.
Advertisement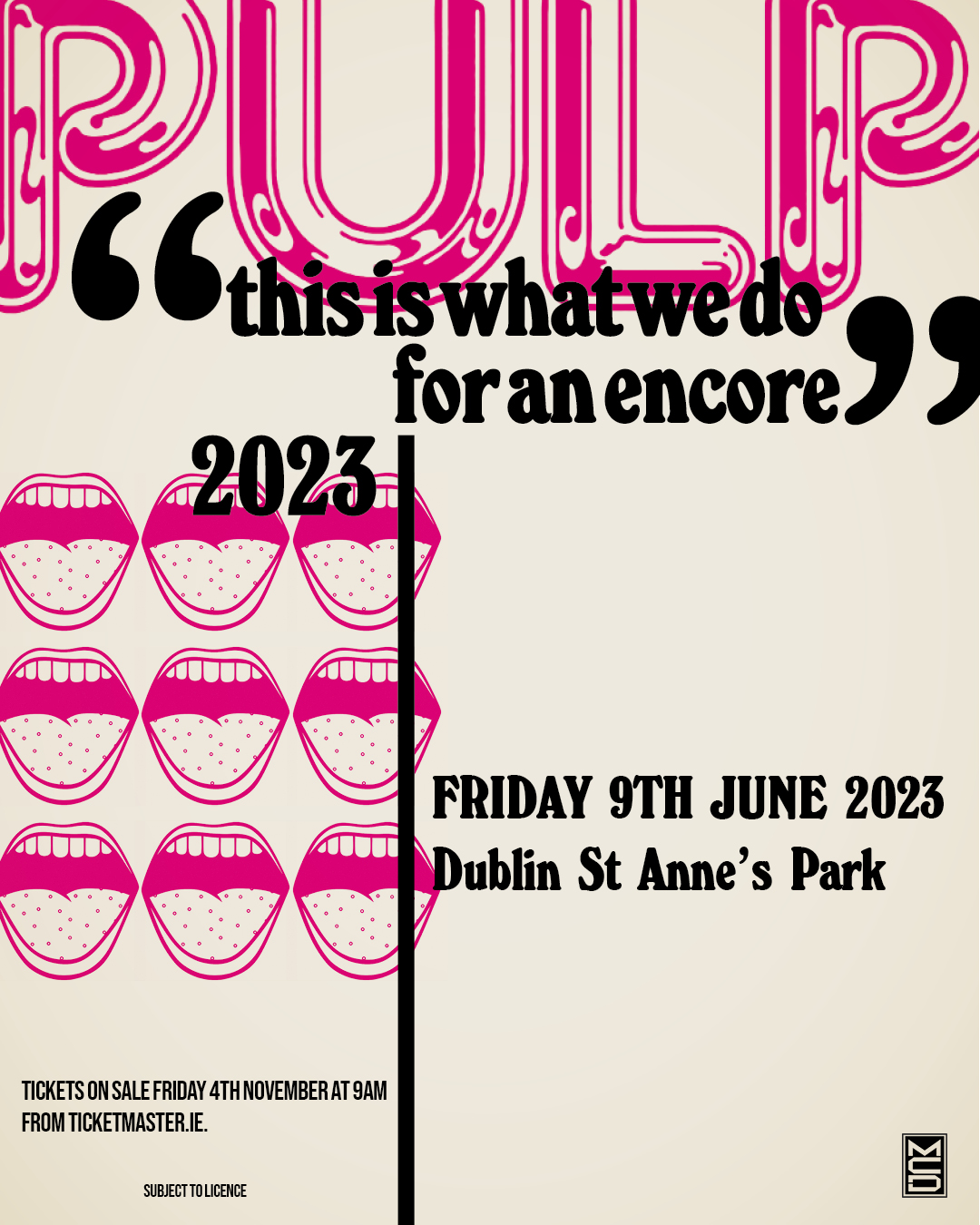 Cocker confirmed that the gigs will take place to celebrate the 25th anniversary of Pulp's sixth album This Is Hardcore, which was released in 1998, during a talk hosted by The Guardian about his memoir Good Pop, Bad Pop.
Pulp drummer Nick Banks has also told fans to "stay calm, hug your Pulp records and dream of going mental sometime in 2023", ahead of the tour announcement.
With massive hits like 'Disco 2000' and 'Common People', the latter being titled the No.1 anthem of the Britpop era, Pulp gained prominence in the UK in the mid-1990s, when Different Class (1995) went to No.1 in the UK Albums Chart. Following a successful run, the group split in 2002, before reuniting nine years later in 2011 and 2012 for a number of festival performances.
Frontman Jarvis Cocker went on to release his debut album Jarvis in summer 2020, which received rave reviews.
Pulp have recently set up the Instagram account @welovepulp to document their new era.
Tickets from €49.90 including booking fees go on sale Friday, November 4th at 9am here. Subject to licence.
Advertisement
Find all the announced tour dates below.
FRIDAY 26TH MAY 2023 - Bridlington Spa
SUNDAY 28TH MAY 2023 - Warrington Neighbourhood Weekender
FRIDAY 9TH JUNE 2023 - Dublin St Anne's Park
SATURDAY 1st JULY 2023 - London Finsbury Park
FRIDAY 7TH JULY 2023 - Glasgow TRNSMT Festival
SUNDAY 9TH JULY 2023 - Scarborough Open Air Theatre
Advertisement
WEDNESDAY 12TH JULY 2023 - Cardiff International Arena
FRIDAY 14TH JULY 2023 - Sheffield Utilita Arena
SATURDAY 15TH JULY 2023 - Sheffield Utilita Arena
FRIDAY 21ST JULY 2023 - Suffolk Latitude Festival