The 3Arena shows will be Malone's first Irish shows since his sold-out RDS concert in the summer of 2019.
Due to phenomenal demand, American rapper and singer Post Malone announced another Dublin gig for his Twelve Carat Tour Europe. In addition to the May 9th show at 3Arena, a second gig will be held on May 10th at the same venue.
Malone will be supported at all performances by hip-hop duo Rae Sremmurd, with whom the 'Rockstar' singer has already been on the road for the North American leg of the Twelve Carat Tour.
The rapper will perform in cities across Europe with an incredible set-up of lightning effects, pyro, and multi-platform stages. It's the same one Malone used for his North American tour in 2022.
Watch a live performance of Malone with his new set-up below:
At his gigs in Ireland, Malone will play songs from his fourth and latest full-length studio album, Twelve Carat Toothache, which was released on the Mercury Records/Republic Records label.
Advertisement
Further, it is expected that Malone will perform some of his greatest hits and fan favourites, including 'Rockstar', 'I Like You (A Happier Song)', and 'Congratulations'.
Tickets went on sale today and can be purchased here.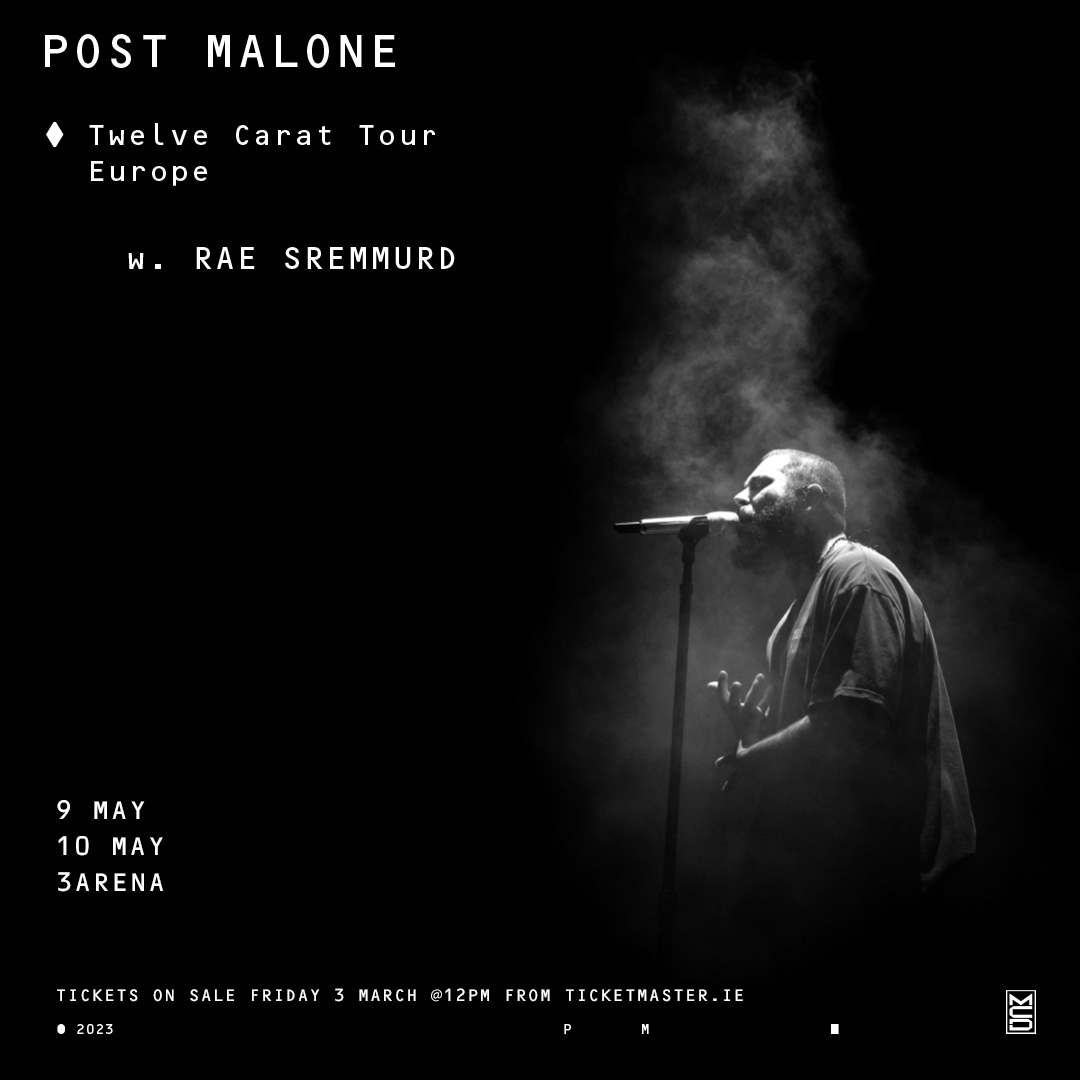 TWELVE CARAT TOUR 2023 EUROPEAN DATES:
Saturday, 22 April 2023 - Norway, Oslo
Tuesday, 25 April 2023 - Sweden, Stockholm
Wednesday, 26 April 2023 - Denmark, Copenhagen
Friday, 28 April 2023 - Belgium, Antwerp
Sunday, 30 April 2023 - Switzerland, Zurich
Monday, 1 May 2023 - Germany, Cologne
Thursday, 4 May 2023 - UK, London
Saturday, 6 May 2023 - UK, London
Tuesday, 9 May 2023 - Ireland, Dublin
Tuesday, 10 May 2023 - Ireland, Dublin
Saturday, 13 May 2023 - UK, Glasgow
Sunday, 14 May 2023 - UK, Birmingham
Tuesday, 16 May 2023 - UK, Manchester
Friday, 19 May 2023 - Netherlands, Amsterdam