25 years ago today, Oasis released 'Don't Look Back In Anger' from (What's the Story) Morning Glory? Widely considered one of the most iconic singles of the '90s, 'Don't Look Back In Anger' was the first Oasis single to feature lead vocals by Noel Gallagher. The platinum-selling single went No.1 in the UK and Ireland on its release. To celebrate, we're revisiting Noel's classic 1997 interview with Hot Press's Stuart Clark.
It's Christmas, 1997 is drawing to a close and Noel Gallagher is in suitably reflective mood. "I can't be bothered writing music anymore", says the Oasis mainman before telling Stuart Clark precisely what he thinks of Liam, Meg, Sinéad O'Connor, that cunt Mick Jagger and England's chances of lifting the World Cup.
******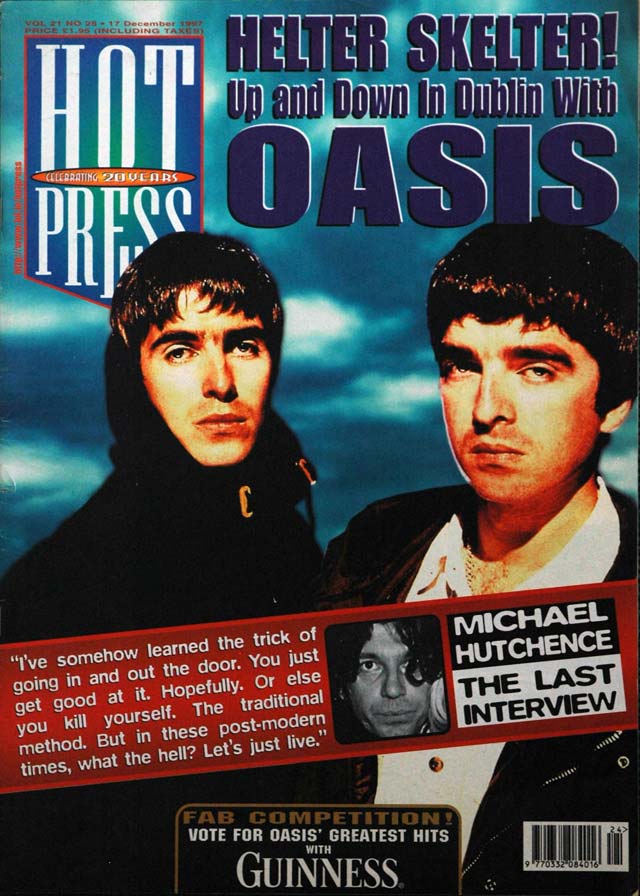 The last time I shared oxygen with Noel Gallagher was two-and-a-half-years ago at Slane Castle. Oasis had just given REM a serious run for their money in the crowd-pleasing stakes and, fuelled by a Class 'A' substance, the unibrowed-one was lecturing me on how he and his mates were going to be the biggest rock 'n' roll band on the planet.
The astute judge of talent that I am, I laughed - inwardly - at his delusions of grandeur and wondered whether it'd be Northside or Inspiral Carpets who'd be supporting them when they returned to Ireland on the Mancs For The Memories package tour.
Advertisement
The inches that've been added to the Clarkian girth since are testament to the enormous portions of humble pie I've had to scoff as Oasis have come tantalisingly close to fulfilling their leader's prophecy.
They may have sold a "mere" four million albums in America but on this side of the Atlantic, the Gallaghers aren't so much pissing as emptying huge great big dumper-trucks of excrement onto the opposition.
Which makes it all the more intriguing that so many people-in-the-know have started sounding their death knell. Including Noel.
"I'm bored and I'm pissed off," is his cheery greeting as we settle down for our chinwag on the second day of Oasis' Point Theatre odyssey. It's 5.30pm and I've yet to be let in on the bad news - Liam has just informed big brother through a third party that he's staying put at the Berkeley Court Hotel because his voice has mysteriously become bolloxed in the time since he sang perfectly well last night.
Unaware of this, I pursue other avenues of inquiry, asking the guitarist what he's so fucking miserable about.
"Like I say, I'm bored and can't be bothered writing music anymore," he confides. "The bigger the monster becomes, the harder it is to manoeuvre. I've started thinking that maybe it's time to scale it down - y'know, shed some of the weight or perhaps try new things altogether. I haven't been writing recently 'cos I don't on tour, but when we had time to kill beforehand, I got this awful block which I've never really had before.
"To be honest, I don't know if I can be arsed putting out another rock 'n' roll record for a couple of years. We've done three albums in four years plus B-sides - in other words, 60 songs - which is more than some bands produce in 10 years. I just about deserve a fucking break."
Advertisement
Personally, I've always had a problem with Oasis live - too much arrogant posturing and not enough working of the crowd - but even I'm surprised by the lacklustre display they give on the Wednesday. Or, to be more precise, Liam gives. Apart from the none too convincing "all mates together" intro to 'D'You Know What I Mean?', there's no communication with the adoring masses and when he petulantly throws his microphone onto the stage for the fourth time, it's obvious there are places he'd rather be. Like the Berkeley Court.
"Did you hear about our kid?" Noel fumes. "He's not even turning up tonight. He's got a sore throat so the spawny cunt's going to be sat watching the telly while us fucking four idiots have to go out there and get bottled off, most probably.
"I got informed at about three o'clock. Somebody said, 'Liam's not coming so you'll have to do it.'
"'Er, excuse me. I don't know if you've noticed but I'm not the singer'."
"'No, no, no, you've gotta do the gig or there'll be a riot'."
None of which tallies with the tabloid perception of Noel being a frustrated frontman who resents being eclipsed by his non-songwriting brother.
"Fuck, no way man," he insists. "I'll probably get away with it tonight but I'm not as good a singer as he is. I'd much rather be stood in front of me amplifier doing the odd backing-vocal. The cunt! I tell you what I'm tempted to do - go on stage and tell the crowd his room number so they can go round the hotel and get their money back off him."
Advertisement
As it turns out, Liam is spared a lynching when Noel settles for the rather less inflammatory "my brother's a langer" four songs into the set. Informed beforehand that Oasis would be a man short, only a handful of punters ask for their money back, but bums on seats or not, the sense of disappointment is palpable. That disappointment might very well have turned to anger if more people had clocked Gallagher Jr. arriving at The Point towards the end of the gig and, having watched his bandmates complete their encore, run across the back of the stage flicking "v" signs.
The official word is that he's been to the Blackrock Clinic where a specialist has warned him that going ahead with the Thursday and Friday night gigs could sideline him for the rest of Oasis' pre-Christmas tour. The grapevine, on the other hand, hints at a serious fraternal bust-up followed by a performance-affecting all-night bender. But then it would, wouldn't it?
Asked to rate Wednesday's performance on a scale of one to ten, Noel settles for "five" before adding, "which is better than the 'tens' you get from most cunts these days. Bands like Embrace go on about how they're better than us but they're not, they're shite. Well, apart from their last single, 'One Big Family', which had a pretty okay chorus."
For all the talk of wanting to "try new things", Noel Gallagher is hard-pressed to come up with examples of extracurricular activities he's desperate to engage in. Which leads me to believe he'd agree with what Brett Anderson said in Hot Press recently about pop being the "King of Cultures".
"I like some of the things Brett says, even though I'm not a fan of his music," he reflects. "I haven't met him but from what I've been told, he's one of those guys that you expect to be a tosser but is actually dead decent. If I'd wanted to go into films or West End musicals, I'd have gone to stage school. Y'know what I mean? I don't lie awake at night thinking, 'I've got me Q Award, now I want an Oscar'. I'm a musician - full-stop - who just happens to be completely fucking knackered."
Having ruled out a starring role in Grease IV, what does Noel envisage himself doing during a year off?
"When I was on the dole, I actually used to love doing nothing 'cept watch the telly. Get up at two o'clock for Sons & Daughters followed by Tom O'Connor's Crosswits . . . fucking top! The other night I was watching that new satellite channel, Challenge TV, and one of me mates from Manchester was on Name That Tune with Jools Holland. The cunt won and all, which made me think of applying to Countdown. That'd be great - 'our celebrity guest today is the Keith Chegwin of Britpop, Noel Gallagher'.
Advertisement
"I'm loaded now, of course, so I could go into Virgin and buy seven billion videos. I'll have to get a few pirate ones as well 'cos I'm not waiting till the year two thousand and fucking two to see the new Star Wars trilogy.
"If that gets boring," he continues, "I've got loads of other mates in bands who I can get drunk and write some tunes with. Goldie and myself have done some stuff which is going to be on his new album and there's talk - drunken so far - of me and Geoff Barlow from Portishead going into the studio together. I'll work with any cunt, me."
Isn't he just the teensy-weensiest bit jealous that it was Liam who got pissed with John Squire and earned himself a co-writing credit on The Seahorses album?
"He's someone I wouldn't mind working with but, yeah, our kid got in there first and did a pretty good job of it. Except for the singles, I don't think Do It Yourself's a great record but how are you supposed to follow The Stone Roses? The one I'm really looking forward to and want to be a classic is the Ian Brown album but the people I know who've heard the single say it's shit. There's a geezer I'd love to hook up with, Ian Brown."
For the first time this afternoon, Noel overcomes his irritating brother syndrome and flashes the sort of smile that multi-million pound Colgate endorsements are made of.
Oasis may be infinitely bigger than the Roses ever were but it's obvious that Gallagher still regards Brown as a hero. An innocent, almost childlike quality that hasn't been diminished by some of his other heroes taking a pop at him. After initially being benevolent, Paul McCartney has more or less told his spiritual heir to stop ripping off The Beatles - which is a glowing testimonial compared to what George Harrison's been saying about him.
"When The Beatles started in 1962, I seem to recall the musical establishment going 'it's just noise and only relevant to teenagers' which, funnily enough, fucking 30 years down the line is exactly what Paul McCartney, George Harrison and that other cunt, Mick Jagger, have said. Which is quite ironic, really. I just hope I'm not that bitter and twisted when I get to their age."
Advertisement
Even more persona non grata in the Oasis camp at present is Nick Kent who, having abandoned his attempt to produce a TV documentary about the band, cut 'n' pasted the interviews he'd conducted into a less than flattering Mojo profile.
"Nick Kent, basically, is talking out of his arse. The first I knew of it was when I picked up Mojo and saw Oasis: The Story They Tried To Ban on the cover. Which was the most boring piece of journalism I've read in my entire life - 'they take drugs and they drink beer and they swear a lot'. Hold the fucking front page!
"Nick Kent lied to a lot of people with that piece. He wanted to make a TV documentary out of it, which is fair enough, but my management put a block on it because we'd already done one ourselves and didn't want them clashing. He goes and gets the hump and flogs his non-story to a magazine for geriatrics. The thing about Nick Kent is that he's a junkie sorry, ex-junkie - who needs the money."
While Kent portrays them as the yobbos in the rock 'n' roll playground that get derided by the more cultured bands, the truth of the matter is that Oasis have plenty of friends in exalted places. Witness Bono's comments after they opened for U2 in Los Angeles: "There's a great joy there . . . the joy of pop music is the momentum of the music as it changes, as it morphs into different styles and its success as it carries these groups and these people, surfing, just flying along, that's what pop is."
I'm not normally given to quoting from the Book Of Bono, but he stuck it to the sell-out brigade good and proper when he added that, "U2 and Oasis are underground and everybody else is the mainstream. 'Cause they're afraid to be big. They're afraid of success!"
"I don't know about the underground bit but we're certainly not afraid of success," Noel avers. "If it's up for grabs, why not fucking have it? There are loads of mediocre bands who in ten years time will be saying 'we could've been that big if we'd wanted to'. Bollocks! They're not as big as us because they're not as good as us. End of story."
Noel talking about the need to "scale-down the monster" puts me in mind of U2's 1990 New Year's Eve gig at The Point when Bono announced that it was time to "dream it all up again." Which they've successfully done on an almost bi-annual basis.
Advertisement
"U2 get a lot of shit thrown at them but here they are, 20 years on, still making alright records. I don't particularly like stadium shows but I liked PopMart because it didn't take itself too seriously. I mean, it was serious from the point of view that there were 50,000 people there but it didn't pretend to be anything other than a rock 'n' roll show.
"U2 are the same as us in that they came from very humble origins and had to work their bollocks off to get noticed," Noel continues warming to the theme. "For a while, my two favourite bands were them and The Smiths who could have been U2-sized if they'd wanted but pulled back. Which is kind of similar to the position we're in at the moment."
If nothing else, wouldn't it be wise to administer the last rites to "Britpop"?
"When we first started, we were New Wave of New Wave. Then we were New Mod . . . Britpop . . . Noelrock . . . Dadrock . . . Britrock and next - who knows? - psychedelic flugelhorn music. The media create these 'movements' so that they can bury them when the next one comes along. Look at the Melody Maker and fucking Romo.
"Actually, I'm surprised the backlash took as long as it did to kick in. The press didn't want to knock us when we were about 50 times bigger than them but now that our popularity's diminished a bit, it's open season. Which I don't mind 'cos we got three years out of it."
While Liam has declared a fatwa on the tabloids, Noel has developed a thick enough skin to be able to laugh off their worst excesses. There have certainly been some corking front-page screamers - "Blowasis: Hotel Fist-Fight Then Noel And Liam Axe Band"; "Oasis Stars' #4,000 A Week Cocaine Shame"; and "What's The Story, Liam Quits The Toury".
"I forget what the headline was," he laughs, "but the best story was me in New York shagging this stripper in full view of 200 people when, in fact, I was 6,000 miles away doing an interview with Q magazine. If I was a journalist, that's the sort of story I'd write."
Advertisement
Oasis' band-of-the-people image took a knock during the summer when 50 fan-run websites were issued with cease-and-desist orders. Overnight, the information superhighway was gridlocked with stories about the rock Goliaths who were trying to silence the 'Net Davids. How does Noel plead to the control-freak charge?
"We're not, but Sony Records and the management are," he admits. "If Ignition shut down something, does that sound exciting? Does it fuck. If you put together the five glorious letters - an 'O' and an 'A' followed by an 'S', an 'I' and another 'S' - it's suddenly a story. Can you seriously imagine me sitting there and going 'shut them down. Shut the fuckers down, I can't take anymore!'
"Most of the sites are run by fans, sure, but you've also got people using our music and our image for commercial gain which is not on."
As a member of what was then Terry Venables' red-white-and-blue Barmy Army, I was shocked to learn in the run-up to the tournament that Noel wanted to pen the Republic of Ireland's Euro 96 ditty. Happily, his services weren't required but that doesn't alter the fact that he failed the Norman Tebbit ideology test.
"The Norman Tebbit what?"
Ideology test. No matter that your dad's from Bangalore or your mum from Montego Bay, if you're living in Blighty you should always cheer for the British team.
"In football terms I support England, although if they're playing Ireland I'd rather it be a draw so everyone's happy. In a situation like the last World Cup, I'd be sat in the pub with a green shirt on which I'm sure would piss that cunt Tebbit off!"
Advertisement
Expanding the theme for a moment, what does Noel make of Shane MacGowan including pro-Republican lyrics on his new album and Siniad O'Connor continually sniping at her host country from the comfort of a London pied-`-terre?
"If the silly cow hates England so much, why doesn't she fuck off back to Dublin?" he proffers. "She's a bird, and birds moan, don't they? Shane MacGowan's always pissed and probably thinks that IRA stuff's funny. I've never met him and, to be honest, don't want to."
So he doesn't buy into the notion of Shane being the greatest Irish songwriter of all time?
"Has anybody heard 'One' by U2 lately? I'm sorry, but whatever talent Shane MacGowan had, he's pissed it away."
Does Gallagher ever worry that, given a certain set of circumstances, the same thing could happen to him?
"Bloody hell, no. I'm probably tempting fate but I don't think I'm going to become a heroin addict or hang myself in a hotel room. I'm not a tragic character. There's this myth that everyone in Oasis is permanently fucked out of their brains. Don't get me wrong, we have our moments, but none of us is in immediate danger of joining Michael Hutchence."
I think I deserve the Nobel Prize for Restraint for going this far in the interview without mentioning the words 'Stockport' or 'County' - the Edgeley Park upstarts stuffing Noel's beloved Man City 3-1 recently which is the footballing equivalent of Radiohead being blown off stage by Northern Uproar. It could've been all so different if City had accepted Gallagher's pre-season offer to pay Paolo Maldini's wages if they bought him from AC Milan.
Advertisement
"Thank fuck, they didn't," he grimaces. "I said it in a fit of bravado and then thought, 'hang on, he's going to want at least fifty grand a week which multiplied by 52 is, fuck me, over #2 million a year'. I tell you, if they had signed Maldini, I'd have arranged for him to be clattered in the last game of the season so he couldn't have played against England in the World Cup. I bet that'd pass Norman Tebbit's ideology test!"
What gives Noel more of a boner - hearing 10,000 Oasis fans sing 'Wonderwall' at a gig or being in the Kippax when the Man City faithful bellow their way through the Georgi Kinkladze version?
"They're both brilliant, although I have to say that the first time I went to Maine Road and heard 35,000 people sing, 'and every run that Kinky does is blinding...' was fucking top. This season, though, they've taken to humming the funeral march."
With the tour manager circling ominously, it's time to tie up a few loose ends and - let's be totally honest here - get a few good one-liners.
Is it fair to say that you've achieved domestic bliss?
"What you achieve is certain levels of happiness and I suppose I'm happy, yeah. I've got a wife I love and a housekeeper who cleans up after me, so life's pretty sweet."
Are you happy with the way your brother, Paul, portrayed your childhood in his book?
Advertisement
"I said to myself when they first started coming out that I'd either read all of them or none of them. Being a lazy cunt, I went for none of them but me Mam liked it which is what really matters."
Did Liam getting busted for cocaine give you any sleepless nights?
"It would've done if he'd been prosecuted 'cos then he wouldn't have been allowed into North America or Japan. Like I say, he's a spawny git and got let off. If it'd happened to me, though, I'd be at home now doing community service."
Was popping round for tea and biccies at the Blairs' another example of Oasis "selling-out"?
"Tea and biccies me arse, I was as pissed as a cunt. I just wanted to see what the inside of number 10 Downing Street looked like, seeing as I've been paying the rent on the fucking place for the past 30 years. Fair play to him for inviting me after all the bad press I've been having."
Asian Dub Foundation, a band I know you're rather partial to, claimed in Hot Press recently that Britpop "excludes people of colour" and is therefore essentially racist. Fair comment?
"What about her out of Echobelly, then?"
Advertisement
Your labelmate, Bobby Gillespie, said much the same thing about Britpop.
"I don't know what the fuck he's going on about. The music industry's racist? Creation Records certainly isn't racist and if it was, why's he recording for them? Sorry Bobby, I think you're being a bit paranoid there."
Did you really mean what you said earlier about Oasis taking a break or are you just pissed off because Liam's not turning up?
"No, I was being deadly serious. You run out of things to write and be inspired by. There's one great album in every artist and ours was our first. How do we stop the rest of our career being an anti-climax? Anyway, interview over."
I'm trying to work out what journalistic faux-pas I've committed when Gallagher adds, "I assume you want to watch the World Cup draw as well?"
I do indeed, so it's down to the production office where everyone's glued to the telly. Well, not quite everyone. Sitting next to Noel with a puss on her that says "Does anybody know where there's some paint I can watch drying?" is the missus, Meg. After giving her a dutiful peck on the cheek, hubby transfers his attention to Barry Davies' paraphrasing of Sepp Blatter and shrieks with delight when Scotland get drawn in the same group as Brazil. One of his roadies happens to be from north of Hadrian's Wall and thusly the brunt of many a footballing joke.
"That means you'll only have to take the first fortnight of the tournament off," his employer laughs cruelly.
Advertisement
Another cry goes up as the USA draw Iran.
"They'll have to wear khaki for that one," Noel quips. "What'll happen is that the Iranians will mine the midfield and the Yanks'll put an exclusion zone round their penalty area. What we need now is for Holland and Colombia to be drawn together so they can swap drugs at full-time."
If Oasis do go belly-up, an alternative career as a team captain on They Think It's All Over awaits. Gallagher's good humour - and Meg's boredom - heightens when the word "Tunisia" springs forth from Bazza's lips.
"England'll fucking murder them. Who else have we got? Colombia and Romania? Right, that's it, the only place we're touring next summer is France."
Meg exits door left, leaving Noel and his entourage to mull over how many Manchester City players will be booking their seats on Eurostar.
"Uve Rvsler, possibly," he suggests, "to watch from the stands."
The post-draw analysis grinds to a halt when Gallagher remembers some backstage business that needs taking care of. Despite Liam's no-show, the bottles fail to materialise, and aided and abetted by a 9,000-voice choir, Oasis play what is universally acclaimed as a blinder. Not only that but there's no sign of Northside or Inspiral Carpets.
Advertisement
"I dunno what the fuck's going on with me at the moment, to be honest," Noel muses. "I could come back after Christmas and say, 'right, that's it, we're finished' or I could write our Sgt. Pepper's."
I wonder what Paul McCartney would say about that?
As part of the Hot Press #MorningGlory25 series last year, celebrating the 25th anniversary of Oasis' iconic second album, St Andrew's College Choir performed a powerful version of 'Don't Look Back In Anger'. Revisit their performance below: