Reporting the news back in October 2002, Hot Press noted that Derek Bell's death "robbed Irish music of a master musician and one of its most colourful characters." To mark the 20th anniversary of his death, we're revisiting an excerpt from a classic interview with the iconic multi-instrumentalist...
Originally published in Hot Press in 2000.
Interview: Joe Jackson
Derek Bell seems pretty tense. He snaps "forget it, the interview is off" the moment I enter his hotel room in New York. The reason is that I've been detained by about 20 minutes while talking to his fellow Chieftain Sean Keane and the phone-relayed apology obviously hasn't placated the harpist. Not only that. Pointing out that he has "people to meet at midday", Bell really throws down the gauntlet by saying, "I don't see how anyone, who knows absolutely nothing about my work, could come in here and hope to do it justice in 40 minutes." Explaining that I am "pretty familiar" with the music of the Chieftains elicits only a "maybe so". The interview is rescheduled for three hours later, with this reminder: "try not to be late".
I'm not, and by mid-afternoon Derek is his more customary charming self. And charmingly eccentric, which seems as good a place to start as any. So let's hurl the gauntlet in his direction and ask why a man patently committed to music and the parallel "spiritual path" he walks in life, so often allows himself to be seen as a buffoon? As in, 'Ding-Dong' Bell, the sixtysomething musician who asks audiences during concerts if they want to see a picture of his 'pussy' and who infamously titled a solo album Derek Bell Plays With Himself.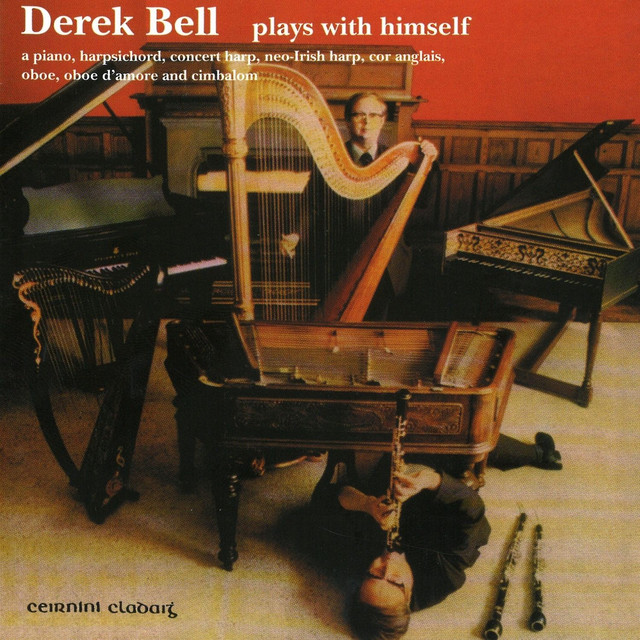 Advertisement
"That title was an unfortunate accident, a joke. But knowing what an ignoramus (Claddagh Records chief) Gareth Browne was, I would have to be prepared for anything [Gareth might suggest]," he explains. "Yet, as for this perception of me as someone who's 'not-all-there,' I don't worry about that. I know who I am. If I didn't know what the fuck I was doing or where I was, by definition I'd be lost, but I don't feel that way. My spiritual life I prefer to keep hidden for those who have a sincere interest in the subject, while I smokescreen it out from people who aren't devotees."
Even so, telling audiences about how he loves "pussy" has many connotations.
"I know, and it could get you fired," Bell says, laughing. Likewise, he admits that stories about how he used to place an open copy of Playboy on the music stand while he was rehearsing with a BBC Orchestra at the start of his career, might strike some as paradoxical in the context of his life-long interest in religion.
"Firstly, I'm Irish and, secondly, I'm interested in paradox," he says. "But I just read the bloody thing! I looked at the pictures and I enjoyed the rude remarks, or whatever. Yet I was a little surprised to find every fucking instrumentalist in the orchestra coming round to his place, walking by my music stand! Then it became funny! And when it started to annoy the conductor it became funnier still! I happen to enjoy upsetting or challenging people in that sense."
But this pivotal interest in the sacred and the profane Bell doesn't regard as a "tension" in his psyche in the sense that it may define Van Morrison.
"It probably would be tension with him, but it doesn't affect me that way at all," he explains. "Yet I am interested in questions like 'what will people think or say in situations like that?' Where someone is known to have a strong religious base but is seen to be reading Playboy in public. How will they judge me? Some people will have a complete misunderstanding of that person because the paradox is there. And many paradoxes do seem to be peculiarly Irish because we have paradoxical minds. I, on the other hand, have been told, since I was a boy, that I have a 'complex' mind which doesn't mean it is paradoxical but it is often contradictory. Yet I never had any problem accepting those contradictory aspects of my own nature."
But was the 'complex' mind of Derek Bell ever riddled with complexes? For example, did he ever feel dislocated as the only Protestant in the Chieftains?
Advertisement
"I got over that long before I was in a band," he replies. "But it is true that I grew up in a background where people thought Catholic children and Protestant children lived in totally different worlds. And that 'the other side' you do not mix with. Yet once I reached the age of seven I realised 'this is totally wrong' and that was the end of it, as far as I was concerned. Though I was ordered, by my father, not to play with a certain violinist because he was 'not our sort' and told 'we don't mix with those people and haven't, since the Civil War'. Yet if I wanted, say, to kiss a girl, I kissed her, whether she was Catholic or not! I didn't give a shit what religion she was! I had to, respectfully, listen to those people, because they lived through the Civil War, but I just went my own way. Even then."
This, Derek suggests, also helps explain why he never felt it necessary to publicly comment on The Troubles.
"I didn't feel that political teachings were any of my business," he says. "I didn't think it was up to me to bother about it very much. And the Chieftains are apolitical. I don't know if that's what attracted me to the band but I can say, for certainty, it kept me in it. I had no focus on that bloody stuff either. I didn't see any reason to disparage a person because he didn't believe what I believe. My wife, for example, doesn't believe any of the strange religions I join up with. Or their books or the Masters. She doesn't give a shite about them. If she looks at the universe, she doesn't think there's any bloody God or a grain of wit there at all. I take a different view. I consider that you have the choice to believe in God, or not. But it's much easier to live your life, better, if you feel there is somebody there. So why not accept there may be higher beings, more evolved people and that to be in harmony with them is more meritorious than just to deny their existence!"
But does a situation where Derek's wife and "soul-mate" Steffie – 'The Snow Leopard' as he calls her – is a "disbeliever" not create division in their relationship?
"No, we just agree to differ. But Steffie is the snow leopard, the king and queen cat rolled into one! She gives the orders! We've been married nineteen years and in no instance has she been wrong about anything. So she's a bloody good thinker. When she was a child she was put in the genius class because the teachers didn't know what the fuck to do with her. She knew it all!"
Is Derek still in love with his wife?
"Yeah," he says. "As I was, in the beginning! It took me five seconds to bring her home! The mother was deeply shocked and wondered if we'd been 'at it' and had to get married! Was there a little bun in that oven! But we assured her there wasn't. Yet !"
Advertisement
Derek and his wife, Steffie, have no children.
"But we have eight cats," he says. "I feel happy to accept what God brings each day, good or bad. There are things in life you can change, and better. And there are things you can fucking do nothing about. All you require is the wisdom to tell which is which."
Wanting then finding you can't have children would cause many people pain.
"It would."
So was there ever a moment that this realisation hurt Derek and his wife?
"Steffie's first reaction was 'children are a bundle of fucking trouble, anyway'," Bell says. "But she, quickly, took another viewpoint. Yet we haven't, selfishly, decided not to have children. If you're going to have no children then you must find a bigger, human family to deal with. Both of us have found that. We each have our individual harp students, that we take care of, directly. And a family of audiences, listeners and concert organisers, all sorts of things. That feeds the same need. In fact the Great Master's poem is very appropriate in this sense. 'I will be a divine gypsy/I will sing and I will roam all over the place/And I will go where none has gone before and sing a new song/That none has sung before.' I expect everyone to go through life with that attitude. I certainly adopted that attitude in the early '70s."
This talk of a new song presents a timely opportunity to discuss Derek's claim that Van Morrison once said he was "under Paddy Moloney's apron strings", wasting his talent singing the same song ad nauseum. And that he should actually leave the Chieftains and join Morrison's band.
Advertisement
"But what Van was saying is fundamentally untrue because Paddy never fucking did that himself," Derek responds. "As in play the same song over and over. So if I was under Paddy's strings, I had a very good mentor. So fuck Morrison. And, yes, Van was asking me to leave Paddy's band and fucking join his, as a keyboardist. But I did not feel I was sufficiently qualified to be in his band, because I'm not a jazz musician. And I told him that. But he said he didn't want me to play jazz, he wanted me to play my own way, as a contrast to the others."
But has Derek ever felt inhibited, as a composer, "under the strings" of Moloney?
"Not at all. I found a way to read his mind. I was invited to write about a hundred pieces of his for a symphony orchestra. I turn myself into a receiving radio set and try to read his mind to the utmost, within the laws that are self-made by the music. Then I submit that to him and to the world. So my ideal, when working for Paddy, is to write what his mind would write if it had utter freedom and technical know-how. That was a point-of-honour, to try and achieve that."
On this question of who creates what in the Chieftains, one perception is that Derek merely arranges music that is created by Paddy; another is that Paddy's original ideas are simply rough sketches and Derek is the creator.
"I regard those two statements as different expressions of what happens," Bell says. "I really don't mind which way it is. Because if he's the composer then the next step is that he must tell me what he feels, in every part of his being, give me a picture of exactly what he wants the final outcome to be. Then I must try to suppress ego and personality and see what he is saying."
In other words, the music of the Chieftains is co-created by Derek Bell and Paddy Moloney?
"It should, eventually, end up that way. So that you couldn't tell, with certain proof, to which of us it belongs. It should be one voice. And that would be what I aim for. And if I fail and he wants it done a certain way, I must do it again."
Advertisement
Derek obviously succeeds more often than he fails.
"Well, I am uniquely qualified because what we need in our music is pure art. Music that doesn't destroy the concept and the feeling and the age in which the music was originally conceived. So we need someone who studied modal harmony, counterpoint and medieval music. To Americanise it, like certain pop traditional musicians do, isn't the answer for me. I will not write a pile of shite, no matter whether it's 'hip' to do it or not."
So would Derek see some of the collaborative works the Chieftains have recorded with their superstar friends as shite?
"I am ashamed to admit I have described them as that myself!" he says.
Are there moments during these collaborations when Derek wants to stand up and walk away simply because his soul says 'go'?
Advertisement
"Yes. There are indeed. And I swear about it for months afterwards and try to forget it. But if I feel it is fundamentally incongruous and destroys the music, I do think about what you're saying. But Krishna said you must live your life and not get too personally involved. He taught us never to get too attached to the results of our actions but to concentrate only on him. That gives you incredible freedom and lack of attachment to things that seem to be annoying everybody else."
Nevertheless, Derek has stressed the Chieftains collaboration with Van Morrison on Irish Heartbeat was far from disgraceful.
"I thought Van's art was valid," he explains. "And that saved it from disgrace. Because there are ethnic specialists in Irish music who like to have it as pure as a new born baby and they find his improvisation in things like 'My Lagan Love' and it'll-not-be-long-till-our-fucking-wedding-day and all that, to be totally grotesque. Partly because of his vocal tone and partly because of him distorting the text. He growls it rather than sings it."
Derek, who has described Van's reading of 'My Lagan Love' as a Hindu chant, now says that man's art can be "positively transcendent" when he gets it right. And when Van gets it wrong?
"Well, that's the vicissitude of being an artist. But Van feels very intensely. Though some people, who should know better, also say he's the best poet in the English language since Yeats. I heard that said at Coleraine university when Van and I were on a panel together."
Discussing 'the Healing Power of Music' – a subject that, it's said, led to Van and the Chieftains working together on Irish Heartbeat ?
Advertisement
"Yes. And that's why, when we met, over supper, a year before our own record was made, we tried to come to some decision as to how far spiritual forces could influence Western Music."
Expanding on this theme, Bell observes that music has to have good and evil, light and shade, contrasting sections.
"Though I must say that a lot of contemporary rock music strikes me as very vacuous, at this level," he adds. "There's fuck-all in it because fuck-all, in terms of a true vibration, has gone into it. I'd say, for example, that two-thirds of what RTE radio broadcasts is pure shite. And people like Yehudi Menuhin were deeply concerned about the crap young people pour into themselves. And wondered, in future generations, what in hell (type of) human beings we are going to breed. Because it's known that the most occult of the arts is music. Music is the most immediately effective of all the arts, so it's quite right to be concerned about this question."
At the beginning of this interview Derek said he would "happily" talk about sex if interviewers raised the question but when he does "it is rarely reported" or "misrepresented." Why does he think this is so?
"I said I would talk about controversial subjects, including sex, if I'm asked, but that I might answer in monosyllables, if I want to," he explains. "You must remember that the world still thinks sex is unclean."
Does Derek think sex is unclean?
"No. I feel it is a natural function."
Advertisement
Did he always have this lack of inhibition?
"No, but when I heard the Swami say it, I knew it was right. I feel about this the same way I feel about Clinton and Monica Lewinsky. I feel what he does with any women he's intimate with is none of anybody's goddamn, fucking business."
The same applies to Derek?
"The same would apply to me. If I want to go out and whore around in night clubs or strip clubs or topless bars it's actually none of anybody's business."
So what of the story which holds that one night, certain Chieftains ended up in a New York brothel apparently under the impression they were in a bar?
"That's reasonably true. We were probably looking for a late night drink! And back in 1975 New York was really a more intriguing place, before Guiliani started to clean it up. We went into what seemed to be a bar, with these lovely girls running around, dressed in thin, red dresses. And one was from Liverpool and she asked would we like to see her diddies. I broke up laughing and Paddy didn't know what to fuckin' say! And in the end she pulled the bloody dress up and showed them to us! Then Paddy and I saw some rough looking characters and decided to get out. Now, only two others in the band were involved in this particular escapade. But then Paddy enticed us into a film on the pretext that it would interest me because it was called Misty Beethoven. The mist was the mist steaming up on your glasses when you saw all these things! And Beethoven appeared very little in it. But Sean Potts said his Hail Mary's very loudly and left the theatre! And Peadar stayed by me. Paddy was on the other side. But Sean Keane followed Sean Potts out because both of them thought this was a disgraceful thing to be led into. They were all good living, devout boys. The most devout in the band."
Whereas Derek stayed and enjoyed this porn movie?
Advertisement
"Oh yeah! Then we went out for supper afterwards and just took the whole thing in its course. But I felt being able to show such things in New York was a freedom that would be desirable, rather than the restrictive censorship we had at home."
So, presumably, Derek sees as 'healthy' the loosening up of such restrictions in terms of, say, the Internet?
"Oh yes. Now you can watch anyone's boobs on the Internet! That's right. You can watch anything you like."
Would Bell see any of the music made by the Chieftains as purely sexual?
"The playing of music that is strong can become sexually magnetic, that's more the word I'd use. According to how it's played. Or what it tends to mean. It'll have a different effect on each person. A lot of the result of listening to music says something about the listener rather than the performer or composer. And to find out what the total effect is you'd need to be a clairvoyant who could see the colours that are set up, in the inner plains, by the music. And at that level, the music of the Chieftains could be highly sexual, at points. But, in terms of the new album, Water From The Well, what I love about it is the fact that there are no slow dirges that would bore the hell out of you. Like there were on the last three albums. That bloody Tears Of Stone and, worse still, The Long Black Veil . One dirge after another. I like to see a record that has at least enough music to make people want to get up and dance.
"Life-affirming music, to me, means music with positive effect," he concludes. "Life-denying music would be something that is on the boring side, a dirge, something that outstayed its welcome as a result of its length. In other words, if music is not life-affirming why bother your arse about it?"
Advertisement