Oasis' Be Here Now to be released on limited edition collectors' formats for 25th anniversary
The 25th anniversary formats are available to pre-order now.
Next month, Oasis' third album, Be Here Now, turns 25 – and to celebrate, Big Brother Recordings have announced that there's limited edition collectors' album formats on the way, out on August 19.
Formats include a silver-coloured double heavyweight LP, plus a double picture disc and cassette available exclusively from the band's online store, all with remastered audio – available to pre-order here.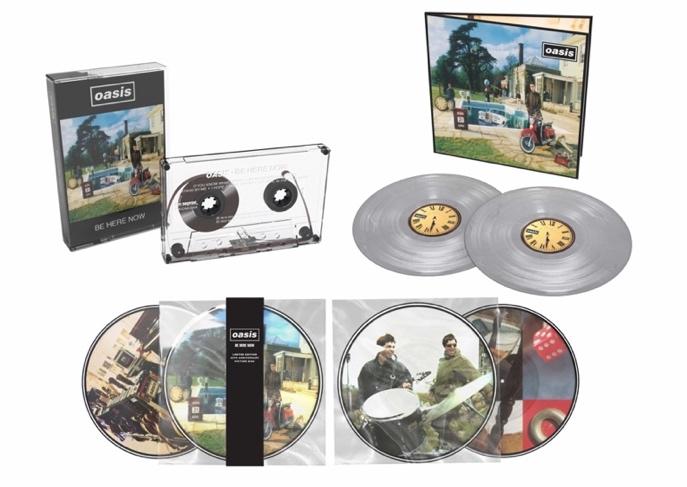 To coincide with the announcement, a brand new lyric video for 'D'You Know What I Mean? (NG's 2016 Rethink)' has been released online. The original version of the track, which was the lead single from Be Here Now, went No.1 on the Official UK Singles Chart on this day 25 years ago.
Advertisement
Additional lyric videos and original Oasis content from the era will also be shared in the run-up to the release of the 25th anniversary formats of Be Here Now.
Be Here Now was released on August 21, 1997, and followed the success of (What's The Story) Morning Glory?, Oasis' biggest-selling album. The previous summer, Oasis played to more than 250,000 people over two nights at Knebworth, with a remarkable 2.5 million people applying for tickets. Last year, the 25th anniversary of the shows was mark with the cinematic documentary Oasis Knebworth 1996.
Be Here Now was produced by Owen Morris and Noel Gallagher, and recorded at Abbey Road, Ridge Farm, Air, Master Rock and Orinoco Studios between November 1996 and April 1997.
In addition to 'D'You Know What I Mean?', the band's third No.1 single, the album features classics like 'Stand By Me', 'All Around The World', 'Don't Go Away' and 'Magic Pie'.
Be Here Now was No.1 in fifteen countries following its release, and remained at the top of the UK Album Chart for four weeks. To date, it has the most album sales in the first seven days of a release in UK Official Chart history and has sold over eight million copies globally.
Oasis – Be Here Now (25th Anniversary) Tracklist:
Advertisement
A1. D'You Know What I Mean? (Remastered)
A2. My Big Mouth (Remastered)
A3. Magic Pie (Remastered)
B1. Stand By Me (Remastered)
B2. I Hope, I Think, I Know (Remastered)
B3. The Girl In The Dirty Shirt (Remastered)
C1. Fade In-Out (Remastered)
C2. Don't Go Away (Remastered)
C3. Be Here Now (Remastered)
D1. All Around The World (Remastered)
D2. It's Gettin' Better (Man!!) (Remastered)
D3. All Around The World (Reprise) (Remastered)