Jess Glynne: "I didn't want to see another stage, or another microphone. I didn't want to see another studio. I just wanted to breathe"
One of the most influential figures in modern UK pop, Jess Glynne, is back after a three-year hiatus with her new single 'Silly Me'. She opens up about pressing reset on her career, speaking up, Joni Mitchell, Sam Smith, Taylor Swift and SZA.
When you talk about era-defining voices in pop music, it's impossible to look back at the 2010s, particularly on this side of the Atlantic, without the name Jess Glynne instantly leaping to the forefront of the conversation.
Whether blasted on the dance floor, over the airwaves, alongside TV ads, or out of a borrowed speaker at a pre-drinks, her voice and that decade are inextricably interwoven for an entire generation. Her solo work included two multi-platinum-selling, chart-topping albums, while her collaborations resulted in major hits like Clean Bandit's 'Rather Be' and Rudimental's 'These Days',  both of which have since amassed over a billion Spotify streams each. Today, she still holds the title of the British female solo artist with the most UK No.1 singles in history.
Of course, Jess – who was part of the first proper generation of pop artists to rise to stardom under the omnipresent glare of social media – has also found herself at the centre of controversy on more than one occasion, from a since-revoked lifetime ban from playing the Isle of Wight Festival, to ill-judged Instagram posts. In 2021, she was criticised for using an offensive slur about trans people on a podcast – which provoked her to seek out in-depth conversations with queer and trans activists, and educate herself about an issue she "was frankly ignorant of," as she stated in her apology.
Recent years have afforded Jess much-needed time for reflection – having brought about some major changes in her career, after several years spent away from the spotlight. At the end of April, she returned with a new single 'Silly Me', a song about "learning from your mistakes and growing from them." It offers a promising taste of what to expect from her first album in five years, set to be released in the months ahead.
Advertisement
The single follows her move to her new label, EMI, late last year. She's also got new management, after inking a deal with Jay-Z's Roc Nation.
"It was really important for me to make a change in my team," the North London singer-songwriter tells me. "Taking time out, you reflect – and you look at what's making you happy, and what feels good. A lot of things happened in my personal life. I lost a friend, in such a tragic way, and it really put a lot in perspective for me. Putting yourself, your happiness and your mental health first is the most important thing."
Taking such bold steps, and resetting her career, were "scary", she acknowledges.
"But I really do believe in going with your gut," she resumes. "I did that, and it really has paid off for me.
"There was a long period of time where I was doing it all alone, because I was walking away from everything," she continues. "I didn't have a team to rely on. So getting the new team I was like, 'This feels great – I actually trust them.' It's taken a minute to stop being such a control freak! But it really has evolved into something special. The way we work is very much like, 'Jess, are you happy with this? Is this what you want?' Rather than another kind of energy, that I was maybe receiving before…"
Numerous factors have influenced this new chapter in Jess's career. After finishing up her tour in 2019, she says she "was exhausted" and "so beat up."
"I didn't want to see another stage, or another microphone," she reveals. "I didn't want to see another studio. I just wanted to breathe. I was really scared that I wasn't going to feel inspired again to write, or to stand on a stage. But I really just needed a break. I just needed to chill."
Advertisement
The music of Joni Mitchell turned out to be a major source of everyday inspiration during these testing times for her, much of which she spent in Los Angeles, alone.
"The way Joni Mitchell writes songs is so against the grain," she reflects. "It's so immersive. You can sit and listen to her voice and her lyrics, and just be in another world.  I was going through all of her albums, but Blue is the one I really listen to a lot. I basically found myself waking up most days and playing her music, from the minute I woke up.
"I'd wake up in this hotel – and hotel life is gross," she adds. "As much as people are like, 'Oh wow, hotel!' When you're living in a hotel, it's not a vibe, and it's quite lonely. You can't even cook. There are so many elements to it that just feel so depressing. But I'd just sit on the bed and listen to those records. Honestly, it was my saviour. I found her opening my mind again to the idea of telling stories."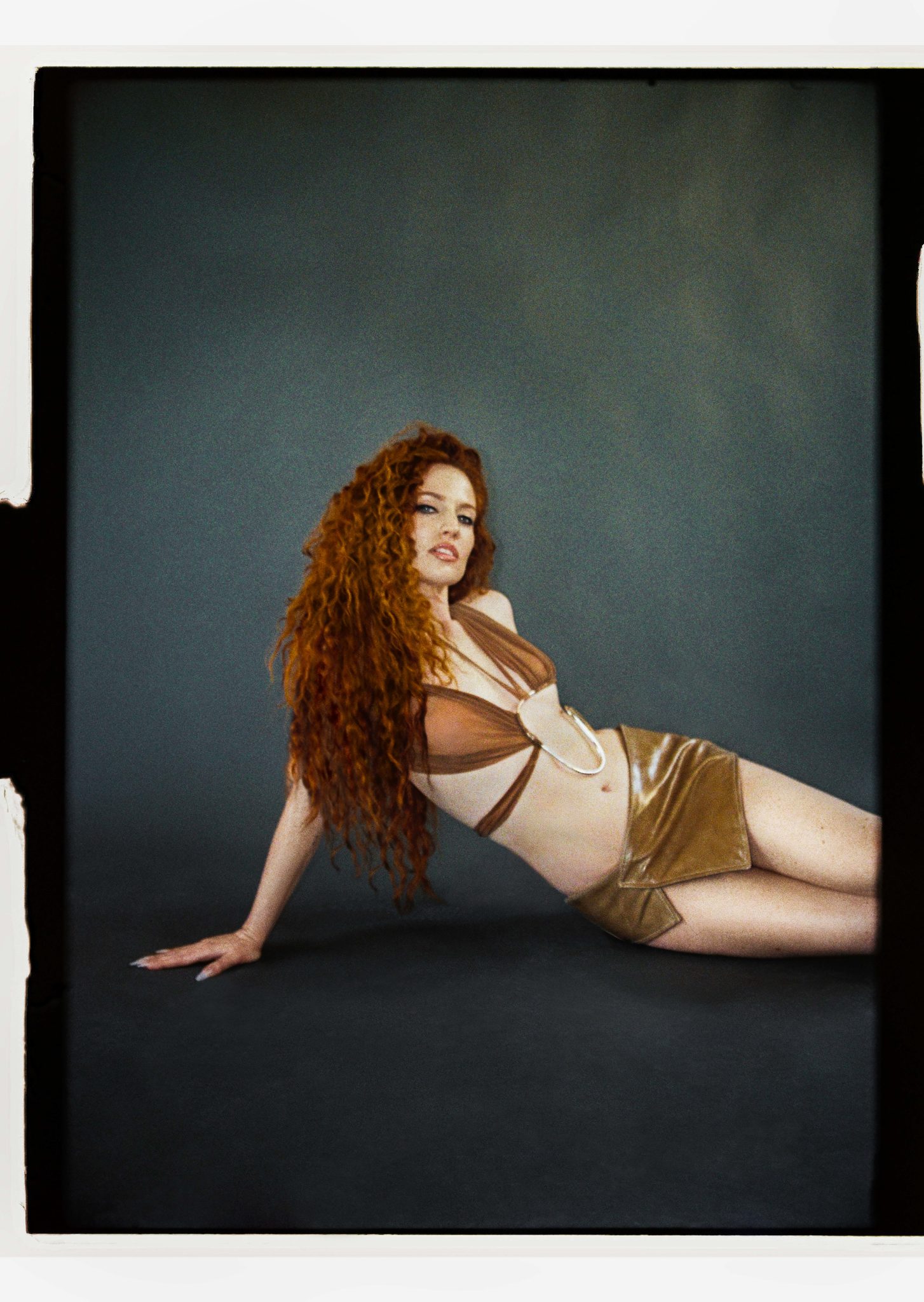 As well as putting a new emphasis on honesty and vulnerability in her music, Jess appears to have carried this ethos into her real life – proving refreshingly open and grounded in conversation.
"I've always been conflicted, because my surroundings and my support network were a little bit insecure, maybe," she tells me. "Now I'm in a place where I feel a lot more secure in myself, and in my mindset, and in my music. So it's important for me to share those sides of me, and for people to really understand where this music has come from.
"One of my favourite things is when I listen to albums, and then listen to the artist's interviews," she continues. "It makes the record more important, because I can connect with it. When you listen to Amy Winehouse's albums, you know what she was going through, and you know where that music has come from. If you didn't know that, I don't think you'd connect so heavily."
Advertisement
As a music fan first and foremost, she continues to search for that "real artistry and real honesty" in current sounds.
"I remember when SZA released her album [SOS] last year, I was so inspired, and so excited," she recalls. "It was the first time in a long time that I had listened to an album that I felt so relieved, and I was listening to things on repeat. Her story and her vision, and everything, just felt so on point. It resonated. It's really rare, for me, that that happens."
Another artist whose approach she admires deeply is Sam Smith.
"I went and saw them live recently, and I was so blown away by the show, by the performance, by them," Jess enthuses. "They're someone who I've known for years, and I massively respect them. They have done such an incredible job of expressing themselves. It's so beautiful to see. It sparks conversation and controversy – but that is a true, true artist, who knows what they want, and how they want it.
"We came up together, so watching them on stage, compared to when we were both right at the beginning of our careers, was so emotional."
Has Jess witnessed any positive changes in the music industry – and the way it handles its young talent – since she was first emerging in the early 2010s?
"It's weird – in some cases yeah, and in some cases no," she muses. "The one thing I've learned is that speaking up, not allowing yourself to be silenced, and not being scared of what you believe in is super important.
Advertisement
"As women in particular, I do think it is harder," she adds. "We are scared a lot more. This journey I've been on has been a lot about making quite bold decisions, and speaking up – and making choices that years ago I wouldn't have made, because I would've been scared."
Other artists have made important, game-changing strides in that respect.
"Taylor Swift has really opened up a door for us," she asserts. "I really appreciate her for what she has done for artists, in allowing us a voice that we probably wouldn't have had before."
Looking ahead at the next few months, Jess states that she'll never let her touring schedule "take over like it did in the past ever again" – and she continues to prioritise looking after herself, whether on the road or otherwise. But that doesn't mean her drive or ambition has gone anywhere.
"I'm very competitive," she reveals. "Whatever I do, I'm either all in or I'm all out. With this, I'm all in – and I'm not going to stop until I reach the end of the earth.
"The one thing I wanted was just for somebody to recognise the honesty, the vulnerability, the realness, and the vision," she continues. "Just for one person to be like, 'I really get it.' That's one goal done. The next goal is… I don't know. World domination? But I don't know how I do that – so we're going to just keep going and see what happens!"
• 'Silly Me' is out now.
Advertisement