Watch New Secret Weapon make their long-awaited return with a performance at The Button Factory at 8pm on Monday, February 1 – streaming exclusively on the Hot Press YouTube channel.
Nearly seven years ago, Dublin-based trio New Secret Weapon established themselves as one of the most captivatingly original new forces in Irish music, with the release of their acclaimed self-titled debut album – fearlessly defying the limitations of genre with a unique fusion of alternative rock, prog and jazz.
The album, described by Hot Press's Edwin McFee as "wildly imaginative and full of occasionally unhinged, face-melting riffs and head-cracking time changes", placed the band on the path towards a major breakthrough. And, sure enough, by 2015, the lads were already rubbing shoulders with legends – working on their follow-up project with Steve Albini, and supporting Patti Smith at Kilmainham.
Now, after a break away from the spotlight, the trio are back – and are set to reintroduce themselves with their first ever live-streamed gig. New Secret Weapon's performance will see them returning to The Button Factory in Dublin once again, streaming exclusively on the Hot Press YouTube channel at 8pm on Monday, February 1.
"It'll be beautiful to see the place at such ease – without it heaving from the guts out with our headbanging mates," laughs singer and guitarist David Griffin. "We wanted to keep all eyes on each other, enjoy ourselves, and just go in. We're performing in a little triangle, looking at each other, as if we're in the rehearsal room. We're stashing our amps off to the side, and just going in with in-ears. First and foremost, we knew we wanted to go in relaxed, and enjoy the process."
Of course, the music scene New Secret Weapon are re-entering has undergone some dramatic transformations since the band first rose to prominence.
Advertisement
"The underground following, and the weight underground bands had was completely different then," Griff reflects. "The garage gig scene is completely decimated. The whole landscape has changed, and the heavier bands out there are fewer and far between."
"And a lot of good underground venues went under," adds drummer Trevor Keogh. "Like Doran's  – they would've championed all that stuff, and now they're gone."
"And that was well before Covid had anything to say about it," Griff resumes. "It's down to a mixture of things, but the collective climate that we were amongst isn't there anymore. With venues dwindling off, the collective spirit became about trying to earn money hand over fist, rather than actually being a part of a collective. People grow up and grow out of it as well."
Griff admits that New Secret Weapon were starting to follow that road themselves – before joining forcing once again with a renewed focus and vigour.
"We're back together as three real people now – three real close friends, first and foremost," he says. "Regardless of the shape and size of the music industry, we have a beautiful new attitude and new plans. And that's Covid-proof and music industry-proof – because we're doing it for ourselves, before anything else."
With this defiant approach, New Secret Weapon found a like-minded spirit in the form of Steve Albini – famed for his work with the likes of Nirvana, Pixies, PJ Harvey, Joanna Newsom, The Stooges and Manic Street Preachers. The trio began working with the legendary audio engineer during a period of transition for the band, following the critical acclaim of their debut album.
"He's a headbanger!" Griff grins. "We're all very similar creatures. We got to hang out with him in France for ten days, and then we got to hang with him for another ten days in the States, by which point we had a major rapport with him. So we're kind of buddies, at this point. He was in Ireland a couple of years ago and he gave me a ring. I was at a house party, and I was on a rollover – so it wasn't exactly the most suitable time to be talking to Steve Albini! But I passed him around the table anyway. It was a bit of craic. He's a sweetheart."
Advertisement
The band also describe the studios where they worked with Albini (Studio La Fabrique in France, and Electrical Audio in Chicago) as "the stuff of dreams."
"What we'd done didn't even really hit me till I got home," Trevor remarks. "I saw Dave Grohl's documentary, where he went to all these different studios around the States. Foo Fighters walked into that studio where we had been, and they were like, 'Oh my God – wow, this place is unbelievable!' And that's one of the biggest bands in the world."
"It was the same kind of sentiment with Studio La Fabrique," nods Griff. "Everyone from Bowie to Nick Cave has played on that grand piano I was in there playing on. It was the absolute Rolls Royce of experiences, on both sides of the Atlantic."
As well as keeping busy with their own separate projects in recent years, New Secret Weapon have also been putting in the less glamorous, but equally essential, graft behind-the-scenes.
"There's that old cliché," says Griff, "of rock-and-rollers wandering around, waiting for a record deal to fall out of the sky – without really doing what's necessary first. We reset, and started doing what's necessary. Now we've a really solid team behind us, and some interesting developments taking place..."
Watch New Secret Weapon performing from The Button Factory, Dublin at 8pm on Monday, February 1 – streaming exclusively on the Hot Press YouTube channel.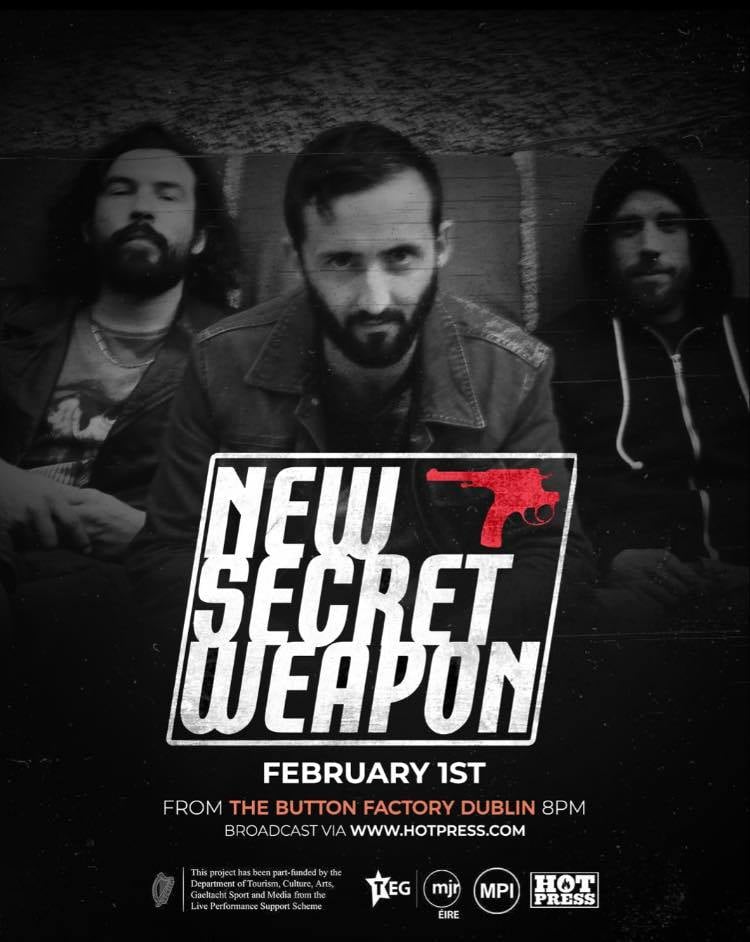 Advertisement