Interview – Matt Berninger: "Nick Cave is the best songwriter alive. And I'm aware Bob Dylan is alive"
Following the release of eight lauded studio albums with The National, lead singer Matt Berninger has finally gone solo, with Serpentine Prison. He tells us about working with producer Booker T. Jones; his Catholic altar boy upbringing; and why Cardi B and Megan Thee Stallion's 'WAP' is a modern work of art.
For a man who's penned some of the most profound lyrics on the human condition in living memory, Matt Berninger's nervous energy is unexpected – as is his giddy likening of his new Booker T. Jones-produced solo album, Serpentine Prison, to Jaws.
"I needed Booker," he tells me from his home in Venice, California. "I wasn't going to drive this thing into a lake. Booker was driving the boat. I was just the captain. I was Quint, and Booker was everyone else.
"I needed all the musicians to know that they were in good hands," he elaborates. "I had 20 different people coming and going from Airbnbs over the 14 days, in a tiny studio. I needed them to be focused on the one central person, and it couldn't be me, because I can't sit still. I'd be running around doing 50 things, with this nervous energy, making terrible jokes all the time. They kept having to ask me to leave, because I'd be so amped, and excited, and wired – and they'd be trying to figure out the harmony, or what's the right key for something."
Despite guest appearances from Andrew Bird, The National's Scott Devendorf, Bowie's bassist Gail Ann Dorsey, Willie Nelson's harmonica player Mickey Raphael, and Brent Knopf, the other half of Berninger's supergroup EL VY, among others, Serpentine Prison is a powerful solo statement – featuring dark, insightful ruminations on the state of the world, and the state of the people within it. Yet, as Berninger reveals, the project originally started life as a covers album.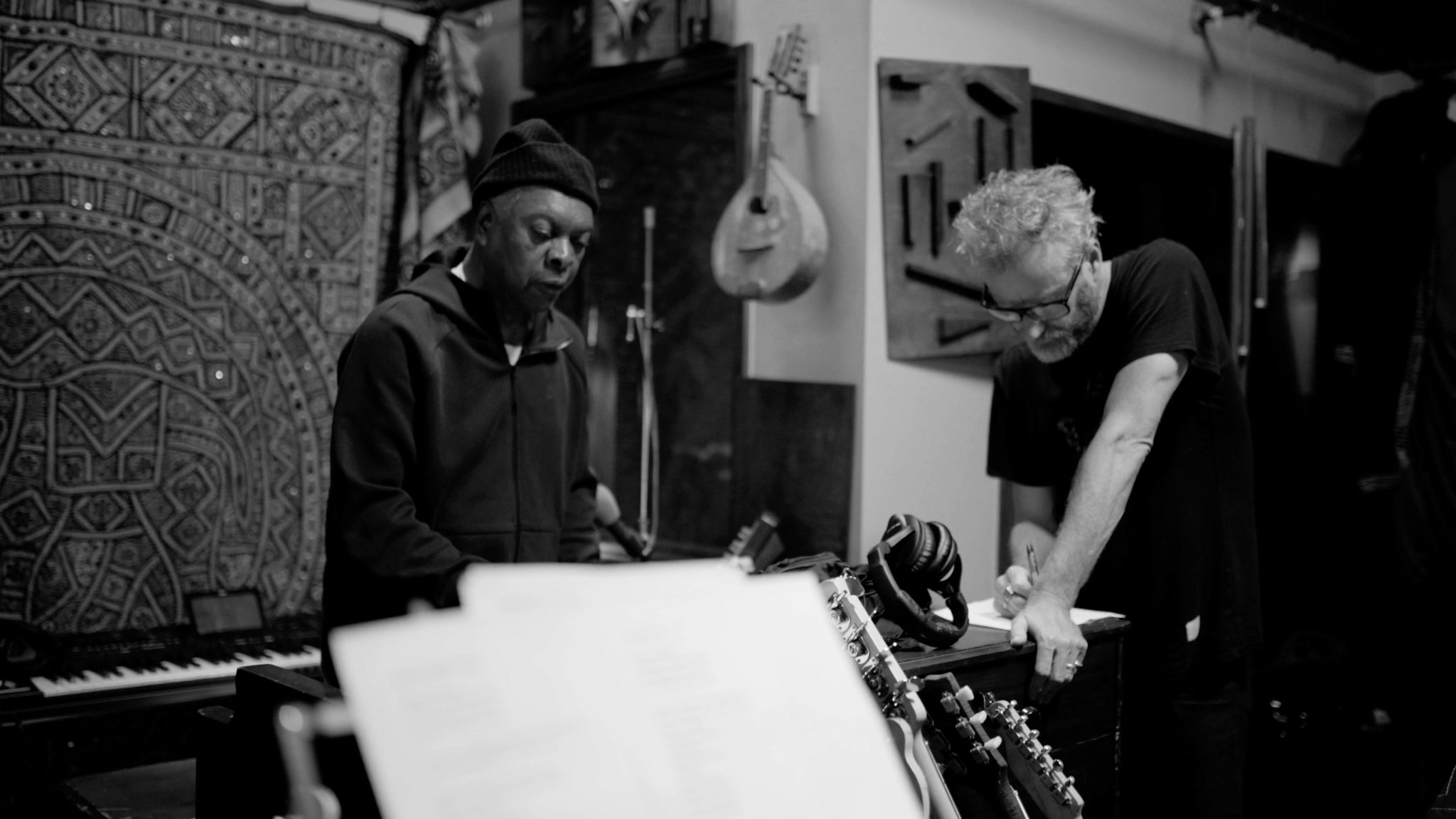 Advertisement
"That's why I called Booker in the first place," he explains. "I was feeling like, 'Okay – time to take a break from this life and this craziness'. We had just done I Am Easy To Find, and finished a big phase of this Cyrano musical. Sleep Well Beast had happened just before that, too. So the intention was to do a covers album and just chill out!"
Of course, Berninger's famed productivity didn't make that so easy.
"When you're making stuff, you can't just sit it out," he reflects. "You've got to keep making stuff, and keep putting it out. I have to learn to do other things with my life! I can wake up and spend all day writing songs – but then I forget to do the rest."
"So we started making this covers album, but I had a bunch of half-written songs with people from my first band Nancy, and people from The National and EL VY. I also had all these half-baked song ideas with people like The Walkmen and Hayden Desser. I started sharing those originals with Booker. He said, 'Why don't we just focus on those?' So we went in, and in 14 days we did a bunch of originals and a bunch of covers. They're all part of this whole thing, but we decided to release the originals separately, because it just made sense."
He promises that we won't have long to wait before the covers are unleashed on the world, however: "Either as part of a bonus deluxe edition, or for other charitable or political mercenary missions," he laughs. True to his word, his cover of The Cure's 'In Between Days' has already found its way onto a star-studded Bandcamp project in aid of voting rights organisation Fair Fight, while his rendition of Mercury Rev's 'Holes' was released earlier this year as part of the 7-Inches For Planned Parenthood series.
This tendency to confront the political alongside the personal has long been a defining feature of Berninger's songwriting with The National – and comes to the fore more compellingly than ever on Serpentine Prison's title track.
Advertisement
"Whether you're a painter or a novelist, or whatever you do – you're just letting the world come at you, and letting it soak in," he posits. "An artist is a sponge. And when a sponge gets filled so much, and you can't fit anymore in, it starts coming back out. Artists just squeeze themselves, and stuff comes out. It's the same stuff that went in, but it's through their filter – coming out in a new, hopefully more helpful way."
Like the sewer pipe draining into the sea imaginatively referenced in the title, there's something inexplicably dark and lonely about 'Serpentine Prison' – with lyrics that delve into addiction on a personal level, as well as the wider ills of the modern world: "Cold cynicism and blind nihilism." Is that what he thinks the world has turned into in 2020?
"A lot of people are really nihilistic, and it's a shame," he sighs. "Especially now with the white supremacy and all the racism in America. But there's also these people who are younger than me, who have literally had enough, and will not take any more bullshit – and they're our best hope. All we've been doing is feeding them bullshit. Look at the planet. Look at what my generation has handed my daughter's generation. It's shameful. We have to take responsibility for the world we are leaving our children. If we don't have the backbone and character, then I certainly hope they do. And I think they do."
According to Berninger, that "blind nihilism" also extends to the Catholic Church.
"I'm not a big fan of the Catholic Church, or any other Christian churches, but it's a big part of me," he says. "I'm a Catholic, and I think I'm a good Catholic. I'm pro-choice as well, and I think any Catholic worth his or her salt would know exactly what I'm talking about – especially now. So the fact that even the Catholic Church has this nihilistic, cynical, self-destructive impulse to follow these self-serving, fearful ideas is a real shame."
Growing up in a family with Irish roots, Berninger's early years in Cincinnati were in many ways centred around Catholicism.
"My mom's side of the family is Irish," he explains. "Their last name is Dwyer, and that's sort of the wilder side of the family. My mom's dad used to hike through Alaska with a firearm on his side. I came from a weird family of Midwestern, gun-toting liberals. The weirdest part is that the gun-owners in my family are all the liberals, and the ones that don't really like guns are the Trumpies. Complicated family!"
Advertisement
He also credits his altar boy years as his first taste of performing on a stage.
"I liked going to church when I was younger," he reflects, laughing softly. "All the girls were there, it was quiet, and there was good music. The church was built in this beautiful A-frame, with incredible stained glass windows – but it also had the Stations of the Cross, which is, you know, Jesus being murdered slowly…
"So it's this weird combination of guilt, because it's our fault that this really awesome 33-year-old guy was tortured to death, but it's also your neighbourhood – because you'll go, 'Oh, there's Jenny from down the street. And there's Uncle Phil. And there's my baseball coach.' And then I get to feed them all the Eucharist! I get to feed girls I had crushes on – and their moms – the body and blood of Christ! And I'm wearing a cloak with gold things on it, and I'm ringing bells! Awesome."
Berninger recently revisited these years on social media – posting a photo of himself and a group of his white peers during the '80s, as he reflected on the Black Lives Matter movement, and his own white privilege: "Singing 'We Are The World' in Cincy in the '80s," he captioned the photo. "I didn't really get to know a person of color for another 10 years. It took me a long time and a lot of listening to begin to understand racism in this country. Still learning."
Singing We Are the World in Cincy in the 80s. I didn't really get to know a person of color for another 10 years. We were NOT the world. It took me a long time & a lot of listening to begin to understand racism in this country. Still learning. #SilenceIsViolence #blacklivesmatter pic.twitter.com/N1xQlUigdR

— Matt Berninger (@Mattberninger) June 1, 2020
"That was my grade school, Our Lady of the Visitation," he tells me. "I think we were in 7th or 8th Grade in that photo. Those are the kids I would have gone to church with. A bunch of them are probably Republicans now. And of course they are! Maybe every single person in that photo is, except for me. I don't know. But I do know that they're all awesome. I mean, I'm not going to go back for a reunion or anything! But I have an empathy for white people inside a white bubble. It's not a sympathy – it's an empathy."
Advertisement
Did music play a role in helping him to burst out of that bubble?
"Yeah, I think so," he considers. "I remember listening to the Violent Femmes. They had some really progressive lyrics on a lot of their songs – a lot of which they wrote when they were in high school. And also The Queen Is Dead by The Smiths, and Louder Than Bombs, which my sister brought home. Listening to what those dudes were singing about, and the freedom of reckless, weird poetry, and the attitude – they all made me realise, 'Oh – there's something more to music than background stuff'. Then bands like Pavement and Guided By Voices made me think, 'Oh wait – I can do this.' A 38-year-old school teacher can say, 'I'm going to switch and become a rock star now'. That's what Robert Pollard did.
"Also as a kid, my parents played Willie Nelson and Roberta Flack," he continues. "They didn't have a lot of records, maybe ten in total, but they played some really good ones, over and over and over again for my whole childhood. So listening to that kind of stuff, and then discovering those weird bands – all of those were different moments of, 'Oh – I should do this with my life'."
In more recent years, Berninger has also connected with the next generation of music legends – through collaborations with the likes of Phoebe Bridgers, Julien Baker and CHVRCHES. And he's more than willing to gush about the calibre of the current crop.
"I really do think that there are better songwriters writing songs right now than ever," he says earnestly. "So many artists are doing their best writing right now. Like Nick Cave, and his last couple of records. For me, Nick Cave is the best songwriter alive. And I'm aware Bob Dylan is alive. Nick Cave has even gone past Cohen and Tom Waits for me – and that's my trinity!
"It's because of these past four years, of just being saturated with absolute bullshit from the news and information," he continues. "Everyone knows it's bullshit. Even the culture – the TV shows, the pop music, and everything else. Nobody can choke it down anymore. I don't know any artists – and I mean the ones that are really artists – who aren't making their best stuff right now."
To Berninger, there's a distinct difference between art and craft: "And you have to do both," he argues.
Advertisement
"Sometimes you have incredible craft, but the art's just not there," he notes. "Just tell me something true! Tell me something new, and real! For example, 'Wet Ass Pussy' [WAP]' is a beautiful work of art – because it's fucking true. And it's bold, and it's beautiful. And it's fun! That song has both the art, and the craft – because they crafted it into such a banger! The video's amazing too. Everything about that is art. I think everybody's tired of packaging these little ideas into something safe. Everybody's like, 'Fuck it – blow it all up'."
• Serpentine Prison is out on now.