'If our parody show can take the audience's minds off the current struggle, we've done our job:' David O'Reilly on hosting the virtual Eurobeat - The Pride of Europe
'Eurobeat – The Pride of Europe', filmed at The Clapham Grand, is now streaming globally until May 10th. Hot Press got an insider's perspective from Irish actor David O'Reilly, who is hosting the show in drag as Marlene Cabana.
Centred around everyone's favourite song contest, West End gem Eurobeat - The Pride Of Europe has continuously adapted and evolved since its original 2008 debut, but the ongoing Covid-19 pandemic has forced the show to reflect the current times. With the theatre world decimated by restrictions, Eurobeat is giving musical stars and TV icons the chance to return to the stage to entertain the masses.
Hosted by Irish actor David O'Reilly's "Orla Board" as Marlene Cabana, the glamorous mistress of ceremonies will oversee an all-star cast, performing hilarious new numbers and old favourites for a streamed edition of the parody musical.
Featuring a book, music and lyrics created by Craig Christie, direction from Max Bex Roberts and choreography by Callum Tempest, the latest iteration will see Eurobeat taking a trip to the tiny Alpine nation of Liechtenstein to crown this year's champion. The show will invite viewers to vote for their top contestants, who will then compete in the May final.
Lucan-born actor O'Reilly is taking the drag reins, having been immersed in the world of theatre since he attended an Essex drama school. Graduating in 2008 and heading straight to the London stage to appear in Grease, David's ability to create long-lasting connections led him down the path to Eurobeat.
"This business is all about who you know, what you know and how you behave," O'Reilly tells me over the phone after completing his TV work over Zoom. "In regards to being an actor, everything has been put on hold for a year. The whole theatre industry has just been absolutely brought to its knees along with entertainment and hospitality, which means that the current talent appearing in Eurobeat have been given a new lease of life."
Advertisement
David says his time in the drag world was central to his landing the show.
"A production company named Fourth Wall Live obtained the rights to the Eurobeat musical, and wanted me to be involved as the host. I was absolutely flattered," David enthuses. "I run a yearly West End event with two friends called 'A Mad Drag Night', which sees theatre performers dress up to fundraise for HIV and AIDS charities. The producers must have taken notice, so I jumped at the chance to join the show. I've been a fan for years!"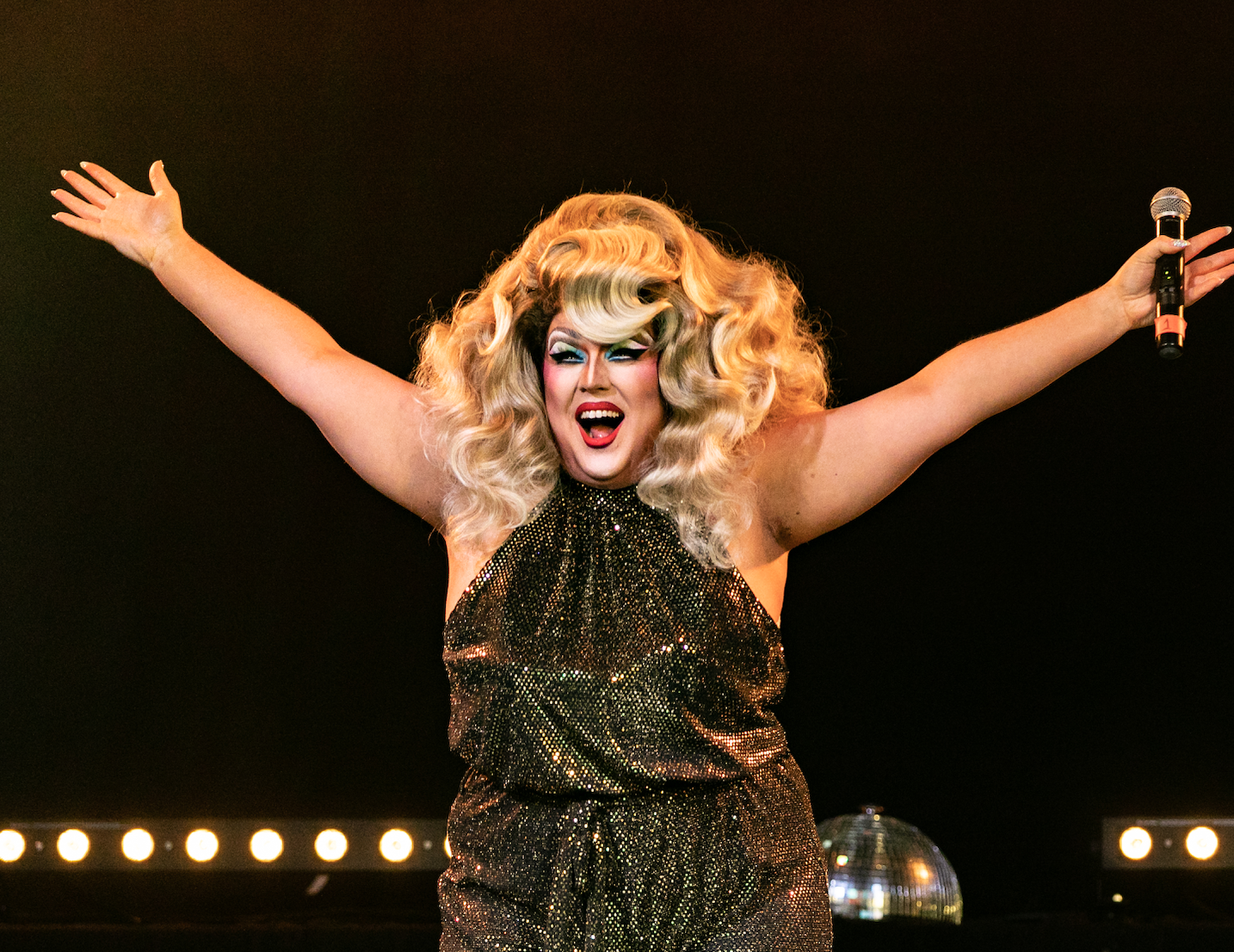 "Drag has become so mainstream, which means there's a lot of work for queens over here in London. A lot of musical theatre performers would perform drag gigs in between jobs, so the drag drama worlds overlap. Hospitality has been completely destroyed and opportunities to perform have fallen by the wayside.
"Drag has been a lifesaver for paying the bills in between bigger jobs over the years, so it's lovely that Eurobeatgave me the chance to put the make-up back on and go on stage."
O'Reilly is appreciative of drag's breakthrough.
"The fact that this type of performance has entered the mainstream TV sphere through RuPaul's Drag Race is amazing. Drag is an incredible art form, but I always reiterate that it wasn't created by RuPaul or his show. It has existed in our society and the entertainment industry for years. It goes back years to Danny La Rue and even Shakespeare's Globe theatre. I love that people are really delving into the origins of drag, because there's far more to it than a 12 episode BBC series."
Advertisement
The timing of the current Eurobeat musical is impeccable, it has to be said. Given the atmosphere around Government lockdowns, mass unemployment and societal issues, the chance to forget about our problems through the medium of over-the-top songs and glitter-filled dance acts is cherished.
"The mood is so downcast at the moment, everyone truly needs a boost," O'Reilly acknowledges. "The essence of Eurobeat is about having a laugh. Every version of the musical has been a brand new show, set in another part of Europe. The crew have a whole filofax of songs that they can pick and choose from, depending on who the cast are.
"There are some truly iconic numbers coming up, because the list of names involved is just unbelievable. Harriet Thorpe from Ab Fab, Celebs Go Dating star Tom Read Wilson, Strictly Come Dancing's Joanne Clifton and RuPaul's Drag Race star Tia Kofi are all onboard.
"Eurobeat also has incredible West End and musical theatre stars in there," David says, with infectious levels of excitement. "Christine Allado, Matt Croke and Scott Garnham are experts at their craft. Working with Aisha Jawando again after we did The Book of Mormon in 2013 was like seeing a family member. Tia Kofi is someone from a reality TV show who came in and was just astonishingly humble. There's often a diva expectation when it comes to reality stars, but she was a pure delight."
Meanwhile, David notes that Ireland annually succumbs to Eurovision fever.
"Eurovision is in our DNA, you know? I grew up in the '90s when we had win after win. Everyone would be screaming at the scoreboard in the living room. Having a positive outlook is incredibly important right now, and considering Ireland has had the longest lockdown in Europe, the people there deserve a reward. Eurovision and Eurobeat are both pure escapism.
"We've been through one of the biggest social dilemmas in modern day history, so I want everyone to tune in and watch a silly parody filmed with incredible singers and dancers. If we can take the audience's minds off the fact that a huge amount of people are struggling, we've done our job. That's all I can expect, really. Anything on top of that is a bonus."
Advertisement
Eurobeat – The Pride of Europe is being filmed at The Clapham Grand and streamed globally from now until 10 May, 2021 on Stream.Theatre - get your tickets here.