This is a big one! The Hot Press Annual is currently being worked on feverishly by the finest editorial, design and production team in the western world. And guess what? It comes with two front covers, from either end of the music spectrum…
The big question here at HP central is: which cover is going to take the music-loving public by storm? Perhaps they both will! But which will sell in bigger quantities? This is a fascinating battle between brand new and legendary beyond words.
You can read both stories in every copy of the Hot Press Annual. But we want you to choose your front cover NOW!
In order to ensure that you get the cover you really, really want please PRE-ORDER here, right now: https://shop.hotpress.com/collections/hot-press-annual-2019
 
COVER  No.1: VERSATILE
Advertisement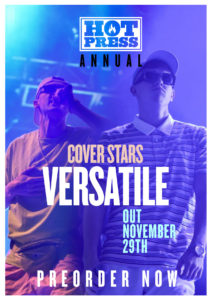 (Not: This is an example, not the actual cover)
Versatile are one of the most extraordinary musical sensations to come out of Ireland in aeons. Operating independently, the Ringsend hip hop collective have quickly galvanised Irish fans, who've shot their YouTube video views into millions. Superb live performers, they have also had an extraordinary impact at this year's festivals. Indeed they were among the major hit acts at Electric Picnic 2018, with a mad-up-for-it crowd of 20,000 cramming the Electric Arena to catch them – and thousands more outside. The rest of the world is out to get them too. 'Paro off their heads' or not, Versatile are already burning the ears off UK fans as they sell-out venues across the UK on their first major tour there at the start of 2019. The US is next!
Before it all goes totally bat-shit crazy, Hot Press has collaborated with the Versatile gang on a cover feature for the Hot Press Annual 2019, visiting the band's top secret Dublin hide-outs, travelling deep into their Ringsend lair and generally getting to the heart of the outfit's appeal.
To PRE-ORDER Versatile's first ever magazine cover (what it looks like remains top secret!), click here: https://shop.hotpress.com/products/hot-press-annual-cover-no-1-versatile
COVER No.2: BOB DYLAN (The man who put the 'verse' into Versatile!)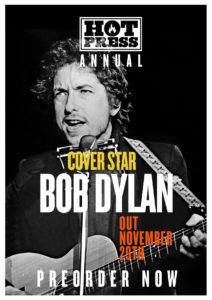 Advertisement
(Note: This is an example, not the actual cover)
If Versatile are hot new kids on the Irish block, Bob Dylan aka Robert Allen Zimmerman, is at the other end of the musical spectrum. Arguably the greatest songwriter in the history of contemporary music, he first emerged as a force to be reckoned with at the start of the 1960s. With a series of ground-breaking albums and monumental songs to his credit since, he has long ago achieved legendary status and was selected to receive the Nobel Prize for Literature – the first songwriter ever to be chosen for the award – in 2016. What is arguably his greatest album and crowning achievement, Blood on the Tracks (1974), has now been given the complete, lavish Box Set treatment in the astonishing form of More Blood, More Tracks.
In a world exclusive, Hot Press has gained access to some previously unseen notebooks, which gives precious insights into the extraordinary perfectionism of Dylan's work. This is an amazing, unmissable feature that's packed with new insights for Dylan fans – and for anyone who is interested in the art and craft of great songwriting.